Amsterdam Holiday Package - All-Inclusive Tour



Table of contents
Amsterdam Holiday Package - all-inclusive tour
Why discover Amsterdam with a holiday package?
Amsterdam is the largest city in the Netherlands and one of the leading destinations for travellers from the United Kingdom. It is a city that is famed for its stunning architecture that is set within an iconic ring of canals. Amsterdam is a cultural hub that features some of the top museums in Europe. It is also known for its extensive dining options, amazing nightlife and its many shopping districts.
The different types of holidays and tours offered by Voyage Privé
Voyage Privé offers all-inclusive holiday packages to great destinations all over the world, including Amsterdam and the Netherlands. The holiday packages that we offer may vary according to the season and include tours, combined destination getaways and self-tours.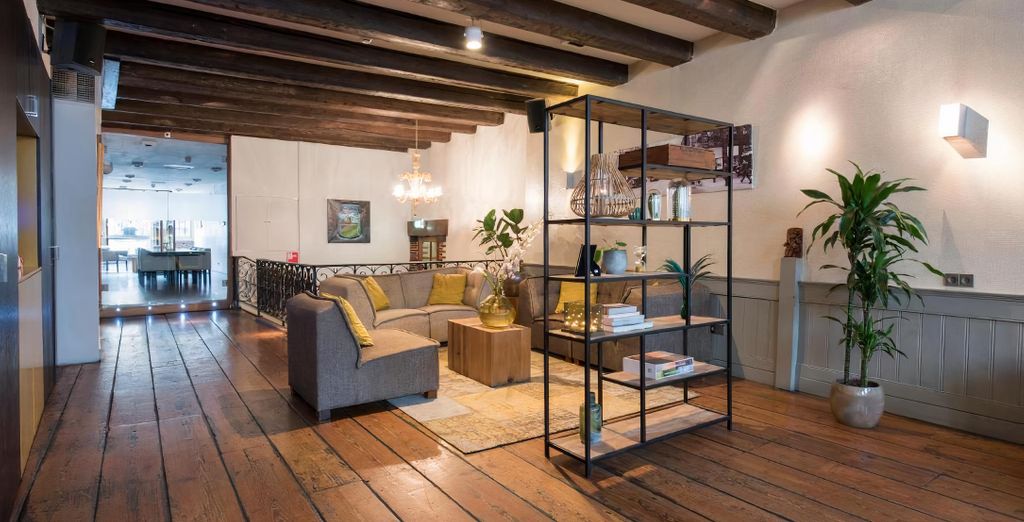 Guests who choose this holiday package get to stay in this beautiful historic hotel right in the heart of Amsterdam on the Prinsengracht Canal, close to Leidse Square, shopping streets and the main museums. It boasts stylish decor and modern amenities, including gym facilities and a mobile Suitepad device with 4G Wi-Fi in each room. This Amsterdam holiday package allows you to enjoy a variety of unique cultural experiences while also enjoying amazing food, shopping and nightlife. Amsterdam is one of Europe's best walking cities and this trip is great for exploring all the delights of the city or for spending a day people-watching. You can also rent a bike to explore the museums conveniently.
Practical advice for planning your trip to Amsterdam
When to travel to Amsterdam
The best times to enjoy an Amsterdam holidays package are between April and May or September and November. You can take advantage of comfortable temperatures during April and May while avoiding the peak of the tourist season and its crowds. September through November is also a great time to visit because the crowds are smaller and the weather tends to be mild.
Administrative formalities before going to Amsterdam
British passport holders do not need a visa to visit the Netherlands and there's no need to worry about vaccinations for this destination.
How to get around in Amsterdam
Getting around Amsterdam is a straightforward process. From the airport, it is a quick trip by train, bus or taxi into the city centre. The trains in Amsterdam are renowned for running on time and arrive every 10 to 15 minutes.
What is the time difference?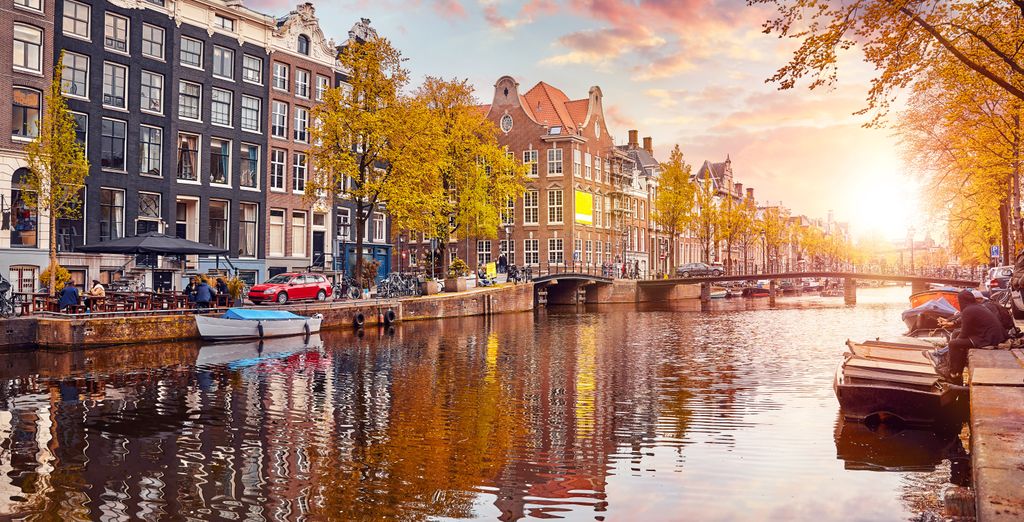 Amsterdam is just 1 hour ahead of the UK, so this holiday package will not cause any jet lag.
What is the official language?
The official language of Amsterdam is Dutch. However, you will find the standard of English to be excellent, with no need to take a phrasebook.
High-quality services at the best price for your package holidays in Amsterdam
Voyage Privé works with high-end hotels in Amsterdam that provide the best services and facilities, such as spas, massages, room upgrades, great views, gyms, fine dining options and more. Voyage Privé organises holiday packages to Amsterdam so that all you need to do is enjoy the destination without the stress of arranging everything. There are also self-tours to allow all types of travellers the opportunity to enjoy the country in "autonomy" without having to look for hotels, car rentals or suchlike.
Voyage Privé's hot deals for Amsterdam holidays packages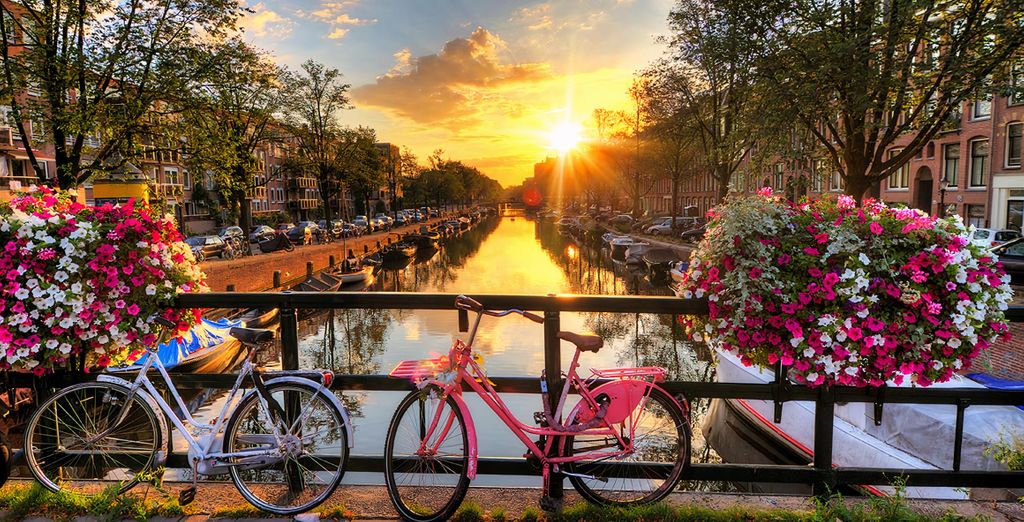 One of the great things about Amsterdam is the fact that it is a great city for an extended stay of a week or more but it is also a great spot for a weekend getaway. There is enough to do in the city that you will never run out of options whether you are looking to enjoy the great dining, nightlife and culture or you simply want to take in the experience of walking the city's iconic streets and canals. Amsterdam is a city that truly has it all. These are all compelling factors that make an Amsterdam holidays package through Voyage Privé an experience that you will never forget.
Five places to see on your trip to Amsterdam
1. Get a unique perspective while cruising the Amsterdam canals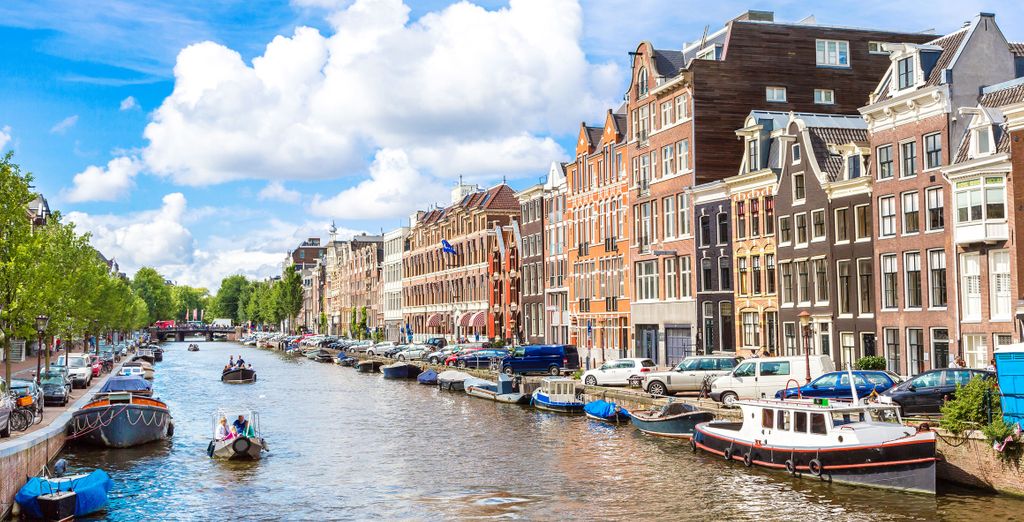 The famed 17th-century canals of Amsterdam are certified as a UNESCO World Heritage Site. The city centre offers many opportunities to get onto a hop-on-hop-off canal cruise that will give you the most unique view available in the city.
2. Visit Amsterdam's renowned Museumplein
Amsterdam is renowned for some of the best museums in Europe. Many of the top museum attractions are located in the Museumplein. This public square is home to the Van Gogh Museum, the Rijksmuseum and the Stedelijk Museum. These museums feature some of the most iconic works of art ever created.
3. Enjoy a walk through the famed Jordaan neighbourhood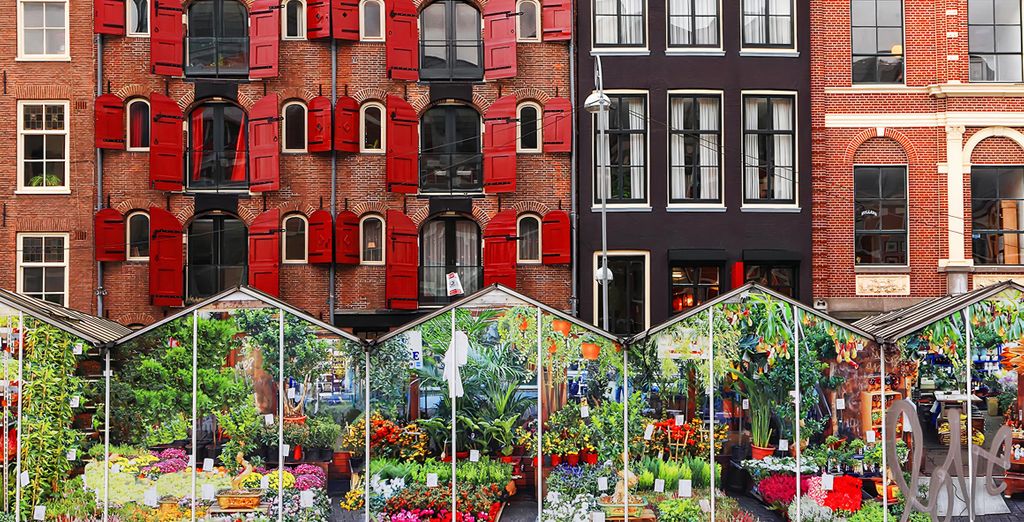 Amsterdam's Jordaan neighbourhood is not to be missed. It is one of the best walking districts in the city and offers amazing bars/restaurants, art galleries and boutique shops that are set amongst the quaint buildings and narrow streets that are synonymous with the city.
4. Take in the Amsterdam nightlife
Amsterdam's nightlife is some of the most legendary in the world. Whether you are looking for a trendy nightclub or a unique bar serving local beers and spirits, the options are almost endless.
5. Enjoy Amsterdam's incredible food options
Amsterdam is a foodie's dream come true. From Dutch classics like the Broodje Haring and Stroopwafel to international cuisines such as Malaysian, Thai and Middle-Eastern cuisine, there are diverse dining options. Chip lovers simply must try the famed Patat Friets while visiting the city.