Last minute deals to Prague offer the perfect city escape



Table of contents
A last-minute trip to Prague up to 70% off
Prague: the city of a thousand spires. It's a beautiful jewel of a capital that is an intriguing destination for a last-minute break and is becoming ever more popular with tourists. Situated on the river Vltava, the city has plenty of pavement cafes, ideal for people-watching, and a famous astronomical medieval clock that is the oldest of its kind. With art galleries, museums and an impressive castle, Prague has plenty for visitors of all ages to enjoy.
Where to stay at the last minute in Prague? The best hotels of Voyage Privé

Standing atop one of the most majestic hills in Prague, the Corinthia Hotel is a high-end hotel with air-conditioned rooms, many of which have panoramic views. The spa is situated on the top floor and there is also a swimming pool. Within easy reach of the city's main attractions.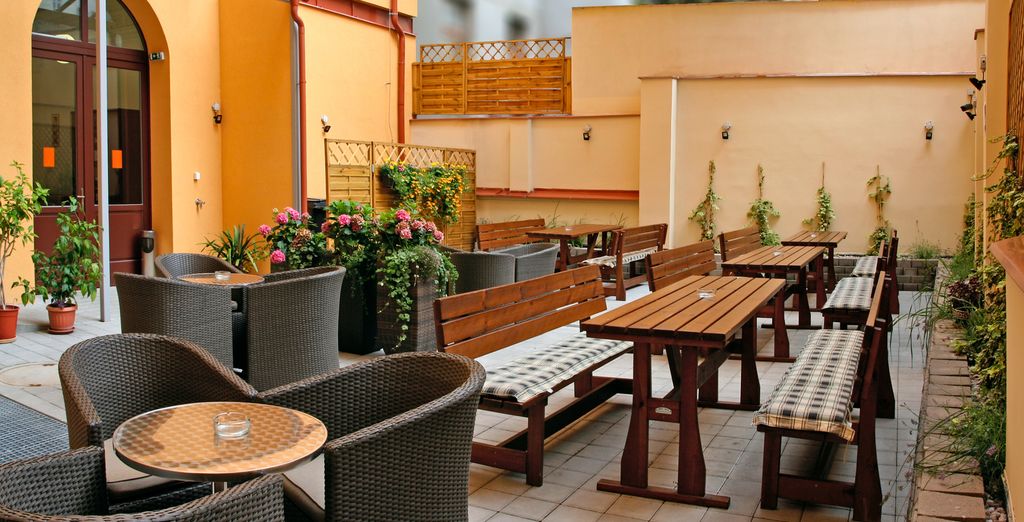 A recently renovated renaissance style 4* hotel near Prague State Opera and the Czech National Museum. Families with children can look forward to impeccably clean rooms and a warm welcome.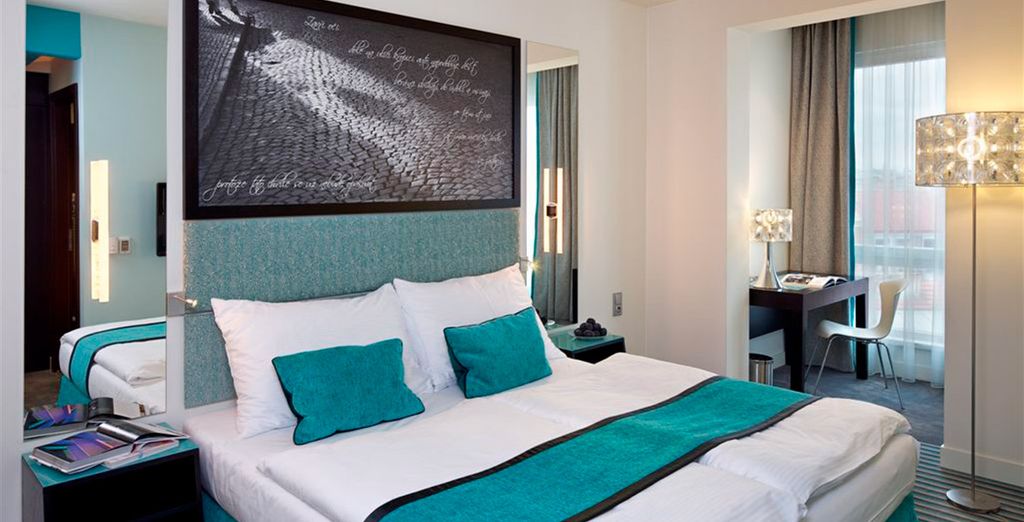 A stylish hotel in the heart of the city, the Red and Blue Design Hotel has 52 rooms with lovely views of the park. Guests can enjoy the rooftop terrace, an indoor swimming pool, Jacuzzi, sauna, and a golf course.
How to book your last minute holidays in Prague
To book a last minute Prague holiday with amazing discounts of up to 70%, you need to register as a member of Voyage Prive. Members can enjoy different types of options, such as all-inclusive, transfer included, car rental, half board and full board.
What kind of offers can I find at last minute for Prague?
Voyage Prive members have access to great offers for many different types of holiday, including last minute bookings. Choose from package holidays, Flight+Hotel, Hotel only, adult hotel only, and cruises. It's easy to find a last-minute holiday for all types of travel from city breaks, romantic trips, family holidays, a countryside retreat, a fun-filled holiday with friends, or a holiday for the solo traveller.
Voyage Privé offers can be as much 70% off so don't delay!
The?5?best things to see/do in Prague?
1.Prague Castle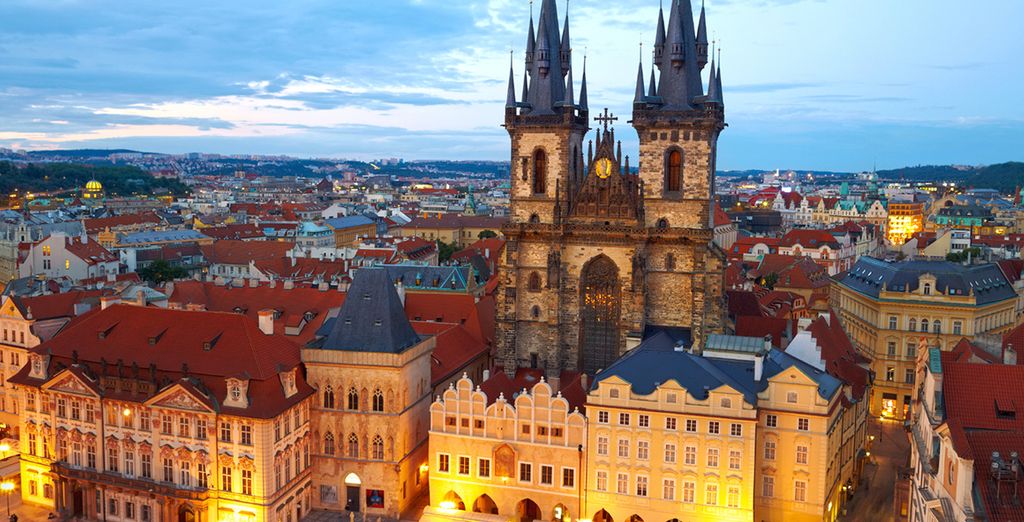 The vast medieval Prague Castle complex is the home of Golden Lane, St. Vitus Cathedral, palaces, museums and more so should definitely be on your Prague itinerary. It's extraordinarily vast - our advice is to stick to the free areas if you only have a short amount of time.
2. Stroll across Charles Bridge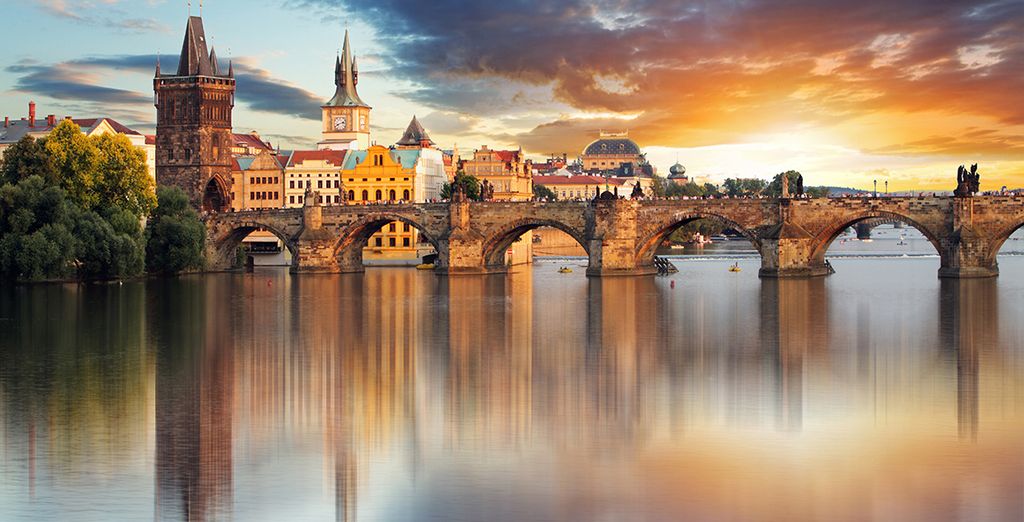 Also known as the 'Bridge of a Thousand Kisses' walking across this bridge is a must for all visitors to Prague. The stone Gothic bridge is one of Europe's most beautiful bridges and is the perfect spot for taking photos.
3. Go for a drink
Prague is one of the cheapest cities in Europe for alcohol and is famous for its beer. Vibrant pubs offering locally produced craft beers on practically every corner and you can also visit several breweries. However, Prague is also a great place for cocktail bars - the Hemingway Bar is perhaps the most famous and popular.
4. Go mountain biking
The forested hills surrounding the city are home to some fantastic biking trails so why not hire a bike and get off the beaten track? Guided tours can be booked via a company called Biko Adventures.
5. Admire the Prague Astronomical clock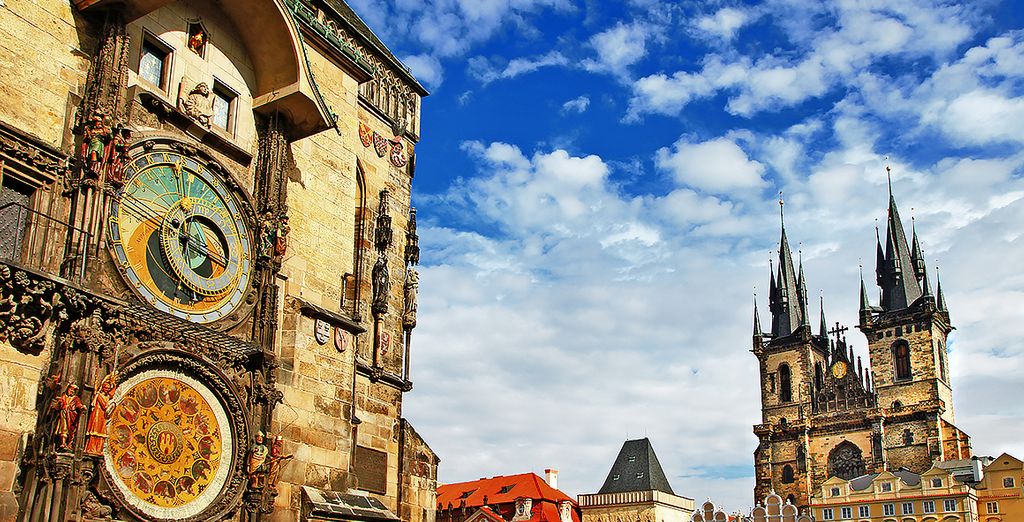 Positioned high on the wall of the Old Town Hall in the Old Town Square is the 15th-century clock, which is a highly popular attraction. This is mainly becasue of the miniature parade that takes place every hour. The "Walk of the Apostles" is a bit like a static puppet show that takes place above the clock and lasts for a few minutes.
Our practical advice for Prague?
What to pack for a last minute holiday in Prague?
Packing advice for a last-minute holiday to Prague really depends on the time of year you are planning to travel. Winters in Prague are often extremely cold and snowy whilst summers are typically pleasantly hot. However, checking the weather forecast in advance of your trip is highly recommended.
In any case, Prague is a city where you will probably walk a lot - most of the main attractions are within walking distance of each other - so comfortable shoes are essential. A raincoat or umbrella is advisable at all times of the year as the weather can be very changeable.
What budget to plan for a last-minute trip to Prague?
Prague is an inexpensive city to visit - many of the main attractions are free. Food also tends to be filling and affordable, whilst Czech beer can be very cheap. You can easily enjoy a last-minute trip to Prague with a budget of around £50 per day, and with our last-minute offers, you can enjoy even cheaper prices. Planning an additional budget for extras and non-essential items is always a sensible idea.
Useful information before going to Prague
The Czech currency is the Czech Crown. Be wary of currency exchange tellers offering highly favourable rates - they will charge extortionate exchange fees. Tipping around 10% in restaurants is customary - and lunch is the main dish of the day. Soup is usually the starter, followed by a meat dish. You might be surprised to learn that smoking is allowed in restaurants and all kinds of indoor public places.
Beer is incredibly cheap in Prague - it is actually cheaper than bottled water!
Many museums, art galleries, and places of interest are closed on Mondays, so keep this in mind when planning your trip. Shops are usually closed on Sundays.
Try to remember to say 'the Czech Republic' when referring to the name of the country - locals often don't like it being called Czechoslovakia!
The Voyage Prive travel expert's opinion on Last Minute trip to France
Discover a city steeped in history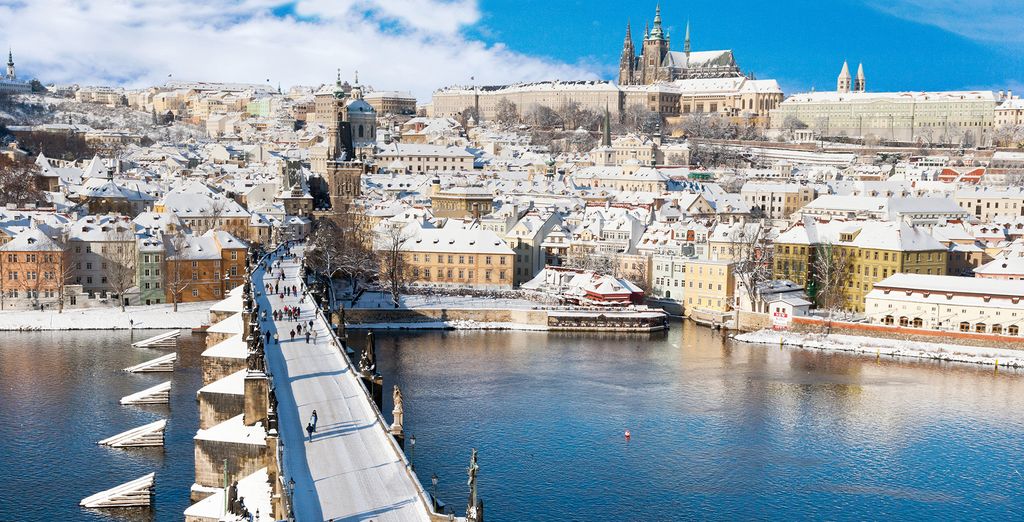 As the capital of the ancient realm of Bohemia and the modern Czech Republic, Prague's rich architectural heritage has been shaped by more than a thousand years of history. Saved from the worst ravages of the Second World War, visitors flock to wander its medieval labyrinth of cobbled streets, marvel at its gold-topped churches and Gothic cathedrals, or relax in its picturesque squares. Must-see sights like the famed Astronomical Clock, the oldest working example of its type, the atmospheric Jewish Quarter (Josefov) and the bustling Old Town and Wenceslas Squares are within easy walking distance of each other, surrounded by countless eateries, bars, souvenir shops, hotels, museums and galleries.
Directly across the Vltava River lie the Castle and Lesser Town districts, dating from the 9th Century. To get there from Old Town requires a stroll across the iconic Charles Bridge, a stunning 600m stone structure occupied at all times of the year by buskers and artists selling their wares. The Castle itself is like Prague in miniature, boasting such a collection of buildings from throughout the ages that it is listed as the world's largest ancient castle in the Guinness Book of Records. As well as numerous galleries, gardens and museum exhibits, the castle's high vantage point offers romantic vistas over the river and red-tiled roofs of the ancient city.
A truly cultural capital
Aside from the sightseeing, Prague is a must-see for art aficionados. With a National Gallery, a City Gallery dedicated to 20th Century Czech Art, a Museum of Fine Arts, a Museum of Decorative Arts, a Centre for Contemporary Arts and many more galleries devoted to specific artists or movements, there is something to suit every taste. The city also boasts impressive credentials as an historical hub for theatre and music. The National Theatre and Estates Theatre are famous for hosting the Mozart premiers, and are still going strong today. The city hosts renowned international classical music festivals in the spring and autumn.
Eat, drink and be merry
As the birthplace of Pilsner lager, Bohemia is a beer-lover's paradise, and Prague is awash with pubs and bars. For a real taste of Bohemian culture, find a traditional beer hall where it is customary to sit and mingle with the locals on long benches. Traditional Czech food centres around pork or chicken served with potatoes or dumplings and pickled vegetables. While locals traditionally eat out at lunch time, an impressive range of restaurants offering international cuisine take over in the evening. You will also find plenty of street stalls selling delicious local hot dogs and mulled wine to keep up your energy up whilst sightseeing.
If you are looking for a cultural escape or a romantic getaway at short notice, last minute holidays to Prague are the perfect answer. Why not check out our handpicked offers on last minute deals in Prague at our exclusive prices, including exceptional discounts on the city's finest hotels.