The Best Time to Visit Amsterdam



Table of contents
When is the best time to visit Amsterdam?
Amsterdam is a charming city with a rich history and quirky culture, so it is no surprise that it is a magnet for tourists from around the world. When it comes to choosing the best time of year to visit Amsterdam, this will likely depend on what you plan to do while there.
Spring blooms
Holland is famous for its tulips, and mid-March to early May is the best time to see the blooms. However, if you are heading to Amsterdam in the spring, you may want to time your visit from mid-April onwards. The weather in March can be very cold, while April and May are typically less rainy. This is also what is known as the "shoulder season" when tourist traffic has not yet built up to summer levels.
Then there are the spring holidays – Queen's Day and Liberation Day – which fall during the same week in late April and early May. This is the biggest party week in Amsterdam, and the festivities are inescapable. Walk along canals brimming with boaters to find the entire city decorated in orange and buzzing with revellers. Understandably, this is a popular time for tourists to come, so prices can be very high. If you book your accommodation in advance, however, it can be a memorable cultural experience.
Making the most of the summer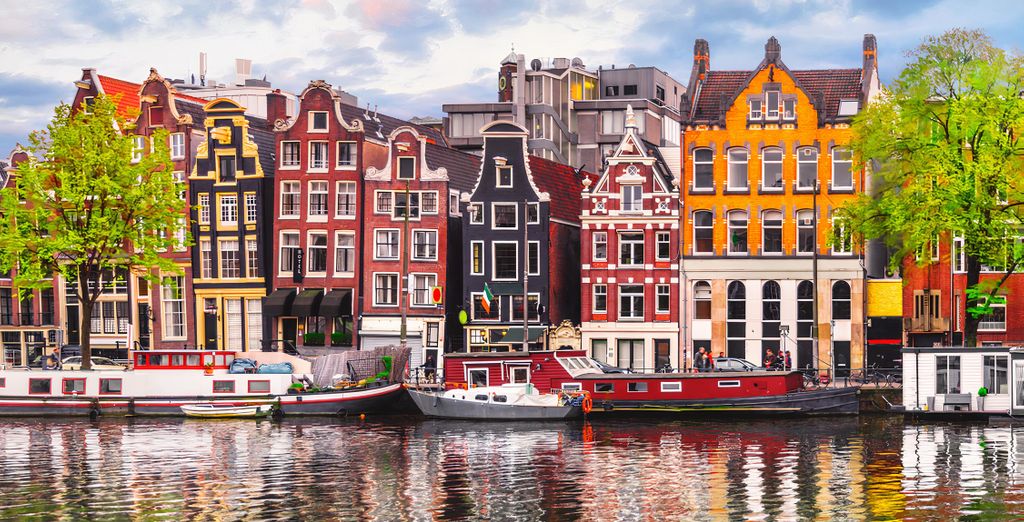 Amsterdam has a sub-oceanic climate – its proximity to both the North Sea and the Atlantic Ocean mean that it is humid and rainy, with cold winters and cool summers. Summer, which lasts from June to August, sees highs of between 20°C and 25°C (68°F and 77°F). Keep in mind that it is still common for there to be periods of cooler daytime weather, with high temperatures below 20°C (68°F) and wind and rain that can appear at any time. Nevertheless, the summer months are the sunniest time of year in Amsterdam, with the sun setting after 10 pm in June and July.
When the sun comes out, everyone flocks to the parks, beaches and cafés. This is also a great time for bicycle rides around the city – often the best way to get around. But many bars and restaurants will be closed throughout August when the Dutch typically holiday elsewhere.
Even with locals heading out of the city, the warmer, sunny weather makes this time extremely popular with visitors. That means you should be prepared to wait in lines for attractions, fight through crowds on the streets and pay more for accommodation unless you have booked in advance. A number of popular events, such as the Holland Festival (June–July), Taste of Amsterdam (June) and Amsterdam Gay Pride (July–August) also take place in the summer, drawing visitors and adding even more interest to the cultural scene.
Fall delights
Although autumn sees the days draw in and the weather turns cool and grey, this is a favourite time to visit Amsterdam for those in the know. Most of the tourists have left, the streets are quieter and all of the attractions are open but uncrowded. Rather than large festivals, this is when you will find smaller, local events. Airfare and accommodation are also at their cheapest at this time.
You will need to bundle up against the cooler, windy weather – and be prepared for night frosts. However, daytime temperatures will still be warm enough for outdoor strolls and bike rides. Should you find yourself in the midst of a rainy day, you can find plenty of consolation in cosy cafés, casks of autumn ale or a steaming plate of Dutch mashed potatoes with sausage.
A winter wonderland
Winter is cold in Amsterdam, but do not let that sway you away from visiting during Christmas and New Year. At this time of year, the city sparkles with holiday magic. Quaint Christmas markets and open-air ice rinks open up, and festive lights twinkle at night. New Year's sees fireworks lighting up the night sky, though it can get a bit rowdy as tourists and locals fill the many bars and clubs that stay open until morning.
Once the holiday season ends and the tourists leave the city, Amsterdam hunkers down for its coldest time of the year. In January and February, the temperature rarely gets above 6°C (43°F) and the days are short and dreary. There are advantages to visiting at this time, however. The city is largely free from tourists and prices are at their lowest. Plus, the canals sometimes freeze over in February, so you can get the unique experience of ice skating on them. This is also a great season to come if you are looking for a cosy holiday indoors by the fire.
The best time for shopping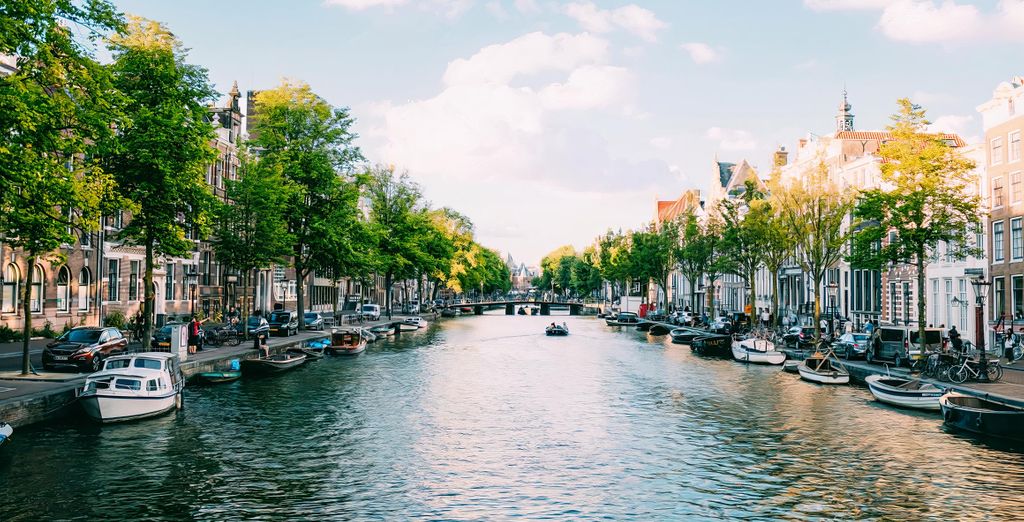 Amsterdam is a great city for both walking and shopping. In common with many other European cities, the retailers in Amsterdam were once restricted to having sales at certain fixed times of the year. Nowadays, however, they can offer discounts at any time. The main annual sales start just after the Sinterklaas celebrations on December 5th, and you can find other deals in January and July when stores clear out their older inventory. There is even an American-style Black Friday event at the end of November.
While tulip viewing season is from March to May, tulip bulb buying season lasts all year. The city is also the centre of the global diamond trade – you can buy jewellery or loose stones directly from the diamond-cutting factories at any time of year.
What to pack for a trip to Amsterdam
Winter
Coats, sweaters, gloves and other warm clothes that are also windproof and waterproof
Sturdy, waterproof shoes for walking in the snow
Spring
Coats, sweaters, gloves and other warm clothes
Warm windbreaker for blustery days
Summer
Lighter, summer clothes
Sweater or light coat for the evening
Raincoat for sudden wet weather
Autumn
Sturdy, waterproof shoes for walking
Heavy raincoat
Sweaters for the evenings
Warm coat, gloves and a hat