Last minute deals to Barcelona



Table of contents
Fancy a city getaway? The unforgettable atmosphere of Barcelona promises you a trip to remember. This gorgeous Mediterranean city enjoys a pleasant climate all year round, making it an ideal choice to escape the winter blues. Perfect for romantic holidays, family trips, or groups of friends looking for adventure, Barcelona has something to offer everyone. Football fans, admirers of fine architecture, lovers of Mediterranean cuisine and culture vultures will all enjoy the Catalan capital.
The Voyage Prive travel expert's opinion on last minute holiday deals to Barcelona
Barcelona has plenty to offer the adventurous traveller. Welcoming at all times of year, it is a beautiful city with plenty of sights to see, most of which can be reached on foot. The weather is always great, and the beaches are gorgeous, just a short walk from the city centre and perfect for relaxing, playing volleyball, or taking a dip in the Mediterranean. The whole family will love the beach, and if you're travelling with kids, the Port Aventura theme park is just a train ride away.
Lovers of food will delight in the cuisine. As well as typical Spanish dishes like paella, Barcelona has plenty of local specialities. Visit in the spring and you'll have to try calçots, a unique Catalan leek-type vegetable barbecued and served with delicious Romesco sauce. Fideuas is similar to the classic seafood paella, but made with short pasta instead of rice. Patatas alioli, served with a garlic-heavy sauce, are a great choice - but best avoided if you're hoping for a kiss later!
Top 5 things to do and see in Barcelona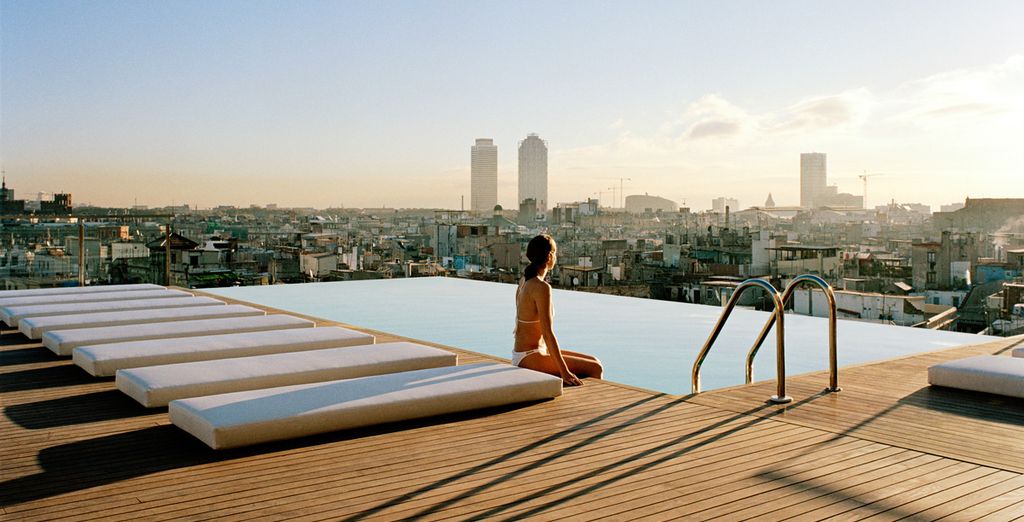 1) Admire the works of Antoni Gaudi
Barcelona is famous for its beautiful architecture - and the most emblematic buildings are the works of one man. Antoni Gaudi's distinctive modernist style can be seen all over the city, many of them recognised by UNESCO as World Heritage Sites. The most famous is the symbol of the city, the still-unfinished Sagrada Familia, but if you want a really in-depth taste of Gaudi's works, head to Parc Guell. This garden complex features a number of his buildings, including his own home.
2) Take in a football match
What would a trip to Barcelona be without seeing the Camp Nou? Perhaps the most famous football stadium in the world, this pitch has seen thousands of great players in action. Look for tickets to see Barça take on another team, but be warned - if you want to see El Clasico, prices are high! For the true football lover, you can take a tour of the Camp Nou during the day and enjoy a peek behind the scenes.
3) Visit the Picasso museum
Lovers of art will revel in this spectacular museum, celebrating one of Spain's most famous painters. Set in five ancient stone mansions, the Picasso museum houses works from the painter's life, with over 3,500 artworks on display.
4) Take a stroll down La Rambla
It may be full of tourist shops, but La Rambla is still the most famous thoroughfare in Barcelona. Running from Plaça Catalunya down to the harbour, this broad boulevard is a great place to go for a walk. As you reach the end, you'll find the Maritime Museum and the Aquarium, if you'd like to take in some sights.
5) See the magic fountain
Don't leave Barcelona without taking in the nightly light and music show at the Font Magica. Free to watch, the shows take place every half hour in summer. Watch the water dance in unique choreographed routines to a variety of different songs.
Which hotel to choose in Barcelona in last last minute holidays
This 5-star hotel is ideally located beside the famous Barceloneta Beach, and close to the city's famous nightlife. Set in an iconic, modern building, it has a rooftop bar where you can enjoy a cocktail with some of the best panoramic views of the city and the Mediterranean.
In the Villa Olimpica neighbourhood, this 4-star hotel is perfect if you're planning to hit the beach. You'll also find a number of shops and restaurants nearby, and you can take a dip in the gorgeous rooftop pool.
A 4-star hotel just a few steps from Bogatell Beach, this hotel has a rooftop swimming pool and sun terrace, so it's ideal for soaking up the rays. There's a state of the art gym, meaning you can indulge on the delicious local food guilt-free!
Practical information about last minute holidays to Barcelona
What's the weather like in Barcelona?
Barcelona enjoys a Mediterranean climate, with hot, dry summers. In July and August, the hottest months, temperatures tend to be around 28 C. Winters are mild, although you should prepare for rain to be on the safe side. Winter daytime temperatures average about 13 C. Clear, sunny winter days ensure that you won't feel too cold as you explore the city.
What budget to plan for a Barcelona trip?
Barcelona is one of the most expensive cities in Spain, but you'll still find it cheaper than destinations like London or Paris. There are plenty of options to eat on the cheap, but if you are willing to spend a little more, you can enjoy a nice lunch or dinner for €30 a head. It would be easy to spend €50 or more, though, if you hit one of the city's gourmet restaurants.
Buy the T10 ticket and you can take 10 journeys on the metro or city bus for €10.20, but you will need to pay extra for a trip to the airport. The Barcelona Tourist Card may be worth considering. This gives you unlimited public transport use, as well as entry to some museums and other benefits. A 2-day pass costs €34, with a 5-day pass going for €58.
Culture and surroundings in Barcelona
Of all the places to pick for a last minute city break, Barcelona has some of the best culture, cuisine and attractions of any European destination. A city famed for its history and architecture, visitors can spend hours exploring the Gothic backstreets, taking in the sights and sounds of the city; or retreat to the impressive Sagrada Familia – Gaudi's architectural masterpiece.
The city makes the perfect choice for a short break – not least because it is relatively compact, and visitors can easily travel by foot, or make use of the excellent, frequent bus and tram services to navigate the whole area in a short space of time. There are museums and galleries aplenty, but also shops, parks and a fabulous beach to keep your whole family happy.
Booking last minute to Barcelona
Barcelona really does have something for everyone, and is the perfect choice for a short notice stay. We can offer you a fantastic range of last minute deals, at luxurious hotels – ensuring you have a wonderful stay during your Barcelona city break. Sign up today to see the offers available, and book your last minute break!
Discover our Barcelona luxurious hotel at exclusive prices
Booking last minute can leave some visitors nervous – however we have hand-picked a range of fabulous last-minute offers, at some of Barcelona's very best resorts. Whether you want to find a cosy boutique hotel, or a large hotel that can provide facilities such as a spa and gym, we can offer a fantastic selection of incredible deals.
A wide selection of hotels can be found along the beautiful Barceloneta beach, offering spectacular views on to the Mediterranean, many with well-known bars or restaurants on-site, perfect for sampling Barcelona's incredible fresh seafood, tapas, and locally produced wines. These hotels are perfectly positioned for guests to take a stroll along the stunning sandy beaches, before heading in to explore the heart of the city and old town.
Or, if you prefer to find a central location, why not visit one of the many fabulous hotels nestled among the cobbled streets of the old town, or a high end modern residence near well known tourist highlights like the Magic Fountain – which can make a great base to explore the city from?
Practical safety information
The centre of Barcelona has an unfortunate reputation for pickpockets. Street crime can be avoided with a bit of care. Be vigilant when in crowded, touristy areas like La Rambla or Plaça Catalunya, and always keep an eye on your bag when you're on the metro. It's better to keep your phone and money in a bag you can always see, rather than in a backpack.