Best Booking Offers in Paris



Table of contents
Booking to Paris
Booking to Paris
Looking to start your dream Parisian adventure? We've got delightful offers in the heart of Paris close to beautiful parks and artistic treasures. Take your pick from chic city apartments and boutique hotels.
Discover our 5 best hotels in Paris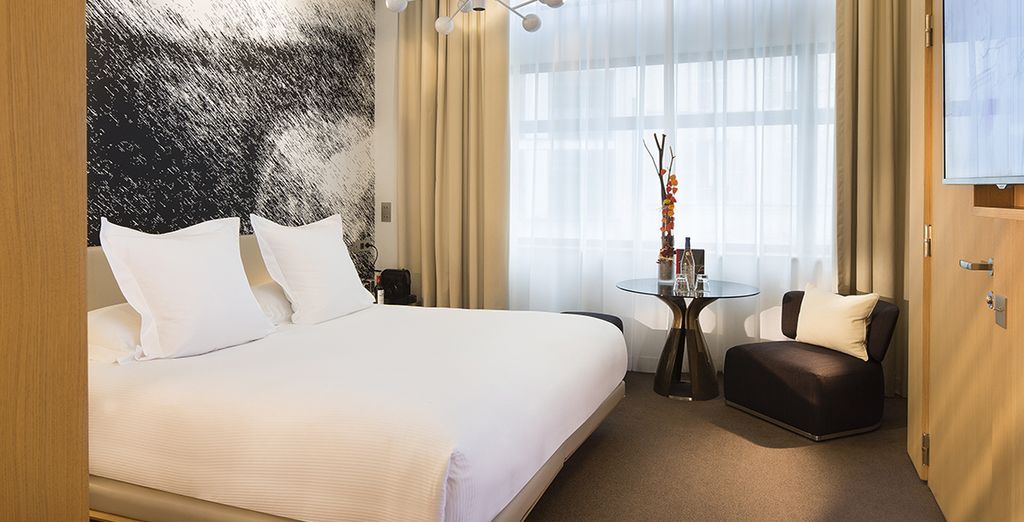 Enjoy a chic and sophisticated stay with the award-winning Hotel Le Cinq Codet. Dating back to the 1930s, it has been impeccably redesigned with eclectic and striking contemporary interiors. Aside from its cosy rooms and wondrous spa, it's centrally located mere moments from the Eiffel Tower.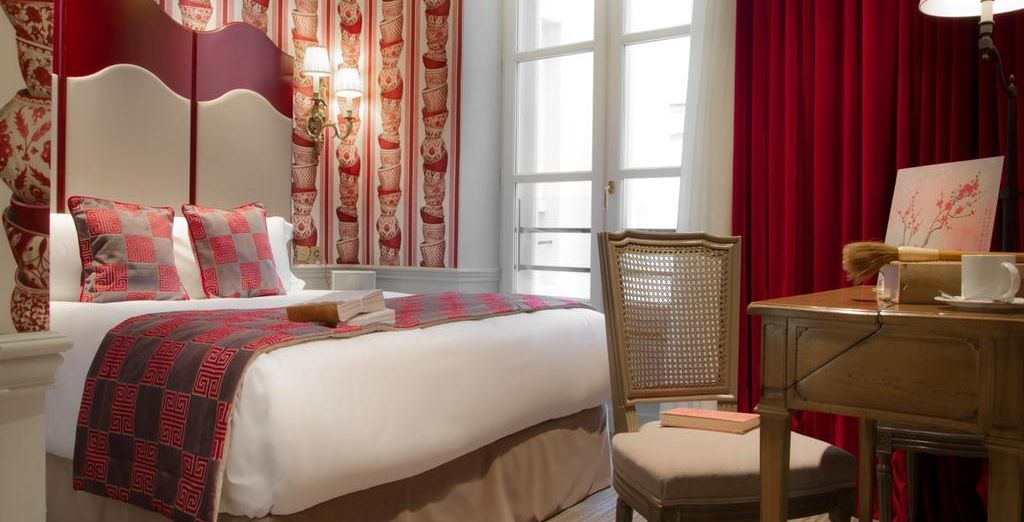 This sophisticated boutique hotel is one of Paris' hidden secrets. Located close to the Musée de la Franc-Maçonnerie, La Maison Favart offers 18th-century stylings with contemporary comfort. Each room is uniquely decorated with glitzy chandeliers and en-suite facilities, and guests can make use of an indulgent spa.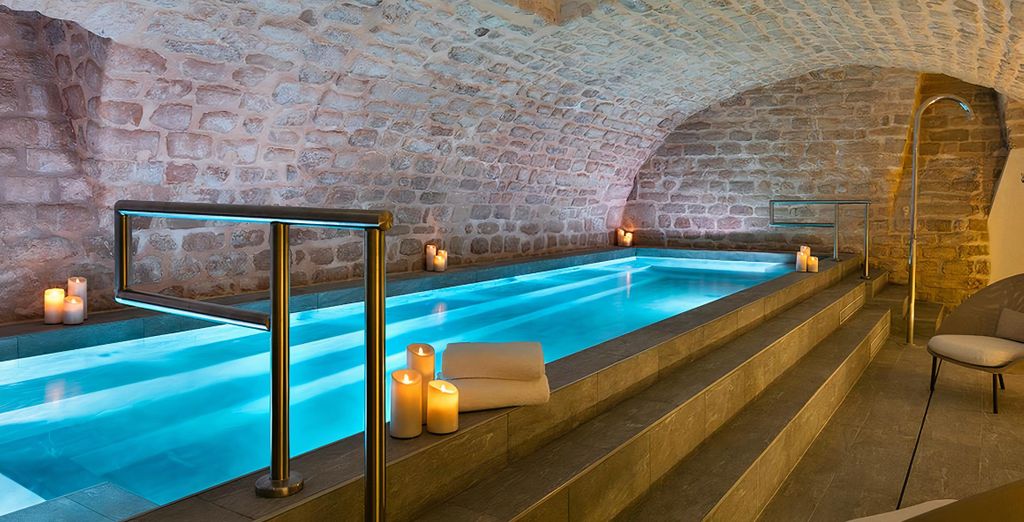 Hotel Square Louvois is a sleek and stylish city hotel that blends Art Deco and Haussmann artistic styles. Located in the heart of Paris' theatre district, it's a welcoming home away from home with an inviting lounge. Enjoy the on-site private pool after a day exploring Paris' romantic streets.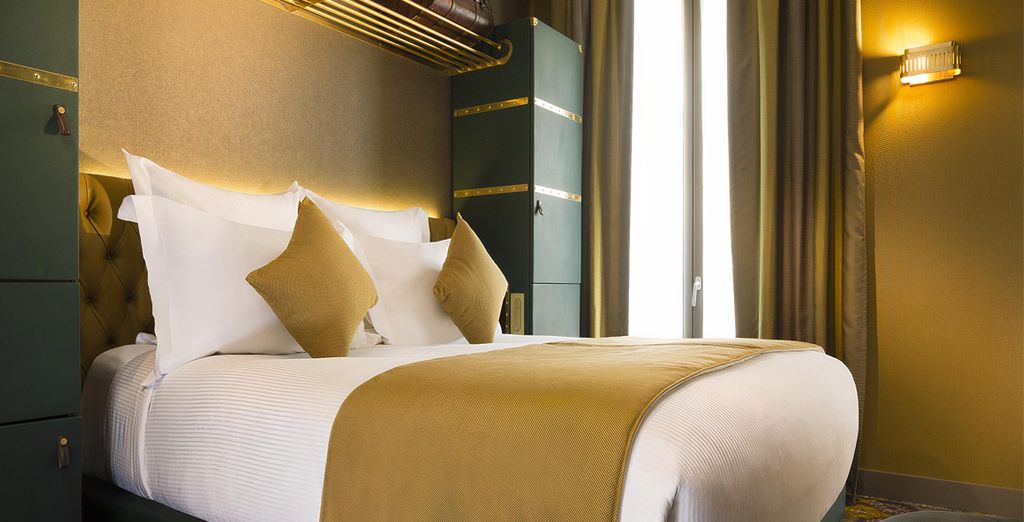 Hotel Whistler is a unique and chic hotel just moments from the Canal Saint-Martin. Interiors exude Parisian charm with eccentric and trendy features inspired by the world of travel. Guests can take advantage of the hotel's stylish bar and lounge or enjoy a private hammam session after sightseeing.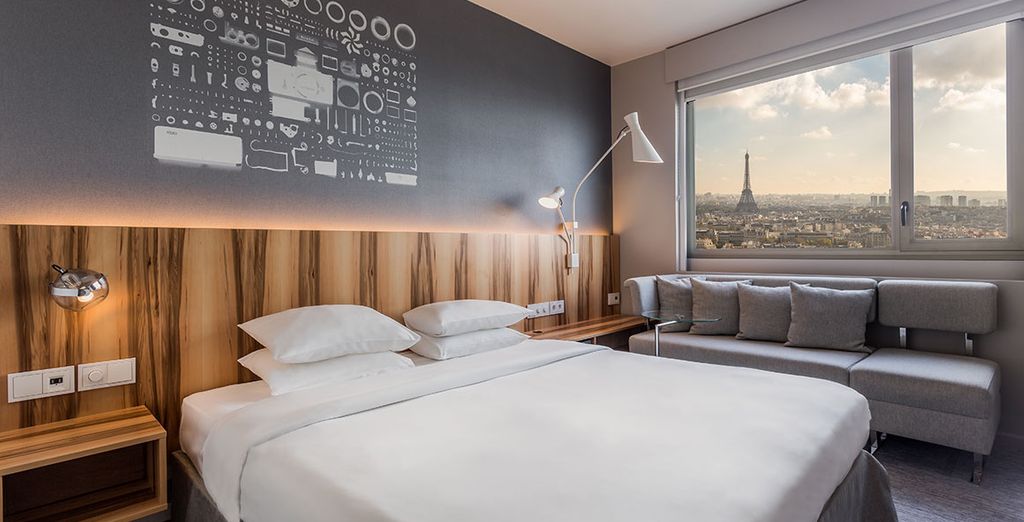 The Hyatt Regency Paris Etoile is one of Paris' most popular stays. This stunning modern hotel offers Eiffel Tower views from select windows and a dazzling top floor bar. Choose from several delectable on-site restaurants or opt for room service in relaxing city-view bedrooms.
Why book Paris?
Paris is a true bucket-list city that only gets better the more times you visit. Bursting with fine food, art galleries and iconic architecture, you'll fall in love as soon as your plane lands. The city is simply rammed with postcard-induced sights, from the Eiffel Tower to the Champs-Élysées. Veer away from the tourist trail, and you'll discover serene streets and tree-lined boulevards that inspired poets and painters. If there's just one glorious reason to visit Paris, it's the food. While Michelin dominates in haute cuisine establishments, community bistros and charming cafes reach the same levels of perfection. Parisians treat their dining as an art form to be mastered. Speaking of art, many of the world's best collections are right here in the city. The Louvre, Musée d'Orsay, Petit Palais and Centre Pompidou will delight alongside museums dedicated to a single artist's work. Whether you're tracing revolutionary history or on a wine tasting tour, you'll find it all in Paris.
The different ways to make your online Paris booking
Discover exceptional city hotels in Paris at exclusive members-only prices here at Voyage Privé. To gain access, simply join now in a few quick steps. All registered users gain access to unmissable savings of up to 70% off. You'll get first-rate customer service every step of the way. You can even see how our community of travellers have ranked each hotel.
Booking Paris's best chic city stays have never been simpler. Just choose your dates with our handy search tool to find the greatest deals available. You can pick from expert packages with hotels, flight and tours. Alternatively, just opt for an overnight stay and make your own way to Paris. We've got reduced five-star hotels, Art Deco boutiques and modern apart-hotels in the heart of Paris at Voyage Privé.
The 5 best things to see and do in Paris
1. Eiffel Tower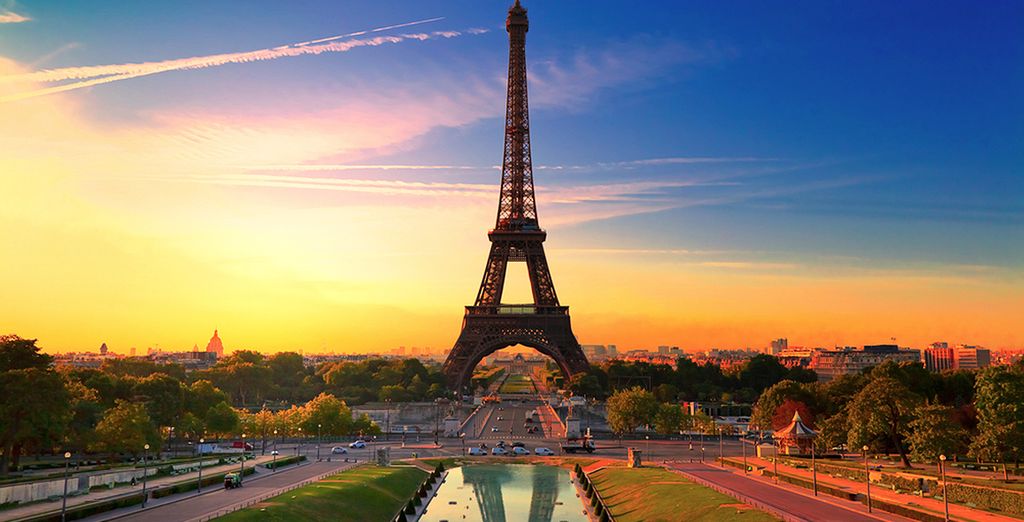 Nothing quite symbolises Paris like the Eiffel Tower. A prominent presence on the Parisian skyline since 1889, its popularity led it to survive long beyond its temporary exhibition. Dusk and dawn are among the best times for viewings. You can even toast yourselves with a glass of fine champagne at the top-level bar.
2. Louvre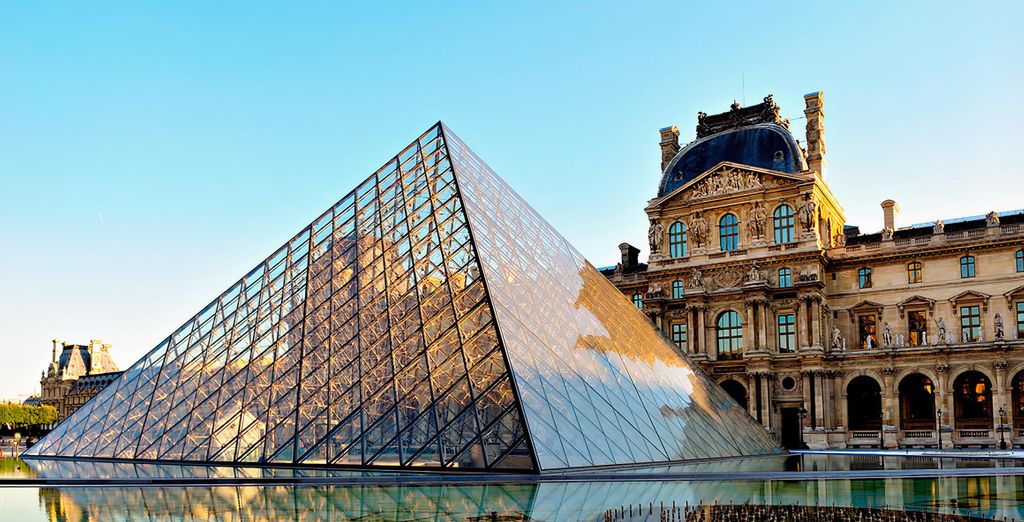 The Louvre is a veritable treasure trove of art and archaeological masterpieces. World-renowned paintings like the Mona Lisa and Liberty Leading the People are all contained in its halls. The scope of the museum can be overwhelming, so come prepared to visit collections that sing out to you. It'd take months to otherwise glance at every piece in this grand palace museum.
3. Cathédrale Notre Dame de Paris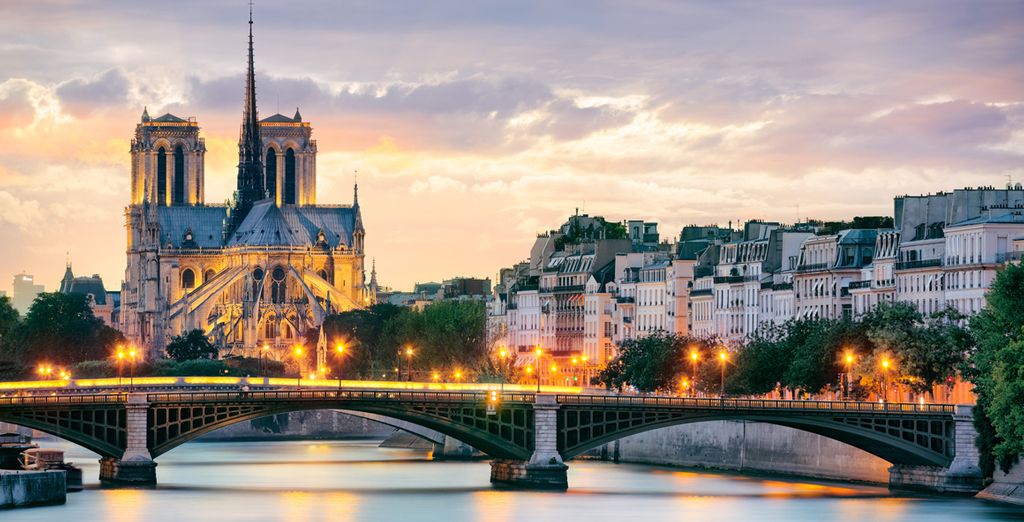 The interiors have been closed since a devastating fire caused its spire to collapse. Yet the cathedral remains a stunning Gothic masterpiece with impressive exterior towers. Interestingly, this isn't Notre Dame's first brush with fire. It was nearly lost in the French Revolution. Scenic parks and romantic walkways surround the cathedral, too, not least the famed Bridge of the Archbishopric.
4. Musée d'Orsay
Less sprawling than the Louvre, the Musée d'Orsay will be a favourite for many. Home to impressionist and postimpressionist masterworks, it's a delight for fans of modern French art. The architecture itself is a delight in and of itself, located in an imposing former railway station. The cafés and restaurants are another highlight, with grand and eye-catching interiors.
5. Parisian food scene
Legendary restaurants, bohemian cafes and timeless brasseries all make up Paris' dining scene. Paris was and is the epicentre of Western cooking excellence and is well worth exploring. Eating well is important for Parisians; do as they do and enjoy your déjeuner over a long hour or two. Follow this with an apéro before dinner at an al fresco restaurant.