The Top 9 Hotels in Gran Canaria



Table of contents
With Voyage Prive, you are assured luxury no matter which Gran Canaria hotel you choose.
Our best hotels in Gran Canaria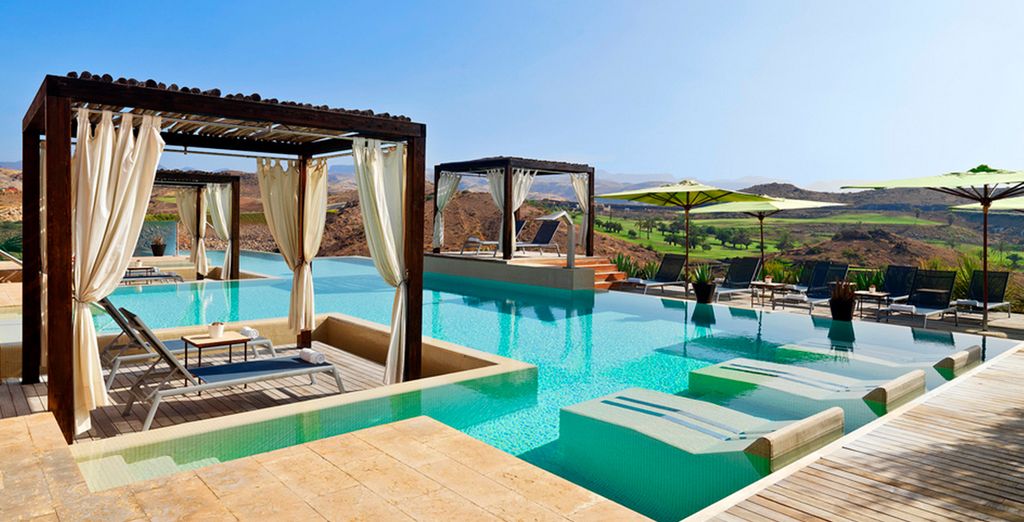 The Sheraton Salobre is a luxury hotel offering a full spa service and 7 outdoor pools. There is also a free shuttle bus to Maspalomas and the hotel is close to Maspalmos beach, one of the best in the whole of Gran Canaria.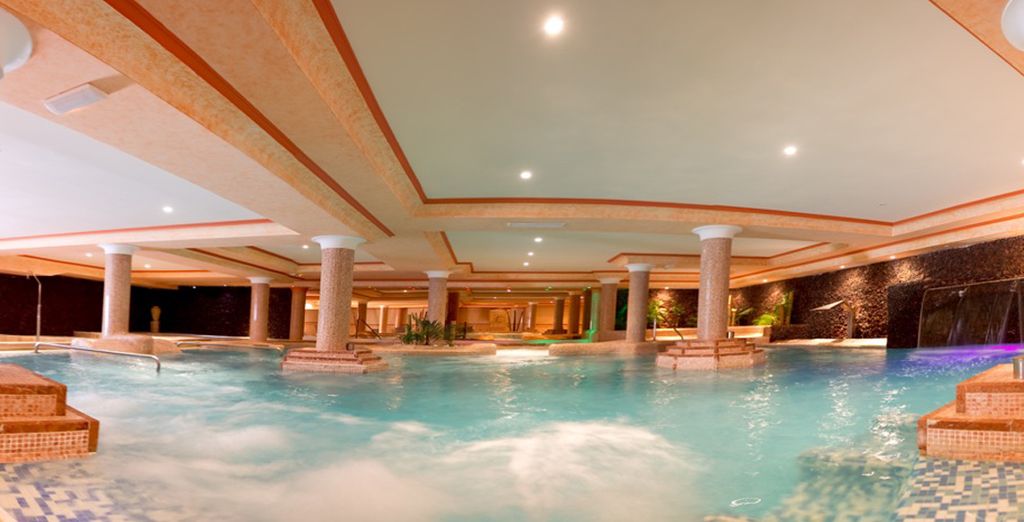 Vital Suites Gran Canaria is located in Playa Del Ingles, a quieter resort that benefits from the beautiful Maspalomas beach and great views of the Gran Canarian countryside.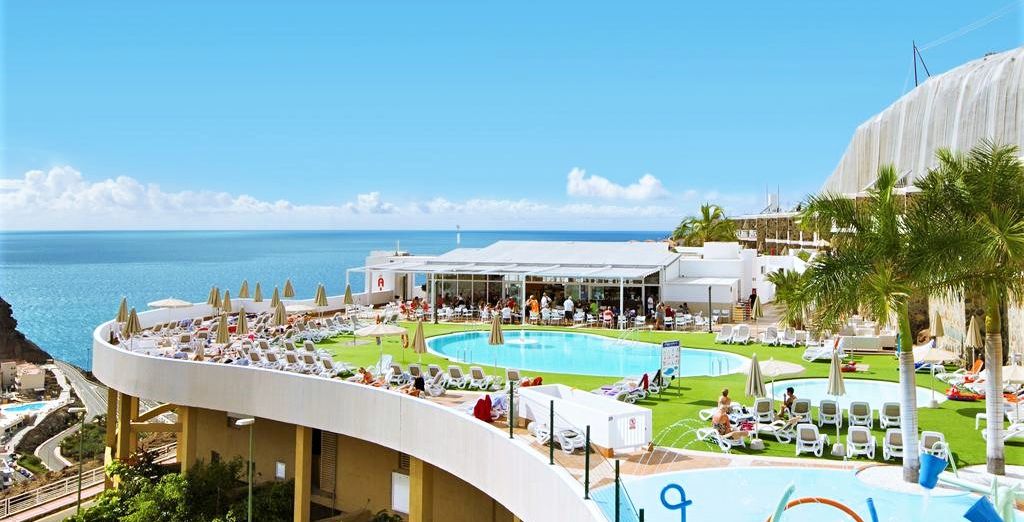 The Hotel Altamadores benefits from amazing views over the Bay of Altamadores. Our offer on this hotel includes a stay in a junior suite on an all-inclusive basis.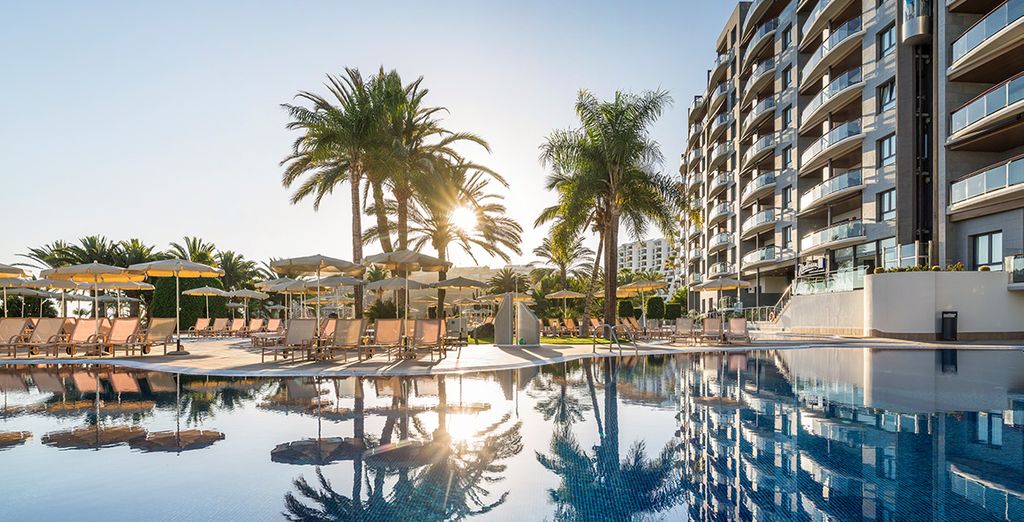 You can expect luxury at the Radisson Blu Resort. Located at the south of the island, visitors have access to some amazing beaches including the white sands of Amadores. There are spa facilities, fresh and salt-water pools and a gym on site. Plus you will stay in a premium room, with your very own hot tub on the balcony.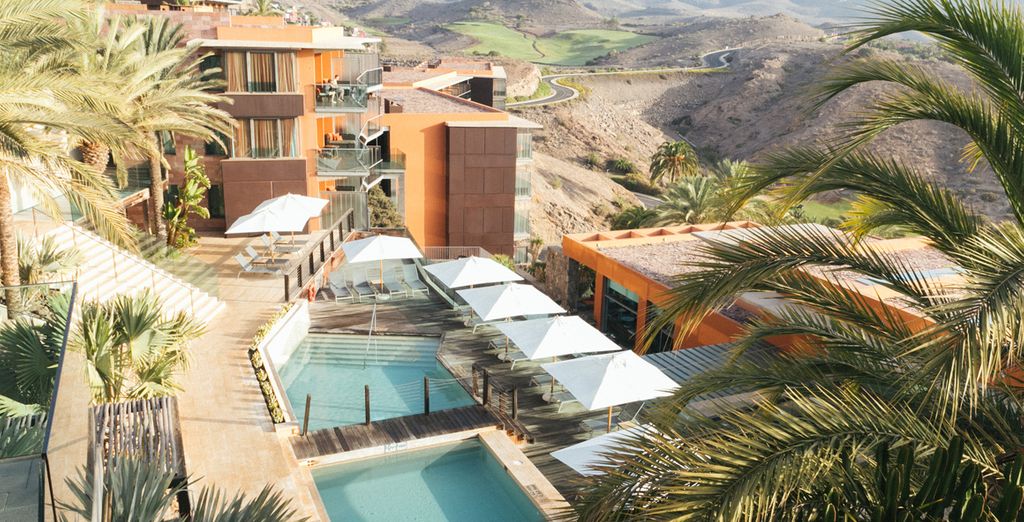 The Salobre Hotel Resort & Serenity has a full-service wellness centre as well as 7 outdoor pools. There is a free shuttle bus service to the Saobre beach house which gives you a swimming pool, free towels and lockers close to Maspalomas beach.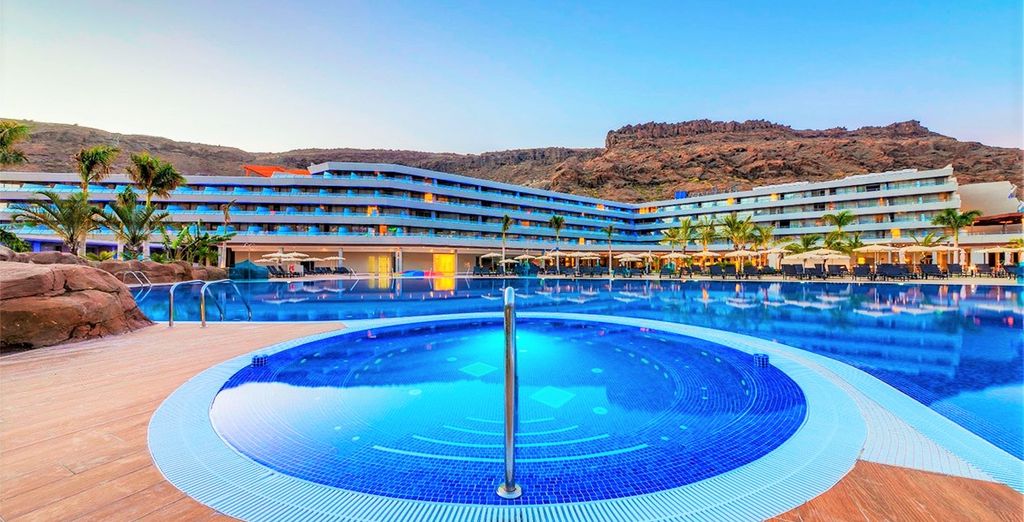 The Mogan Radisson Blu Resort & Spa is located near to Puerto de Mogan, a pretty port town on the south coast. This is a great family hotel, offering you luxurious accommodation in a superior room.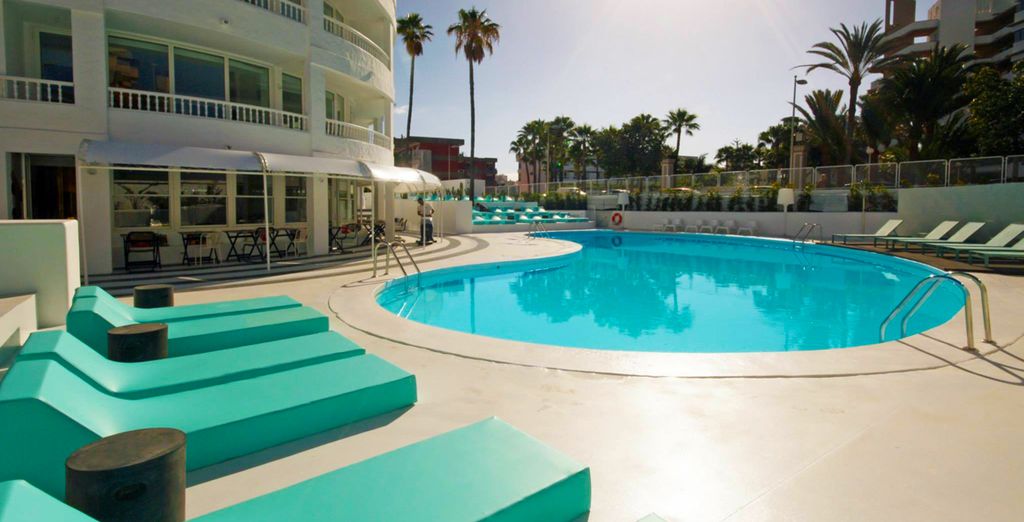 Gold by Marina is an adults-only hotel located in Playa del Ingles. If you fancy a quiet, relaxing holiday by the sea, this is the hotel for you.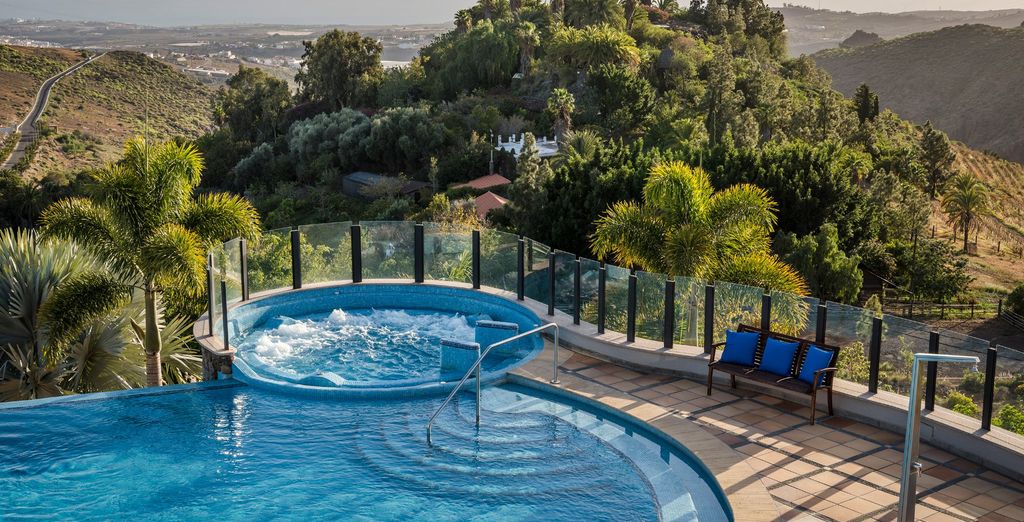 Casa Leon is a family run boutique hotel located in the mountains of Monte Leon. The hotel is focussed on relaxation and rejuvenation so you can expect plenty of tai chi or yoga classes to be on offer.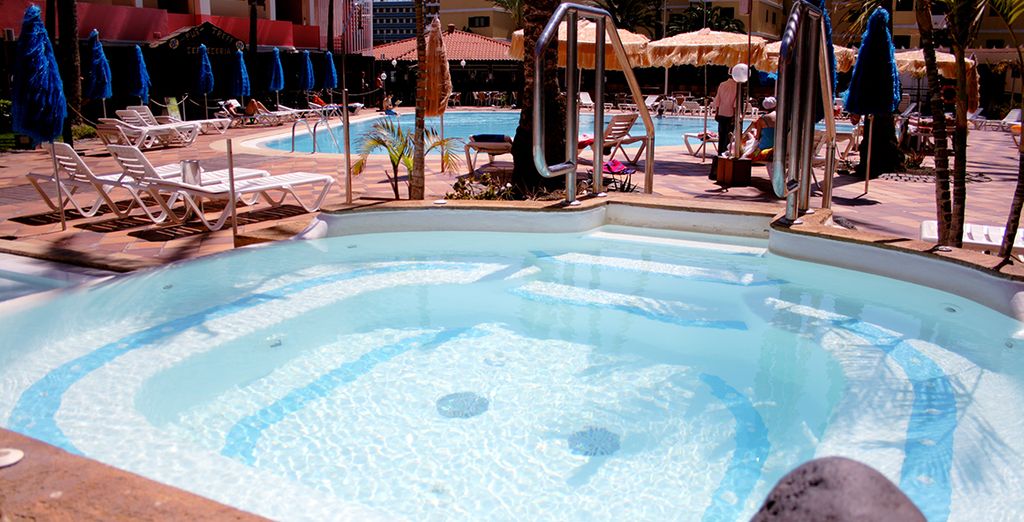 The Bronze Playa is located in Playa del Ingles, close to the beach, bars and restaurants. Enjoy an all-inclusive stay in a deluxe room with a terrace.
What services will you find in our hotels in Gran Canaria?
You can expect some common facilities across hotels like:
Inclusive WiFi for all your devices
Air-conditioned buildings
Restaurants for meals and bars for the evening
Swimming pools and spas
Hotel rental offers in Gran Canaria convenient for all kinds of travel
Gran Canaria is the perfect destination for families because there are so many activities to keep the little ones entertained. It also suits couples looking for a nice relaxing break, although they might wish to choose an adult-only hotel if they wish to escape the noise of children having fun. Gran Canaria is also the ideal location for a break with friends, there are plenty of clubs and bars guaranteed to help get the party started.
We would recommend holidays of at least 7 nights, you might be disappointed with anything less because there is so much to do. Holidaymakers often find that they are more than happy with a stay of 10 or even 14 nights. We've never heard complaints about people being bored on the island.
Gran Canaria has some great resorts, which offer everything that you could want from a holiday in the sun. Maspalomas is incredibly popular, perhaps because there are plenty of big and beautiful beaches. The area has become very touristy but this is great if you want a holiday where you can enjoy great facilities and plenty of options for dining out. Perto de Mogan is a quieter harbour-town, yet is just a short drive from the action of Maspalomas so could offer the best of both worlds. Peurto Rico is a custom-built resort with two fantastic beaches and gorgeous cliff views. It is great for families because there is so much going on, the kids will never be bored.
The range of hotels we offer in Gran Canaria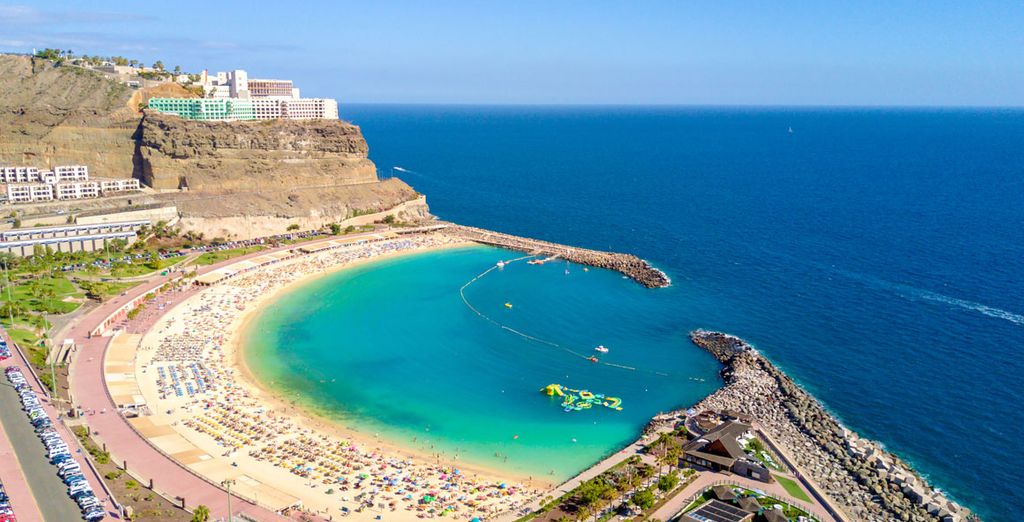 You can really have any kind of holiday that you like in Gran Canaria. Gran Canaria hotels offer all-inclusive service, half board or self-catering, you are free to choose which you prefer. You should also keep an eye out for last minute deals, these can often crop up especially towards the end of the season. Holidays are often sold in durations of 7 nights, 10 nights or 14 nights, although sometimes you might find some shorter breaks available.
Gran Canaria: What should we bring for a hotel stay?
It doesn't matter if you're taking hand luggage or a huge suitcase, these are some things you can't afford to forget:
Toiletries
Suncream that's SPF 30 or more
Flip flops and a swimming costume
A towel for the beach
Loose clothing and cover-ups
Your hotel in Gran Canaria: how to get there and make your booking
There are direct flights from most airports in the UK to Las Palamas throughout the year. The flight time is around 4 hours and 45 minutes. When you book a Voyage Prive offer, you do have the opportunity to book your flights along with your hotel. You can, however, source your own flights if you would prefer different times or to fly from a different airport. Book online with us for access to discounts and special offers.
The opinion of the Voyage Prive travel expert on hotels in Gran Canaria
Here at Voyage Prive, we love Gran Canaria. We feel that it has something for everyone. Warm weather, plenty of activities for the kids, a fantastic landscape, beautiful beaches and great bars and restaurants. The hotel industry is huge and you will find many hotels that offer luxury and great service. If you need a break from the humdrum of everyday life, Gran Canaria is the place for you.
Gran Canaria, an island ready for exploration and adventure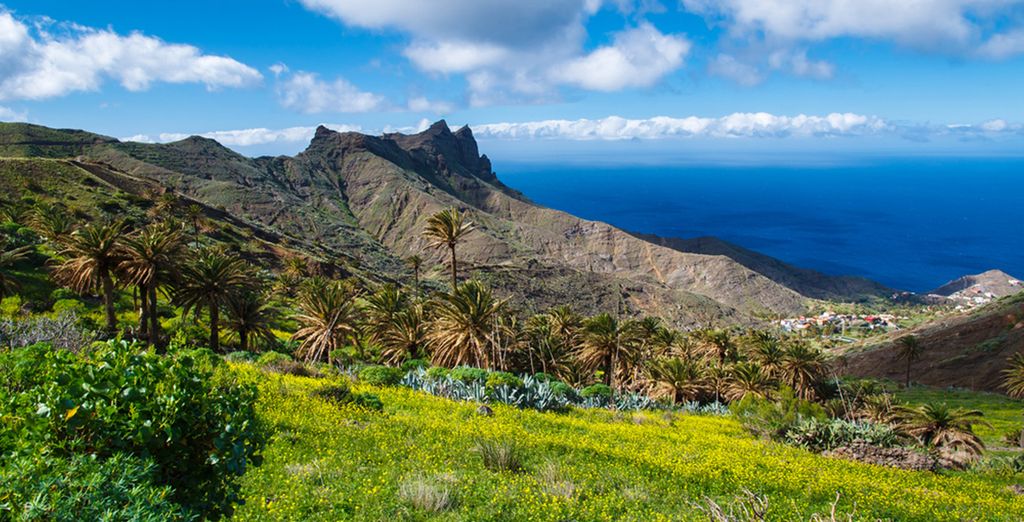 Gran Canaria is the third largest island in the Canaries, yet has the largest population of any of the islands in the group. It is known for mimicking an entire continent in just one island. This is because the terrain can be vastly different depending on where you are on the island. The north is green and leafy, the centre is home to looming mountains and the south has the feel of the desert. Plus, the coastline has all the luxury of the Carribean, with white sandy beaches and crystal blue sea. With plenty of resorts designed to offer you the ultimate in adventure or relaxation, whichever you need, Gran Canaria is the ideal location for your next holiday.
you.
Don't hesitate to check all our offers !