The 6 best Ibiza hotels - Luxurious hotels



Table of contents
Great savings 🏷️ on hotels in Ibiza, Balearic Islands, Spain. Read hotel reviews and choose the best hotel deal for your holidays.
Booking Ibiza
Do you want to stay in Ibiza for your next trip? Here are our best plans to find the top hotels at the best prices.
Discover our top 6 hotels for Ibiza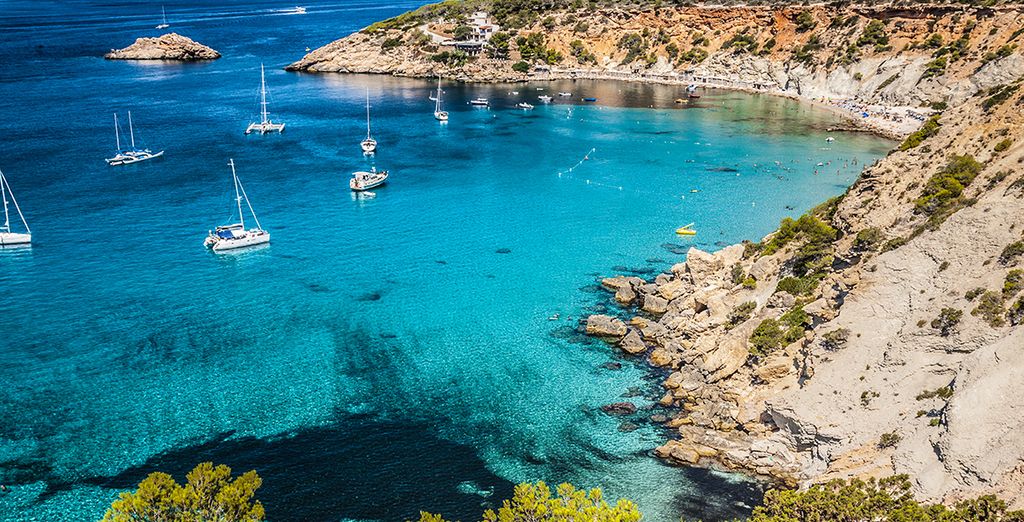 1. Palladium Hotel

Designed exclusively for adult guests, the four-star Palladium hotel is the ideal place to stay for a more grown-up holiday. Complete with all the modern fixtures and fittings you could ever want, this hotel is the ideal choice for exploring Ibiza.
2. THB Naeco Ibiza

With a stylish, modern appearance and four-star facilities, including a beautiful terrace and fully equipped wellness centre, the THB Naeco Ibiza is the perfect accommodation to access some of the most beautiful areas in and around Ibiza.
3. La Torre del Canonigo

A beautiful 14th-century building with modern additions, the La Torre del Canonigo is the ultimate in four-star luxury accommodation, with sweeping views of the town and an on-site rooftop pool and restaurant perfect for when you don't feel like going out.
4. Hard Rock Hotel Ibiza

Bold, modern and unmistakable, the five-star Hard Rock Hotel Ibiza is a resort with a difference, with every luxury you could ever need on tap. Located on the beachfront with access to excellent views, a wonderful spa and pools, this hotel does it all for you.
5. Destino Pacha Ibiza Resort

An adults-only resort with a focus on comfort and privacy, this four-star hotel is the ideal spot to soak up the local Ibiza culture, with a Japanese-style restaurant included on-site as well as quick and easy access to the hotspots and party areas.
6. Iberostar Santa Eulalia

Another adults-only resort along the beautiful Ibiza coast, the Iberostar Santa Eulalia offers even more on-site, with everything from tennis courts to water sports available to guests. Access to the beach is easy, and the hotel pool is the perfect way to cool off after a hot day.
Our reviews on Ibiza and its hotels: why make your booking there?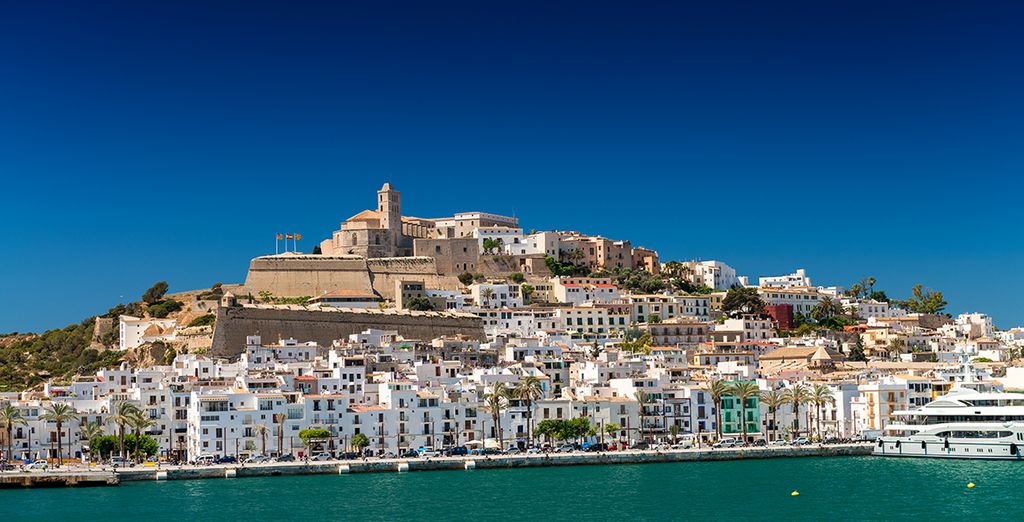 Known as the party capital of Europe, the town of Ibiza sees thousands of partygoers flocking to its beautiful coasts every year to enjoy the extensive festival and party scene beloved by those who attend. Many of Ibiza's hotels cater to this lifestyle, with adults-only resorts and events found across the town and beyond.
A beautiful, scenic town, outside of party seasons Ibiza is still a wonderful place to visit, with plenty of local culture and cuisine to enjoy, as well as beautiful beaches and bays. Ibiza might not be considered the perfect choice for families, but for those looking to enjoy the Spanish lifestyle, there's plenty to see and do.
How to make my booking in Ibiza
If you're considering Ibiza for your next holiday, we can help make your booking process that bit easier. Join us today for instant access to exclusive special offers and deals for your next holiday, wherever you choose to go or however you want to get there.
Download our app for up-to-date offers on your dream holidays, with up to 70% off available on certain holidays. We can even let you know when we've found a great deal for a specific destination. Book with us today for Ibiza, and we'll help you get the most out of your money.
The different ways to make your online hotel booking in Ibiza
Planning your travel to Ibiza, or on the hunt for the best price when it comes to hotel-only bookings? We offer all the information in one easy place, whether you're looking to book hotels and flights together or accommodation alone.
Book flight & hotel to Ibiza
Book only your favourite hotel to Ibiza
The best places to find hotels
1. Playa d'en Bossa

Known as the central high-end party area for Ibiza, complete with plenty of bars, clubs and beaches, Playa d'en Bossa is the place to stay to get immersed in that festival spirit.
2. Cala Llonga

Away from the crowds of the main town and with a laid-back atmosphere, this area of Ibiza is more suited to families or those looking to enjoy traditional Spanish culture and attractions.
3. Sant Antoni de Portmany

The more downtown version of the upscale party zones, Sant Antoni tends to draw in the younger crowds and students with drinks offers and dancing all night.
4. Es Canar

Situated a little outside the party sphere of Ibiza, Es Canar offers numerous beaches, water sports and shopping opportunities, while remaining close enough to enjoy the nightlife as you wish.
5. Sant Joan de Labritja

For those who prefer to enjoy the history and beauty of Ibiza, Sant Joan de Labritja is the place to stay. A world away from the parties and luxury districts, this area is all about taking it slow and relaxing.
Presentation of Ibiza
A place of contrasts, Ibiza is primarily known as a vast party capital, with more than enough bars, clubs and events to go around, from cheap and cheerful student-based parties to luxurious and expensive high-end events. If you're a fan of party culture, Ibiza is the place to be.
Beyond the party zones, however, there's still plenty of 'Old Ibiza' to explore, with more family-friendly attractions and Mediterranean food, culture and shopping to explore across the island. Whatever your type of holiday, Ibiza has something unique to offer.
The 5 best things to see/do to Ibiza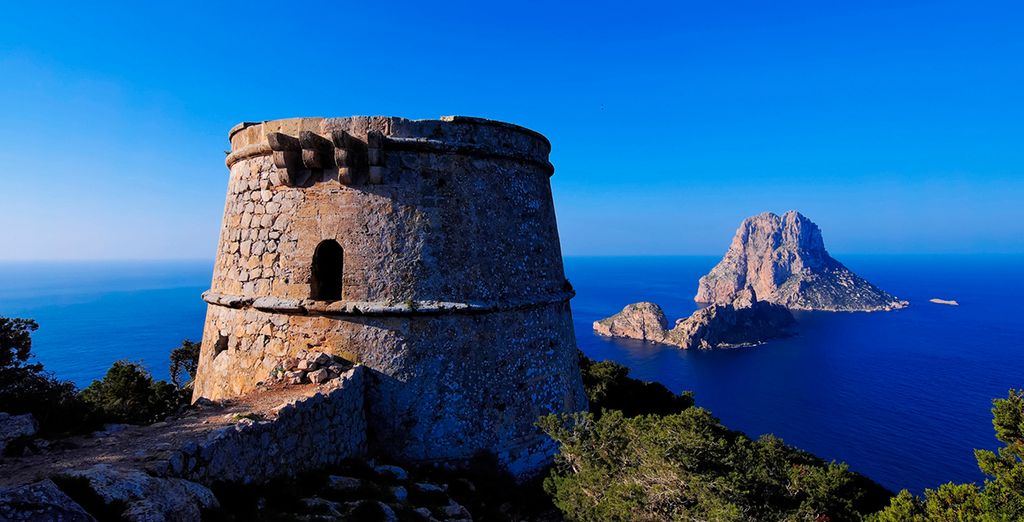 1. Ibiza Party Boats

Many different companies offer unique party experiences to holidaymakers with exclusive party boats, packed with drinking, dancing and entertainment throughout the days and nights.
2. Castle of Ibiza

A beautiful and imposing landmark of Ibiza's history, the castle is well worth a visit for those who enjoy learning about local history – with a great view from the top of the stone walls.
3. Playa d'en Bossa

For the more decadent party lifestyle, with countless clubs, bars and parties available, Playa d'en Bossa is one of the biggest attractions for those who love to party.
4. Talamanca

A beautiful white sandy beach beyond the town of Ibiza, Talamanca is the perfect place to enjoy the surf and soak up some rays, thanks to its peaceful setting and expanse of space.
5. Ibiza Cathedral

One of the most unique pieces of history Ibiza has to offer, the Cathedral itself tops winding alleys and streets with countless opportunities for shopping and eating in the traditional Spanish style.
Discover our offers to Balearic islands : Last minute deals, great deals, holidays, booking.