Find the Best Fuerteventura Hotels
The top 10 hotels in Fuerteventura
Fuerteventura is the island of colour. Geographically similar to its neighbour, Lanzarote, it basks in year-round sun, and is the destination for those wanting an affordable slice of luxury within a relatively short flying time. There's many hotels to choose from, but we've hand-picked a select few which, depending on your preference, should help with that all-important search for the perfect getaway.
Our best hotels in Fuerteventura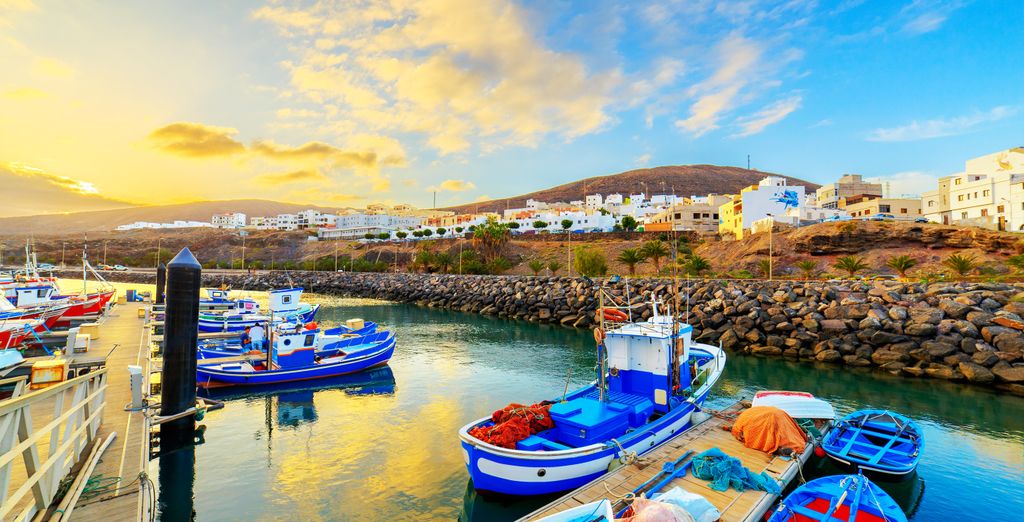 1. The View Hotel Resort 4*
The View Hotel Resort 4*
The clue's in the name with this one; stunning coastal views. These beautiful terracotta villas are nestled in a quiet area which is perfect for families, and come with your own private terrace and pool.
2. Agro-Hotel Rugama 3*
Agro-Hotel Rugama 3*
Surrounded by a whopping four hectares of land, here lies a peaceful, intimate hotel which has only thirteen suites in total. Boasting beautiful architecture, it has its own private restaurant, where the majority of the produce is grown in the surrounding land - delicious.
3. H10 Ocean Suites 4*
H10 Ocean Suites 4*
With spacious gardens and four swimming pools to cool off in, this hotel is your own Spanish oasis. Just 800 yards away from the beach, you can spend your days swimming or relaxing, before heading to your own Junior Suite and terrace.
4. Hotel Jandia Golf 4*
Hotel Jandia Golf 4*
Set in the countryside, this idyllic getaway has two outdoor pools, its own restaurant, and a bar serving up some of the tastiest cocktails around. Spend your time playing games, swimming, or just taking some time out in your private apartment.
5. Sheraton Fuerteventura 5*
Sheraton Fuerteventura 5*
With stunning gardens overlooking the ocean, you'll think you've found paradise at this 5* gem. Designed by famous architect Mendizábal, enjoy the tranquillity of the extensive outdoor space, your own Junior Suite, and even a spa, too.
6. Hotel Bahia De Lobos 4*
Hotel Bahia De Lobos 4*
Recently refurbished, this hotel sits right near the beach near the infamous dunes. It also offers two swimming pools, a fitness room, games room and plenty of outdoor activities to keep all the family entertained.
7. Fuerteventura Princess 4*
Fuerteventura Princess 4*
Right on the beach, this getaway has its own tropical gardens, four pools, and an all-inclusive option for ultimate luxury. Relax in your spacious room before sampling the delights of the restaurant on the terrace, then hit the beach for the day.
8. Labranda Cactus Garden 4*
Labranda Cactus Garden 4*
A stylish, modern resort with its own wellness centre and rooftop bar as well as an outdoor pool, ideal for a couples getaway. With an all-inclusive option, you can enjoy all it has to offer without the worry of additional costs, before exploring the local beach – Perfection!
9. VIK Suite Hotel Risco del Gato 4*
VIK Suite Hotel Risco del Gato 4*
Surrounded by 8.5 acres of beautiful gardens with an excellent spa, you'll be spoilt for choice at this 4* retreat. Stay in a Deluxe Junior Suite, partake in the watersports on offer, or try out one of the various swimming pools.
9. Elba Carlota Beach & Convention Resort 4*
Elba Carlota Beach & Convention Resort 4*
Just a few steps out onto your own beach, the bedrooms at this hotel are modern and well-equipped for families of all sizes. Complete with buffet restaurant, outdoor pool and even a spa, it's the ideal sun-soaked getaway.
What services will you find in our hotels to Fuerteventura?
• Fully-equipped bathrooms • Air con • Restaurants and bars on site • TVs in rooms Due to the nature of the destination, the majority also come with more than one swimming pool suitable for children, as well as spas, gyms, and more.
Hotel rental offers at Fuerteventura convenient for all kind of travel
Fuerteventura is ideal for families of all shapes and sizes, who need a relaxing sun-filled break any time of the year. With the majority of hotels offering watersports, children's entertainment and activities, and a wide range of other family-friendly facilities, it's sure to impress as your next holiday destination. Of course, it's also a great option for couples wanting some sun, especially when you throw an all-inclusive option into the mix.
The range of hotels we offer at Fuerteventura
We offer a delectable range of all-inclusive hotels for the ultimate beach holiday, but that's not to say you don't have the option for a bit more freedom, if you wish. With a range of stylish self-catering apartments, you can choose to eat and drink on your own accord. The hotels are modern, stylish, comfortable, and many sit on their own beach, giving you easy access to swimming and watersports.
Fuerteventura: What should we bring for a hotel stay?
Thanks to its wonderful weather, summer clothes are essential for any trip. We'll provide a host of items for the bathroom, but you can pack your own personal toiletries if you prefer. Of course it goes without saying to pack your swimwear, sun cream and plenty of mosquito repellant if they're drawn to you.
Your best hotel at Fuerteventura: how to get there and make your booking?
With flight time from London coming in at under 4.5 hours, and Manchester at just over 4.5 hours, it's a fantastic choice for a slice of the beach life without the long travel hours. Remember to register online to take advantage of all our exclusive offers, dedicated to members only on our range of luxury hotels. You wouldn't want to miss out…
The opinion of the Voyage Prive travel expert on hotels to Fuerteventura
With endless golden beaches stretching out along the coastline, mountain ranges, and crystal clear waters, Fuerteventura has been truly blessed by nature. For the famous sand dunes and best beaches, head to Corralejo, where the landscape resembles the likes of a screensaver. It's also a pretty lively town, for those wanting a bit of excitement in the evenings. Costa Calma has some great beaches for sports such as windsurfing, and if it's bars, restaurants and shops you're after, Caleta del Fuste has it all, including a big golf course.
Fuerteventura - Sun, sand and sea
That pretty much sums up when it comes to this incredible Spanish island. For those seeking an easily accessible beach holiday, complete with some of the best Spanish cuisine, entertainment and water sports, it's the place to be.