The TOP 5 Hotels in Tuscany



Table of contents
Looking for the perfect Tuscan hideaway? We've got sun-drenched countryside hotels and city boutiques here at Voyage Privé!
Our best hotels in Tuscany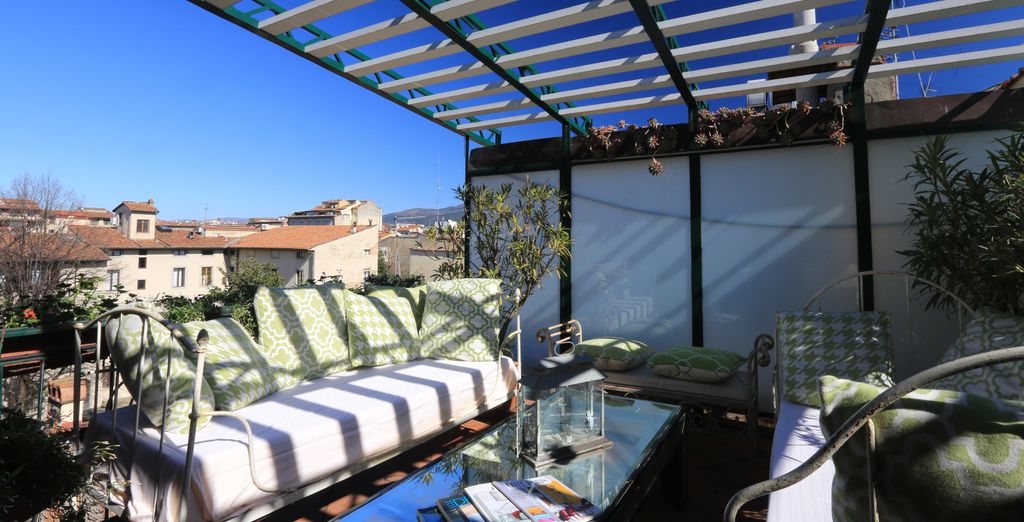 Explore Tuscany's crown jewel with this pretty Florence hotel. This hotel is located right in the heart of the historic city, offering scenic rooftop views of glorious city sunsets. Inside, you'll find beautiful Florence features, including terracotta flooring, stone arches and antiques to set the mood.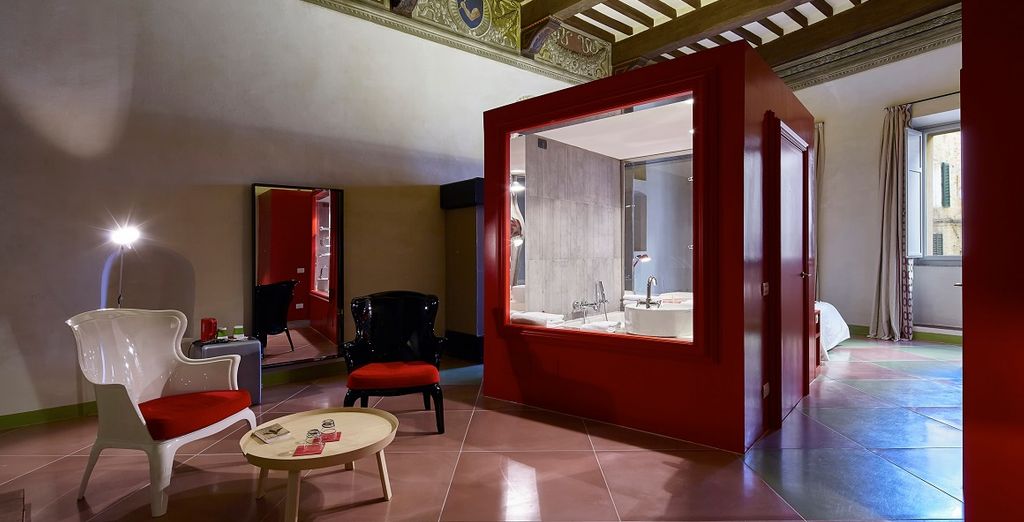 Escape to Siena, the hilly Tuscan city bursting with Gothic and Romanesque buildings. This spectacular hotel dates back to the Middle Ages, boasting original artworks and a treasure trove of artefacts. Rooms are decorated with unique Tuscan ceilings and offer a unique blend of contemporary furnishings and traditional décor.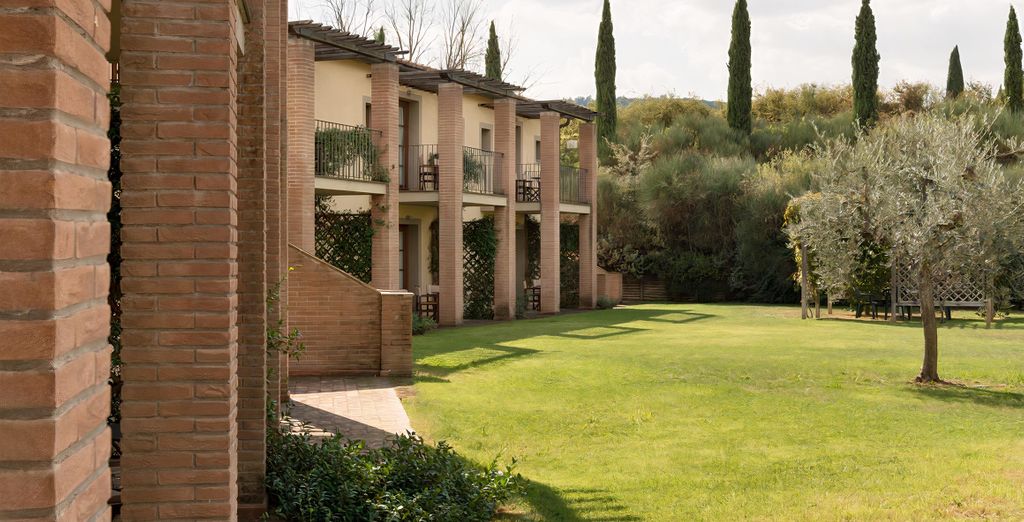 Enjoy a quintessentially Tuscan experience with this scenic hotel close to San Gimignano. Home to welcoming rooms, an indulgent spa and fine Italian dining, its terraces overlook the gorgeous Tuscan scenery. Quick connections to the World Heritage Site of San Gimignano provide charming market, museum and monument visits.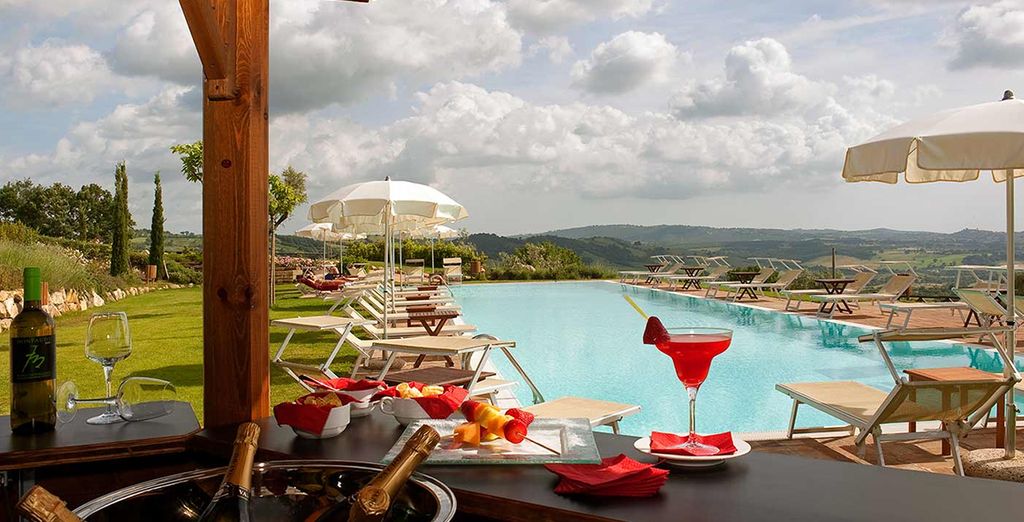 Escape to the beautiful countryside of southern Tuscany with this delightful Saturnia valley-based retreat. Located beside typical rolling fields, this homely hotel features a stunning pool complex with Tuscan panoramas. Guests have access to a spa and wellness centre alongside a delectable rustic restaurant.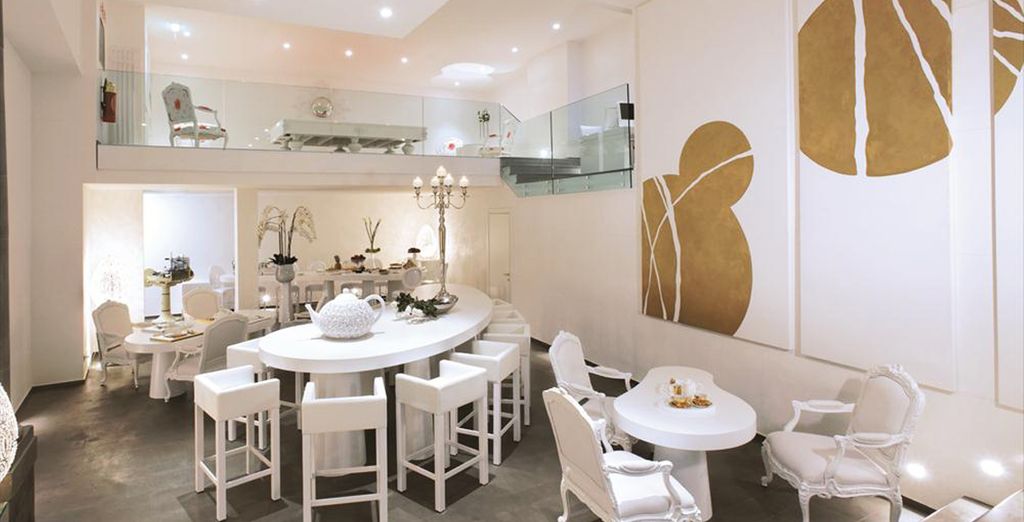 Enjoy this centrally located Florence stay overlooking the River Arno. The hotel is blessed by a sky-view jacuzzi, offering peaceful and romantic nights next to the city's famed domes. The hotel's interiors are chic and contemporary, with ample white furnishings and glittering gold features.
Services will you find in our hotels in Tuscany
Free Wi-Fi
Tea and coffee-making facilities
Flatscreen TVs
Luxury bathroom amenities
Excellent dining options
Terraced bars
Pretty gardens
Swimming pools
Spa treatments
Going on holiday in Tuscany
Tuscany is truly delightful all year round, with excellent weather and dramatic scenery. The high season is throughout summer, from May until September. However, the weather is scorching and prices can rise considerably, especially on the coast. To avoid the largest footfall, consider April or October. The low season stretches from November until March. While bargains are readily available and the weather remains mild, many restaurants and hotels close for the season. Try basing yourself in a bustling city, like Florence, if you're planning a winter stay.
Hotel offers at Tuscany convenient for all kind of travel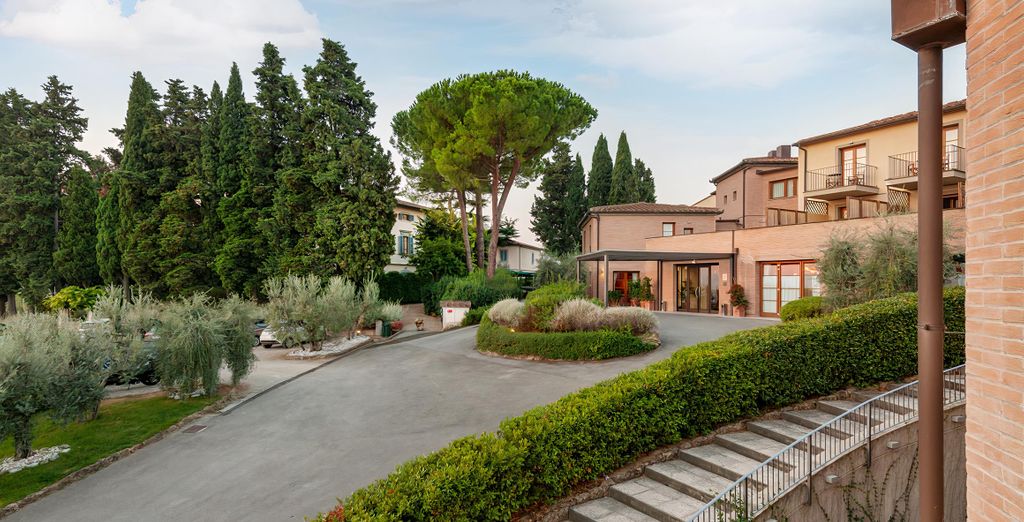 Tuscany is an immensely charming destination that's suited to all kind of traveller. Couples will discover a richly romantic landscape, home to big skies, sunsets and an incredible culinary heritage. Impressive museums, churches and spectacular coasts all provide perfect couples getaways. Families, too, will find much to enjoy. Dusty ruins and farm visits are guaranteed to delight the little ones alongside perennial favourites like aquariums and beaches. In fact, most museums are free for under-18s! As for groups, Tuscany is bursting with activities. Long hikes, relaxing wineries and thoroughly exciting museums all make Tuscany a prized destination for all. Florence and Pisa are particularly lively in the evening, thanks to their bustling student populations.
The range of hotels we offer at Tuscany
Countryside hotels
City hotels
Spa hotels
Farm hotels
Tuscany: what should we bring for a hotel stay?
Charging cables
Guide book
Comfortable walking shoes
Breathable walking clothes
Pack-away towel
Evening attire
Sun tan lotion
Swimming costume
Sunglasses
Mosquito repellent
Your best hotel in Tuscany: how to get there and make your booking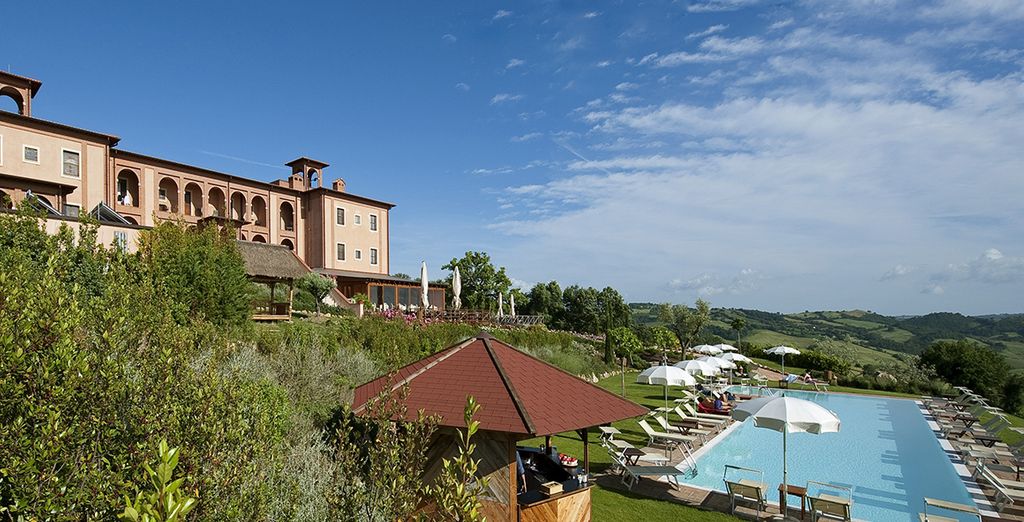 How to get to Tuscany
Many foreign visitors arrive in Tuscany by air, with Pisa and Florence offering convenient international airports. From there, you'll find plentiful public transport links into the respective cities. Although buses and trains are very convenient in Tuscany, a car is recommended to explore the region. This will allow you to discover Tuscany's prized countryside and picturesque hill towns. Rental cars can be picked up from the airport - just remember to avoid ZTL centres which incur fines. Staying rural? Stick to a bicycle, one of the best ways to discover Tuscany.
How to book your hotel in Tuscany
Unlock excellent savings on Tuscany's finest retreats exclusively through Voyage Privé. Voyage Privé is a premium booking platform that offers member-only savings of up to 70% off. Registration is not only free but also easy. Just type in your details to discover the latest offers. You can filter your results by date and location or set up alerts so that you never miss a deal. Voyage Privé is your go-to platform for luxury stays for less. Pick from package holiday deals with flights and travel included, or simply select your night and make your own way there. In Tuscany, you can choose from prized hotels in Florence, Siena and Pisa, or go rural with countryside retreats. Get started and book your Tuscan escape today!
The opinion of the Voyage Privé travel expert on Tuscany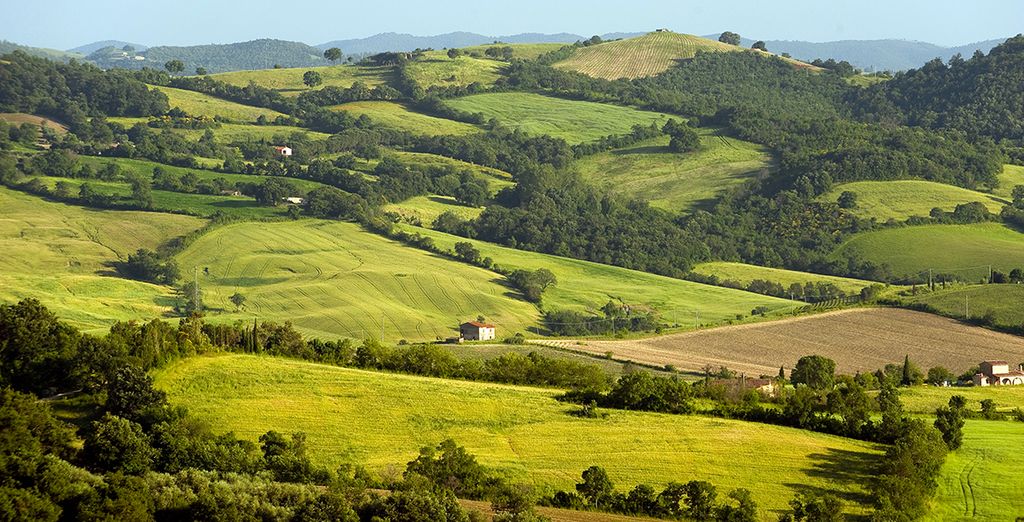 Renowned for its spectacular landscapes, both rural and urban, Tuscany is a crowd-pleaser. This is a picture-postcard region that dominates tourist posters, and it's easy to see why. Rolling vineyards and glistening olive groves are the perfect antidotes to modern life. Our hotels in Tuscany are the perfect base to explore these undulating landscapes, from Roman villages to fertile forests. As you head towards the coast, you'll discover serene beaches and treasured islands that beckon exploration.
Tuscany – Italy's artistic and cultural powerhouse
There's no denying Tuscany's artistic pedigree. This was and is the centre of some of Italy's finest artefacts. In medieval times, its architecture flourished, many of which you can explore today. But the true gems blossomed through the Renaissance, with fine artists descending upon towns like Florence. Standouts include Galleria degli Uffizi, the world's premier Renaissance museum, and Museo di San Marco, a 15th-century marvel.