Algarve Hotels Best Deals



Table of contents
Looking for a relaxing stay in Portugal's dreamy Algarve? Choose from scenic resorts and sleepy coastal hotels at Voyage Privé.
Our best hotels in the Algarve

Enjoy a sun-kissed stay in scenic Albufeira with this pretty coastal resort. Inspired by pine forests, rooms boast crisp greens to reflect the stunning natural surroundings. The hotel offers luxurious swimming complexes, delightful dining experiences and a wealth of pampering facilities, from Turkish baths to spas.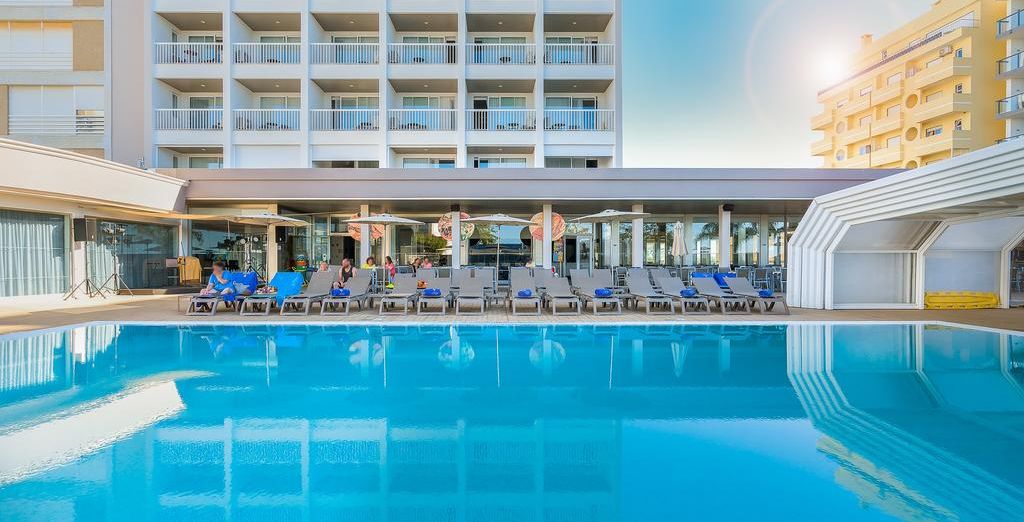 The Jupiter is a bright and contemporary hotel on the sun-soaked coast of Praia da Rocha. Providing delectable Portuguese cuisine and luxury swimming facilities, the hotel features an impressive ocean theme throughout. Guests have access to an on-site spa and leisure services or can simply stroll over to the beach.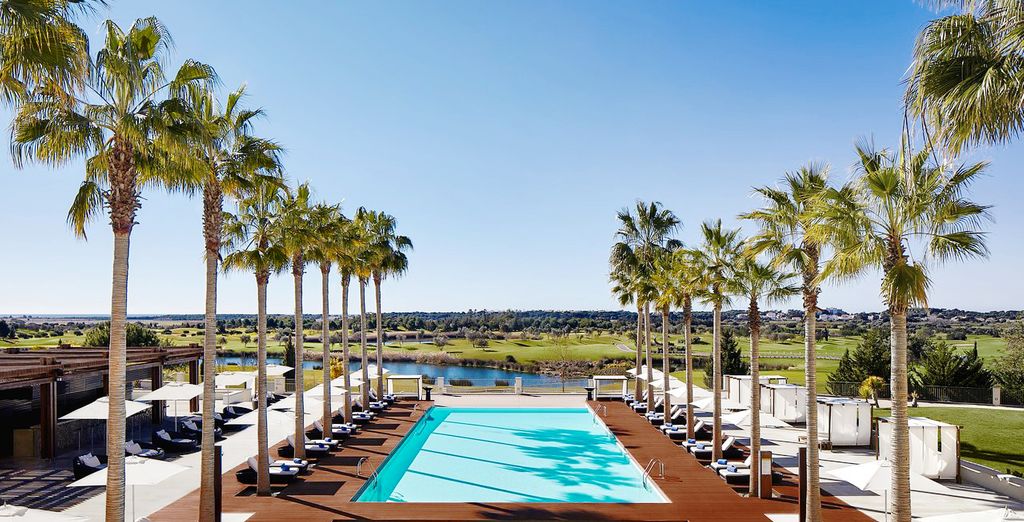 This elegant resort in Quarteira is among the Algarve's most attractively designed. Strong attention to style continues throughout with beautiful gardens and sleek tree-lined terraces. The hotel itself offers exceptional panoramas of golf courses, ponds and sea, as well as premium swimming and dining options.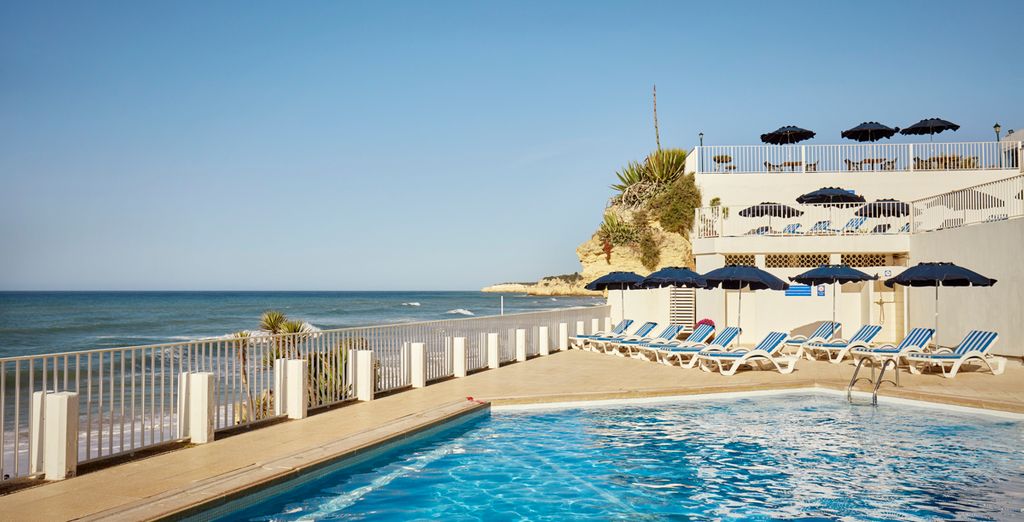 Wake up to the sound and views of the ocean with this charming Faro-based hotel. Guests have direct beach access or can enjoy the calming sea waves from the comfort of the pool. Three delightful restaurants and a well-stocked bar add to the relaxing atmosphere of the Holiday Inn.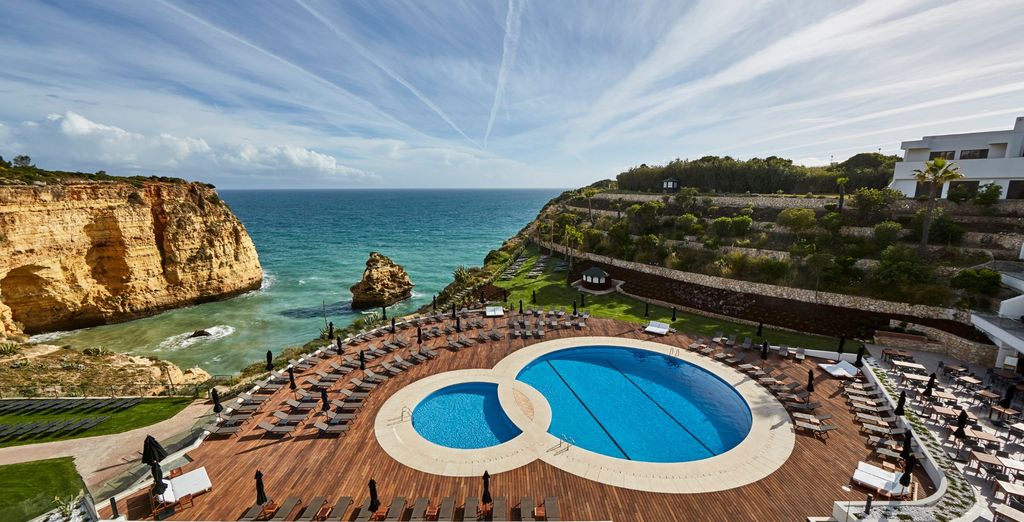 Enjoy a tranquil experience at this modern resort in the sleepy region of Lagoa. Boasting fine sea views from its sumptuous restaurant terrace, the glittering sunsets here are sublime. Rooms are spacious and exquisitely decorated with accents of blue and garden or sea-view balconies.
Services will you find in our hotels in the Algarve
Free Wi-Fi
Hot drink making facilities
Flatscreen TVs
Luxury bathroom amenities
Swimming facilities
Delectable dining options
Terraced bars
Spa treatments
Gym facilities
Sports and courts
Bookable excursions
Room service
Going on holiday to the Algarve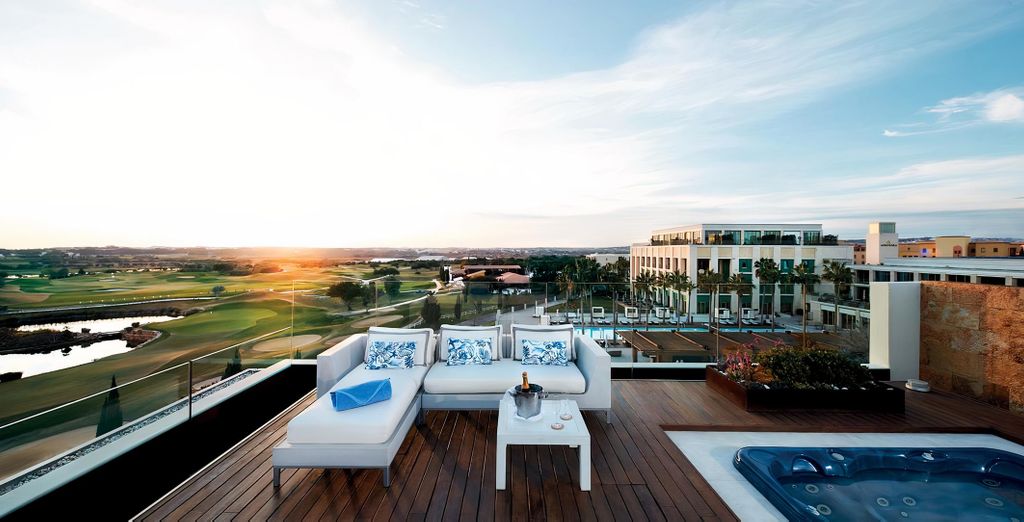 The Algarve is renowned for its year-round sunshine and mild winter weather. Still, the summer period from July to August is by far the peak tourist season. Rooms can book up at major resorts, and costs rise accordingly. This all accompanies a spectacularly warm weather spell that's perfect for beach trips. To avoid the crowds, consider booking in the shoulder months of summer. Spring, in particular, is a fine time to visit if hiking and town tours are your thing. The coastal paths bloom with gorgeous wildflowers, and the ocean waters begin to warm. September, too, sees lasting warmth and less footfall. The Algarve remains a popular destination for off-key winters, but some restaurants and resorts close their doors. Be sure to book a central location or prepare for seclusion if you're booking a winter escape.
Hotel offers in the Algarve convenient for all kind of travel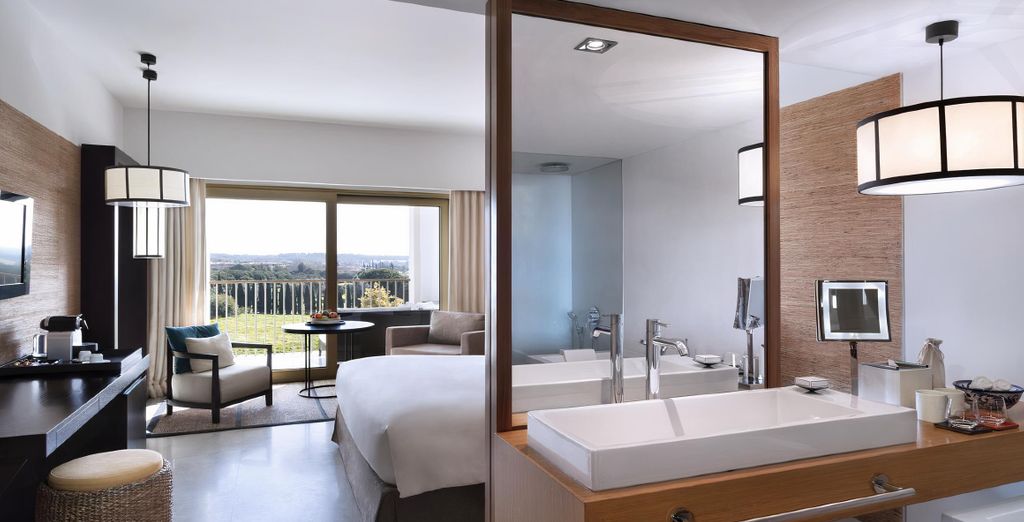 The Algarve is a very popular destination with families, couples and friends. That's because there's a wealth of fine resorts boasting premium facilities alongside enticing coasts. Water sports and bars are perfect for groups of friends looking for fun. As a beach holiday, it doesn't get much better. Pretty towns and villages hug the coast and provide exciting museums and restaurants to visit. Kid-friendly attractions include fun water parks (Krazy World), a zoo (in Lagos) and castles. Boat trips are also great for families to enjoy, including pirate ship excursions. As for couples, the Algarve is blessed with world-renowned Michelin-starred restaurants. Many of these are found along the sparkling coast, providing romantic evenings beneath the stars.
The range of hotels we offer at The Algarve
Seafront hotels
Family-friendly resorts
Country hotels
The Algarve: what should we bring for a hotel stay?
Charging cables
Multi-plug adaptors
Guide book with helpful phrases
Comfortable walking shoes
Pack-away towel
Swimming costume
Evening attire
Hiking clothes
Suncare and tanning lotion
Your best hotel in the Algarve: how to get there and make your booking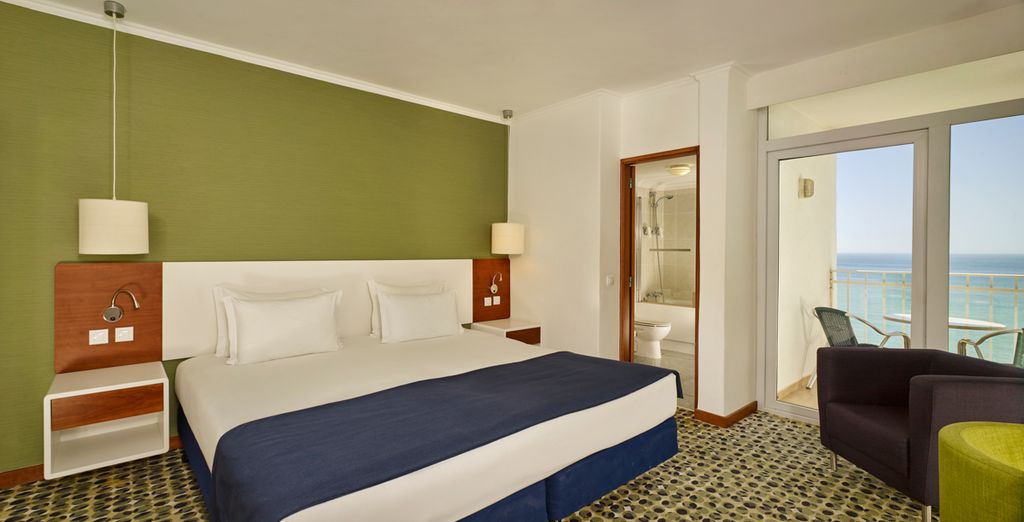 How to get to the Algarve
The Algarve spans the entirety of Portugal's southern coast. As such, there are many ports of entry, depending on your destination. Most visitors arrive in the region via Faro Airport. This hub offers European flights with seasonal additions through summer. It's also possible to arrive at the Algarve by rail, thanks to high-speed trains from Faro to Lisbon and Porto. Once you're in the Algarve, scenic regional railways run from Lagos to Vila Real de Santo António. However, having a set of wheels on arrival is advantageous if you want to explore the region.
How to book your hotel in The Algarve
Uncover unmissable offers on the Algarve's most exciting hotels with Voyage Privé. Voyage Privé is a free-to-join booking platform that offers exclusive members discounts of up to 70% off. To claim these deals, simply sign-up today and type in your travel dates. Filter your next hotel booking by location or discover the best overall deals worldwide. In the Algarve, we've got exclusive discounts on seafront resorts and luxury hotels, all bookable through Voyage Privé.
The opinion of the Voyage Privé travel expert on the Algarve

Renowned for its golden beaches and captivating cliffs, the Algarve is one of Europe's most spectacular seaside escapes. Tourist hotspots provide bustling harbours and fun seafront excursions, but this is also a peaceful retreat. Bird sanctuaries, dusty hill trails and spectacular inlets all offer solitude for those seeking tranquillity. Then, there's the food. The Algarve serves up delectable seafood in humble cantinas, sizzling stalls and Michelin-restaurants alike.
The Algarve – a historical wonderland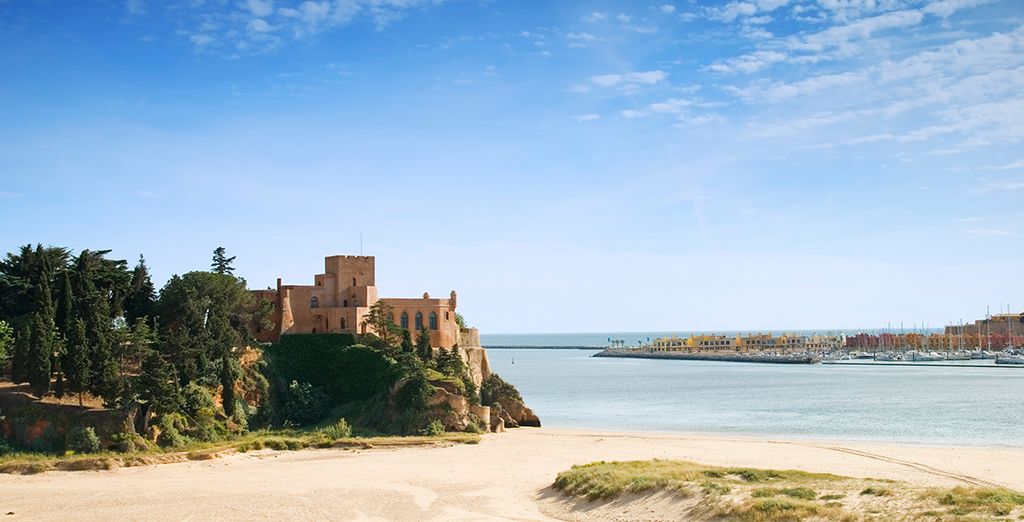 Escape the beach for the day, and you'll discover a vibrant history across the Algarve. From Portimão to Faro, the Algarve's towns are awash with dazzling cathedrals, medieval streets and maritime treasures. Explore the history of the region's Moorish past in the striking white-washed architecture of Olhão. In scenic Silves, you'll find an ancient castle with potential Lusitanian roots.