Holidays to Benidorm 2021/2022



Table of contents
Benidorm is the original sandy summer locale. Vibrant beaches, bustling bars and many fine theme parks make it ideal for countless visitors. Move away from the sun-soaked high rises, and you'll discover an Old Town that's still breathtakingly beautiful. Crystalline waters and a fair year-round climate mean you'll always find coastlines to wander and wonder at.
The top 5 things to do in Benidorm
1. Hit the Beach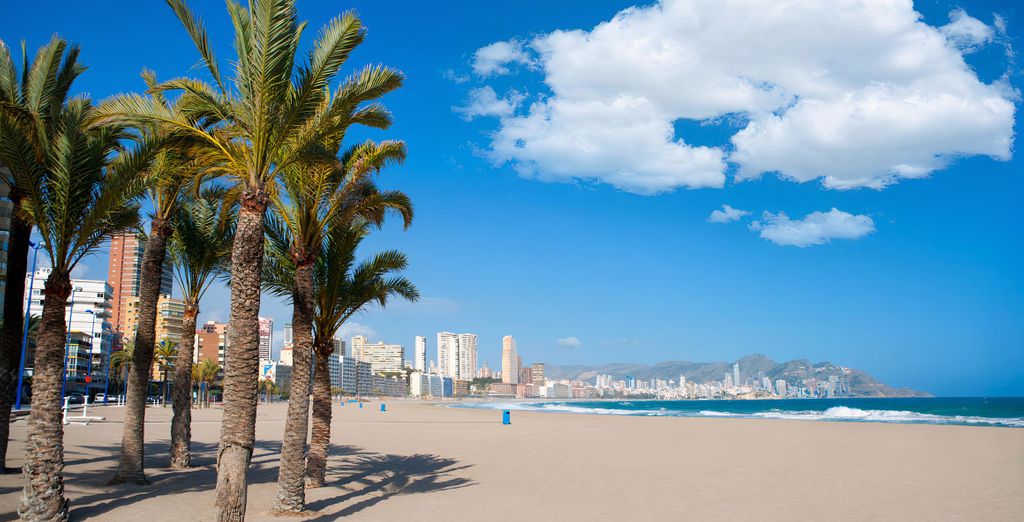 If your ideal beach holiday includes crystal-clear waves lapping against dreamy sandy shores, you'll find it here. Benidorm has buzzing resort beaches and quieter reaches in spades. The long Costa Blanca strip is a beachgoer's dream, offering quiet coves and buzzing boardwalks to discover.
2. Altea Old Town
The delightful Altea Old Town is just a short trip east along the Costa Blanca coast. It's a visually stunning area with meandering alleys and striking white-washed architecture. Enjoy prized views of the beach below from the higgledy-piggledy hilltop.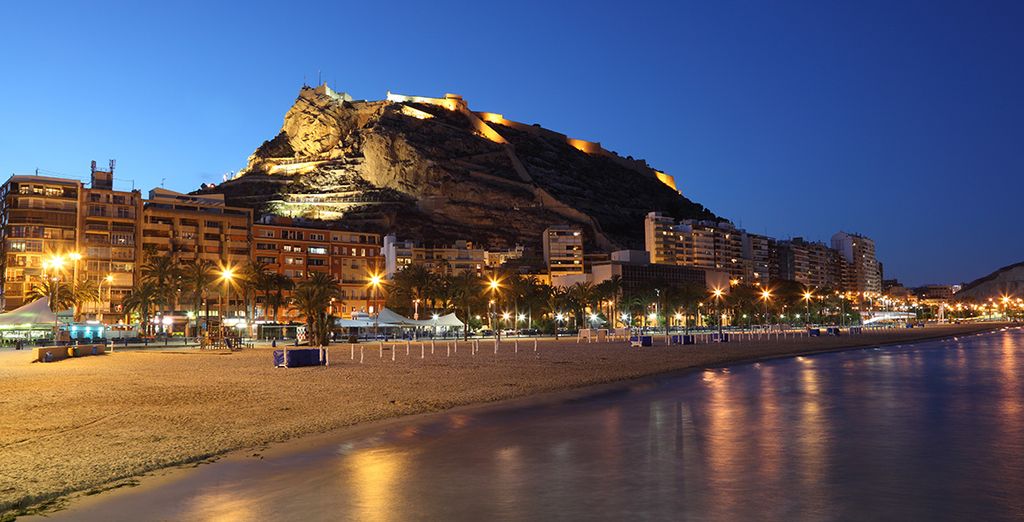 Benidorm's southern sibling is a delightful day trip. Aside from its sun-soaked beaches and bustling waterfront, it boasts the region's most captivating historical sites. Enjoy sweeping vistas from the ramparts of the 16th-century Castillo de Santa Bárbara. Other highlights include the gilded baroque masterpiece, Basílica de Santa María.
4. Sailing
Benidorm's clear and calm waters provide idyllic settings for sailing or boat trips. You can charter a number of boats from across the Costa Blanca. Top spots include marinas in nearby Altea. You can sail to the scenic La Isla de Benidorm, a tiny island 2 miles from Benidorm's mainland.
5. Eat Tapas
Benidorm's culinary scene may be catered toward tourists, but the tapas is still exceptional. Paella, gambas al pil pil and patatas bravas are all spectacular and fresh. For the best options in Benidorm, head to the Old Town and look for the appropriately named Tapas Alley.
Our best hotels in Benidorm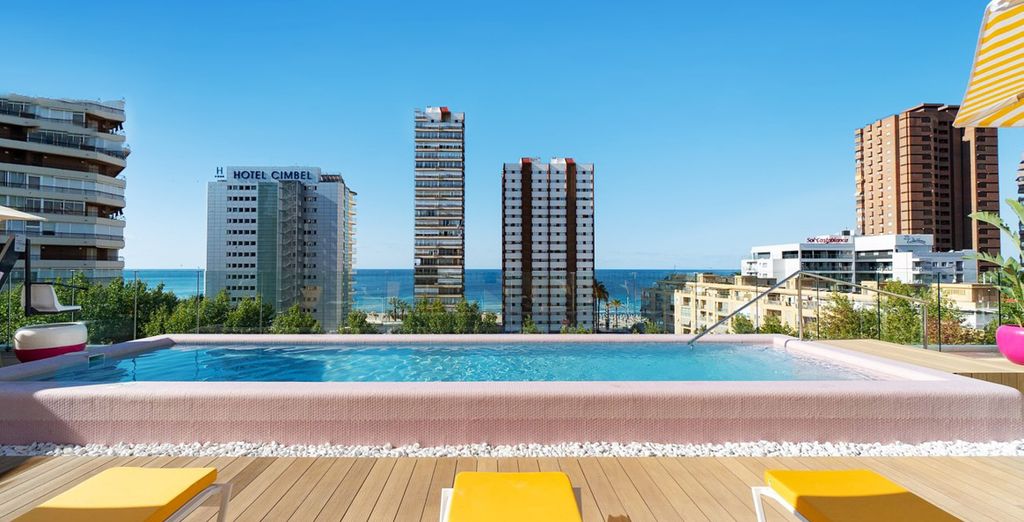 Escape to this trendy hotel just moments from the famed Levante Beach. Close to the Old Town, there are plenty of alluring nightspots and restaurants on your doorstep. The hotel itself is impeccably presented with crisp white furnishings, private balconies and a stunning rooftop pool.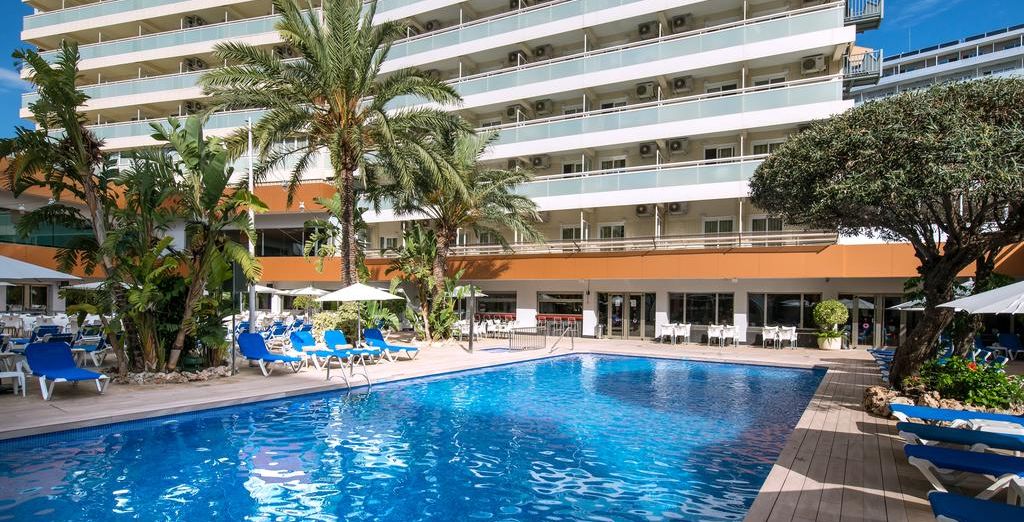 Enjoy a central location just moments from the stunning Levante Beach. The Plaza is a modern hotel with a wealth of fantastic features, from an all-day gym to luxury swimming facilities. Rooms are well presented with bright and warm interiors and spectacular en-suite bathrooms.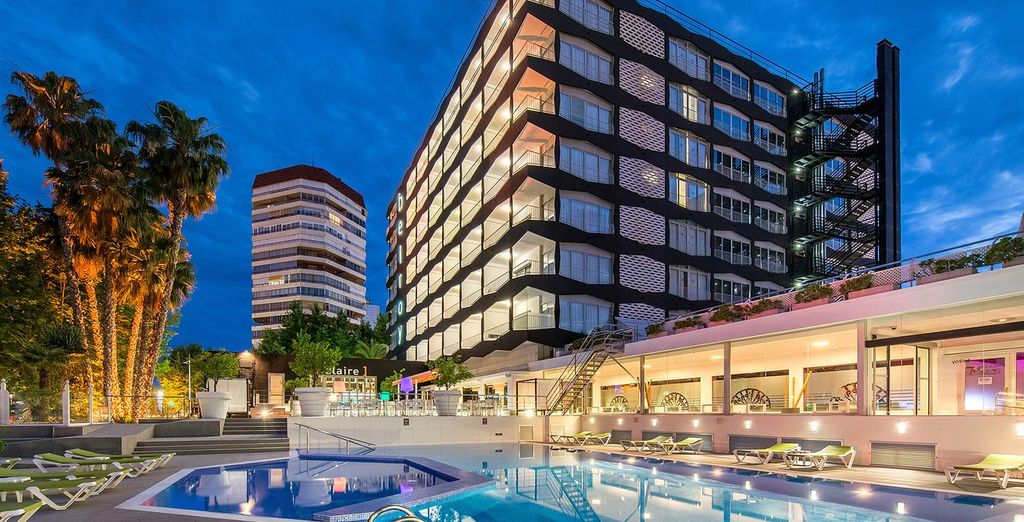 Wake up to private balcony views of the stunning Benidorm coast with this prized seafront hotel. The hotel boasts several swimming pools with well-kept spaces for all-day lounging. The hotel's charming and contemporary interiors spread across four delightful restaurants and a sea-view bar.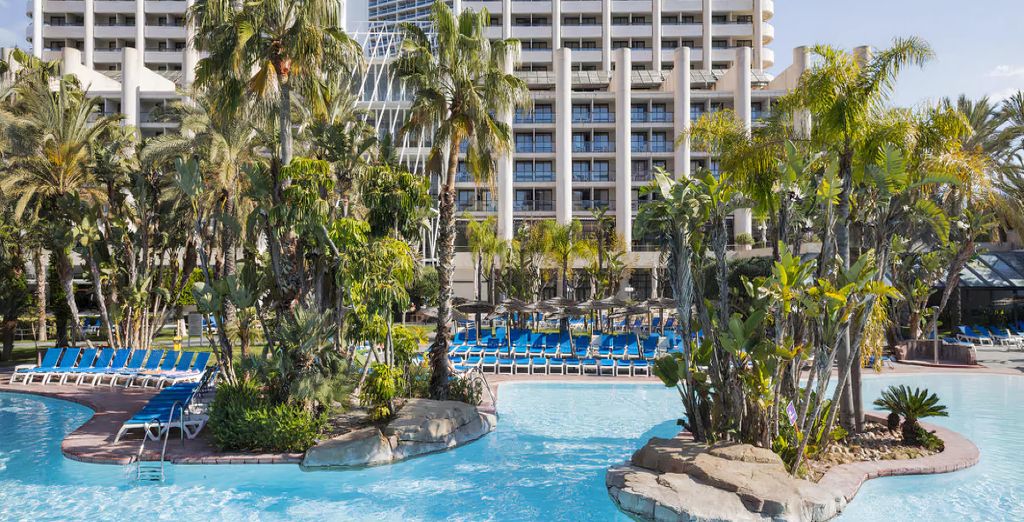 This splendid Mediterranean retreat boasts leafy grounds and first-rate pools. A perfect choice for families, you'll discover a world of fun activities and pampering spas for adults. The hotel's interiors are equally delightful, with plush and elegant décor and balconies overlooking tropical scenes.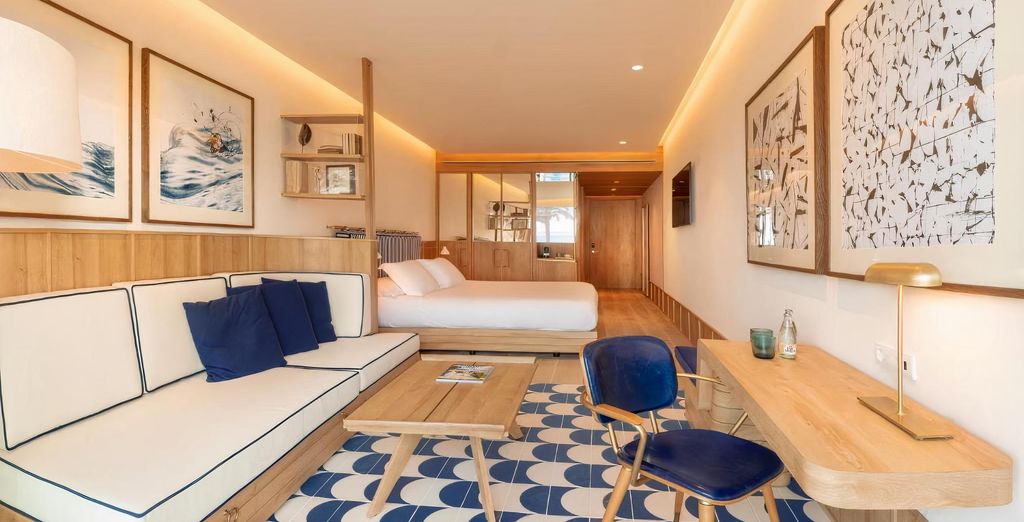 This delightful sun-soaked resort boasts breathtaking interiors that draw inspiration from mid-century modern styles. Bright and airy bars, infinity pools and delectable cuisine add to the glamorous experience. A wealth of leisure and spa facilities provide non-stop relaxation for couples to enjoy.
When is the best time to go on holiday in Benidorm
Benidorm has a sizzling, Mediterranean climate that's associated with long hot summers and mild winters. Sun-seekers descend on this region in the height of summer, particularly from July through August. During this season, you'll find soaring temperatures and warm waters for the ultimate beachbound relaxation. To avoid the crowds, visit Benidorm in the shoulder periods around summer. Spring and early autumn, in particular, see fantastic weather and fewer fellow tourists. Some resorts and clubs shut down for the low season, but most stay open for winter stays. You'll tend to find better deals on package stays and overnight options during the low season.
Going on holiday in Benidorm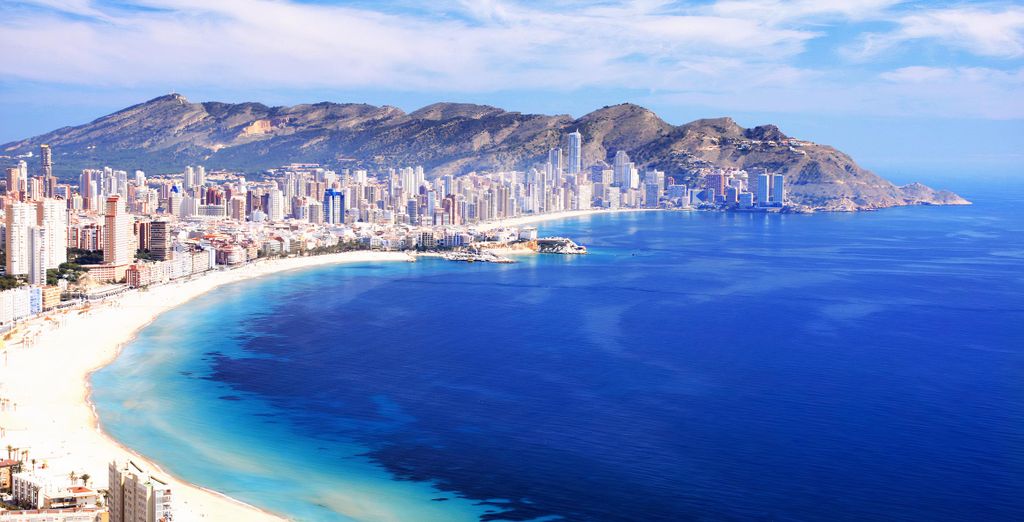 Benidorm's closest airport is Alicante Airport, some 36 miles away. Taxis, buses and rental cars provide easy access to the resort via the AP7 motorway. Plenty of hotel shuttles are available to take you directly to your destination. For those arriving by land, light rail links are possible across the Costa Blanca from Alicante to Denia. Rail connections to Spanish cities like Madrid and Barcelona are easily made via Alicante or Valencia. Once you've arrived in Benidorm, you'll find the town easy to navigate on bus or bicycle. Other towns are easily accessible by bus. To experience the Costa Blanca at your own pace, a car is recommended.
Enjoy your holiday in Benidorm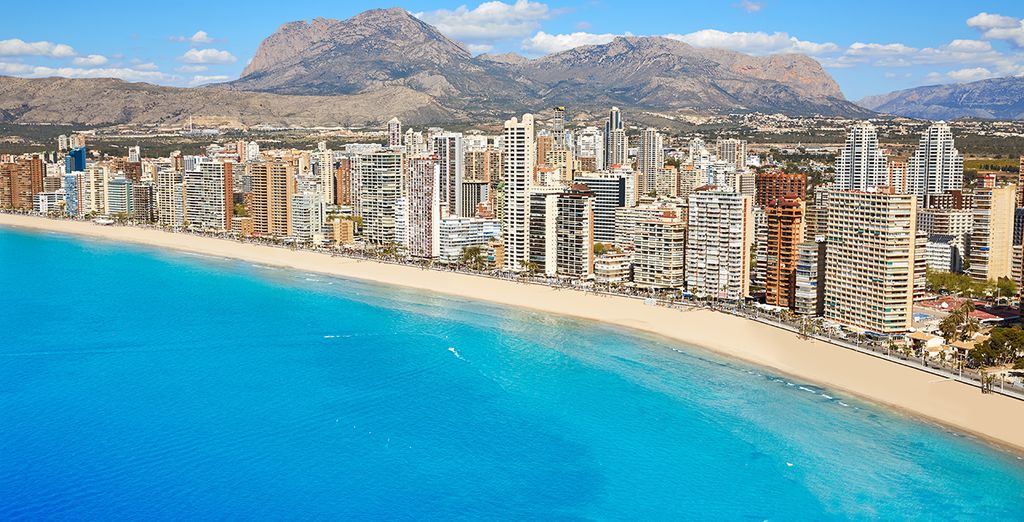 Benidorm is one of the Costa Blanca's most famous tourist destinations. Its superb beaches, thorough services and exciting entertainment cater to all ages and group sizes. Families, in particular, have access to fun water, wildlife and theme parks to keep the little ones enticed. The beaches, too, are shallow and safe, making them ideal for families with little ones. Groups of friends or couples will discover a wealth of bars, clubs and late-night entertainment. What's more, the surrounding region is just begging for exploration. Hilltop hikes, historical villages and wonderful coastlines are perfect for all travelling types.
The Voyage Privé travel expert's opinion on Benidorm
Benidorm is the quintessential Spanish beach escape. Packed with fun activities, from water sports to pulsating nightlife, it attracts throngs of partygoers and beach lovers through summer. Benidorm is also the perfect family getaway with fun and friendly parks on its doorstep. While the centre is bustling with ex-pat bars and clubs, you're never too far from solitude either. Castles, medieval streets and breathtaking natural beauty provide the necessary culture to round off any visit.
Benidorm's beautiful beaches
Clear blue seas and fine golden sand are trademarks of Benidorm's seafront. One of Spain's most popular resorts, Benidorm boasts the clean and well-maintained Levante beach, a popular destination for visitors all year round. To the south of the port is Poniente beach, where it's sunny until well after 8pm. Between the two beaches is the old town area, where the secluded Mal Pas beach nestles in the shelter of Canfali hill. Just off the coastline is the Benidorm island, a scuba divers' paradise, where two coves, Tio Ximo and Almadrava, are ideal for swimming.
If you're looking for fun activities during your Benidorm holiday, you can choose from an action-packed, adventurous holiday, or simply try out something new to make your stay a little different. Benidorm offers a range of activities suitable for families, groups, couples or young people. The activities include horse-riding through stunning landscapes, paragliding, paintballing, climbing, golf on a choice of three courses, tennis and beach volleyball, to name but a few.
Benidorm's cuisine
The variety and richness of Benidorm's local cuisine has been influenced by its diverse history. Local recipes are complemented by international cuisine inspired by Arabian culinary traditions, marine merchants' legacy and the traditional gastronomic delights of a sea port. Regional specialities include fish casserole, mullet and pumpkin rice, tapas and filled pastries. The local people favour tapas, a Spanish dish that offers plenty of variety. There are many restaurants and bars that serve a diverse selection of tapas, accompanied by a selection of excellent wines. Benidorm celebrates with many food-related festivals, such as Gastronomy Week. You will get to experience all of this and more during your holiday to Benidorm.
Benidorm's accommodation and nightlife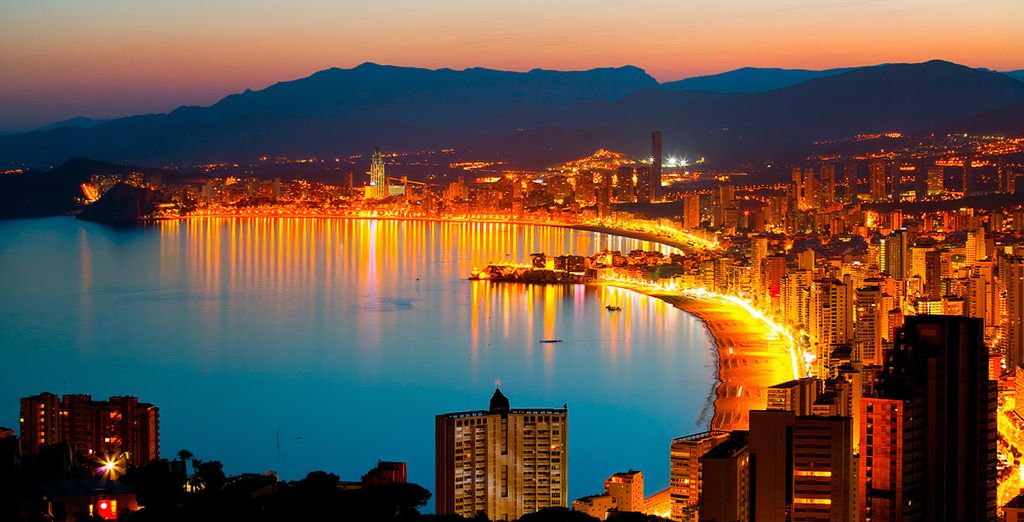 Benidorm boasts a selection of different types of accommodation, including luxury hotels with spas, apartments and even upmarket campsites for visitors who enjoy the great outdoors. If you're a fan of luxury holidays, then a stay at a spa hotel, to enjoy the full pampering experience, could be the answer to your prayers. Benidorm's rich and varied nightlife offers you plenty of choices, including Benidorm Palace, where world-class artists and dancers perform every night, modern clubs and more than 160 pubs.
Luxury holidays to Benidorm can be filled with sunbathing, enjoying outdoor activities, sampling local cuisine and taking in the vibrant nightlife. The choice is yours, whether you want a lively, activity-filled holiday, or a more secluded, relaxing break. If you're looking for handpicked Benidorm holidays, sign up today and see our exceptional, exclusive discounts.