Last minute Benidorm deals in style and comfort



Table of contents
If you are looking for an affordable getaway to a sunny, vibrant and exciting city in Europe, then Benidorm could be for you. It's filled with endless gorgeous beaches; strips of bars, clubs and restaurants; and plenty of all-inclusive hotel packages to suit all budgets. Last minute Benidorm holidays are perfect for families, couple and groups of friends who are looking to escape the 9-5 and enjoy the stunning informality of the Costa Blanca coastline.
The Voyage Prive travel expert's opinion on travel to Benidorm
Benidorm is a city that is famed for its gorgeous beaches and party atmosphere. But when you scratch below the surface, there turns out to be far more on offer. This includes a number of historic churches and other buildings for those looking to discover a little more of the area's rich past. It is also home to a number of museums which include artefacts dating as far back as the Roman times. For those feeling a little more adventurous, you'll even uncover opportunities for hiking the surrounding mountains. Meaning there is far more on offer from Benidorm, than you may have at first thought.
The top 5 things to do/see in Benidorm during last minute holidays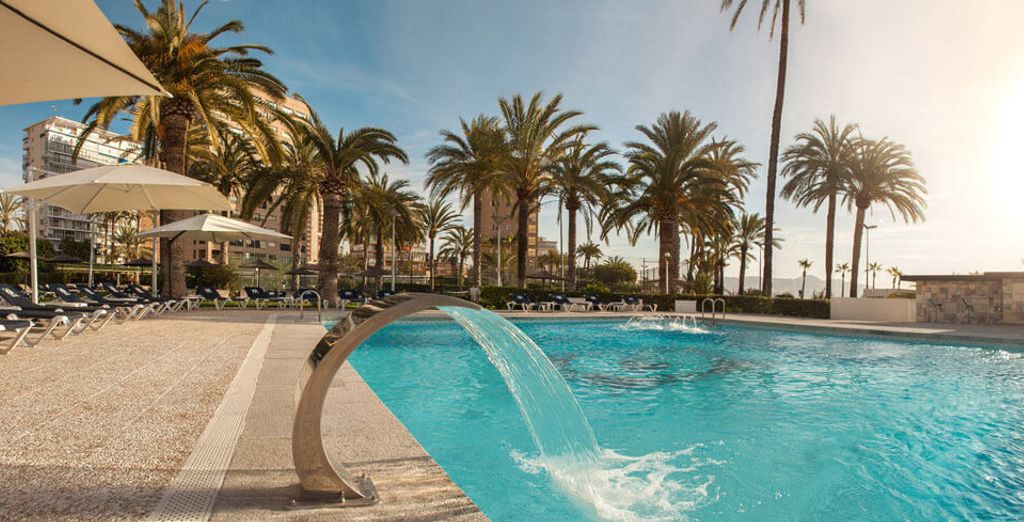 1. Arts and cultural exhibits
Whilst on the topic, anyone choosing to go on a last minute Benidorm holiday can enjoy museums such as Casa Museo de Benidorm, the Maritime Culture Centre and the Maserof Museum. The latter of which houses a variety of ancient Roman artefacts and is, in fact, a winery as well!
2. Enjoy a round of golf
Many opt for a last minute Benidorm holiday to serve purely as a golfing retreat. Others choose to head out on just one or two rounds as a part of a 2 week vacation. Either way, there is something to suit all golfers as the region around Benidorm offers dozens of sublime courses. Most notably La Marquesa Golf Course which is just one hour away and boasts spectacular fairways and truly magnificent views.
3. Go shopping
As you head into Benidorm Old Town, you are greeted by a whole array of old-fashioned shops, markets and stalls for you to peruse. Offering the chance to pick up a few trinkets for both yourself and relatives back home. The Old Town also offers a small beach and ample cafes at which to relax whilst out and about shopping.
4. Relax on the beach
One of the premier reasons to visit Benidorm is the luscious golden sandy beaches on offer. They are the ideal way to relax in the sun, work on your tan and forget about the stresses of everyday life. The most popular beaches include Playa del Poniente, Playa de Malpas and Playa de Levante. It's safe to say that, after a week or more relaxing on various beaches, you'll find plenty to suit your tastes.
5. Head for a night on the town
No last minute Benidorm guide would be complete without talking about the nightlife on offer. It is recommended that all visitors try and spend at least one night at the famed Benidorm Palace, which offers a variety of cabaret acts almost every night. As well as this, you'll find dozens of pubs, clubs, bars and restaurants dotted all around Benidorm, so there's something for all travellers to the area.
Which hotel to choose in last minute deals to Benidorm
There are so many last minute Benidorm hotels to choose from, that finding the right one can often prove exhausting! So to make things easier, here are the top 3 favourites we currently have on offer.
Being just a short 3-minute walk away from the aforementioned Levante beach, this gorgeous hotel is in an almost perfect Benidorm location. The complex offers everything you could possibly require, through from stunning open-air pools to a gorgeous solarium terrace with sun beds for guests. For those of you looking to keep fit whilst away, you can even benefit from an on-site gym!
Villa del Mar was built as part of the modern redevelopment of many parts of Benidorm and is, as such, one of the most modern and best quality hotels you'll find in Benidorm. They offer phenomenal restaurants, large open plan rooms and views of the stunning coastline that really are to die for. For the best stay possible, you can hire out a room with its very own jacuzzi bath.
If you're looking for a luxury last minute Benidorm holiday, then Villa Venecia really is your best option. The hotel is perched up on the mountainside, with panoramic views down over Benidorm and the coast. It offers everything you'd expect, through from 5* restaurants to open-air pools and sun terraces. You'll also find a hydrotherapy pool and jacuzzis, all offering incredible views of the ocean, making for the ultimate relaxing stay.
Practical information about Benidorm
Easy access to all year round sun
One of the main reasons that Benidorm draws so many tourists every year, and why it started as the go-to European coastal destination in the late 20th century, is its guaranteed access to the sun. The warm rays bless the stunning coastlines of Costa Blanca every day of the year and provide the chance to spend days relaxing on the beach, escaping from the world. When it gets too much, take a dip in the beautiful blue Mediterranean waters, or better yet, cool off in your resort's own private pool, nestled away from the main town itself. If you're from the UK or a neighbouring European country, then all this can be yours in just three hours' time, making last minute Benidorm trips almost irresistible.
What is the weather in Benidorm
Typically, the weather in Benidorm is very warm and sunny. It really is the ideal location for all year round sunny escapes to Spain. Like in the UK, the hottest time to visit Benidorm is in the summer months where temperatures typically reach 30 degree celsius and above in August. Temperatures can dip as low as 17 in January, but they soon pick up as the year progresses.
What budget to plan?
Another wonderful thing about last minute Benidorm holidays is that you can pick up a real steal! For just 50 Euros a day, you can expect to find a wonderful all-inclusive resort and still have money left over for drinks by the beach and any other activities you might expect. As with any holiday, you get what you pay for and, for as high 100 Euros a day and above, you will find wonderful 3 and 4-star resorts all offering high-quality food and drinks packages. But for the best last-minute Benidorm deals, be sure to look at the exclusive offers we currently have.
Endless activities to keep you entertained
Beyond relaxing and topping up your tan, Benidorm offers plenty to do in the daytime that you won't get the chance to do back home. You could visit one of the local water parks such as Aqualandia, Mundomar or Terra Mitica. They're within easy access of all parts of Benidorm and are a great choice for adults and kids alike. Alternatively, visit Playa de Levante beach and do some jet skiing, parasailing or any other number of high octane water sports. The entire region is very popular for horse walking, or if you're more comfortable on two legs, go for some mountain walking and take in the phenomenal views of the coastline from up high.
Evening entertainment
It's no secret that Benidorm has for years become a real party capital of Spain for British tourists, meaning if drinking sangria and beer into the long hours of the night is what you enjoy, you'll find endless opportunities. Similarly, there are a lot of English-themed bars, pubs and restaurants to help you remember the taste of home. However, Benidorm is best enjoyed by trying some of the phenomenal local cuisines. True Spanish dining means ordering yourself and your fellow guests tapas, which is a number of seafood, meat, vegetable and bread dishes. These are usually all locally sourced and fresh and are the perfect accompaniment to a glass of wine or a nice cold beer while you watch the sunset along the horizon.
Booking last minute holidays Benidorm need not be expensive and to get the best deals you should sign up to our mailing list. When flash sales become available, we will send them exclusively to our subscribers and have you in Benidorm with ease, comfort and, best of all, style.