Booking Madrid



Table of contents
Hot Deals on hotels booking in Madrid. Read hotel reviews and choose the best hotel for your stay. Save up to ✅ 70% on your Flight and Hotels 4/5* with Voyage Privé.
Booking Madrid
Do you want to stay in Madrid for your next trip? Here are our best plans to find the top hotels at the best prices.
Discover our top 3 hotels in Madrid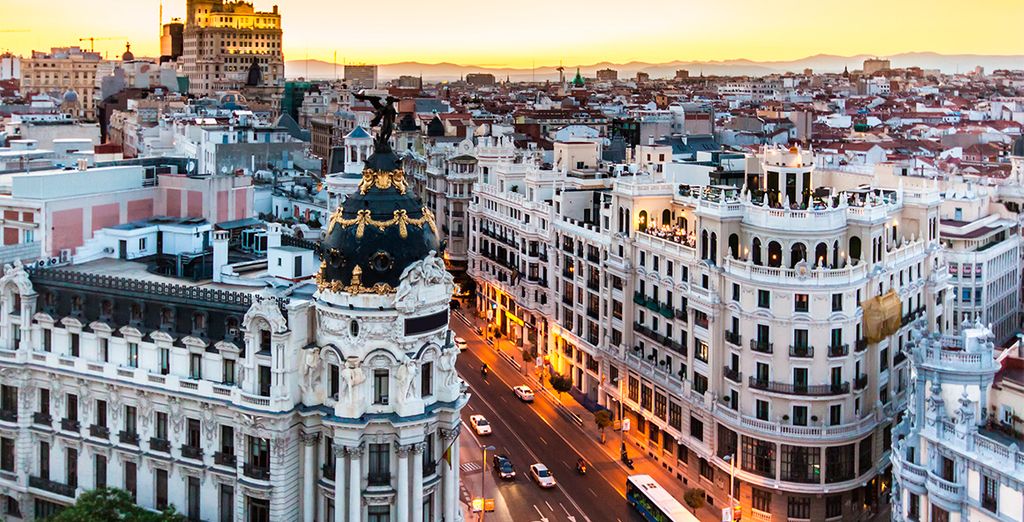 1. The Walt Madrid

A beautifully styled three-star hotel set in the centre of one of Spain's most beautiful cities, this hotel combines Italian style with the Spanish way of life, creating a boutique vibe and on-point feel. It's the perfect base for exploring the city and discovering all it has to offer.
2. Hotel Eurostars Gran Madrid

With every modern luxury and amenity you could possibly need, this stylish hotel has it all in a four-star package. Decorated elegantly with every feature and item having a purpose, this hotel is more than just a place to rest - it's an experience all of its own.
3. Hotel Eurostars Gran Madrid

Recently refurbished and perfectly styled, the Hotel Eurostars Gran Madrid more than earns its four-star rating, with every comfort catered for as well as easy connectivity to the culture and lifestyle of one of Spain's most vibrant cities just outside its doors.
Our reviews on Madrid and its hotels: Why make your booking there?
A fascinating, culturally rich and visually beautiful city, Spain's capital Madrid is truly not a location to miss. Thanks to Madrid's year-round tourist trade, there's much to do and see for those who like to soak up the local culture, as well as countless beautiful hotels, from boutique to luxury, to cater for your every need or choice of holiday.
For couples, Madrid holds the romance of Spain's storied history combined with the nightlife and bustle of a large capital city, with plenty to see and do within its borders. From the stunning Plaza Mayor to the vibrant and cosmopolitan Gran Via, there's much to experience and shop for on the streets of Madrid. For families or lone travellers, there are plenty of fascinating restaurants, local entertainment and artistic locations to explore.
How to make my booking in Madrid

If you're keen to make your booking for Madrid, you can register with Voyage Prive today for access to many exclusive hotels and even unique offers. You can join now for free, and even create alerts for offers on your dream destination, whether it's a particular hotel in Madrid or a holiday that spans all Spain has to offer.
With up to 70% off in exclusive offers available, as well as a practical mobile app and round-the-clock customer support, we can make your booking experience a breeze. If Madrid sounds like the perfect place for you, then don't hesitate to sign up today and discover your dream holiday in one easy-to-use place.
The different ways to make your online hotel booking in Madrid

Ready to get your holiday booked and your hotel sorted? Make your online booking quickly and easily today.
Book flight & hotel to Madrid

Book only your favourite hotel in Madrid
The best places to find hotels in Madrid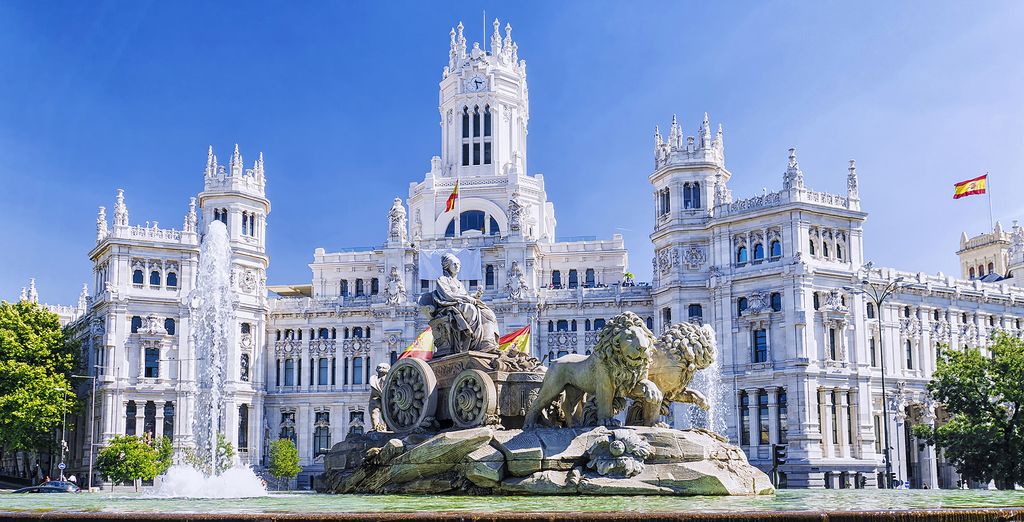 1. Malasaña

An up-and-coming, youthful and creative district of Madrid, for those who are fans of the nightlife and want to enjoy the cities' party scene, Malasaña is the place to stay. Lovingly known as the 'hipster' neighbourhood, this location is ideal for younger travellers or families.
2. Barrio de Salamanca

One of Madrid's most exclusive districts, Barrio de Salamanca is the place to go for luxury cuisine, quality shopping and high-brow culture, from the arts to museums and more. Perfect for those who prefer the best in life, this neighbourhood could almost be paved in gold.
3. Paseo del Prado

The historic quarter of Madrid, for those who love the classic architecture and old-fashioned romance of Spain, Paseo del Prado is the place to stay. Known for its beautiful shops, enchanting historical buildings and excellent museums, there's a reason this area is known as the 'triangle of art'.
4. Retiro

Located mere feet away from one of Madrid's most famous and quiet parks, this leafy area of Madrid is ideal for those enjoy the slower pace in life, and who prefer to discover the delights of the city at their own pace. With more open space and peaceful areas, this location is the perfect place to stay for those who prefer a bit more zen in their visit.
5. City Center Madrid

When visiting Madrid, why not stay within the heart of it? This district, right in the middle of the famous city, is the ultimate shopping destination, complete with historic stores, great cafes and plenty of places to browse in and around. For those who love to shop whilst on vacation, the city centre might be the ideal place to stay.
Presentation of Madrid
Why visit Madrid? A bustling, exciting and historical city, Madrid has everything you want from a holiday and more. From luxurious cuisine to top-notch shopping, endless galleries and museums to beautiful green spaces, Madrid holds appeal for all. With temperatures remaining warm throughout the year, trending towards hot over the summer period, there's never a bad time to visit this beautiful city.
Following Spain's slower and calmer way of life, Madrid truly reflects the art and culture of its populace, with everything running at a gentler pace than other, more hectic cities you may find around Europe. Combine this with a commitment to the arts, architecture and history, and you'll find Madrid the ideal location for a cultural visit with a difference.
The 5 best things to see/do in Madrid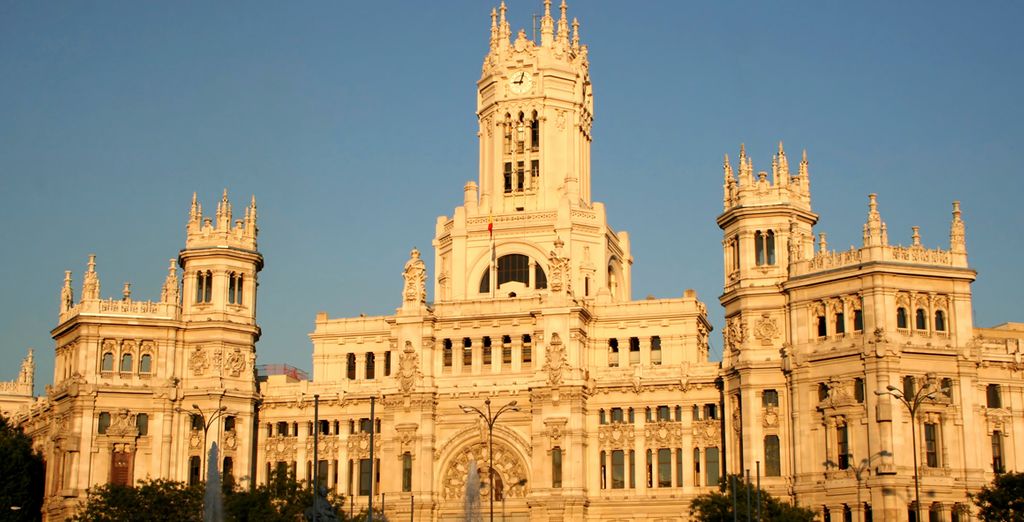 1. Retiro Park (Parque del Retiro)

Featuring beautiful architecture and well-curated flora, there's much to see and experience within one of Madrid's most beautiful parks, including the stunning crystal palace structure and boating lake.
2. Prado National Museum

With one of the largest and best-known art collections in the world, for fans of portraiture and paintings, the Prado National Museum is a location not to be missed in Madrid.
3. Stadio Santiago Bernabeu

For sports fans, the Stadio Santiago Bernabeu is a sure-fire stop for your visit to Madrid, with tours available almost every day in and around these historic grounds.
4. Gran Via

For those who enjoy a faster pace, Gran Via is the perfect location, featuring music, food and plenty of shopping that will provide a full day of entertainment thanks to countless treasures to be uncovered and different foods to try.
5. Templo de Debod

One of Madrid's most unusual attractions, this Egyptian Temple, dated back to the second century BC and then transported to its final home in Spain's capital, is a sight to behold by night. With impressive architecture and a full, fascinating history that you'll love to learn about.
Discover more offers to Madrid : Weekend, holidays, stays, booking.
FAQ Booking Madrid
Register online for free to access all the great deals of Voyage Privé. Book your next holidays to Madrid up to -70% !
Rated 9/10 by our members, Hotel Vincci Via 66 4* is a superb hotel with an authetic and elegant style, spacious rooms, a bar and a rooftop terrace! The 4-star H10 Puerta de Alcala is ideally located close to the city's main activities and features elegant and modern rooms as well as a rooftop bar and restaurant with stunning views of the city.
Voyage Privé's travel experts negotiate for you luxury hotels & holidays packages ! Enjoy deals up to 70% off to book your next holidays to Madrid !