TOP Best Hotels in Costa Adeje



Table of contents
Explore all that Costa Adeje has to offer while enjoying the comfort of a luxury hotel experience. Our top 5 Costa Adeje hotel picks will help you to get the most out of your stay in this Canary Islands hotspot.
Our best hotels in Costa Adeje
H10 Costa Adeje Palace 4* is located on Tenerife's coast and features a host of facilities that add to your experience on the island. Double-sided sea view rooms, massage treatments and a heated pool/Jacuzzi add to the luxury experience. Families also appreciate the playground and children's swimming pool.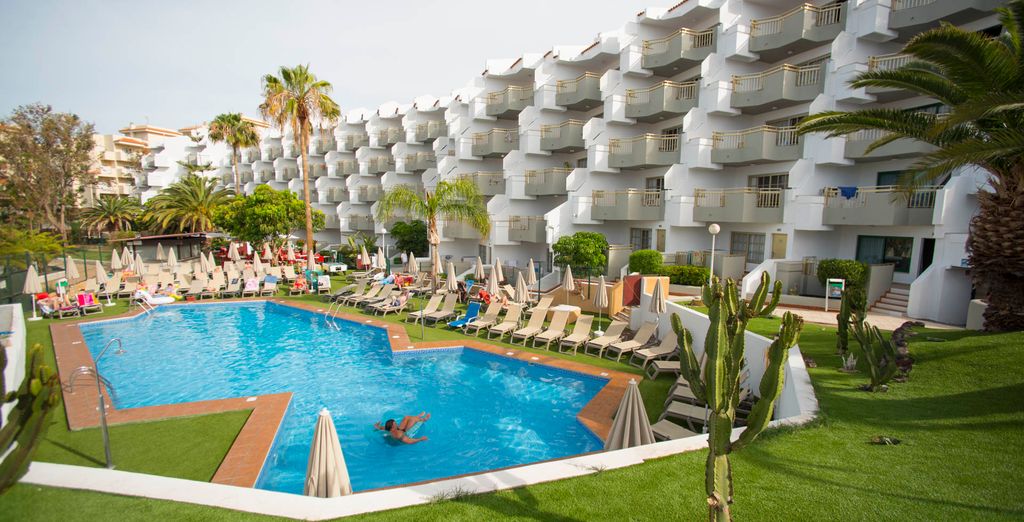 PlayaOlid Suites & Apartments is one of the best Costa Adeje hotels for enjoying the beach atmosphere that the region is known for. The spacious resort's amenities include three swimming pools, on-site dining options and plenty of activities for the whole family. It is one of the best spots for a memorable holiday in Tenerife.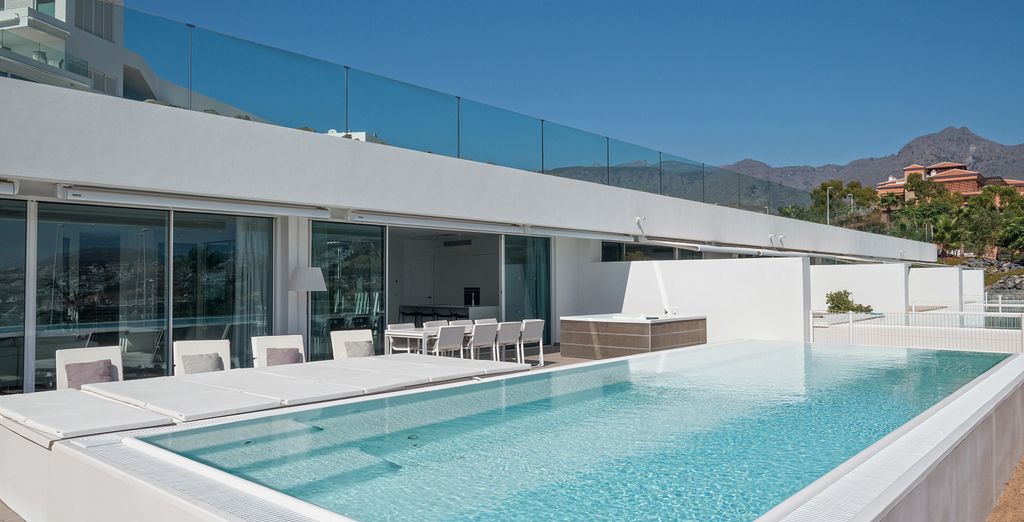 If you are looking for a modern hotel experience while you enjoy your time in Costa Adeje, then Hotel Baobab Suites 5* is a great choice. You will enjoy five-star luxury while taking in stunning views of the Atlantic Ocean. The hotel's beautiful terraces offer captivating views of the city and some of the rooms include pools.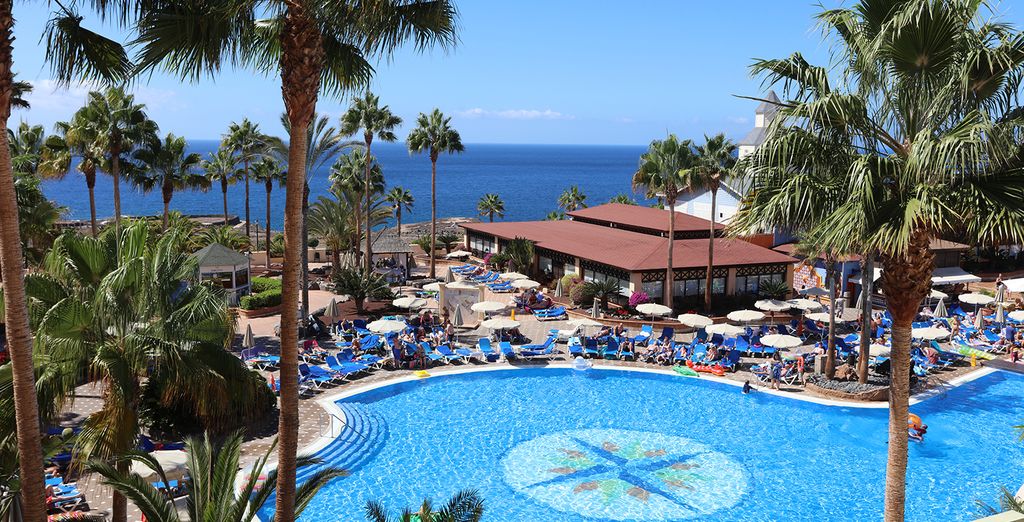 Highlights that make Sunlight Bahia Principe Tenerife, Costa Adeje 4* one of the best Costa Adeje hotels for enjoying a holiday include a pair of bars and three restaurants. The hotel also features a spa and two swimming pools. It is the perfect spot for enjoying the sun and relaxation that Tenerife is known for.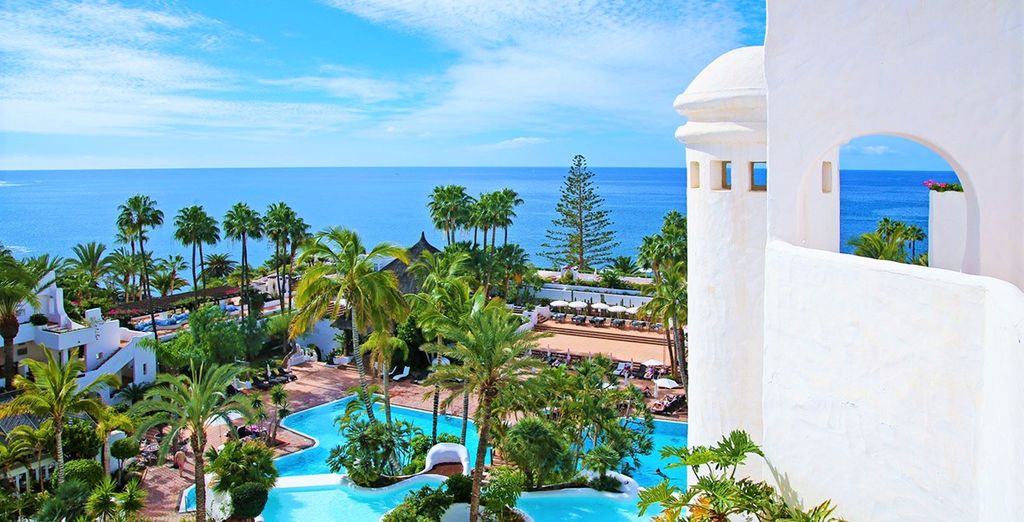 You will enjoy your stay by the beach when you book your holiday in Costa Adeje at Hotel Jardín Tropical 4*. Enjoy time exploring regional attractions like the Cliff of the Giants and Teide National Park before returning to relax poolside at one of the most iconic Costa Adeje hotels.
Services you will find at our hotels in Costa Adeje
The services you will find at our hotels in Costa Adeje are as follows:
Swimming pools
Spas
Comfortable bars
Award-winning dining options
Massage treatments
Modern furnishings
Family-friendly facilities
Satellite TV
Luxury bathrooms and toiletries
Going on holiday in Costa Adeje
Costa Adeje is the perfect Tenerife destination for a memorable beach holiday. The region is known for its spectacular scenery. It is also renowned as a spot for water sports, golf and cycling. Whether you are looking for great nightlife, amazing dining, activities for the whole family, or to just spend time relaxing on the beach, Costa Adeje is a great choice.
Hotel offers at Costa Adeje convenient for all kinds of travel
Costa Adeje has a reputation as a travel destination that offers something for everyone. The region is perfect for solo travellers, couples and families. Its beautiful beaches and stunning views of the ocean will leave you with memories that last a lifetime.
The range of hotels we offer at Costa Adeje
Beachfront hotels, luxury suites, luxury apartments and spa hotels.
Costa Adeje: what should we bring for a hotel stay?
Beach attire, sun cream, comfortable walking shoes and comfortable clothing for walking around town.
Your best hotel at Costa Adeje: how to get there and make your booking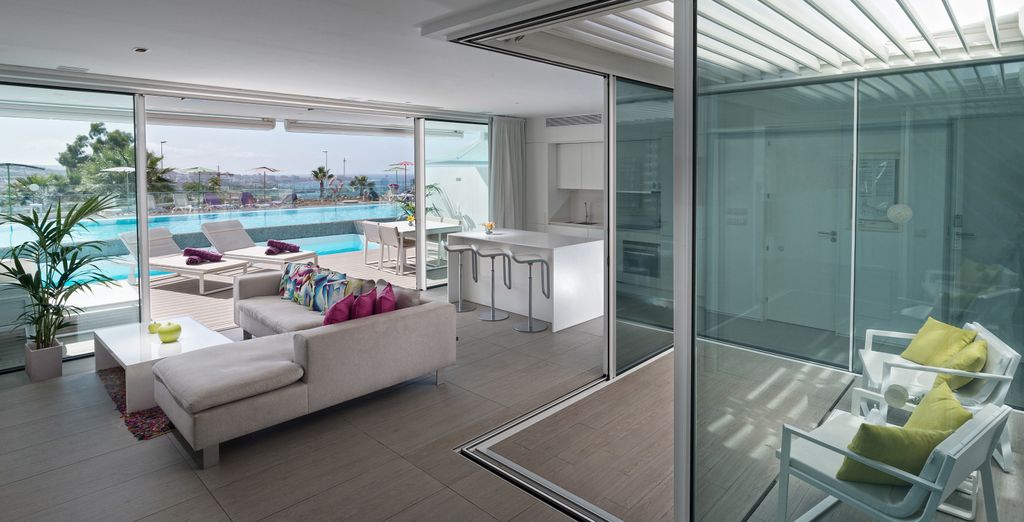 How to get to Costa Adeje
Getting from Tenerife South Airport to Costa Adeje is easy. There are busses from the airport to Costa Adeje roughly every 30 minutes with a journey time of around 40 minutes. You can also get a taxi which will generally get you to your destination in about 25 minutes. If you are hiring a car for your time in Tenerife, you will want to get onto the TF-1 motorway for 18 kilometres and then take exit 78 to Costa Adeje.
How to book your hotel in Costa Adeje
It is easy to book your perfect hotel experience in Costa Adeje when you choose Voyage Privé. Your membership with us is free and includes exclusive deals on an impressive range of luxury Costa Adeje hotels. It is quick and easy to register with us. Enter your details today to stay updated on the best offers for a holiday in Costa Adeje.
The opinion of the Voyage Privé travel expert on Costa Adeje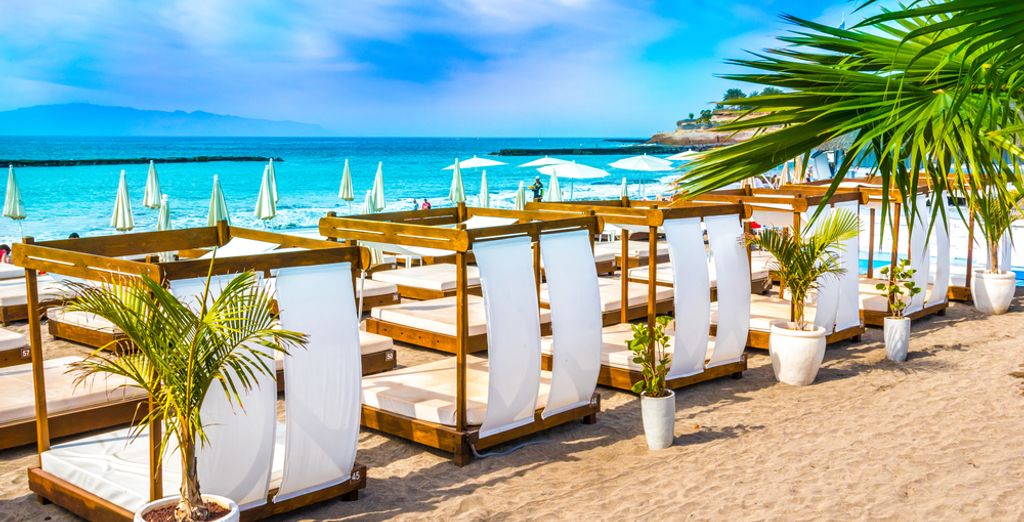 Costa Adeje consistently ranks as one of the most popular spots for travellers to the island of Tenerife. The beautiful resort town attracts countless visitors year-round who come for its stunning beaches, amazing dining, great shopping opportunities and memorable nightlife. The sun shines in the Costa Adeje region an average of 320 days per year and warm temperatures are the norm.
Costa Adeje – the perfect coastal town for a Tenerife beach holiday
Costa Adeje is a coastal resort town that offers everything you need to enjoy a beach holiday in Tenerife. It has a family-friendly appeal but is also perfect for couples and those who are travelling solo. Other popular Tenerife destinations like Torviscas Beach and Playa las Americas are just a short trip from Costa Adeje for those that want to see more of this stunning island.