The TOP 5 Hotels in Malaga



Table of contents
The top 5 hotels in Malaga
Searching for the perfect hotel in the heart of historic Malaga? Select from the best waterfront hotels and sleek city stays at Voyage Privé.
Our best hotels in Malaga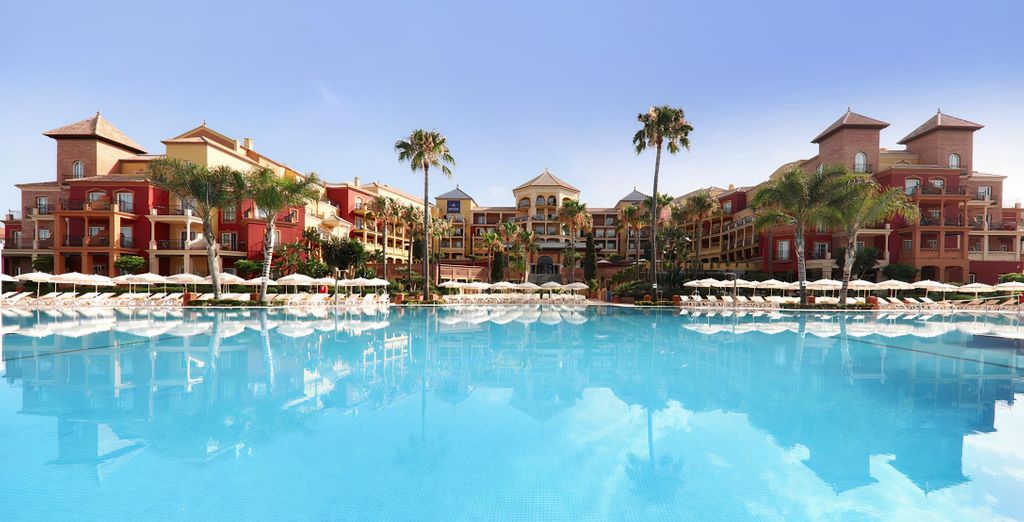 This sun-kissed resort is nestled right on the Costa del Sol, east of Malaga in Torrox. Superb swimming complexes and an indulgent spa offer the ultimate in relaxation. Rooms are bright, airy and modern with muted tones and sun-drenched terraces.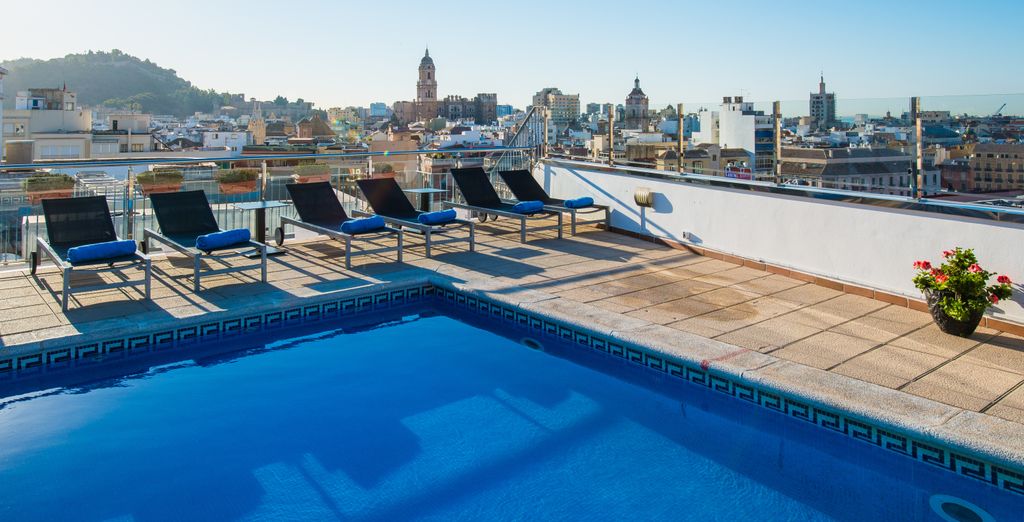 This chic and sophisticated historic hotel is situated right in the heart of Malaga's old town. Striking artworks and delightful furniture can be found throughout its modern interiors. The hotel benefits from a sumptuous rooftop pool and delightful dining terraces overlooking the city.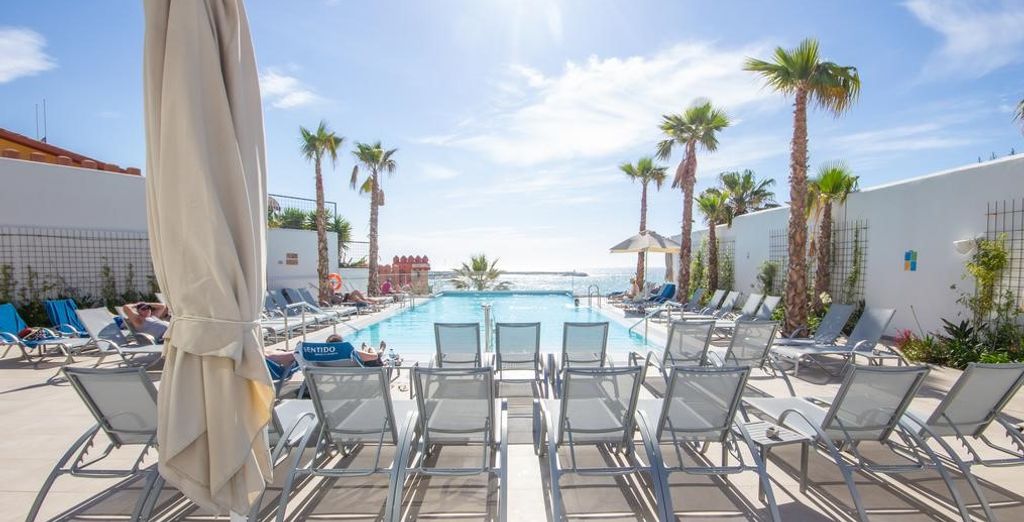 This prized seafront resort is located due south of Malaga along the crystalline Costa del Sol. Perfect for beachbound fun, guests have access to premium swimming facilities and a superb restaurant. Rooms mirror the glittering Mediterranean with flashes of blue and furnished terraces from which to admire the sunset.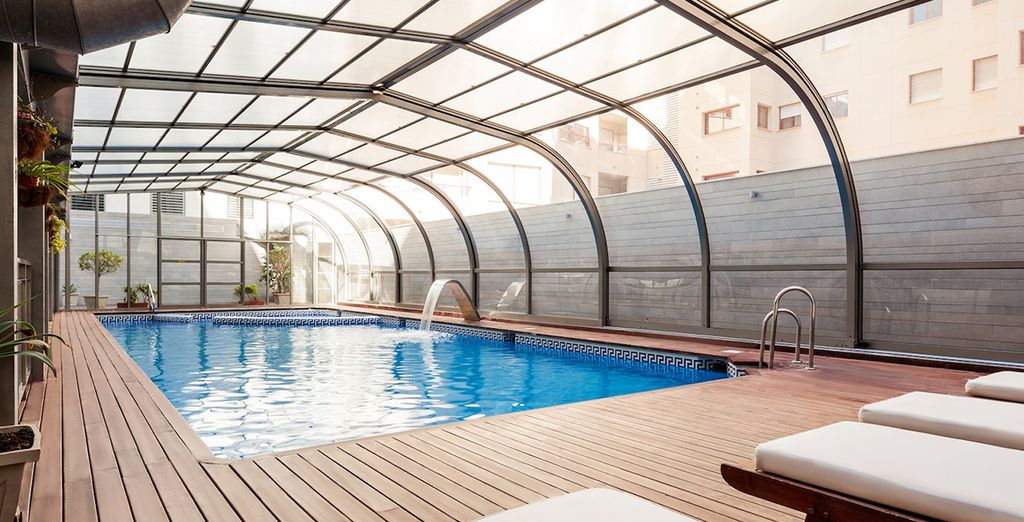 This stylish, central Malaga hotel overlooks the flowing Guadalmedina River. Situated close to many of Malaga's best museums, it boasts excellent swimming facilities and a pampering spa. Rooms are decorated in a fun, contemporary style, with sea or city-view windows and access to delightful terraces.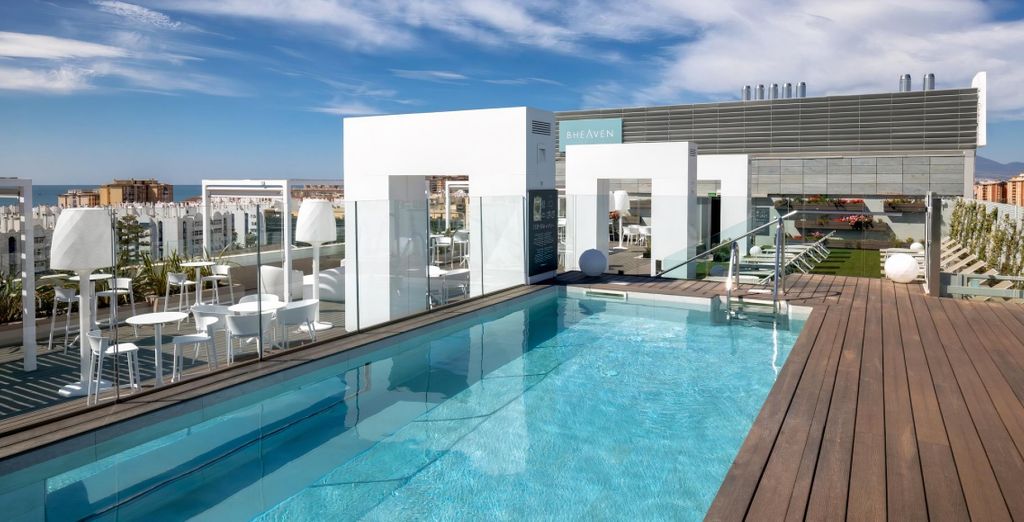 Boasting a premium location close to Malaga's main train station, this hotel is the perfect city stay. Indulge in paradisiacal rooftop pools and a wealth of fine dining options across the hotel's stylish floors. The interiors are bubbly with bright and colourful furnishings that make you feel at home, including a lobby-based slide!
Services will you find in our hotels in Malaga
Free Wi-Fi
Hot drink making facilities
Flatscreen TVs
Luxury bathroom amenities
Swimming facilities
Andalusian dining
Rooftop bars
Spa treatments
Going on holiday in Malaga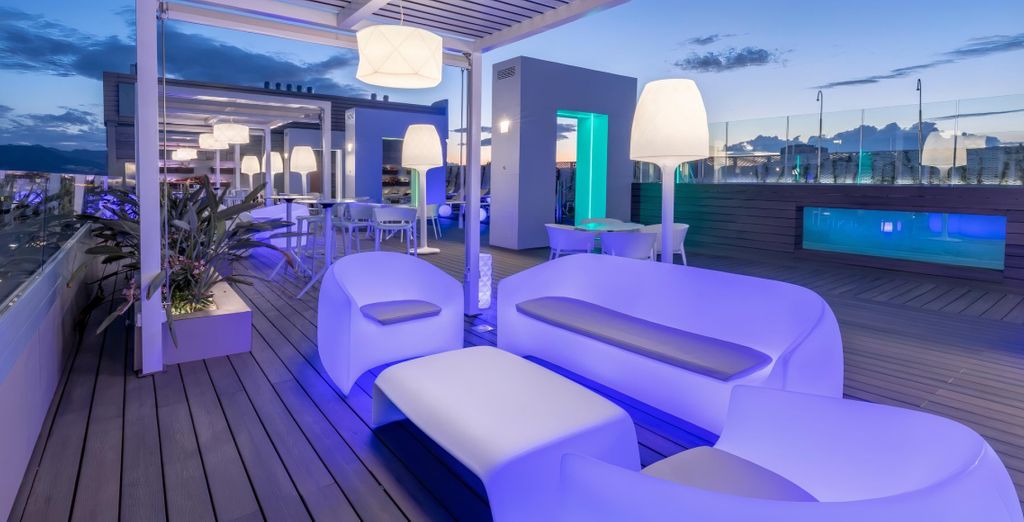 Malaga is a fine location around the year with dry, mild winters and hot, sweltering summers. The high season is from July through August, when the temperatures soar well past 30°C. Accommodation can book up, and coastal attractions swell with numbers. To avoid these crowds, you can consider the shoulder seasons in spring and early autumn. Both of these see warm and pleasant weather that's fine for beach excursions. Semana Santa is a particularly vibrant religious festival that sees Malaga come to life in March/April. Despite the low prices, winter is still delightful with dry coastal weather. Some resorts do close, and attractions see reduced hours, but Malaga remains a thriving hub.
Hotel offers at Malaga convenient for all kind of travel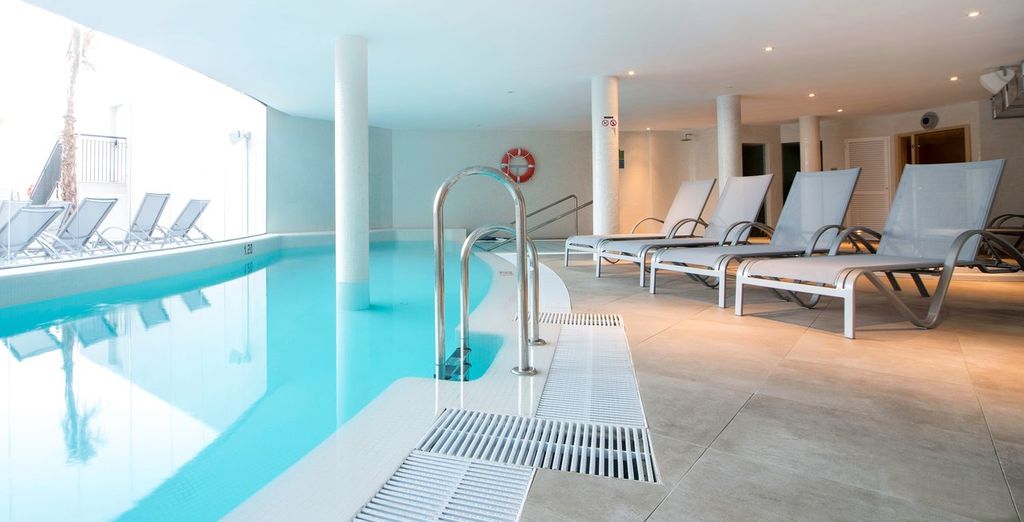 Malaga is a dream beach holiday destination for families, couples and groups of friends. You'll find plenty of child-friendly hotels and resorts that are packed with fun activities and pool-based fun. The city itself welcomes children with alluring historical museums/sites like Alcazaba. Friends, too, will find Malaga enticing. By day, it's a beachgoer's dream with fun water sports and sunbathing. By night, the city bursts into life with fine dining opportunities and late-night revelling. Many rooftop eateries provide sumptuous sunset panoramas that are perfect for romantic evenings. Whether you're looking for culture or following the party atmosphere, you'll find live music and more in Malaga.
The range of hotels we offer at Malaga
Spa resorts
Waterfront hotels
Boutique hotels
City hotels
Malaga: what should we bring for a hotel stay?
Charging cables
Multi-plug adaptor
Guide book with phrases
Comfortable walking shoes
Pack-away towel
Evening attire
Swimming gear
Suncare and tanning lotion
Mosquito repellent
Your best hotel in Malaga: how to get there and make your booking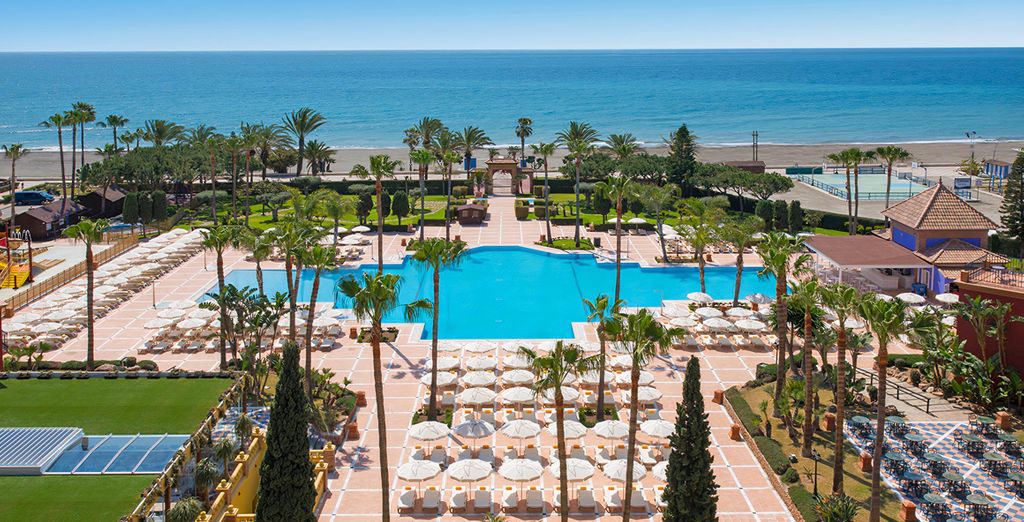 How to get to Malaga
Malaga is easily accessible by air and rail, with an international airport offering links across Europe. A regular train connects the city with the airport itself in as little as 12 minutes. Buses, too, provide useful ways to get to and around the city. Malaga's railway station further connects the city with other major Spanish areas like Madrid, Barcelona, Bilbao and Seville. Once you've arrived in Malaga, you'll find the city easily traversed by foot or metro. Further buses allow access to the surrounding mountain villages and Costa del Sol. Cars are recommended if you're exploring Andalusia at large.
How to book your hotel in Malaga
You can book extraordinary deals on the best hotels in Malaga at Voyage Privé. Voyage Privé is a members-only booking platform offering exclusive discounts of up to 70% off select hotels. It's completely free to register and use. Simply set up an account with your email address today. You can then book a wealth of limited holidays or set up alerts for the latest offers. Choose from unmissable package deals or simply stick to a hotel booking and make your own way there. In Malaga, you'll discover boutique city hotels and Costa del Sol resorts bookable through Voyage Privé.
The opinion of the Voyage Privé travel expert on Malaga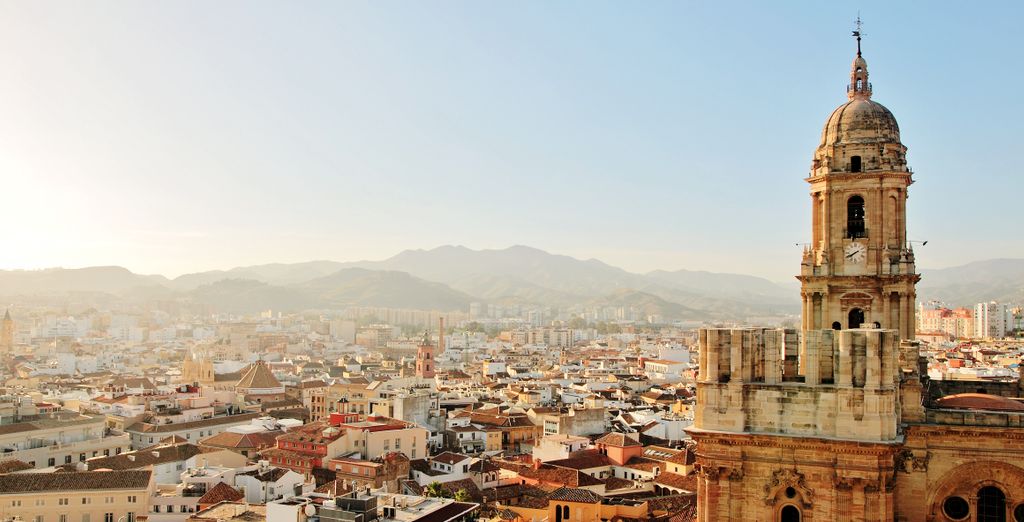 Malaga is the Costa del Sol's crown jewel, which is loaded with historical character and a glitzy port area. The city is the perfect fusion of tradition and modernity. Visit world-famous Picasso museums or enjoy cutting-edge art in Soho. The lively bar scene and bustling culinary culture make it a perfect nightspot, whatever your tastes. Then there are the breathtaking beaches, all awaiting sand-lovers just moments from the city.
Malaga – a gateway to the white mountaintop towns of Andalusia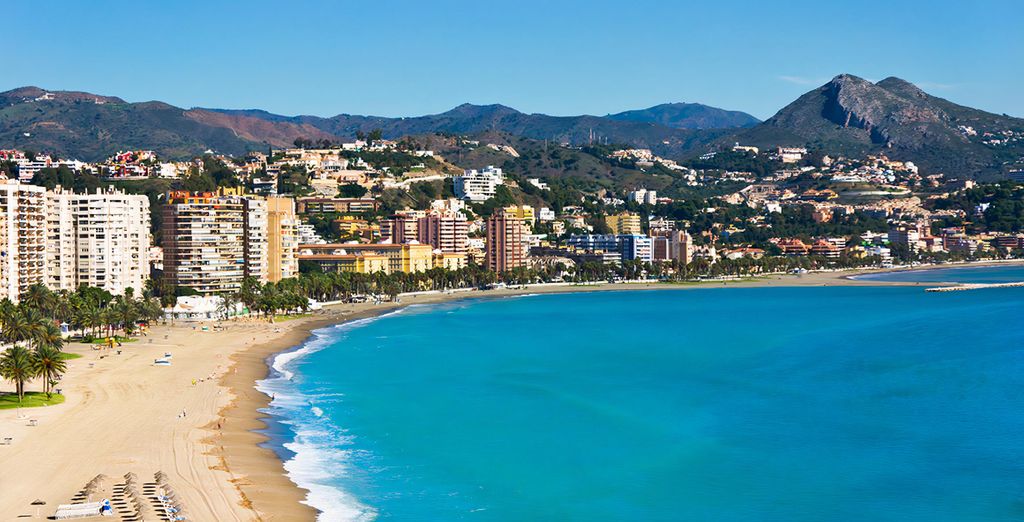 While Malaga is so vibrant that it can sustain weeks of exploration, the surrounding area is equally lush and lively. Andalusia is renowned for its white-washed mountain towns, from Nerja to Frigiliana and Casares. These snowy "Pueblos Blancos" are well worth a day trip when you're not at the beach. You can navigate these scenic villages by car or simply jump on a bus to head deep into Andalusia.