The Best Hotels in Benidorm



Table of contents
Are you looking for top hotels on the Costa Blanca? You've come to the right place. Here are our top five star hotels in Benidorm.
Our best hotels to Benidorm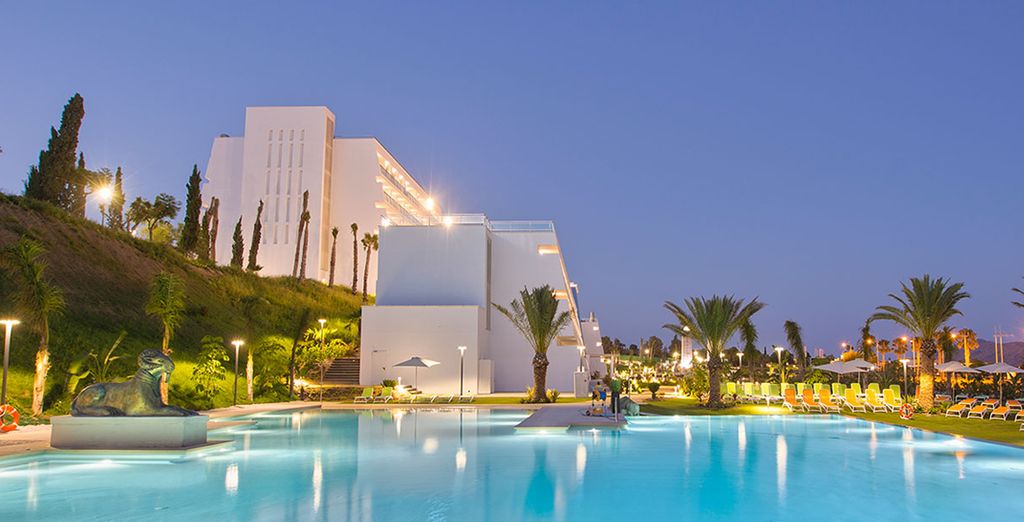 If you're looking for sun, sea and excitement you can't go wrong with the Grand Luxor Hotel All Suites in Benidorm. Once you've collected your luggage from the conveyor belt, you're just over half an hour away from its luxury rooms, beautiful views and five star service - and your holiday can begin!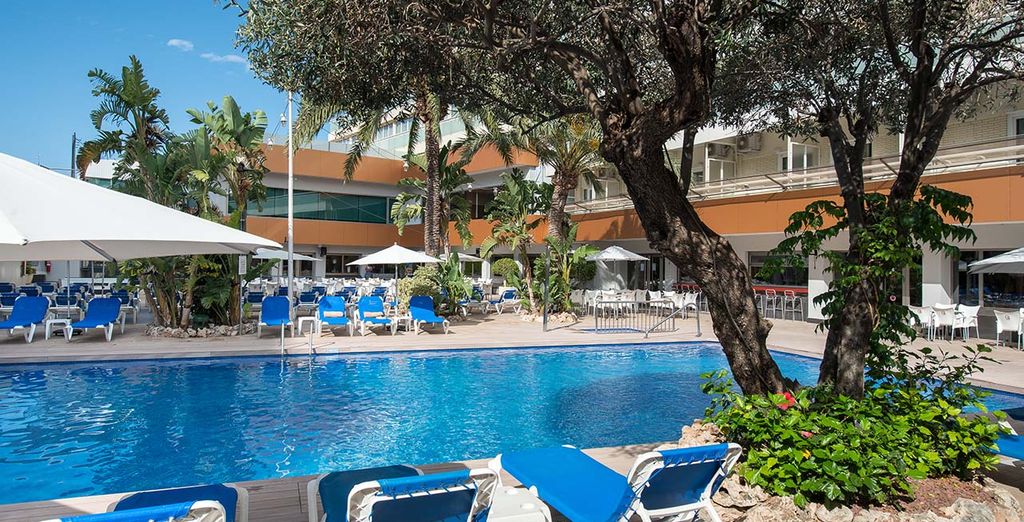 Time for sun, sea and sangria! Benidorm Plaza is in the heart of Benidorm town, just a short walk away from everything you need to ensure a fantastic break away from it all. Bursting with shops, restaurants and bars, Benidorm town is a lively location for couples, families and groups of any age.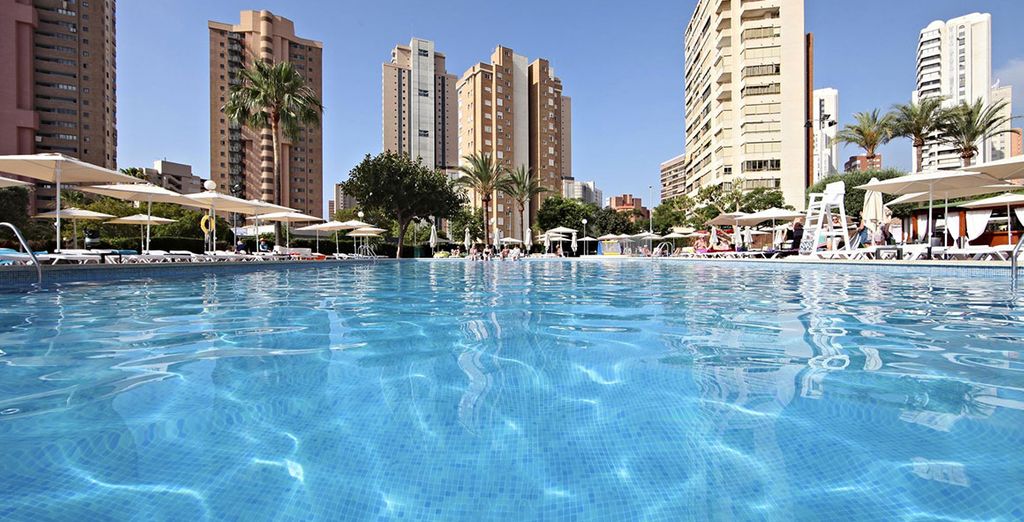 A perfect choice for luxury-lovers, the Marconfort Benidorm Suites not only has the suites, service and signature style you'd expect at a five star hotel in Benidorm, it's all inspired by the music of the 70s, 80s and 90s! Recently renovated, the Marconfort Benidorm Suites are just 10 minutes from the sun, sea and sand of Levante Beach and 1.5km from Benidorm centre and its bustling and varied nightlife.
What services will you find in our hotels in Benidorm?
You can expect your spacious, modern suite to be packed with the latest technology and five star facilities, including:
En suite bathrooms
Air conditioning
Room service
Flat screen TVs
Free WiFI
Soft, comfortable beds
Space for all your belongings
Each hotel boasts several restaurants, including buffets with themed nights and BBQs out by the pool. Try a cocktail in each of the bars and relax in the beautiful spa. Dedicated games areas and playgrounds for kids mean there's fun for all the family.
Hotel rental offers in Benidorm convenient for all kinds of travel
The Costa Blanca is famous for its picturesque beaches and views out to sea, as well as its attractive towns and villages full of tradition and history. If you're looking for a little more excitement, you can find water sports, excursions and day trips as well as Terra Mitica, Benidorm's famous theme park. Terra Mitica transports visitors through the ancient history of Greece, Egypt and Rome, with shows, rides and entertainment for all the family. And if that isn't enough, close by you can also find Iberia Park and wildlife park Mundomar to keep the adrenaline pumping.
The pretty Old Town of Benidorm provides plenty of opportunities to enjoy an aperitif al fresco before your evening meal and of course, to indulge in some people-watching. Nearby you can also find wildlife park Mundomar, waterpark Aqualandia, a round of golf, and more beautiful beaches for catching some rays or taking part in watersports. After all that excitement, you'll love getting back to your bright, comfortable room to watch the sun set over the Mediterranean Sea from your private balcony.
A little further afield there are some other fantastic places not too far away, including La Cruz de Benidorm, which is a 45 minute hike with beautiful views; Sierra Helada, a stunning natural park by the sea; and Puig Campana, one of the region's highest and most iconic peaks.
The range of hotels we offer in Benidorm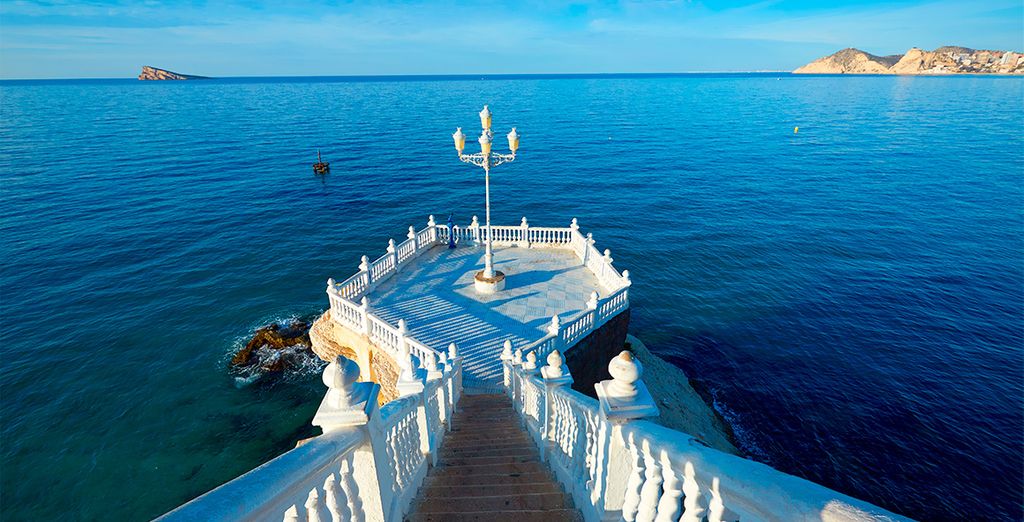 Benidorm is perfect for a lively getaway with friends, family and loved ones, but it's not the only way to enjoy the beautiful coastline. There's a five star hotel in Benidorm perfect for you.
Hotels close to the centre of the town are renowned for lively atmospheres and exceptional service, as well as extensive culinary options. Within walking distance to a variety of bars, restaurants and cafes open til' late mean you can explore and enjoy everything the town has to offer with just a short walk home to your comfortable hotel room.
All inclusive hotels mean you don't need to spend time dithering about which restaurant to go to - you can just focus on having a fantastic holiday. Buffet restaurants serve a range of cuisines to suit all tastes and there are themed evenings such as Asian, Indian and Mexican each week.
For a hotel with a twist, the Marconfort Benidorm Suites won't disappoint. Its 70s, 80s and 90s music theme is not just limited to the hotel decor - it also extends to the evening entertainment with lively karaoke, music games and live music to suit all ages.
Benidorm: What should we bring for a hotel stay?
Don't forget to pack everything you need for a fantastic break in Benidorm:
Swimming costumes
Local currency
Suncream
Rucksack
Travel adaptor
Beach towel
Aftersun lotion
A book for the beach
First aid kit
Layers of clothing
Sunglasses
Sun hats
Armbands for the kids
Your best hotel in Benidorm: how to get there and make your booking?
Benidorm is around a two and a half hour flight from most major airports in the UK - certainly not off-putting for families with children of any age. Book yourself a private transfer, or opt for communal transfers which are available via coach. Register online for the best offers and discounts for members at luxury hotels.
Taxis are available as well as boats and buses for getting around the island independently.
The opinion of the Voyage Prive travel expert on hotels in Benidorm
Benidorm is well-known for its party atmosphere, but many travellers don't know about its hidden gems. Explore the local town, bars and restaurants but don't forget to travel further afield to see what this amazing region really has to offer, including natural parks like Sierra Helada - perfect for those Instagram snaps.
Benidorm, forget everything you know about it and discover the real beauty of the Costa Blanca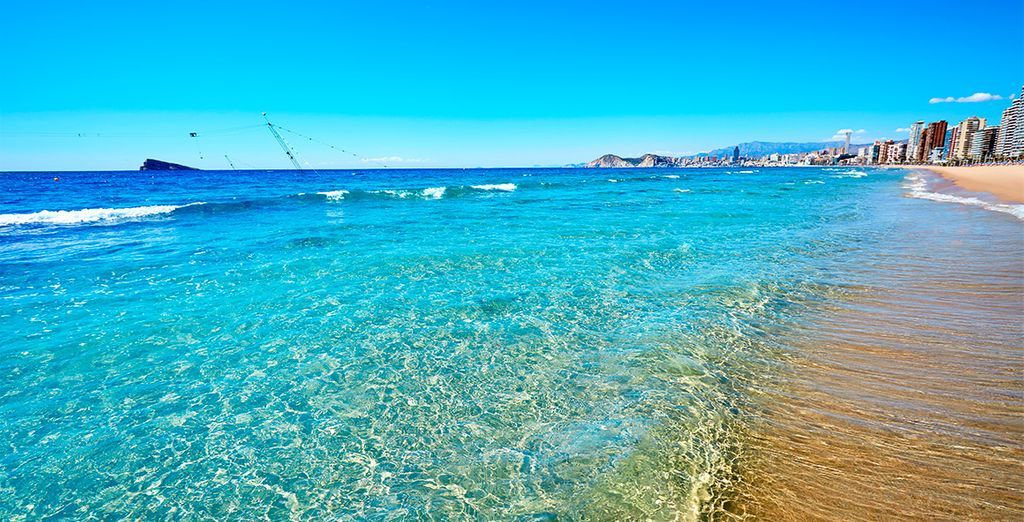 The Costa Blanca is famous for its views out to sea and its picturesque beaches, but don't forget to explore the attractive towns and villages full of tradition and history. If you're looking for a little more excitement, you can find water sports, excursions and day trips to Terra Mitica, Iberia Park and Mundomar.
For more offers, check our adult only hotels in Spain !