Italy's Sorrento; perfectly placed and utterly bewitching



Table of contents
Nestled into the south-western aspect of Italy (just above the front of the ankle of the 'boot') on the world-famous beauty of the Amalfi coast, Sorrento is a small town, handy to both Pompeii and Naples. It is also the place from which limoncello comes: a delightfully aromatic lemon digestif often used in baking. With many beautiful beaches, panoramic cliff-top views, and a wealth of art, architecture and historical sites, Sorrento is an ideal holiday base.
Top 5 Things to Do and See in Sorrento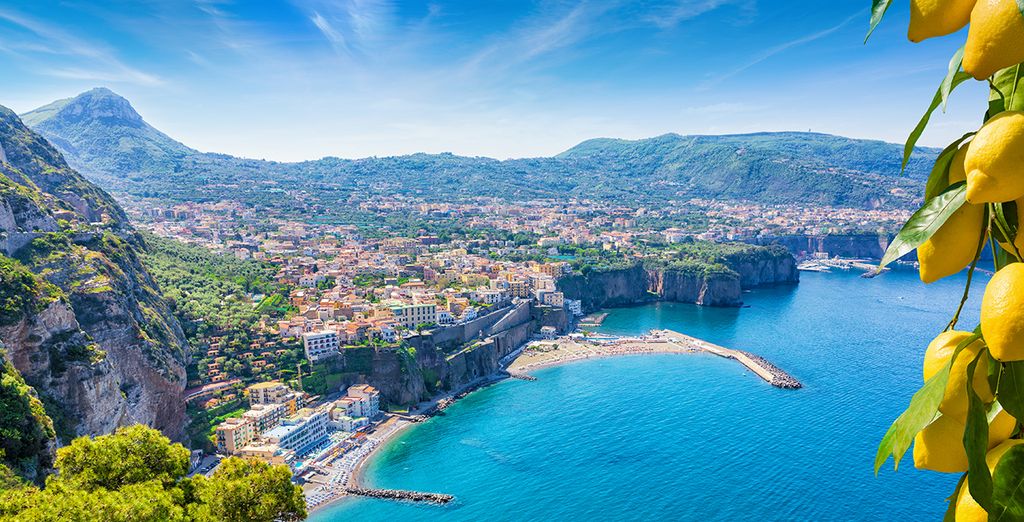 1. Piazza Tasso
Named for the poet Torquato Tasso, this square is the central point of Sorrento, with points of interest branching off down each street and lane. Make this point your starting point and explore each path to your heart's content, before returning to the square to choose your next adventure. Enjoy a coffee or a meal watching the people go by.
2. Villa Comunale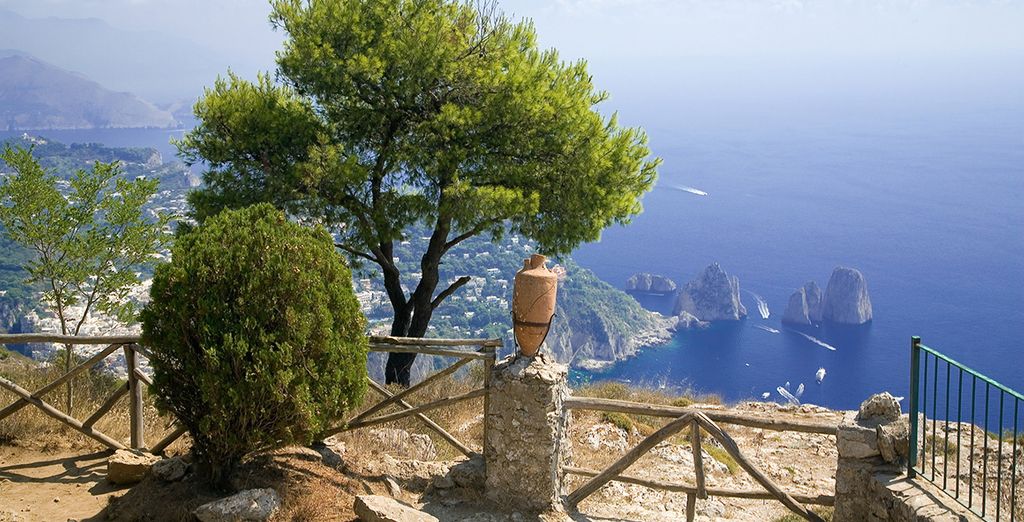 If you want to spend some time in the sun and the fresh air, admiring breath-takingly beautiful views while the children run and climb and play, Villa Comunale is for you. The largest park in Sorrento, you can look out over the Bay of Naples, admiring the coastline, the attractive buildings and the boats bobbing about in the marina that lies down the steps at your feet. Keep your eyes peeled for the sight of Mt Vesuvius, hopefully calm and quiet at the time of your visit, and look out for the 14th century religious buildings and cloisters that are nearby
3. Museum Correale
Housed in a handsome villa, this museum boasts a fabulous wealth of paintings by reputable artists and also has a number of works by world famous masters such as Michiel Sweerts, Andreas Vaccaro and Rubens. The collection is arranged over four levels, and is well worth spending several hours in quiet contemplation of these magnificent works whose beauty has stood the test of time. There is also a number of other exhibits including furniture, ceramics and even archaeological treasures from the area as well as information about the family who used to occupy the villa.
4. Marina Grande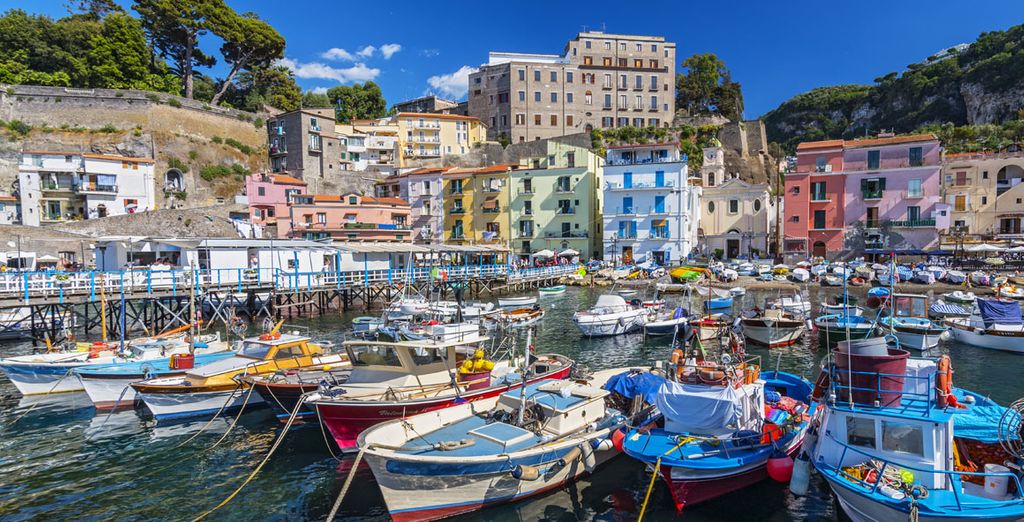 You may think that the name just means 'big marina' and you are almost right: there certainly is a marina here, but the name is actually taken from the small fishing village that was the origin of this boat friendly space. Thought to have been a Greek port in the third century BC, Marina Grande was later the place where all the Sorrento fishermen had their boats built. Enjoy the beach, try out the local cuisine and wines at one of the nearby cafes and pubs, or simply wander along with a camera to hand and snap some beautiful marina shots of the boats going by and the fisherman working on their nets or landing their catches.
5. Chiostro di San Francisco
Team a visit to this fourteenth century church and courtyard with your visit to Villa Comunale as they are right next to each other. The church and cloisters have a timeless tranquil air that will give you a real glimpse of what life was like when the religious life was thriving on Sorrento. Now a popular destination for memorable events like weddings and engagements, the otherworldly air of the church and its grounds are a welcome break from the hustle-bustle of modernity.
Our Best Hotels in Sorrento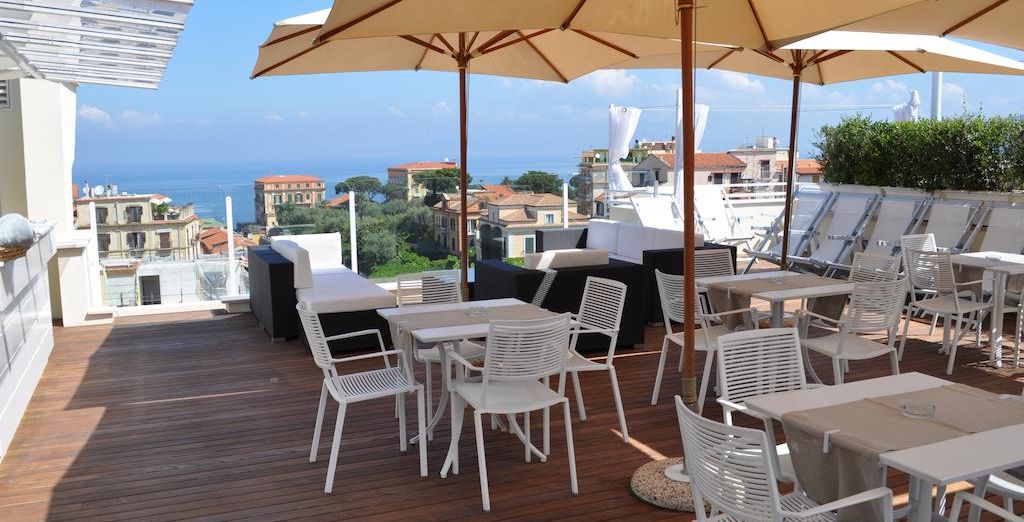 Old fashioned elegance and comfort merges with modern advances to make this hotel, just across the Bay of Naples from that city, one of the nicest places to stay while you are in Sorrento – and not just because the views are superb, although they are! A seasonal infinity pool, calming décor in which wooden furniture, crisp textiles and soothing colour schemes combine, and an on-site café as well as a breakfast buffet are just some of the features offered by this home away home.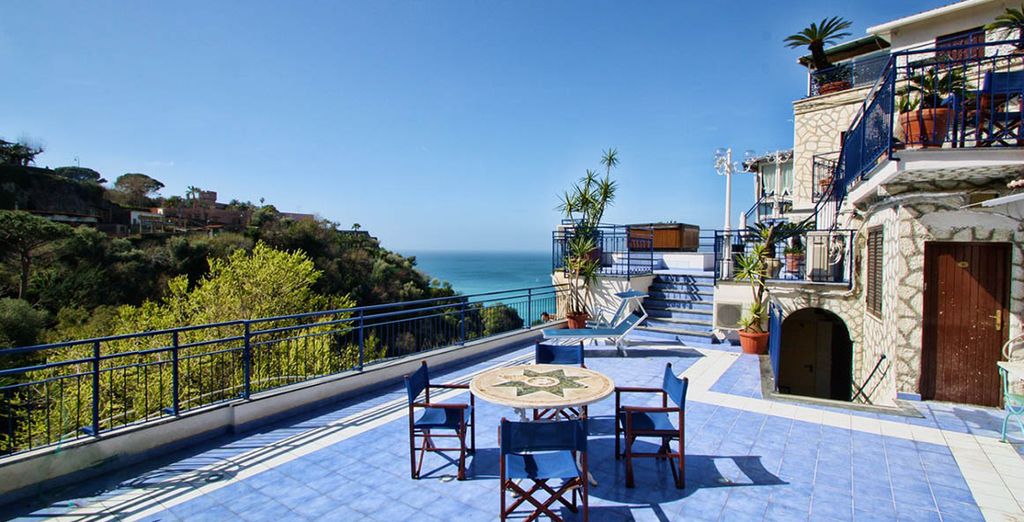 Just a little way along the coast from Sorrento town, this hotel perches on a clifftop, overlooking the sea and providing a magnificent vista at all times of day, from sunrise to sunset and every hour in between. Wander down to the beach, or spend long chilled hours on the terrace, soaking up the sun and enjoying tall iced drinks while you chat and unwind, or stay out of the heat of the day by heading to the on-site bar or restaurant for a snack or drink while you plan your next moves. The rooms are comfortable and well-equipped and there is free Wi-Fi throughout.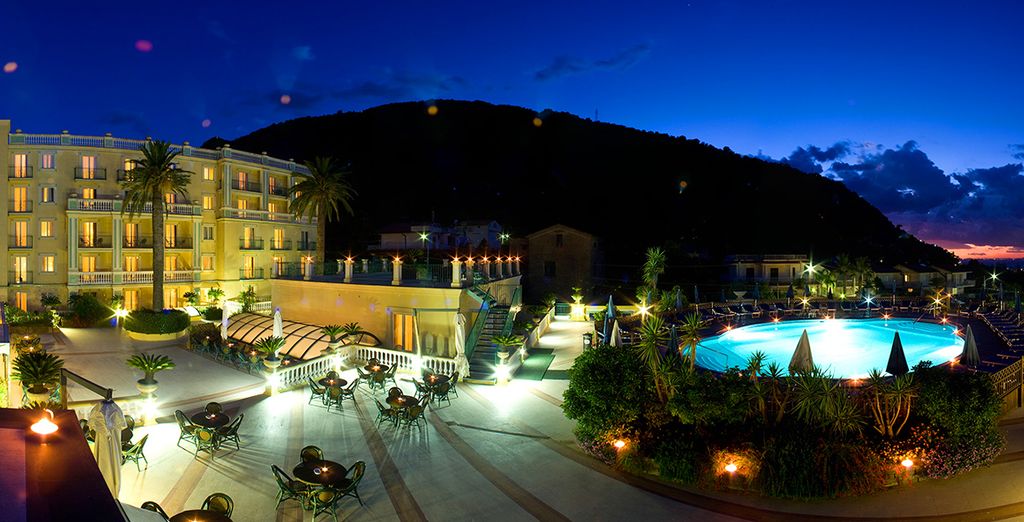 Spacious luxury rooms with private terraces and balconies looking towards the mountains, a choice of three restaurants all serving international standard cuisine, and a location on Italy's most beautiful coastline make this hotel a tiny piece of heaven on earth. After a hard day exploring the surrounds, enjoy a relaxing massage or a rigorous workout before having a delicious meal in convivial company before heading into your gorgeous and comfortable room to enjoy a great night's sleep that will set you up to do it all again the next day.
When is the Best Time to Go on Sorrento Holidays?
With a lovely mild climate featuring warm dry summers and cool damp winters, you can visit Sorrento at any time of year for exploration and relaxation. Beach holidays are best between May and October, and do always make sure that hotels are open if you plan on travelling outside of these times.
Getting To and Around Sorrento
Why not fly into Naples International Airport and then catch the ferry across to Sorrento, switching from the most modern form of transport to one of the oldest, and arriving in the town in the same way that tourists have been doing for over 2,000 years?
Exploring from Sorrento you can use local buses, hire a car or scooter, use the trains or make use of the extensive ferry services to nearby islands and other coastal cities.
Enjoying Your Sorrento Holidays
Italy is a family oriented country, and Sorrento is no different. Children are expected to eat and undertake activities with their parents, and provision is often made for them, with child-friendly menus, age-appropriate entertainments and fun educational activities provided alongside more sophisticated events for adults.
The Opinion of the Voyage Prive Expert on Sorrento Holidays
Warm sunshine, the evocative scent of lemons mingling with fresh sea breezes and floral fragrances are just the first impression you will receive of this wonderful small Italian town. It has absorbed enough of the mod-cons to be a comfortable and welcoming holiday destination without losing any of the charm and grace that make it a compelling and memorable place to visit. It is family friendly and also welcoming to solo travellers and couples: all will enjoy the wonderful ambiance of this age-old town.
Perfect marriage of sea, mountains and Italian life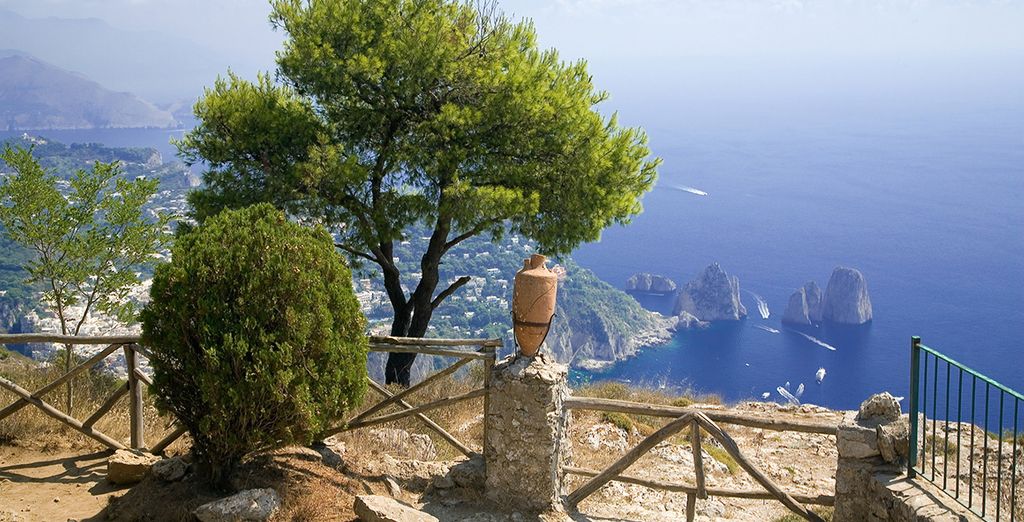 The first words that come to mind with Sorrento are perfectly positioned, as this pretty town is right in the heart of the Neapolitan Riviera. Sorrento is deservedly one of Italy's most attractive holiday destinations, being charming, authentic and romantic, but also broodingly magnificent. it's perched high on a rugged coastline and sweeps down to the shores of the Tyrrhenian Sea. A town rich in ancient history, Sorrento's cobbled streets will draw you along, while the magnificent views along the coast of the bewitching blue sea to Mount Vesuvius and Naples will take your breath away. Relax or swim in the crystal clear waters using one of Sorrento's iconic wood or stone bathing platforms. If you would prefer to see this amazing coastline from further out, there are abundant boat trips into the bay and travelling to nearby islands.
So much more than magnificent coast
There is plenty to interest you away from the coast on your holiday to Sorrento. The old town is awash with historical significance. Cobbled streets and winding pedestrianised lanes guide you to fascinating architecture at every turn. Visit local artisan shops or pick up a holiday bargain or antique at Teodoro Del Giudice, a weekly market much-loved by tourists. Wander to see the 11th-century Chiesa di San Francesco. Soak up history in the bell tower, monastery, and cathedral. Don't miss the beautiful frescoes. If anything, Sorrento becomes even more colourful and vibrant in the evenings. Think lively bars, welcoming trattorias, the best in fine dining, or simple pavement café culture, accompanied by delicious fresh local seafood and fish, authentic Italian pizza and pasta, and of course, great wines.
Ideal base to explore the Neapolitan Riviera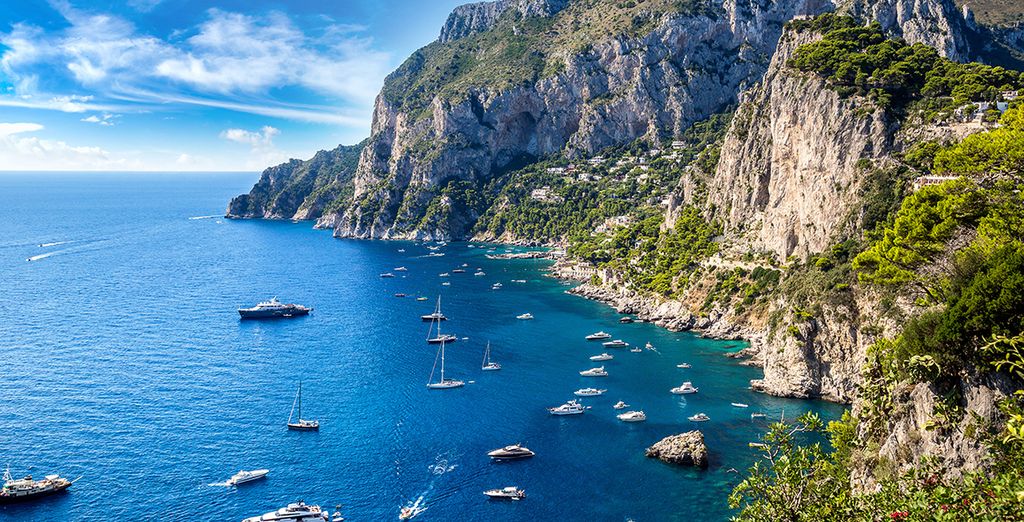 Find your own slice of heaven along this stunning coastline. Hike a few miles in the lush hills surrounding Sorrento to find mindful moments. Or walk along the peninsula to Punta del Capo to enjoy even more splendid views.If you are a strong hiker, the trails around Sorrento lead to small, unspoilt villages. Mountain treks are marked in red by the local Alpine Club.
Your holiday to Sorrento provides easy access to Positano and Amalfi. The local ferries can take you to beautiful Capri – a magnet for celebrities and upmarket retail enthusiasts. Take the coast road to Naples for its world famous art and architecture. Pompeii is unmissable. A true window of Roman life, frozen in time.
Capturing hearts for centuries
No wonder people fall in love with Sorrento and return year after year. Give this beautiful Italian coastal resort a chance to be forever in your heart too, by registering with us. We can keep you informed of important exclusive prices and a wide range of exceptional discounts offered to members only. Regularly updated information and handpicked holiday services will make your stay in Sorrento as perfect as the location.