Luxury Egypt Holidays



Table of contents
Egypt is famous for historic treasures like the dazzling tombs and temples that wow every tourist. Its countless water activities, eye-catching sites and numerous adventurous locations make it an ideal holiday destination. Whether you want a family-friendly destination or a quiet getaway, Egypt holidays offer a chance to combine relaxation, adventure and culture in one trip.
The top 5 things to see/do in Egypt
1. Go for a cruise on the River Nile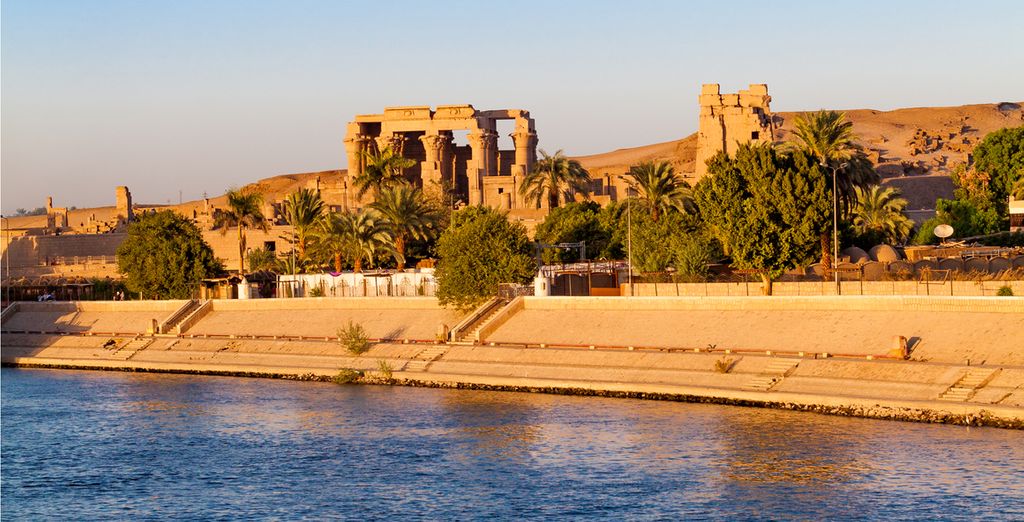 Make your trip to Egypt memorable by taking a cruise on the Nile. You also get to enjoy a glimpse of the ancient temples and tombs on your way, killing two birds with one stone. Though most people drift along the river by taking a cruise, you also have an option of small wooden vessels for that private family time or romantic experience with your partner.
2. Explore historic Cairo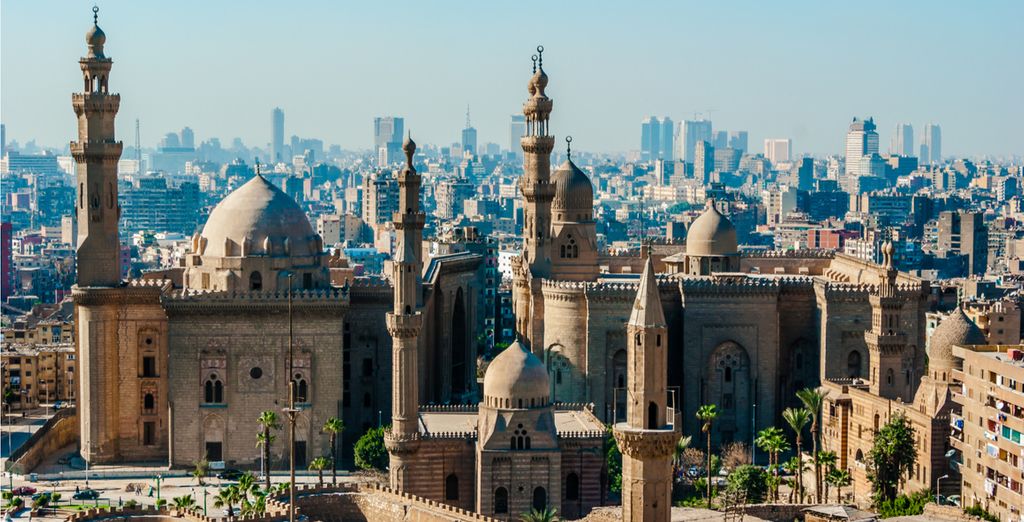 After you are done cruising, find your way to Cairo as it's located on the river. If you love historic architecture, Cairo will definitely win your heart with its Islamic architecture. With mosques, fortifications and tombs, you will be touring one of the oldest Islamic cities in the world. Spice your tour with some shopping in Khan el-Khalili and a stroll down Al-Muizz.
3. How about a relaxing beach experience?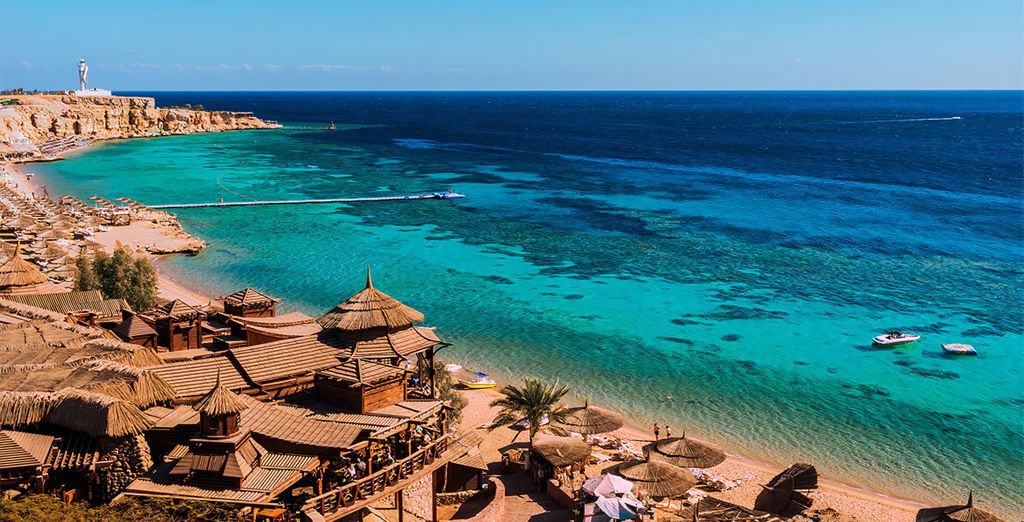 If you want a break from the temples, tombs and all the history, chill out on Sharm El-Sheikh, a popular beach resort town. You can relax in Naama Bay or enjoy some scuba diving in this amazing resort town between the desert and the Red Sea. A visit to the Ras Mohammed National Park will be a great addition to your itinerary.
4. Go for a hike up Mount Sinai
Create wonderful memories hiking to the top of Mount Sinai, a popular pilgrimage site in the country. Start your hike in pre-dawn hours, so you reach the top in time to catch the sunrise. The hike is about four miles, so you get a fulfilling experience at this sacred site. Remember to carry all your hiking gear, so you are comfortable throughout the hike.
5. Take time to explore the Pyramids of Giza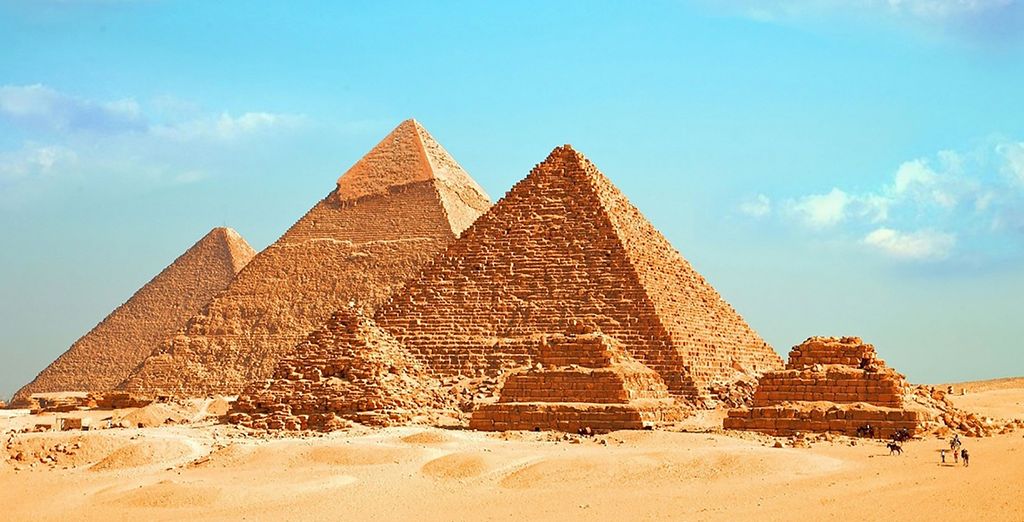 The Pyramids of Giza combined with a handful of tombs form an iconic sight you can't miss out on. Spend at least three hours in the Pyramids so you can visit the Great Pyramid, the oldest of the Seven Wonders of the world. You also get enough time to go inside and visit Panoramic Point, the Solar Boat Museum or even have a short camel ride at the Pyramids.
Our best hotels in Egypt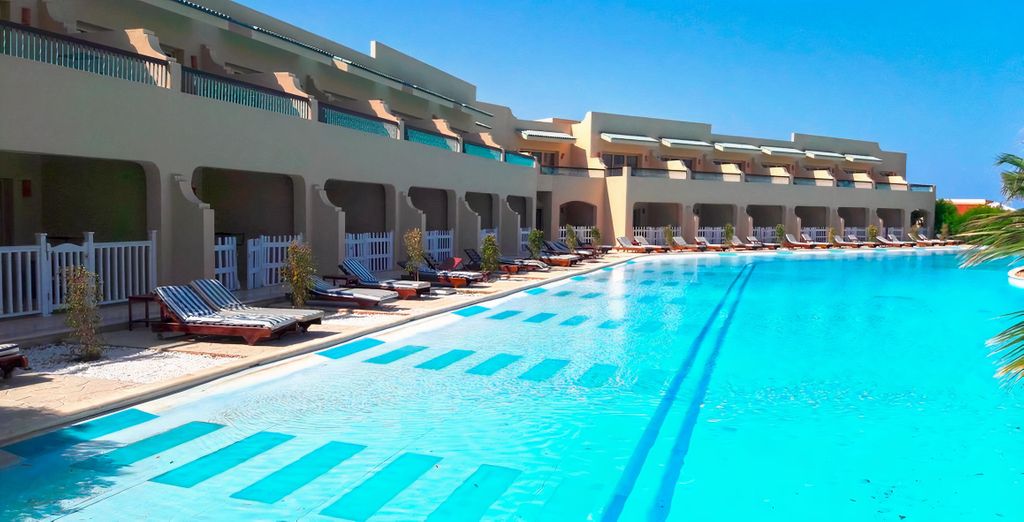 This spacious resort is located on the beachfront allowing you to enjoy a fun-filled family break. The hotel is equipped with everything you need and features modern decor for your comfort. As you relax in the resort's outdoor swimming pool, your kids can have a great time at the kids' club.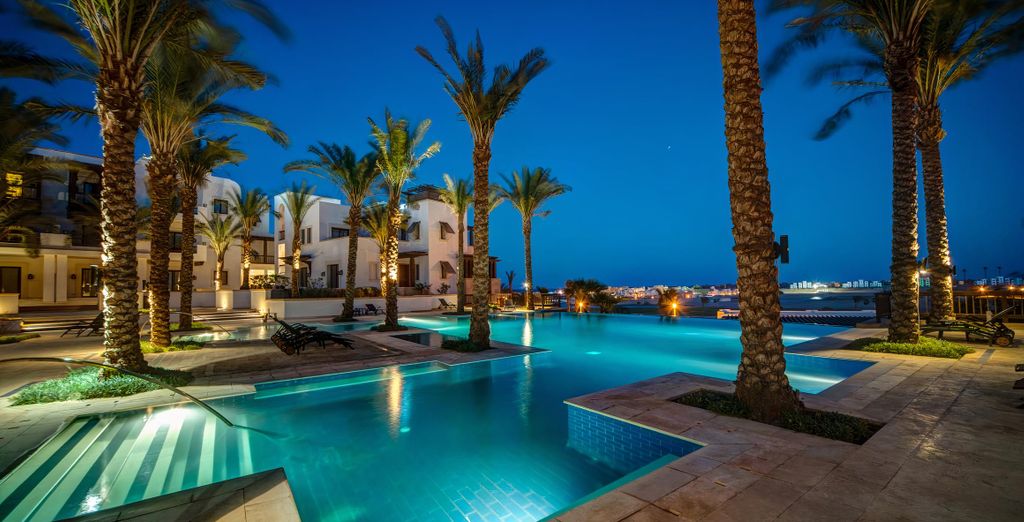 The Ancient Sands Resort boasts five outdoor pools, plush guestrooms and an indulgent bar. Besides, its location gives you easy access to the beach while allowing you to discover the incredible scenery of Egypt. For golf enthusiasts, the resort is home to a golf shop and a world-class championship golf course, giving you a leisure activity to enjoy during your stay.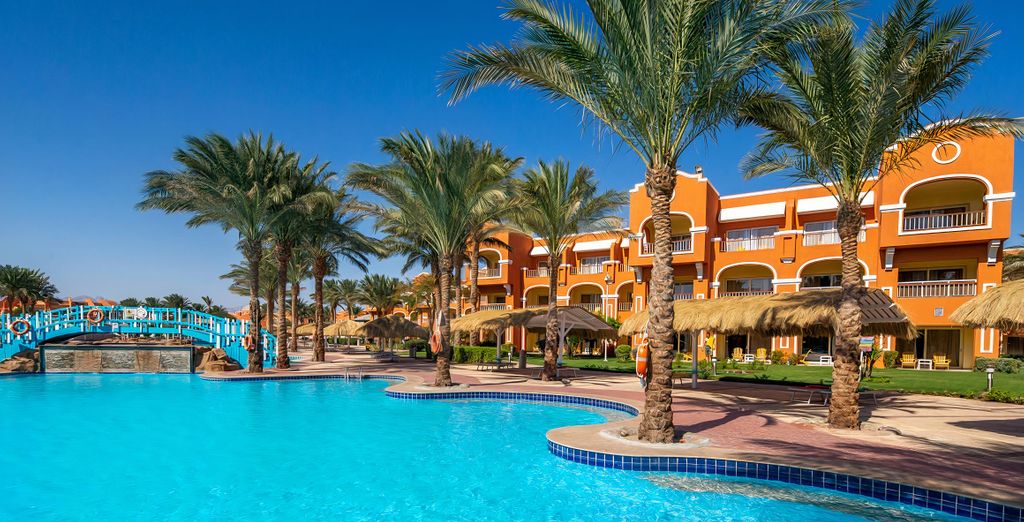 With a spa, tennis courts, windsurfing and three swimming pools, the Caribbean World Resort gives you an option to try something new during your stay. You can stay in a deluxe family room or choose a deluxe sea view room to enjoy beautiful vistas. Be sure to check out the private beach while you're there.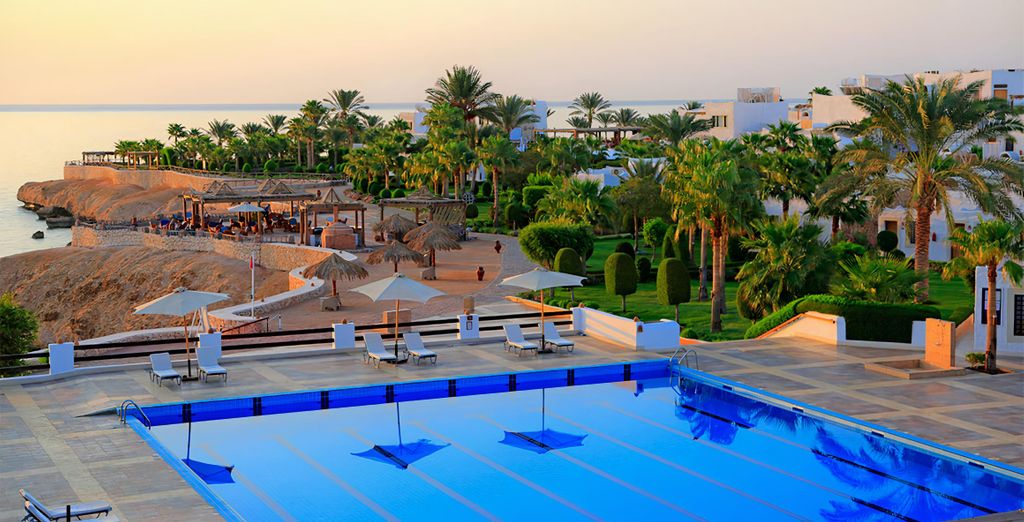 Located in the serene Sharm El Sheikh, Labranda Tower Bay is a great family-friendly hotel for a peaceful stay. Explore the ocean by snorkelling or rejuvenate yourself at the luxurious spa. The kids' playground will allow the little ones to let off steam during your stay.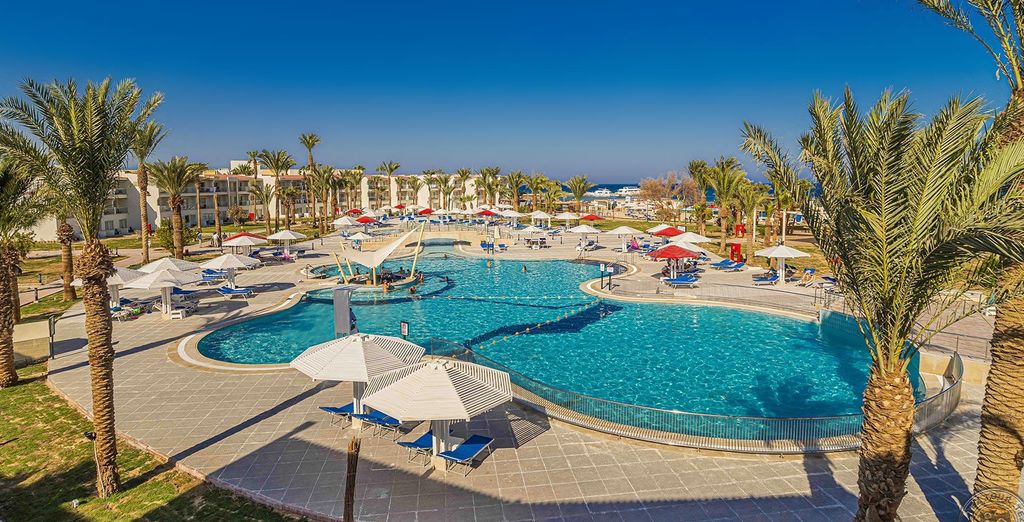 Amarina Abu Soma Resort is a modern resort located on the shores of the Red Sea. Take advantage of the numerous activities, including aquatic sports, live entertainment and spa facilities. Alternatively, spend your days relaxing on the private beach with your family, partner or friends.
When is the best time to go on holiday in Egypt?
Most people visit Egypt between April and October when the temperature is cool but still pleasantly warm, making it comfortable to explore. However, we recommend visiting from May to September as there are fewer people, and therefore, lower prices. Although temperatures may be a little high, they are alleviated by air conditioning and very dry air, so you still enjoy your trip.
Going on holiday in Egypt
Egypt is served by most international airlines, making it easy to get there from almost anywhere around the world. You can still get to the country by land, depending on your location, but flying is definitely the fastest way. A rental car or local taxis will help you to get around.
Enjoy your holiday in Egypt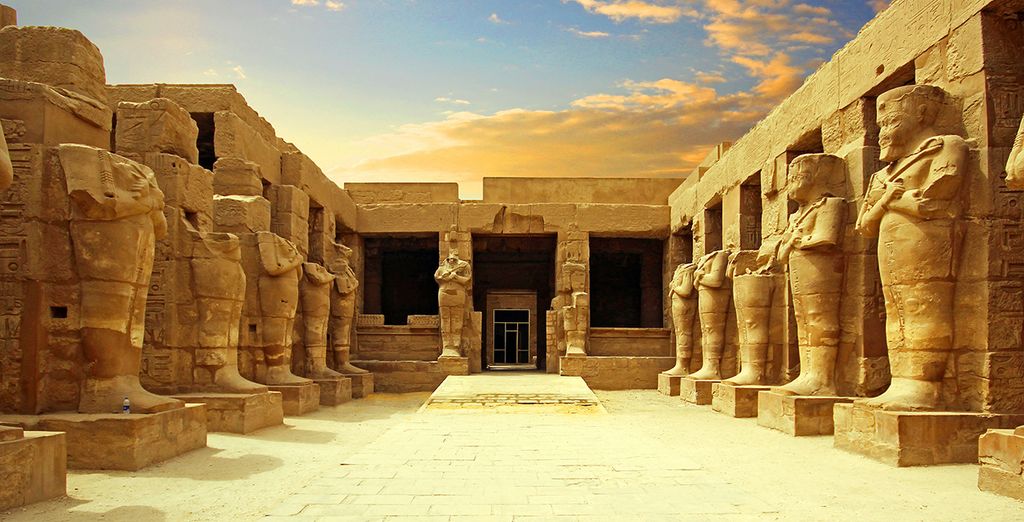 The weather in Egypt makes it ideal for visiting anytime. Whether it's a family getaway, a baecation, a group retreat or if you are going solo, you will have an amazing time in Egypt. The beaches are beautiful and there are numerous family-friendly resorts.
The Voyage Privé travel expert's opinion on Egypt
Egypt is full of intriguing history and everything you see seems to have some exciting historical background. You can discover some of the well-preserved pyramids and have something new to keep you busy every day. We recommend visiting the country at least once in your lifetime to enjoy exciting scenes, sandy beaches and wonderful historical experiences. Don't forget to cruise the Nile and, if you have the energy, go for a memorable hike up Mount Sinai.
White beaches and ancient history in Egypt
With year-round sunshine and high temperatures, Egypt is the perfect destination for those wishing to combine the relaxation and beauty of a beach holiday with the exciting opportunity to explore some of the world's most recognisable ancient landmarks.
Holidays to Egypt have long been enjoyed by those wishing to follow in the footsteps of great explorers and discover the magic and mystery of the monuments left behind by the ancient civilisation. Discover the delights of the Pyramids of Giza, the Great Sphinx, the temple of Luxor and, of course, the Valley of the Kings. The Nile area is a popular destination for those wishing to indulge in the tradition and famous sights of Egypt at Cairo and Luxor, while the Red Sea and Sinai areas feature pristine, white sandy beaches to take advantage of the year round sunshine and high temperatures at Sharm el Sheikh.
Sunrise atop the mountain or sunset in the desert?
In addition to sightseeing, there are number of exciting activities which take advantage of the breath-taking natural surroundings. Off the sandy beaches of the Red Sea resorts, snorkelling and diving are popular, allowing tourists to get up-close to exotic wildlife in their natural habitat. The resorts near Mount Sinai offer opportunities to explore on foot; watch the sunrise from the top of the mountain or beat the heat with a jeep safari through the landscape. In Sharm el Sheikh, many tourists enjoy unique experiences following the nomadic Bedouins; sunset camel rides through the desert as well as overnight stays in traditional tents mean unforgettable memories are never far away.
History buffs will be able to explore some of the oldest temples, tombs and monuments from a base in Luxor or Cairo. Tutankhamen's tomb in the Valley of the Kings remains a particular favourite as well as the temple of Luxor, built in 1400BC and Queen Hatshepsut's distinctive temple.
Forge your own path in Egypt
With hot air balloon rides, trips in glass bottomed boats and Nile cruises, you can enjoy your luxury holiday your own way, whether you'll be exploring together as a family, or soaking up once in a life-time romance as a couple. Will your holiday be laid back and relaxing or active and busy? Egypt offers activities and sights to suit all tastes. Nightlife, excellent cuisine and extensive facilities are ready for you to enjoy back at your hotel with our handpicked luxury offers. Sign up today to browse our exclusive discount offers on luxury hotels to ensure that your holiday to Egypt is even better than you expected.
FAQ Egypt