Last minute holidays to Venice



Table of contents
Immerse yourself in the unique atmosphere of Venice, and explore its streets, bridges, and canals. Venice is a UNESCO World Heritage site and is like nowhere else on earth. A city of unparalleled romance and history, Venice also invites you to discover the culture and love of fine living for which the Italians are renowned. And with a flight time of approximately 2 h 30 m from UK airports, it is the ideal destination for a last-minute break.
Where to stay at the last minute in Venice? The best hotels of Voyage Privé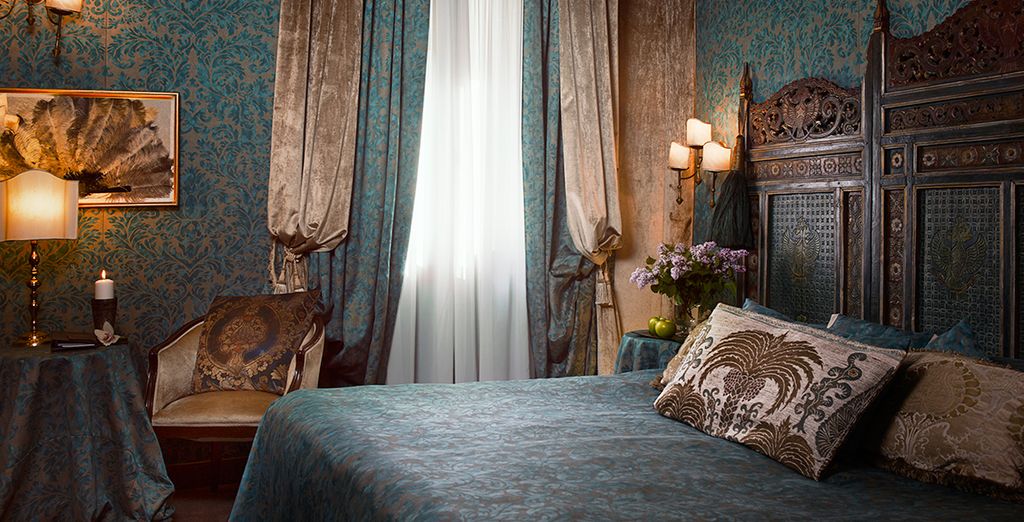 With remarkable views of the Venice Lagoon, the Hotel Metropole is a 5* establishment only an 8-minute stroll from St Mark's Basilica and 2km from the Grand Canal. Lavish fabrics, ornate ceilings and antique furnishings combine with excellent service for a luxurious stay.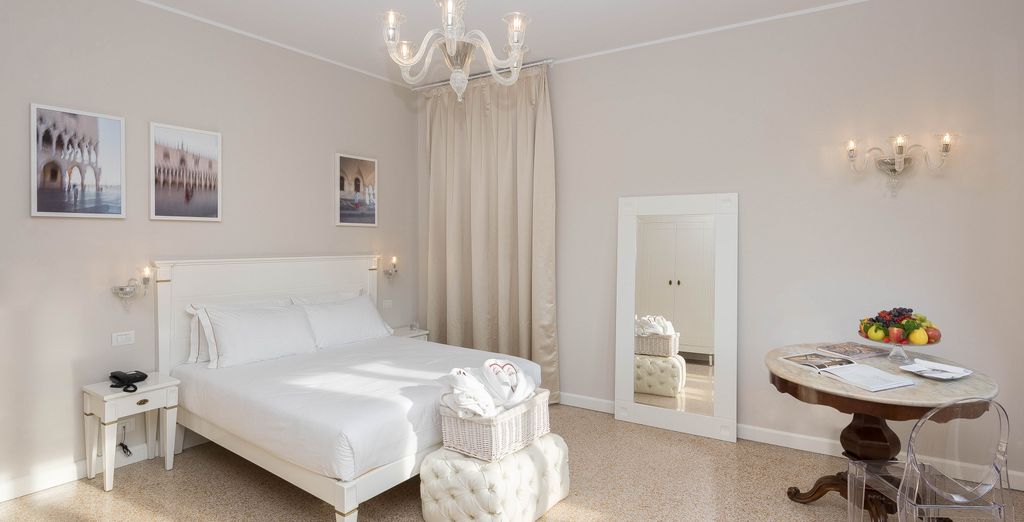 An adults-only high-end hotel, the Hotel Salute Palace enjoys an enviable location. The steamboat landing is only a few metres from the hotel, and in a few minutes walk you can reach 'Gallerie dell'Accademia', the Teatro La Fenice, Piazza San Marco and Ca 'Rezzonico, the Museum of Eighteenth-Century Venice.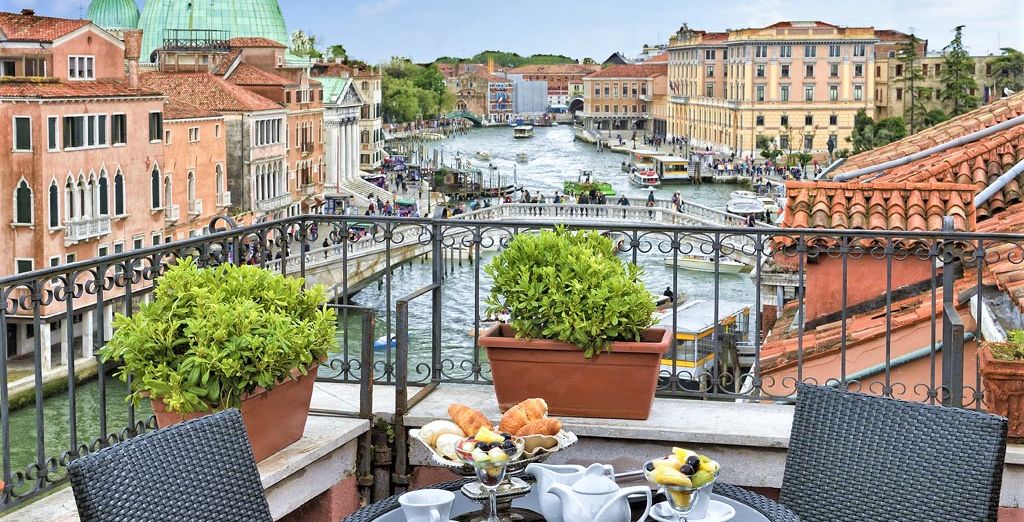 Handily located within easy distance of the airport, the 4* Hotel Principe offers ideal proximity to a wealth of Venetian landmarks, including the Grand Canal. Guests can enjoy a sumptuous Continental breakfast or dine at the stylish waterfront hotel restaurant in the evenings.
How to book your last minute holidays to Venice
First, register online to take advantage of exclusive offers on luxury hotels. Once you have found your perfect last-minute Venice holiday, completing the booking process is easy. Select whether you would prefer flights included and your departure dates. There are many other options: all-inclusive, transfer included, car rental, half board, and full board. Booking the right holiday for you is a breeze.
What kind of offers can I find at last minute for Venice
Voyage Prive offers an extensive variety of last-minute offers for stays in Venice. Choose from package deals, flight and hotel bookings, hotel only or adult hotel only, and cruises. You can also select the type of city break to Venice you prefer - whether you are planning a romantic trip for two, travelling solo or with a group of friends.
Voyage Privé exclusive deals offer as much as 70% off the price of the trip so you can turn your dreams of Venice into a reality.
The?5?best things to see/do in Venice
1. Visit St. Mark's Basilica and the Doge's Palace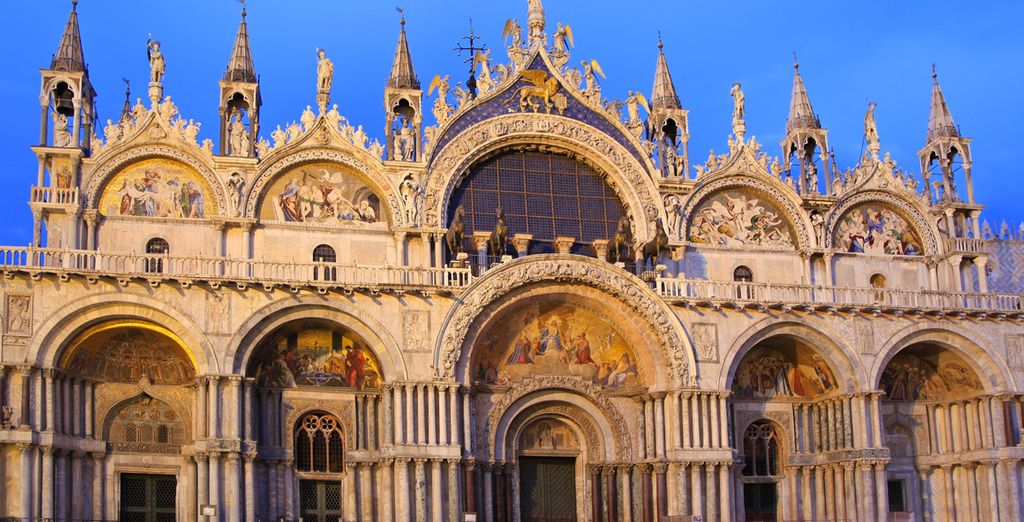 We recommended going on a tour that takes in the Bridge of Sighs and saves time with 'skip the line' access. The tour begins in St. Mark's Square and features a knowledgeable guide who will explain the history behind the magnificent sights of Venice's Byzantine must-sees.
2. Just go for a wander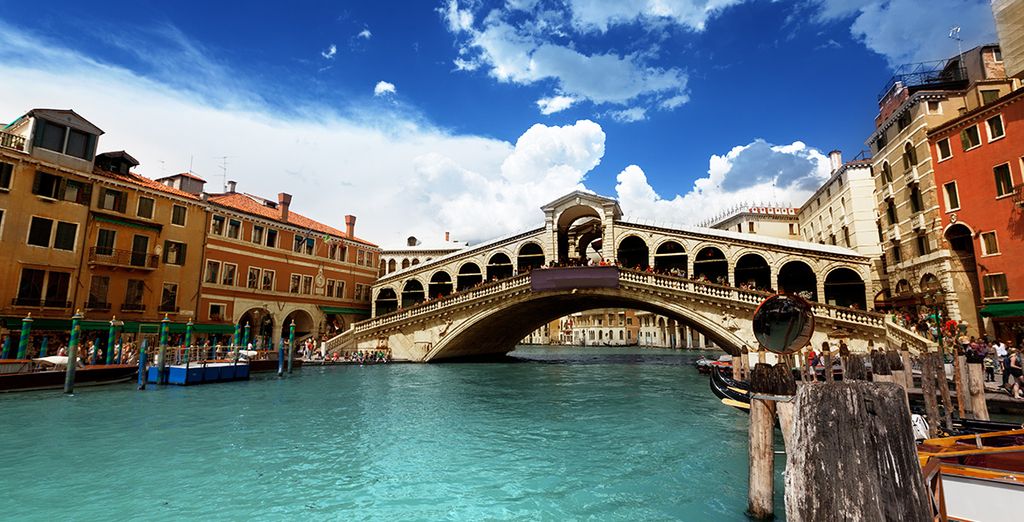 Venice is small enough to be easily explored on foot in a few hours. If you don't fancy a guided tour, you can stroll by the canals, sit and relax in the small piazzas that punctuate the city and go cafe-hopping. Venice has plenty to offer without feeling that you have to tick off the main sites on a bucket list.
3. Ascend the Campanile di San Marco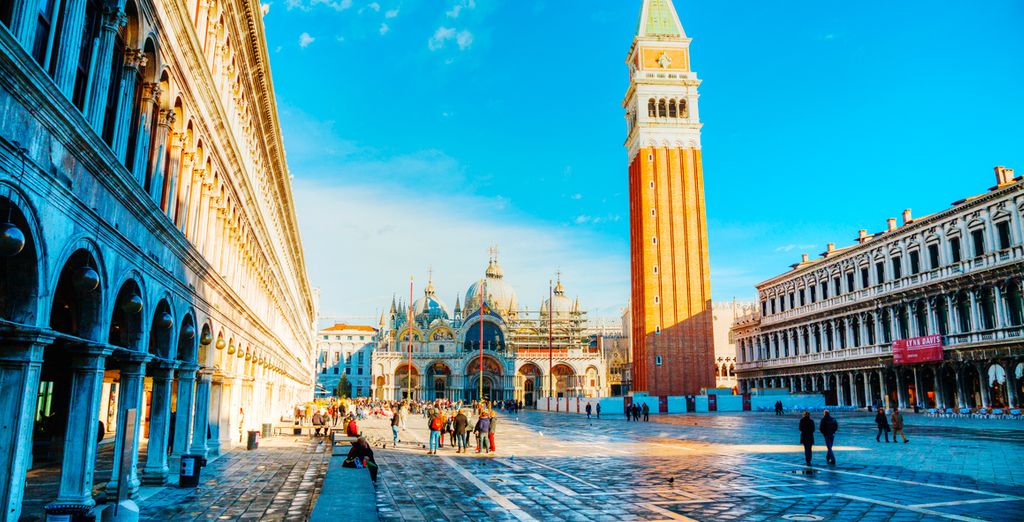 The Campanile di San Marco is a bell tower and one of the main features of the Venetian skyline with amazing views of the city from the top. The good news is that the only way to the top is by elevator - no steps to climb!
4. Go for a ride in a Gondola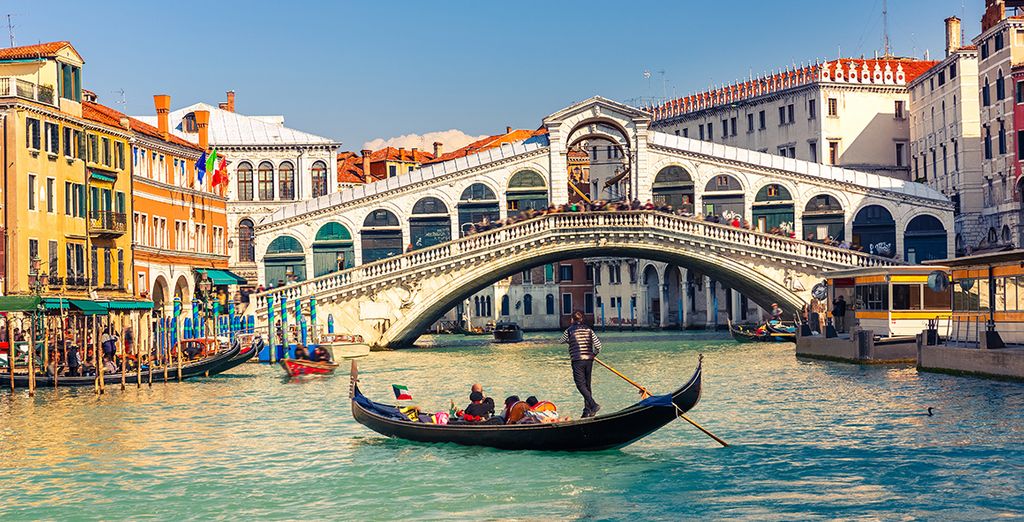 It may be a bit of a tourist cliche but a gondola ride through the canals is always an enjoyable experience. Our tip: always agree the length of the ride and the price with the gondolier before you get in.
5. Take a trip to Murano and Burano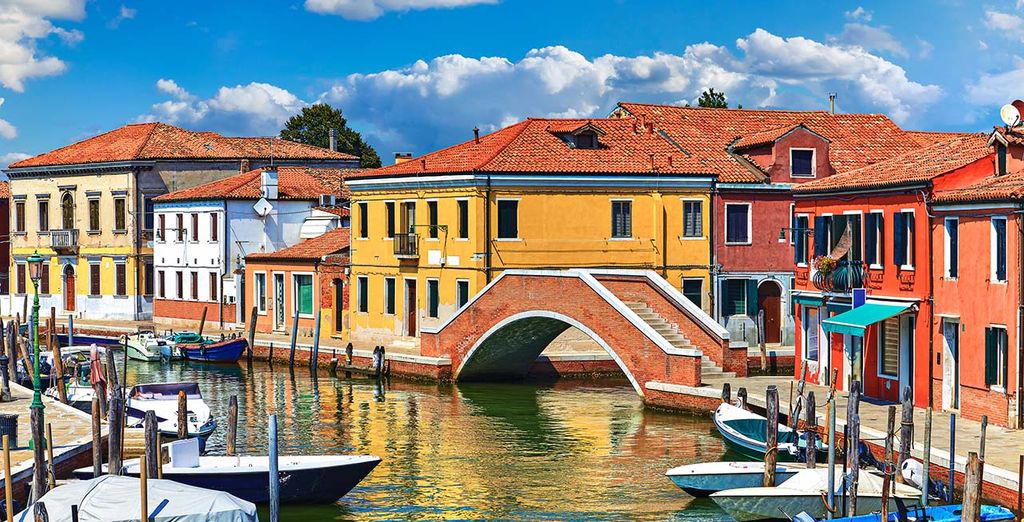 Escape the crowds of central Venice and watch the work of traditional glass-blowers and lacemakers on these tiny islands.
Our practical advice for Venice?
What to pack for a last-minute holiday in Venice?
Take a full-size backpack rather than a wheeled suitcase. A few years ago, the city actually debated whether to ban suitcases and trolleys because of all the noise and inconvenience that comes with thousands of tourists hauling them up and down steps, along narrow cobbled streets and over bridges.
Winters in Venice are usually cool and wet so pack waterproofs and layers. Summers can be sweltering so sunglasses, suncream and lightweight clothes are essential.
What budget to plan for a last-minute trip to Venice?
Venice is not one of the most expensive cities in the world and there is plenty that can be enjoyed cheaply for those on a budget. Budgeting 100 euros per day would allow you to eat well in restaurants and go on a few trips. Don't forget to plan an additional budget for extras. Luckily, the last-minute offers for Voyage Prive members mean that you can enjoy even cheaper prices so your money will go even further.
Useful information before going to Venice
The time difference between Venice and the UK is only one hour so there is no need to worry about jet lag. To get the most out of your trip to this fascinating city, read up on its history before you go. Try not to go in July or August if you can help it. The city is at its most crowded, queue times are long and it is often unpleasantly hot. Use the special Vaporetto Dell'Arte boats by spending 10 euros on the required pass - the E10 extension. These boats are new, much less crowded and have free earphones for audio guides for the journey. Also, be aware that GPS devices are famed for not working well in Venice.
The Voyage Prive travel expert's opinion on Last Minute trip to France
Take a trip to the floating city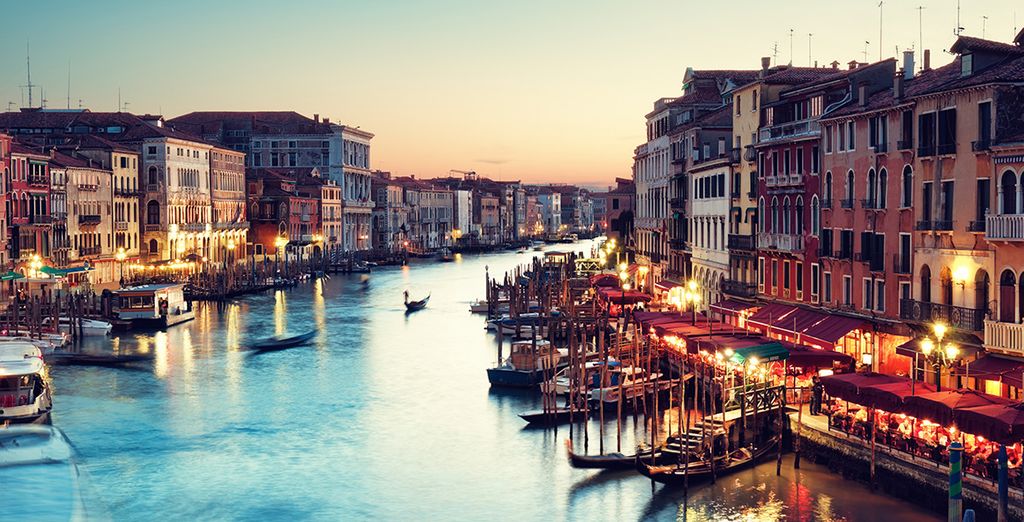 Once in Venice it's almost difficult to imagine life on the land. The city is built along picturesque canals and waterways, streets are connected by ridiculously romantic bridges, and very quickly you become enchanted and forget that such things as roads and cars even exist. The lack of road traffic gives the city an enchanted, timeless feel. Travel by river bus from the city's airport or train station, or, if you'd like to avoid the famous Italian noise and bustle, book a private water taxi. There are very few modern buildings in the centre of Venice, and our luxurious hotels are a charming window into a romantic era. Of course, for pure romance, it's difficult to beat the classic Venetian gondola ride!
Explore the heart of the city
The architecture in Venice is beautiful, and the traffic-free nature of the city makes it ideal to explore on foot. The city centre is compact, with the iconic St Mark's Square at its heart. Enjoy an espresso or gelato – Italy is famous for both coffee and ice cream – while sitting in the sophisticated and elegant piazza, enjoying a spot of people (and pigeon) watching before going on to explore St Mark's Basilica, with its famous bell tower. Italy is of course home to the most famous artists of the classical style, and as such you would expect the city to have a fitting art gallery. In this instance, you certainly won't be disappointed – there are several! The renaissance heritage is displayed to perfection in the Gallerie dell'Accademia, and the Guggenheim, situated on the Grand Canal, is a wonderful temple to modern art.
Sample Venice's specialities
While pizza and pasta are readily available, in Venice pasta is largely considered as merely a starter before you enjoy the traditional regional specialities. Stick with the spirit of spontaneity and explore the characterful bistros that can be found in the alleyways. Whatever delicious cuisine you choose, enjoy it with one of the light and fresh wines for which the Veneto region is famous and finish with the sweets traditionally enjoyed during the renowned Carnival of Venice.
Sign up to our site to browse the full selection of wonderful offers available.
FAQ Venice