Booking to Vienna, Austria: The best hotels & place to stay



Table of contents
Great savings 🏷️ on hotels in Vienna. Discover our offers up to 70% Off on Flight + Hotel. The Best Deals with Voyage Privé.
Booking Vienna
Do you want to stay in Vienna for your next trip? Here are our best plans to find the top hotels at the best prices:
Discover our top hotels for Vienna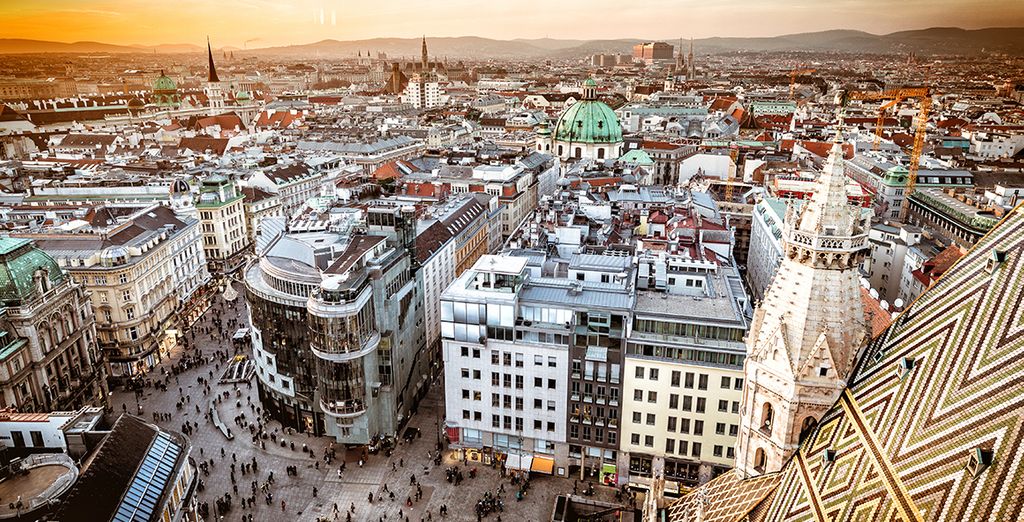 Hilton Vienna Danube Waterfront

Enjoy spacious rooms with a spectacular view of the Danube or the city. To relax, take a dip in the outdoor pool or unwind with a workout at the hotel's fitness room. Better still, enjoy a much-deserved soak in the whirlpool before indulging in locally sourced cuisine.
Imperial Vienna

Right from the heart of Vienna, the Imperial Vienna luxury five-star hotel boasts gourmet restaurants, rooftop fitness rooms and saunas to make your stay fabulous. Walk a short distance to the renowned Vienna State Opera (one of the best in the world) and St. Stephen's Cathedral.
Pentahotel Vienna

Modern and sleek are the best words to describe this four-star hotel. Pentahotel Vienna boasts of its closeness to Musikverein Vienna, known all over the world as a home for spectacular performances. Pentahotel Vienna emits a laid-back, relaxed atmosphere inviting you for a little peace after a day of exploration.
Steigenberger Hotel Vienna

For a fusion of past and present architecture, the Steigenberger Hotel Vienna is your go-to place. The hotel perfectly captures the rich history of the city in its baroque décor. Find a sophisticated lounge, relaxing spa area, sauna, a restaurant and bar area all to help you relax.
Hotel Bellevue

Hotel Bellevue offers you a combination of heartwarming hospitality and traditional grandeur from Vienna. Located in the heart of the city, explore masterpieces in the museum which is in close proximity.
Hotel Daniel Vienna

With a modern, chiselled interior, Hotel Daniel is the perfect place for a contemporary hospitality ambience. The unique architecture in the hotel promises light and airy spaces. With an in-house bakery, enjoy a state of the art breakfast sweetened with honey from the hotel's rooftop beehives.
Hotel Le Meridien Vienna

Give yourself access to all the historical places the city has to offer by enjoying a stay at Hotel Le Meridien. Enjoy the hotel's wellness centre, indoor pool and spa, and dine at the restaurant before unwinding at one of the many bars on location.
Hotel Altstadt Vienna

This four-star hotel matches the artistic district in terms of the design and architecture in which it is located. All walls are decorated with bold colours, hanging chandeliers, original antiques, and impressive works of art.
Our reviews on Vienna and its hotels: why make your booking there?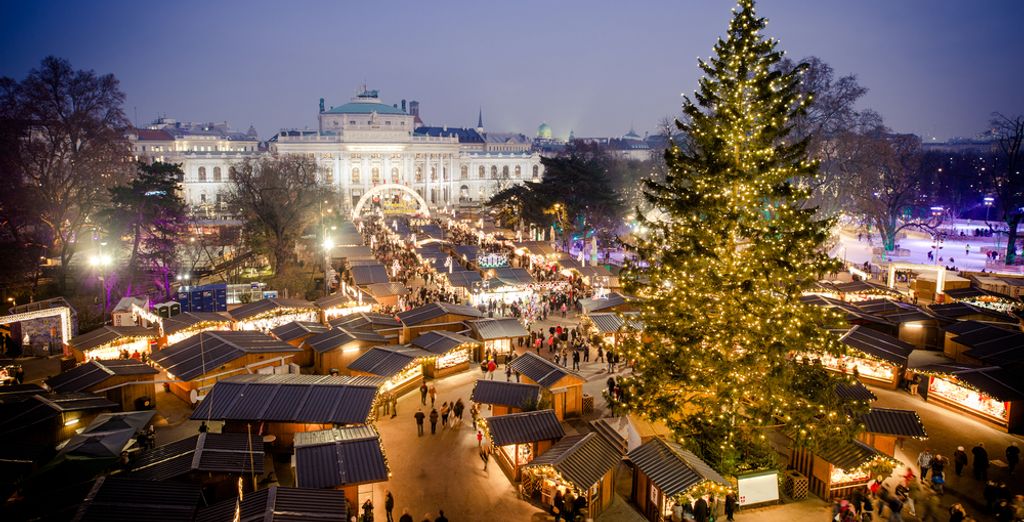 Vienna is among the world's most visited cities. Whether you're planning to take your family, ditch the kids and go with your spouse or make a solo visit, Vienna will give you lasting magical moments to remember. Make an appointment with the beach, peruse the museum and taste the delicacies along the streets for a full Vienna feel.
How to make my booking in Vienna
Booking your stay in Vienna is as easy as clicking on an available offer on Voyage Prive. In case you find no available offers at the time, be sure to register for an alert. Voyage Prive extends awesome deals of up to 70%-off for five-star and four-star hotels.
The different ways to make your online hotel booking in Vienna
Click on the offer that suits you and follow the instructions.
Book flight and hotel to Vienna
Online booking is the most convenient way to book your hotel and plane ticket. You can view a variety of flights and available hotels thus making comparison quite easy. You can also use a travel agent if booking on a package is more convenient than booking solo.
Book only your favourite hotel to Vienna
If you already have a preferred pick, you can make your booking online or through an agent.
The best districts to find hotels
Inner Stadt

This is Vienna's 1st district where the St. Stephen's cathedral stands. It is home to upscale shops, art galleries and eateries.
Leopoldstadt

Located in the 2nd district, this island lies between Danube and Danube canal. It is famous for the Praterstern and Giant Wheel.
Neubau

A small district located on the main shopping lane. Also known for Museum Quartie galleries, and hip eateries. It is Vienna's 7th district.
Wieden

Located south of the city centre, Wieden is home to some of the most visited landmarks in Vienna. It also hosts the baroque church, galleries bookstores and shops by local designers.
Mariahilf

It is the 6th district of Vienna and boasts of fashion and lifestyle stores, World War II anti-aircraft tower and gourmet magnet lined with food stalls.
Presentation of Vienna
Vienna is famous for its cultural event, charm, cosy wine taverns, imperial sights, and coffee houses. The city derives its character from the monumental architecture and numerous baroque buildings that were set up under the rule of Empress Maria Theresa and Emperor Franz Joseph. Walking down the streets of Vienna's first district will make you feel like you are walking in a museum. The city is the hub of culture, politics, and economics.
Vienna trades on its glorious past and will rarely disappoint tourists interested in history, lavish places, and ornamental parks. Modernised by style and elegance, you are in for a compact yet diverse multicultural metropolis thriving with art and design. Both winter and summer are ideal times to visit Vienna. However, the weather gets pretty cold in winter but the Christmas market makes it worthwhile.
The hotels in Vienna boast of nothing short of luxury and poise. Savour local cuisine, unwind in bars and relax in spas and saunas before sweating it out in fitness rooms. With the blend of historical antiques and modern artefacts, Vienna is a destination to tour.
The 5 best things to see in Vienna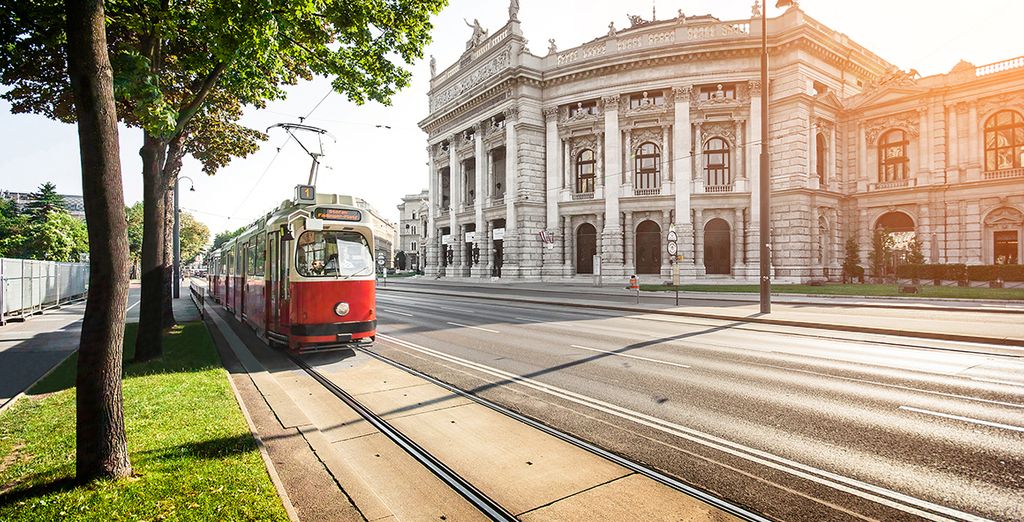 1. The Hofgurbs

Hofgurbs is the most historically significant place in Vienna. Hofgurbs has diverse buildings that give a glimpse of the various periods in Vienna's history.
2. Schonbrunn Place and Garden

Schonbrunn Place has a marvellous architecture, designed with a beautiful park. It contains over a thousand rooms and apartments, with some having been used by Empress Maria Theresa.
3. St. Stephens Cathedral

The St. Stephen Cathedral is one of the most dominant gothic edifices in Vienna. It has seen six reconstructions with a new cathedral rebuilt after World War II.
4. Vienna Zoo

Built in 1952, the Vienna Zoo is the oldest zoo in the world. Many of its original buildings are still holding strong. The zoo is home to more than 750 animals.
5. Prater park and the giant Ferris wheel

This attraction will definitely excite your entire family. Visit the dinosaur park, get thrills from old-fashioned park rides, dance, dine and ride the famous giant wheel.
Discover our offers to Vienna : Weekends, holidays, booking.
FAQ Booking Vienna
Register online for free to enjoy the best deals of Voyage Privé. Book your next holidays to Vienna up to -70% !
Rated 9.4/10 by our members, the Meridien Vienna 5* is a modern and elegant hotel with a gourmet restaurant and spa. The Ruby Marie Hotel 3* is a design hotel with a unique atmosphere, a relaxation area with library, yoga area and cinema room and a bar open 24 hours a day serving cocktails, beers and quality local wines.
Voyage Privé's travel experts negotiate for you luxury hotels and deals ! Enjoy offers up to 70% off and book your next stay in Vienna !