Algarve Holidays 2021/2022



Table of contents
Renowned for its soaring cliffs and picture-postcard beaches, the Algarve is the ultimate coastal escape. This charming stretch of coast along southern Portugal is dotted with pretty villages and enchanting port towns. It's an area with a rich history and Moorish influence, giving it an exciting, timeless feel. Enjoy the freshest seafood and sizzling fish overlooking glistening shores with one of our top stays. Whether you're looking for a relaxing Algarve beach holiday or heading to Portugal, Voyage Privé has the perfect hotel.
The top 5 things to see and do in the Algarve
1. Ponta da Piedade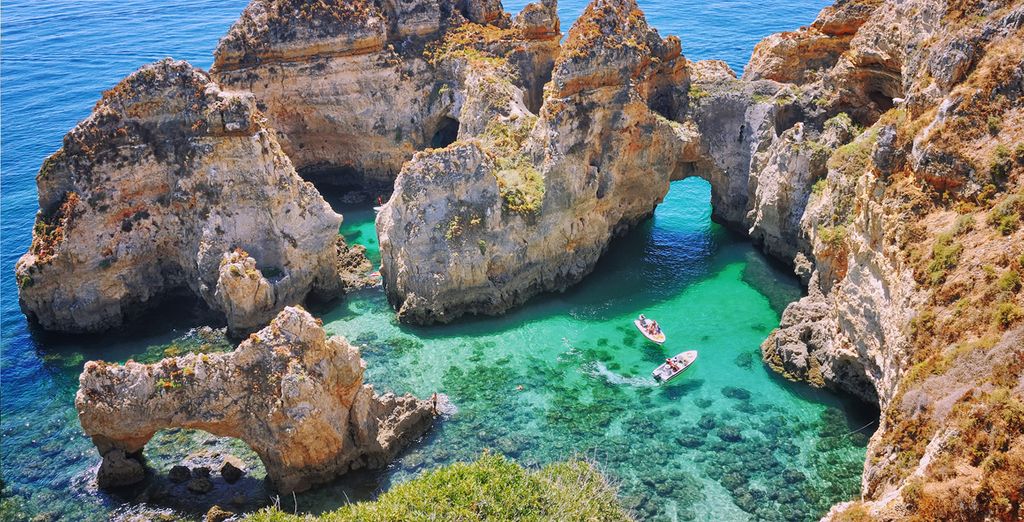 This scenic coastal viewpoint sums up the majesty of the Algarve. Located just south of Lagos, this strip of breathtaking headland towers above glittering waters and captivating coves. The views on a clear day are spectacular, and even moody evenings bring a certain brooding splendour. The surrounding beaches are equally alluring and well worth exploring on a lazy afternoon.
2. Benagil Caves
Another of the Algarve's natural treasures, this seaside cave is noted for its open ceiling, which beams in light. The result is a colour of light and glistening blue shores. It's immensely beautiful and highly photogenic. The only way into this sea cave is by water, with kayaks being the best option to get up close. Swimming is discouraged, however, given the strong tides and waves. You can also look down into the caves from the upper cliffs.
3. Faro
The Algarve's capital is an alluring destination with medieval walls, striking plazas and a wealth of museums. Meander the cobblestone streets and indulge in some fine wine in the pretty public squares. Among the town's top attractions is the Igreja de Nossa Senhora do Carmo & Capela dos Ossos. This church contains a macabre chapel constructed from the bones of some 1,000+ monks.
4. Sagres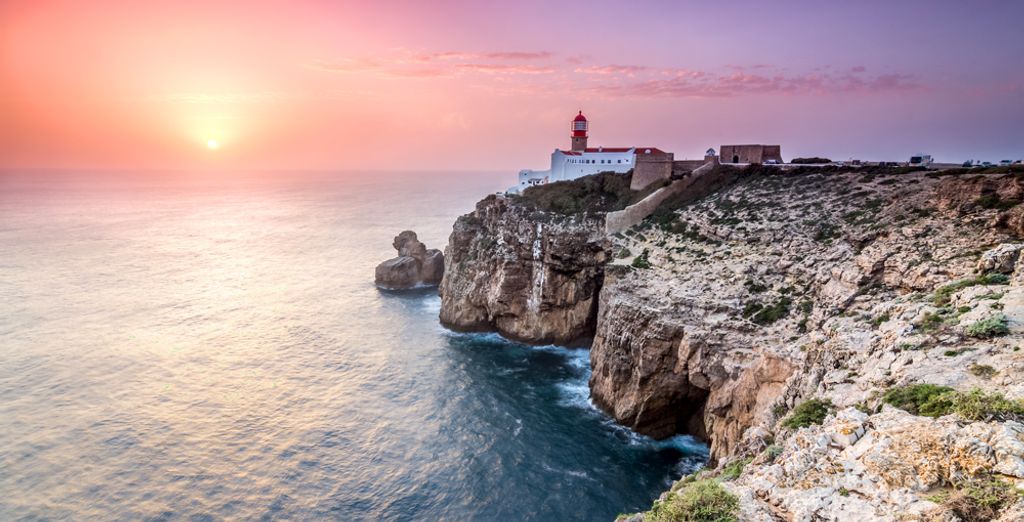 While the Algarve boasts Portugal's finest beaches, it also has dramatic spots like this. Chief among these is Cabo de São Vicente, mainland Europe's most southwesternmost point. A red lighthouse punctuates the cliffs for dramatic scenes. Sagres is renowned for its dolphins and surfing, both of which make fine excursions. The area feels like being at the edge of the world, and it was for many Portuguese sailors head off across the Atlantic.
5. Tavira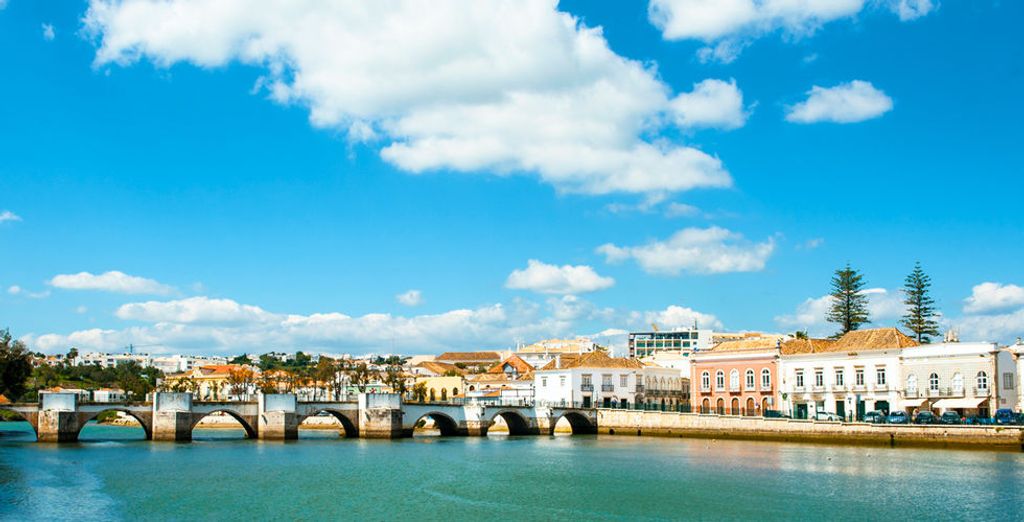 Like Faro, Tavira is bursting with history and heritage. Straddling either side of the Rio Gilão, the town features hilltop castles, Roman bridges and Gothic churches. Wander the town on foot, and you'll discover hidden gardens and beautiful murals. For the sand-lovers, you can reach unspoilt island beaches to the southeast.
Our best hotels in the Algarve

This impressive sun-soaked holiday resort in Albufeira offers plentiful pools and wide-open views of the ocean. The rooms are bright, light and modern, with pine wood furniture and plush bathrooms. Fine restaurants and bars make ideal retreats in the evenings, with candle-lit dinners and the sound of lapping waves.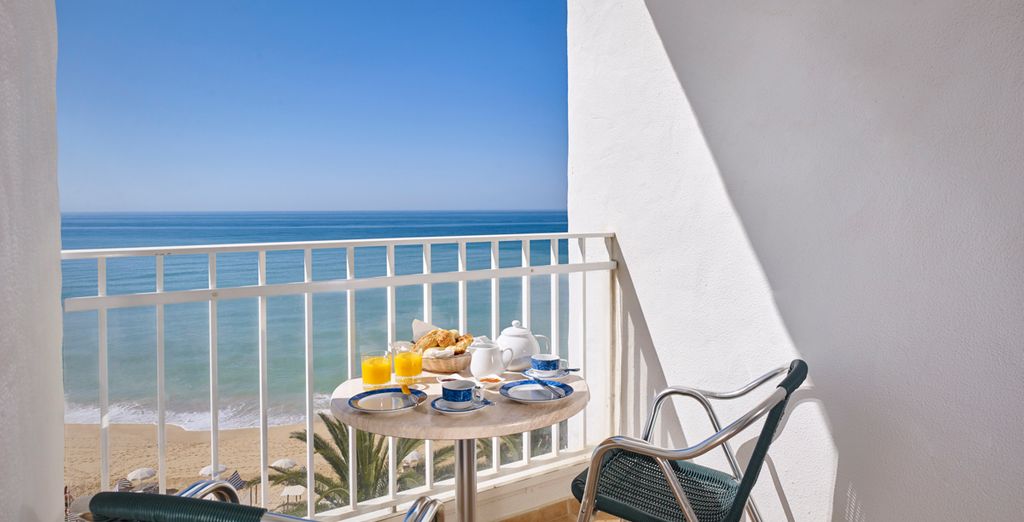 Enjoy a coastal retreat on the edges of historic Faro. This hotel offers direct access to glistening beaches, with ample pools on-site too. It's the quintessential Algarve escape with fresh seafood restaurants overlooking the gentle shoreline.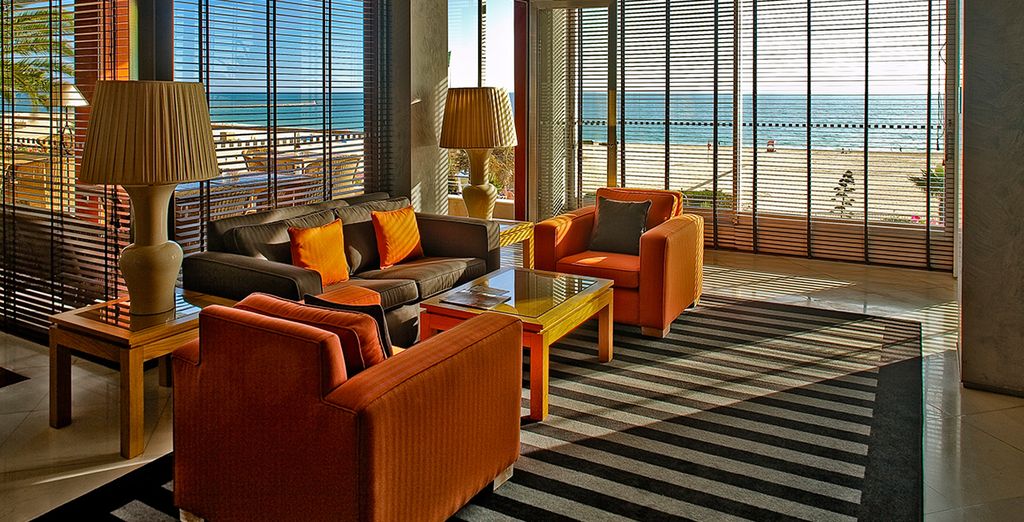 Live it up like James Bond with this captivating casino and spa hotel. Located close to the popular Praia da Rocha beach area, there are ample day trips in the region. The hotel itself is opulently decorated with marble and wood, and offers delightful outdoor evening dining.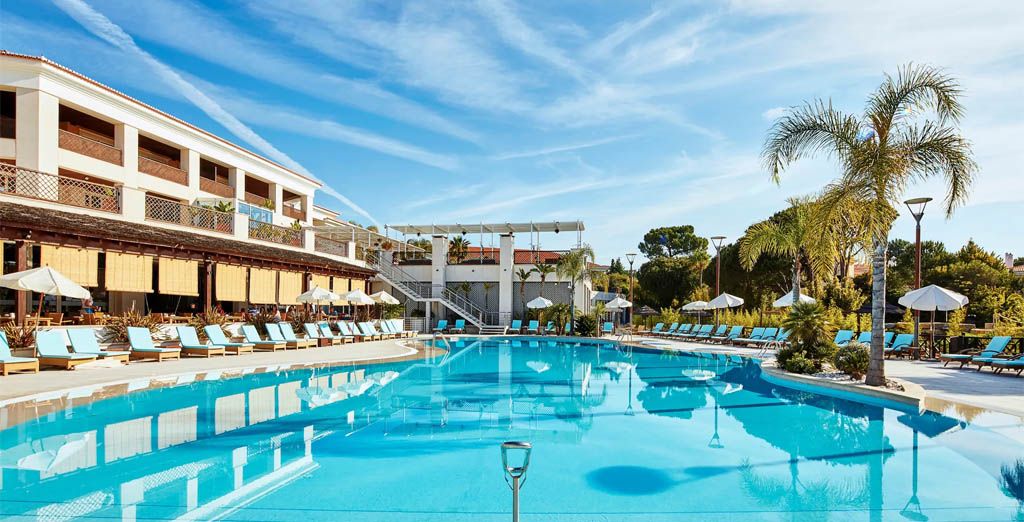 This relaxing, palatial estate-like hotel features classic Algarve architecture through elegant, sun-kissed grounds. Visitors are close to bustling Faro in pretty Almancil, a small town renowned for its three Michelin-starred restaurants. The hotel itself boasts a wide number of exciting features, from indulgent spas and pools to dreamy rooms with balconies.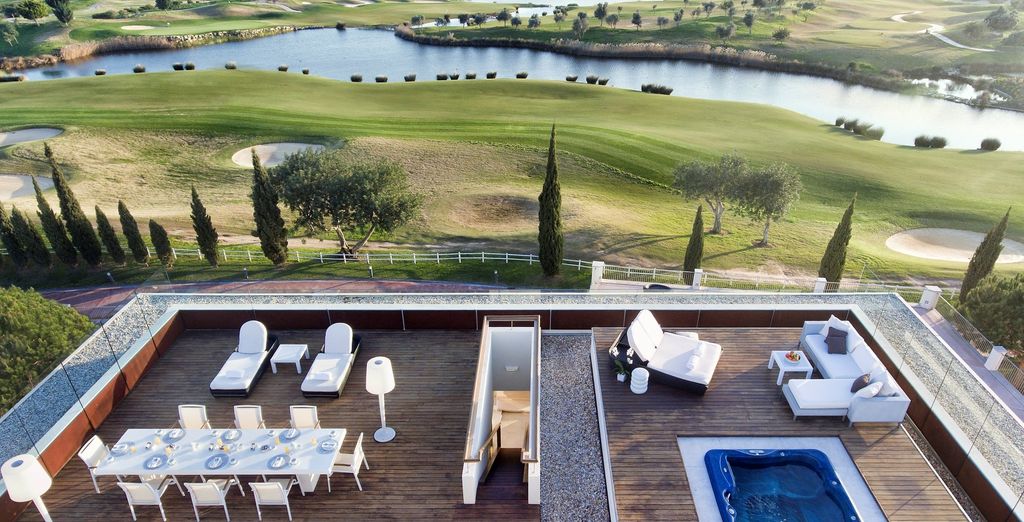 Book this impressive spa resort in the heart of Vilamoura and enjoy a pampered stay. The hotel has been designed with a clean and contemporary minimalist aesthetic with plenty of whites and hardwood furnishings. It's just a short trip to the Algarve coast, where you can enjoy some of the best beaches in the country.
When is the best time to go on holiday in the Algarve
The Algarve is blessed by decent weather throughout the year. While it may get milder in winter, there's still sunshine to be had. Just be wary of rural attractions which close or see reduced hours. The peak season from June to September sees the greatest footfall, so watch for rises in accommodation prices. April to May sees blooming wildflowers and rich, colourful hillsides, making it ideal for avid hikers and explorers. Likewise, February to March is a delight, thanks to the harvesting of almonds and oranges.
Going on holiday in the Algarve
The Algarve is a well-connected region with a delightful railway line that connects most major towns and villages. As for arriving, most visitors fly to Faro Airport. Other connections are possible via Lisbon Airport or Seville in Spain. A high-speed train connects Faro with other parts of Portugal too, making transport very convenient. If you'd like to explore the countryside at your own pace, a rental car is necessary. You can then discover secluded beaches and tranquil coves, or hit the vineyards for local wine tastings.
Enjoy your holiday in the Algarve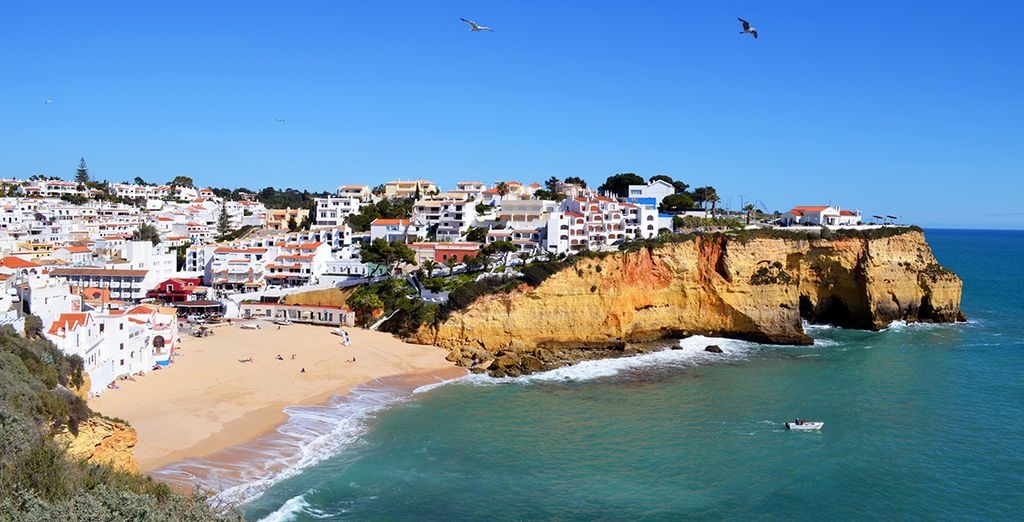 The Algarve suits all kinds of travellers with its sun-kissed resorts and child-friendly attractions. Couples will get the most out of their stay, thanks to the dreamy coastlines and fantastic eateries. Enjoy walks on the beach or head to your hotel for a relaxing spa treatment. Families and groups of friends have an exciting range of activities at their fingertips. Take part in surfing in Sagres, Portugal's top spot for waves, or kayak through mesmerising sea caves near Lagos. Inland, you'll find prime hiking territory and sleepy villages. When the evening draws in, hotspots like Lagos and Albufeira offer clubs, bars and party beaches.
The Voyage Privé travel expert's opinion on the Algarve
The Algarve is a treat for holidaymakers of all stripes. It boasts a lively party scene, thanks in part to its fabulous beaches. Yet you'll also find secluded spots for romantic evening strolls amid majestic sea scenes. The region is rich in culture and history too, with hilly whitewashed towns offering castle visits and maritime escapes. Whether you're looking for an action-packed escape or a sleepy seaside getaway, you'll find it in the Algarve.
One of Portugal and Europe's most popular tourist destinations, the Algarve offers unique diversity in its attractions. Known as a world centre for golfing, as well as for its beautiful coastline and charming towns, this area of Portugal offers a range of excellent holiday options for short breaks, family stays or extended getaways, and we have a range of exclusive offers on luxury hotels in a range of locations.
Luxury holidaying in Lagos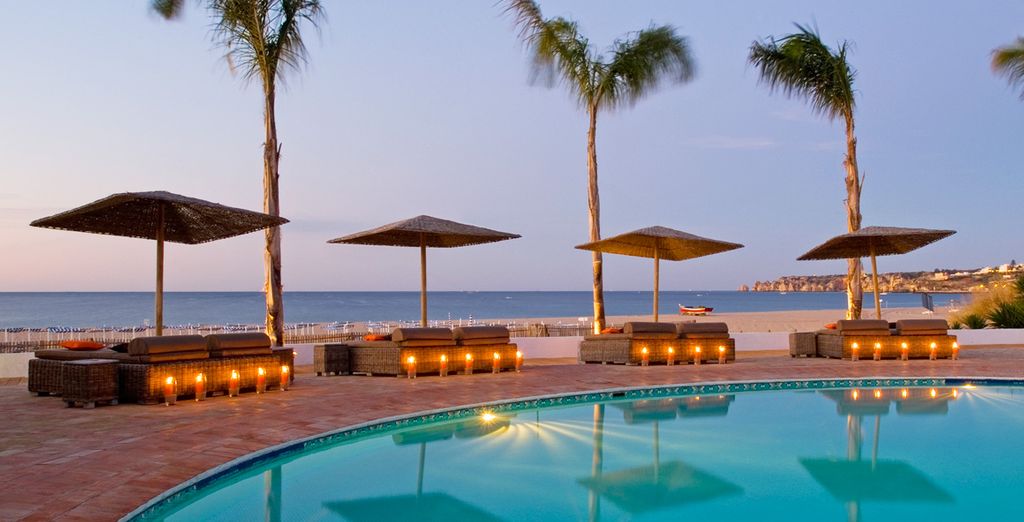 On the southern coast of Portugal lies the beautiful and historic city of Lagos, a city known for its unique coastal rock formations, thriving bar and café culture, and glorious beaches. A stay in this historic city is one that you will never forget: the sun, sea and sand, coupled with the excellent seafood and good atmosphere provides something for everyone. Its old town provides excellent examples of Moorish architecture, and the city is noted as being at the forefront of the European Age of Discovery, something reflected in numerous paintings available to view at its galleries.
The beautiful resort of Vilamoura
An upmarket resort comprising of one corner of the Algarve's famed 'Golden Triangle', this classy marina town is built around the Roman ruins of Cerro da Vila. Vilamoura thus provides important historical sites coupled with a luxurious marina area, where expensive yachts are moored throughout the summer months. Vilamoura is also famed for its golf courses, hosting six of them, and is a leading world destination for the sport.
Partying in Albufeira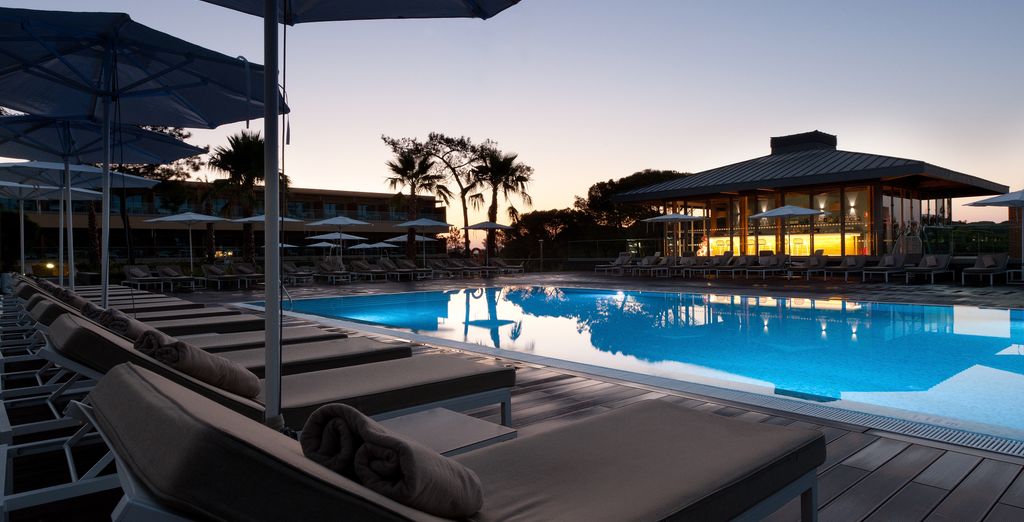 A destination for party lovers worldwide due to its famous beaches and 'strip', there is a quieter side to the city that also begs for exploration. Its old town is a quaint and beautiful area, hosting many of the town's best bars and restaurants, and also noted for its street performers. Albufeira is also famed for its water sports, and is an excellent family location either to spend the day or for longer, with excellent swimming opportunities also. Its seafood is excellent, and sampling the local delicacy of cataplana (a rich, steamed stew of shellfish) is a fantastic way to spend lunchtime.
As the Algarve is such a tempting location, we have a range of fantastic family holidays offers on hotels to suit any requirement, all of which are exclusive to our members. If you wish to explore the coastal crown of Europe, sign up today, and get planning your golden getaway: holidays to the Algarve are not to be missed..