Lagos Holidays



Table of contents
Lagos is a city situated in Portugal's Algarve region. It is well known for its walled old town, breathtaking beaches, and scenic cliffs. The wooden steps leading to the sandy cove, Praia do Camilo, are a must-do. Furthermore, the nearby Ponta de Piedade cliffs offer excellent views. There is also a lighthouse and an 18th-century church that are all national heritage sites.
Top 5 Things to do in Lagos
1. Enjoy the incredible beaches
Beaches do not get much better than those of the Algarve. You are sure to be mesmerized by the turquoise waters that lap the pristine sand gently, lulling you into a state of deep relaxation.
2. Learn about the history of the Portuguese
Lagos is a small town of significant historical significance to the Portuguese. There is plenty to keep history enthusiasts busy when you visit this town. The Visigoths first occupied Portugal, and then the Byzantines overthrew them in the 6th century. Later on, in the 8th century, the Moors took control. The fascinating history of Lagos makes it a great place to explore.
3. Watch the dolphins and whales
Dolphins do not exist everywhere on the planet. However, they certainly exist in Lagos. If you are a sea lover or a water sports fanatic, there are many water-based activities to do in Lagos, including wildlife watching.
4. Experience the electrifying nightlife
If you are into a few sundowners on the beach or a wild night out, Lagos is definitely the place for you. There are numerous spots for a night out that will fulfil your expectations for sure. Take your pick from beach clubs, dance clubs, laid-back bars and more.
5. Check out the colourful houses.
Lagos is a pretty town to explore with its cobblestone streets and colourful tiled houses. Enjoy exploring the maze of streets with cosy eateries and quirky shops. Leafy squares provide shady spots for sipping refreshing drinks.
Our best hotels in Lagos
This five-star hotel is just what you need for a blissful holiday in Lagos. It is situated in a serene location, in one of Portugal's most desired destinations. It is a family-friendly resort with four outdoor swimming pools and a luxurious spa to ensure your stay will be unforgettable. If you are a member of Voyage Privé, you will enjoy a Double Sea View room that can be an all-inclusive or half board.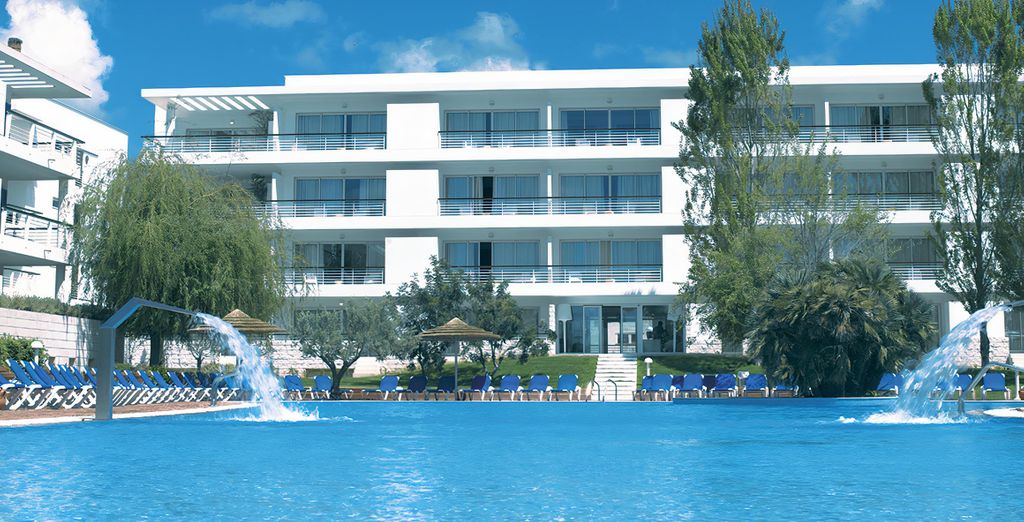 The Marina Club Resort is a four-star establishment meticulously constructed with the sole aim of providing satisfaction to clients. At the resort, you get to enjoy an outdoor swimming pool, Meia Praia Beach and a restaurant that serves both local and international dishes. Voyage Privé members can stay in a one-bedroom suite with daily breakfast, not to forget a complimentary bottle of wine upon your arrival.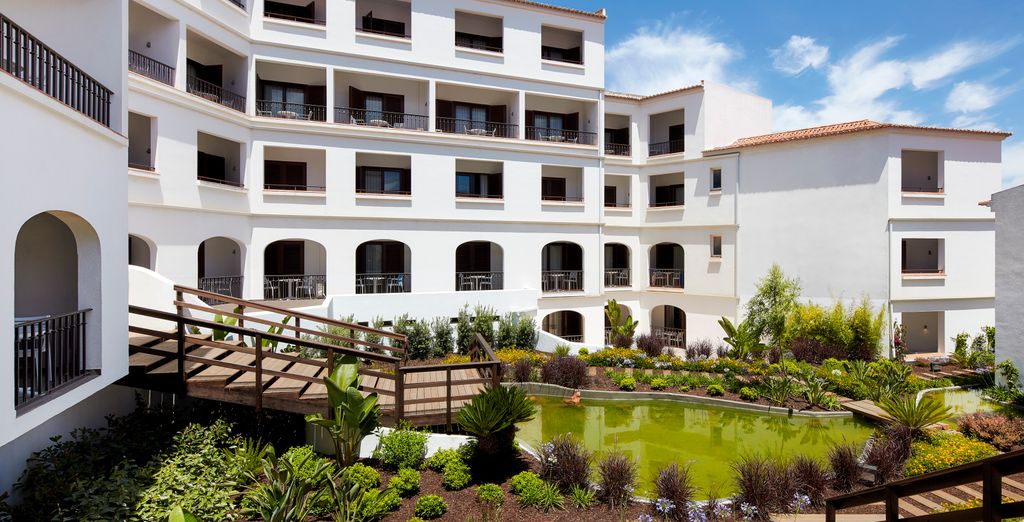 At the Tivoli Lagos Hotel, you get to experience the cliffs and golden beaches first-hand. This hotel is located in a convenient setting as it is close to the town centre and here you will enjoy the best Portuguese hospitality. All our members get a Premier room and a complimentary dinner for you and your loved one.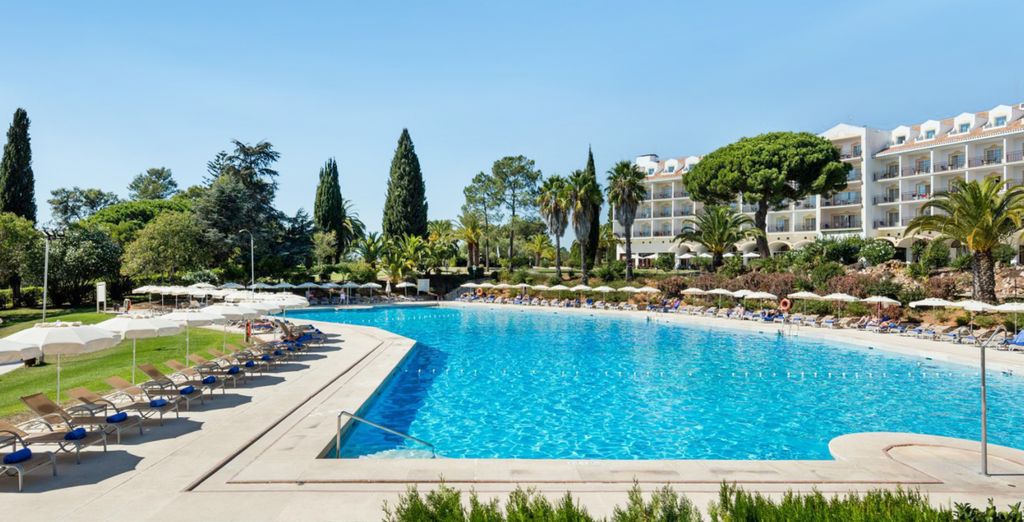 If you enjoy a five-star resort with extensive scenery, the Penina Hotel and Golf Resort will be suitable for you. It sits on a 360-acre picture square grassland with a hotel and golf course. All the guests are treated to fine dining and drinks of their choice. Additionally, our members get to stay in a Twin Mountain view room or Junior Suite. This resort has a fantastic outdoor pool and a free shuttle service to the beach.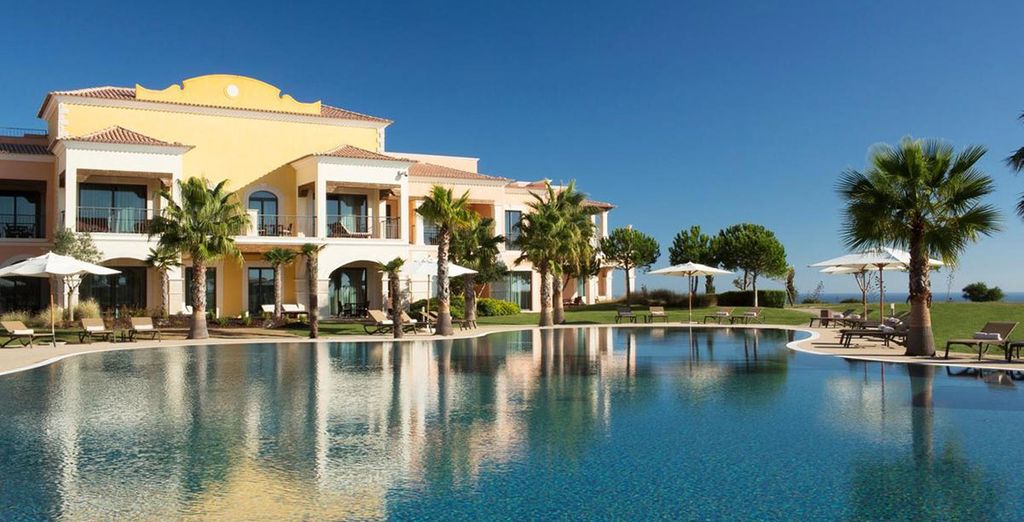 This splendid five-star resort has a spa and is sports-oriented. It is surrounded by Portugal's natural beauty and serene atmosphere. That is not all; its clifftop location overlooks Canavial Beach, offering spectacular views. This is the ultimate getaway resort and our members are treated to a cosy Double Classic Room and plenty of dining options.
When is the best time to go on holiday in Lagos?
Late spring, from May to June, is the best time to tour Lagos. That is because the temperatures are only starting to warm up and, therefore, it is not too hot. There are also minimal instances of rain, and the offshore breeze ensures that visitors are comfortable.
Going on Holiday in Lagos
Portugal is constantly upgrading its transport infrastructure and improving accessibility of even the most remote areas. When travelling to Lagos from the UK, you will arrive at Faro Airport, which is the closest international airport to Lagos. It is approximately 92 kilometres east of Lagos. After landing, you can take a taxi, bus or train to transfer to your hotel or resort in Lagos.
Enjoy your holiday in Lagos.
Lagos is a beautiful place full of fun activities and great places to visit for families, couples, solo travellers or groups of friends. To get the most out of your trip to Lagos, a stay of five days is recommended. During your time in Lagos, you can enjoy various water-based activities, like kayaking and swimming. While you're in Lagos, stroll along the marina, take in the incredible sights of the Algarve and enjoy the charm of the town. If you are interested in the nightlife, the Old Town has excellent hangout spots that serve local beers and cocktails.
The Voyage Privé travel expert's opinion on Lagos
Lagos is particularly recommended for its old walled town, scenic cliffs and Atlantic beaches. The exquisite sandy beaches and coves are well worth exploring, along with the charming cobblestone streets. Visitors will enjoy the sweeping views offered from the nearby cliffs. A trip to Lagos can be as exciting or relaxing as you make it.