Cheap Santorini Holidays 2022/2023



Table of contents
Santorini's official name is Thera, and Greek myth fans and history buffs will recognise this as being well within the circle of impact of the Minoan eruption. And this would be correct: the volcano that devastated the cattle-loving Minoan's was Santorini. Little of the original island is left: the slender curve of land surrounds what is left of the volcano's caldera – but what is left is beautiful and more than enough to support the island's fifteen thousand-some population.
Top 5 Things to Do and See in Santorini
1. Akrotiri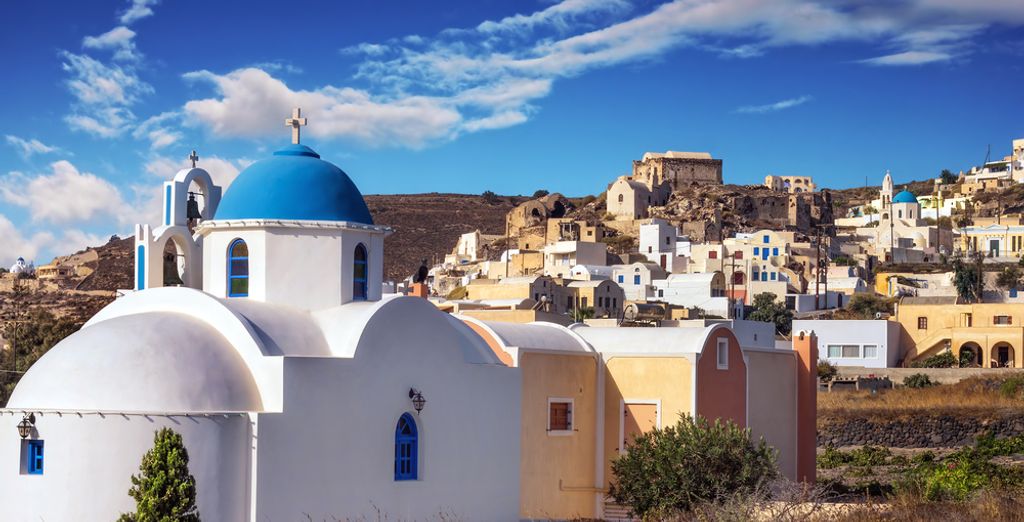 The remains of an ancient village, destroyed in the Minoan eruption some 3,600 years ago, visitors can marvel over the poignant signs of life dramatically and tragically interrupted. From a thriving community that had been so well-established and wealthy that it could afford paved roads, plumbing and irrigation systems to an abandoned shell in whose silence only the whispers of the lost could be imagined: all in the blink of an eye. There are many artefacts and items of historical interest that can be admired, even as the archaeological work continues.
2. Ancient Thera
Exercise your leg muscles by climbing a steepish mountain, ascending some 360 metres to find the ancient remains of a village, thought to have been occupied between 900BC and 700AD. The city is believed to have been a modest settlement and yet a surprisingly successful one, with coins from far and wide found within the ruins to indicate trade links with Rhodes, Corinth and Athens, amongst other places.
3. Sea Kayaking Tour
See the island from a new and unique point of view and get some fun exercise at the same time, paddling out and away from the island to enjoy stupendous views, before moving along the coast to a predetermined spot for some lunch or a snack and some fun activities. Then back into the kayaks and back to your point of origin, enjoying the play of sunshine on the water as the sun begins its long slow slide towards sunset.
4. Food Experience
Learn to make Greek food like a professional by taking a cooking class. Prepare delicious fish or chicken using authentic Greek recipes that you can then replicate at home to impress family and friends – perhaps even nab that promotion by impressing the boss with your culinary expertise!
5. See All the Beaches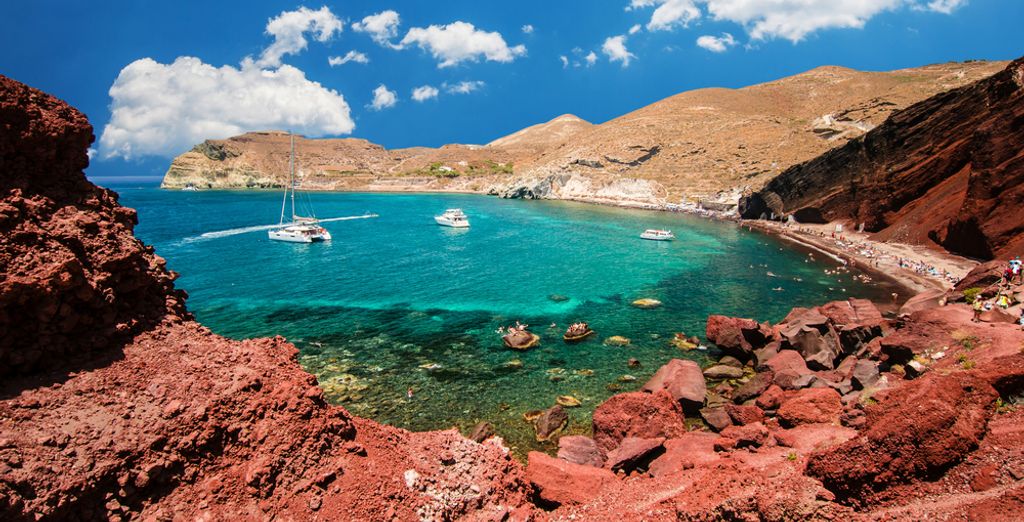 Santorini being volcanic shows in unusual ways, quite aside from the massive caldera around which the island curves. There are different coloured beach sands for you to admire and marvel over: from the normal and beautiful white sand, to red sand and even black volcanic sand – perfect backgrounds for unique and eye-catching photographs.
Our Best Hotels in Santorini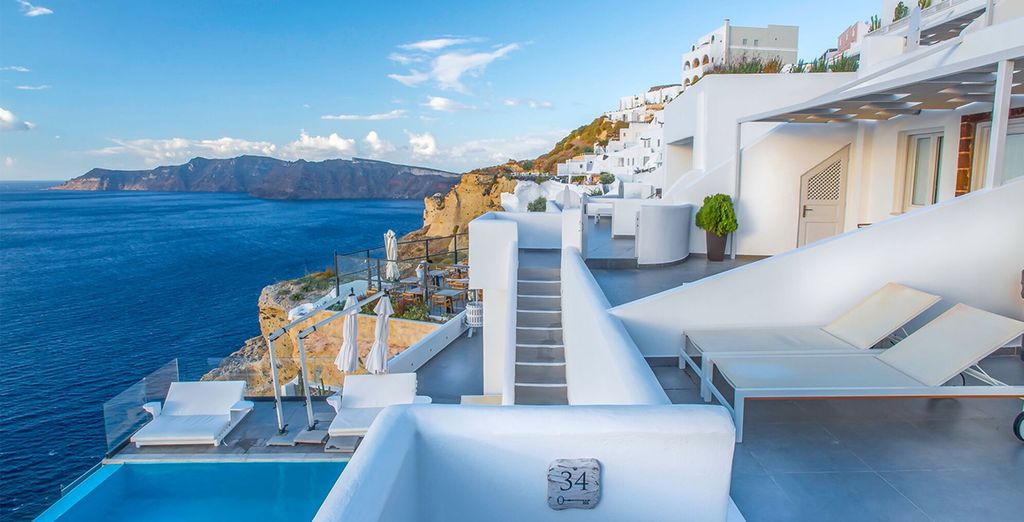 Spacious private verandahs and your very own hot tub are waiting for you at this sumptuous Santorini hotel. Oia is the most picturesque village on the incredibly photogenic island, and your holiday snaps will look amazing as you explore the volcanic island, in between moments of sheer leisure and pleasure, in the infinity pool, the Asian fusion restaurant or simply relaxing in your beautifully decorated suite – one of just seventeen so the staff can devote their time and attention to ensuring their guests feel completely at home.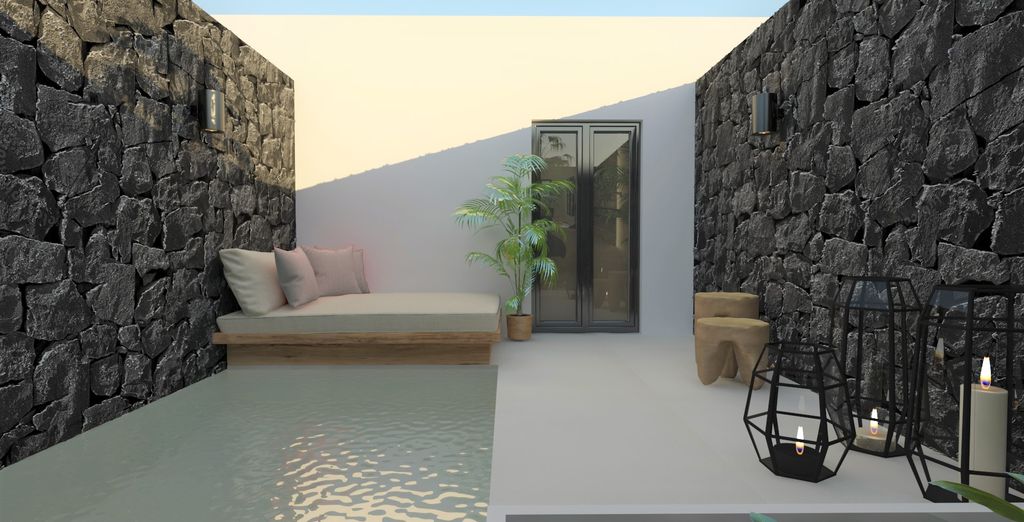 Tour a vineyard and see the magical transformation of grapes into delicious wine, or enjoy a long horseback ride through tranquil Greek scenery: both are just moments from the gorgeous hotel. Or you can choose to stay close to home, enjoying the peace of the hotel's private beach – or your very own private swimming pool – before dressing up to enjoy the freshest Greek cuisine and the nightly entertainment, which is world-class and a delight to all ages.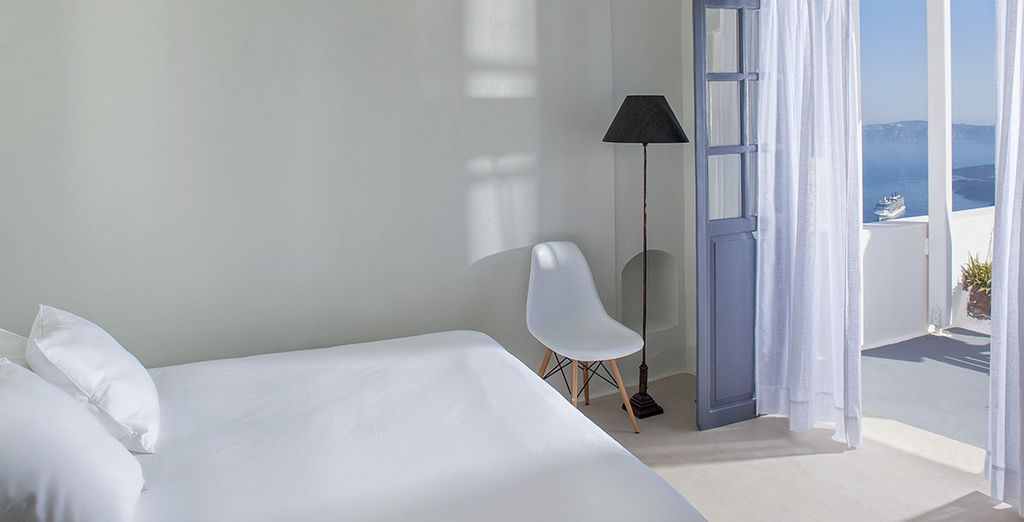 Breath-taking sunsets over the island's caldera will make your social media feed the envy of your friends and relatives – but you will not be checking the number of likes and hearts they get because you will be too busy catching a tan in the swimming pool, dining on delicious and fresh sea food, and completely unwinding in the spa. Long days exploring the island and refreshing cocktails before dinner will ensure that you sleep deeply and well in the beautifully decorated rooms. And then you get to do it all over again, after a hearty breakfast to set you up for the day!
When is the best time to go on holiday to Santorini?
Santorini's weather is pleasant all year round, but the best times to visit fall between April and November. December to February are good times for the extremely budget-conscious to visit – but do make sure that your chosen hotel is open as many of them close for renovations or for the owners to go on holiday.
Getting To and Around Santorini
Santorini is easily accessible by ferry from Athens, or you can fly into Santorini domestic airport instead. Once on the island, you can easily walk around the towns and to nearby attractions and for longer travel – between the villages, for example – you can use the local bus network.
Enjoy Your Santorini Holidays
Santorini is a great destination for family holidays, with plenty of activities and beachside fun for family members of all ages. Swimming lessons before you travel to the island will give you all peace of mind, and ensure that the whole family can enjoy the best of the island. The Greek myths are fascinating and complicated and learning some of the tales in the heart of the ancient Grecian lands will make them even more fun, no matter how old your audience is!
The Opinion of the Voyage Prive Expert on Santorini
Santorini holidays are an excellent way to unwind and relax, whether you are a solo traveller, part of a couple or bringing the whole family for some sun, sand and sensational views. The traditional white houses, often with touches of the most beautiful deep blue, surrounded by olive trees, mountains and greenery, look stunning and would do so in any situation. Sited as they are, against a clear cerulean sky and turquoise-to-navy sea, the whole island is an inviting and attraction holiday destination for all.
Amazing holidays to Santorini, the heart of the Aegean. With its beautiful beaches, warm climate and spectacular views, sun-drenched Santorini is the perfect place to catch some rays.
Relax in style in the southern Aegean Sea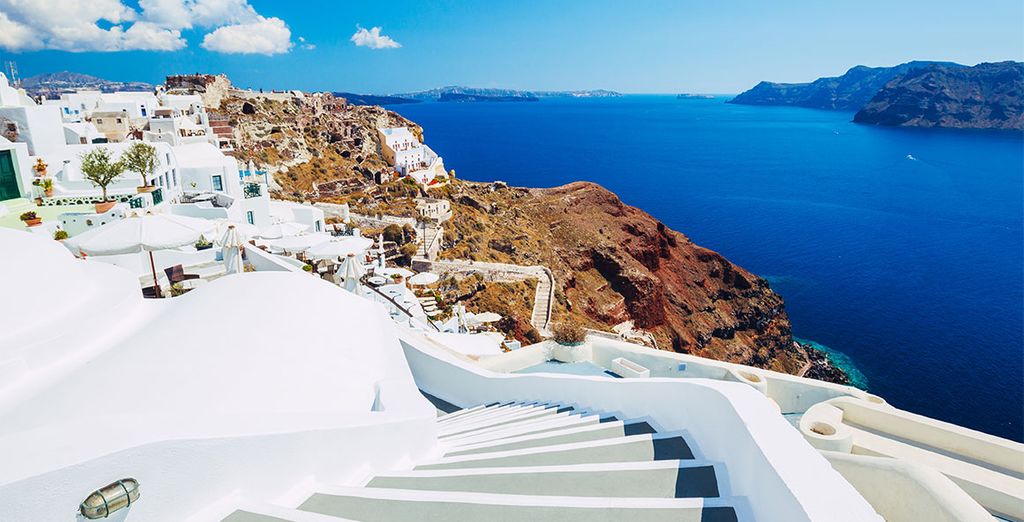 Santorini is one of the top holiday destinations in Greece and it's easy to see why. Its beautiful little towns with their whitewashed villas, bright blue domes and breathtaking sights make this idyllic island the perfect setting for your luxury holiday. Thira, the capital of Santorini, which is perched at the rim of an extinct volcano, boasts stunning cliff-top views and an abundance of churches, exhibitions and museums. Why not take a helicopter flight over Thira's stunning coastline, before cooling off in the clear blue waters?
Towards the east coast lies the picturesque town of Kamári, known for its mountain views and sophisticated charm. Kamári is the perfect place to unwind with a glass of wine, and the destination of choice for those holidaymakers looking for peace and tranquillity. Other villages, such as Firostefani, Megalochori and Monolithos, are known for their sightseeing, black beaches and rich culture, so there is a Santorini holiday deal to suit everyone.
Enjoy what Santorini has to offer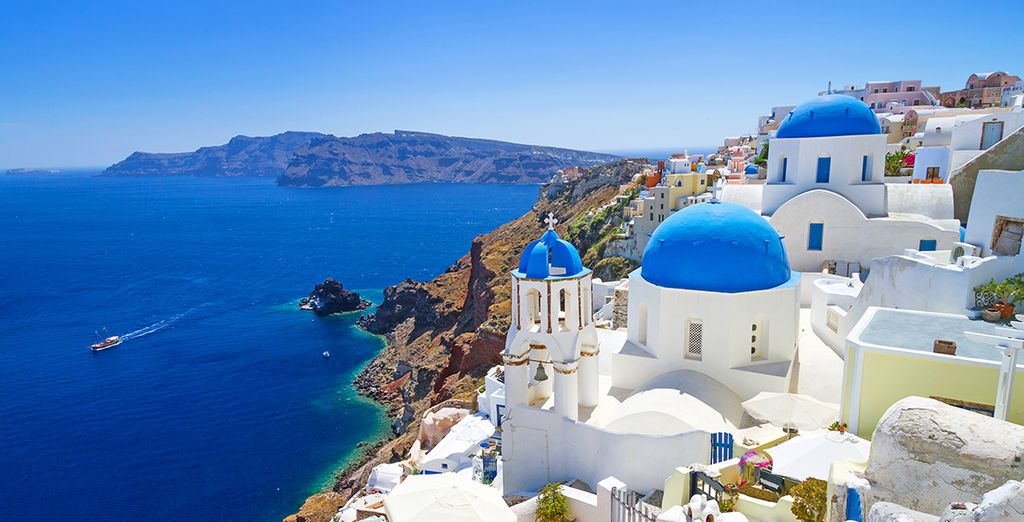 The island is renowned for its culinary offerings, such as tomato fritters, made with Santorini tomatoes, and saganaki, which consists of fried cheese in filo pastry. The island is bustling with fantastic restaurants serving fresh fish, bread and Greek salads which are sure to suit every palate.
There are a number of tours and excursions available to really see what Santorini has to offer. There are boat trips to see the volcano that formed the island and the hot springs that surround it, which then continue to the island of Thirassia to watch the sunset. There are bus tours, organised trips to the Santorini wineries and olive groves, and walking tours of the island. By choosing a holiday to Santorini, you're ensuring that there's something for everyone.
Get yourself a great deal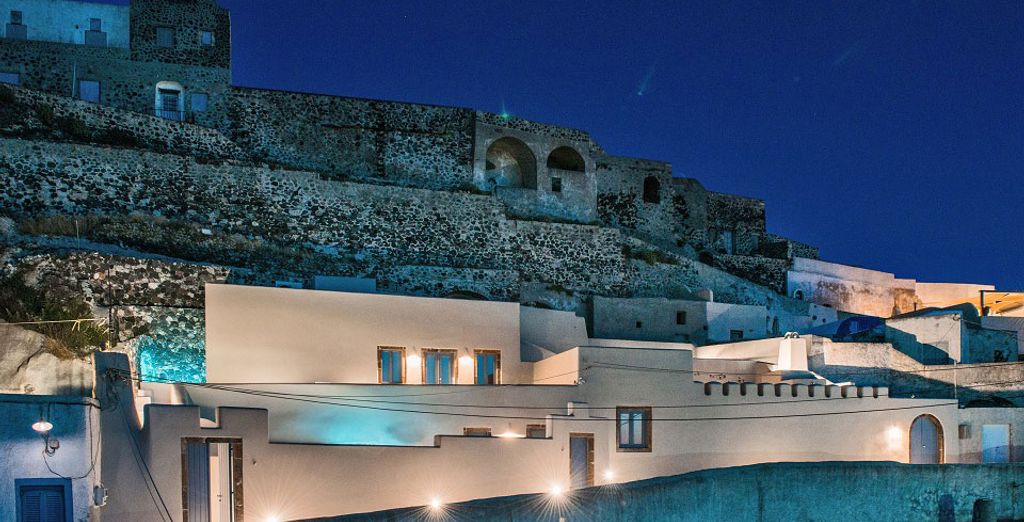 With its breathtaking coastline, stunning beaches, beautiful cuisine and tourist attractions, Santorini is the ultimate relaxing holiday destination. So why not peruse the handpicked offers from the selection of luxury hotels and get yourself a great deal, with up to 70% off? Explore the unique landscape of one of Greece's most popular islands at an exclusive price.
Cheap Santorini Holidays 2022/2023, customer reviews
Daydream Luxury Suites VPUK (Santorini - Greece)
Customers testify
Review
Great location, perfectly located two minutes from the town. Breathtaking views from the infinity pool and hot tub. Would not recommend going to Santorini for a winter break as it is like a ghost town with all of the shops and most of the restaurants and bars shut for winter. However if you want to just relax and not see many people then it is still a good destination. The staff at Daydream were great, lovely breakfast and immaculately clean.
-
Andronis Arcadia Hotel 5* (Santorini - Greece)
Customers testify
Review
This is a stunning hotel with sea views everywhere Our room was very comfortable and quiet so we slept over every morning The standard of the bedding and bathroom materials very if a very high standard The food especially the 5 star breakfast every morning was sublime so many choices and it was so tasty Over meals were equally as good. The only thing that was super expensive was the wine including the local Santorini wine which is equally as good as French wine The location is second to none with a short walk into the town Oia which one of the most beautiful towns I have ever seen! It is breath taking! Finally the staff at the hotel were almost perfect the Manager should be very proud of them all. Definitely worth a visit !
-
La Ponta Villas & Suites (Santorini - Greece)
Customers testify
Review
The hotel is very new and lacks some filming, but the staff are extremely helpful and friendly and go out of their way to help. The villas and rooms are very good and we only miss that there was a gym, a SPA or some other common services. The hotel is away from the hustle and bustle, but you have interesting things close by. There are quite a few restaurants in the Akrotiri area and the most interesting ruins on the entire island. Highly recommended overall, the hotel and Santorini.
-
Review
Magnificent intimate and designer hotel. Very pleasant staff. We do not necessarily have a direct view of the Caldera (a very popular point of view in Santorini) but the quiet location away from the hustle and bustle of Fira and Oia was what we were looking for. Large private and heated hot tub much appreciated. Close to beautiful beaches and the archaeological site of Akrotiri. Plan to be transported to be able to move. We will keep fond memories of this hotel and this island!
-
Sea Sound White Katikies (Santorini - Greece)
Customers testify
Review
Honestly we liked everything.??The very attentive staff is very present (a thousand thanks to YOUNÈS)??Very clean hotel and the maid of extraordinary friendliness. The superb restoration. The place is beautiful we had a great stay. We fell in love with Santorini. Here we loved it
-
FAQ Holidays Santorini
We advise you to visit the capital Fira, then the perched village of Pyrgos and finally Oia and its cave dwellings. You can also take the ferry to visit Heraklion!
The most humid months are November, January and December. We recommend leaving for Santorini between April and October, which are the months with the most sunshine and the warmest sea.