The Best Hotels in Albufeira



Table of contents
Searching for the perfect Albufeira hotel? Book a luxury stay on the Algarve coast here at Voyage Privé!
Our best hotels in Albufeira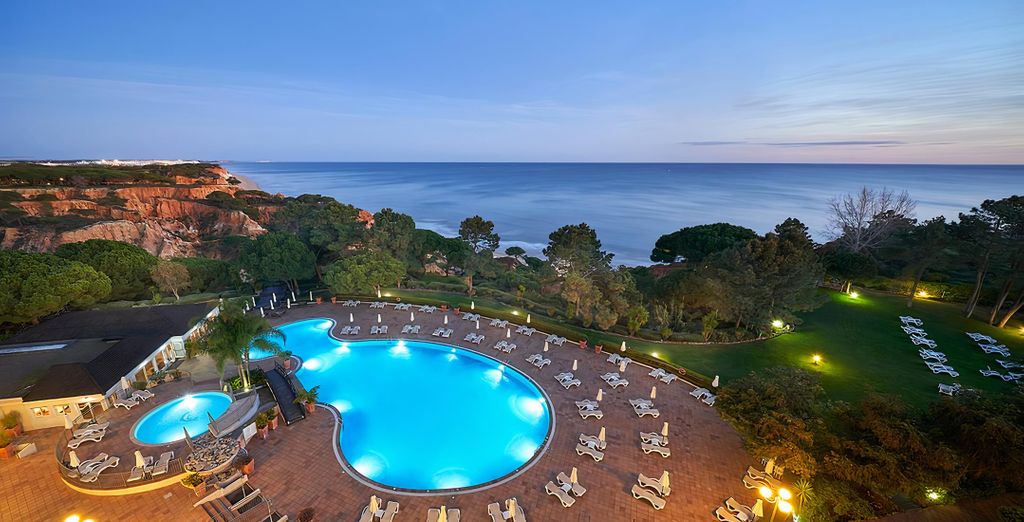 This spectacular cliffside hotel overlooks Praia da Falesia beach from its delightful terraces and gardens. Inside, the hotel offers classic and understated décor for a soothing stay that mirrors the outstanding surroundings. Guests have access to premium hotel facilities, from first-rate local dining to sun-drenched outdoor swimming pools.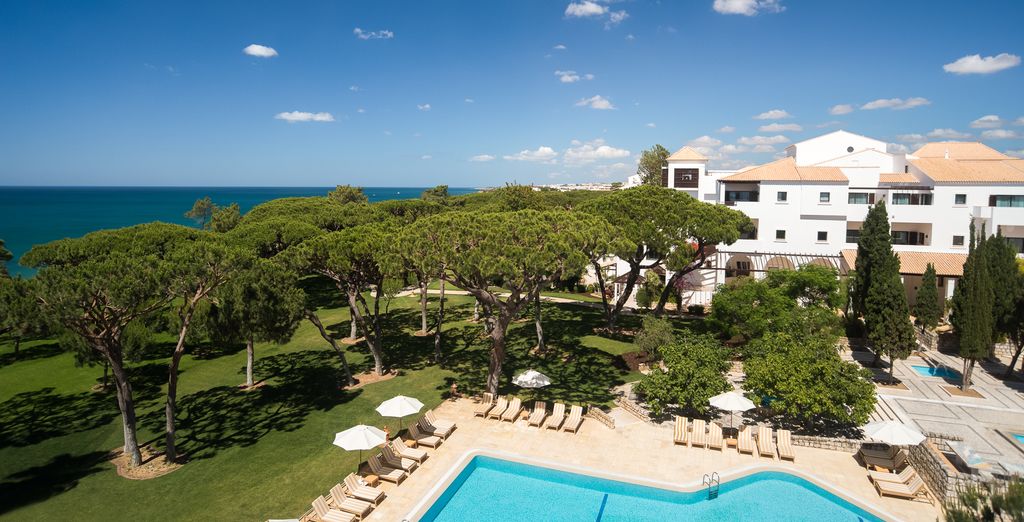 This impeccable seafront resort offers winding hillside gardens and a striking Moorish design. The interiors offer a regal blend of crisp, coastal whites and solid wood furniture. Guests are treated to impressive dining terrace views and a wealth of pools, gyms and spas.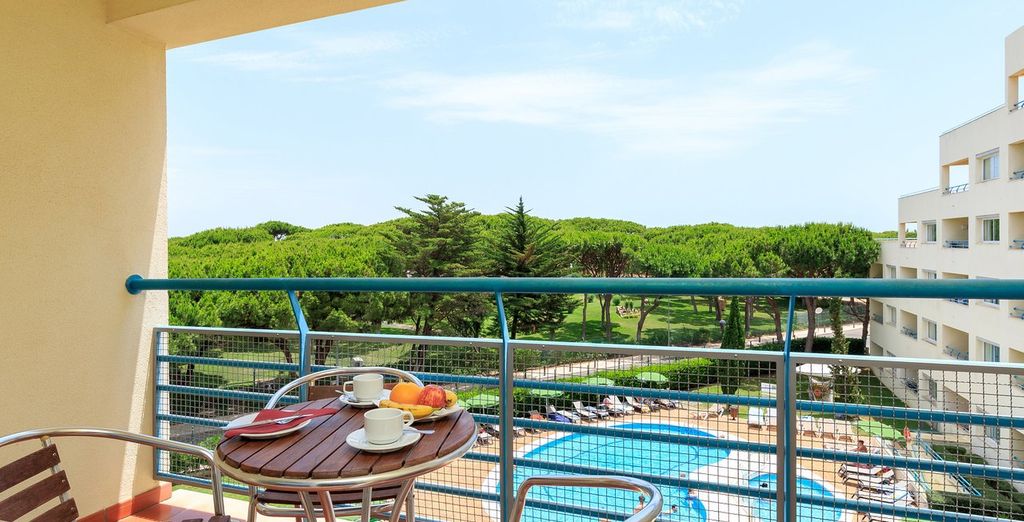 Enjoy a pleasant coastal retreat in the heart of sunny Albufeira. This pretty Portuguese resort is loaded with fun and funky furnishings and offers sleepy pine forests to stroll in. You can opt for apart-hotel stays with self-catering facilities or indulge in the on-site Algarvian restaurant.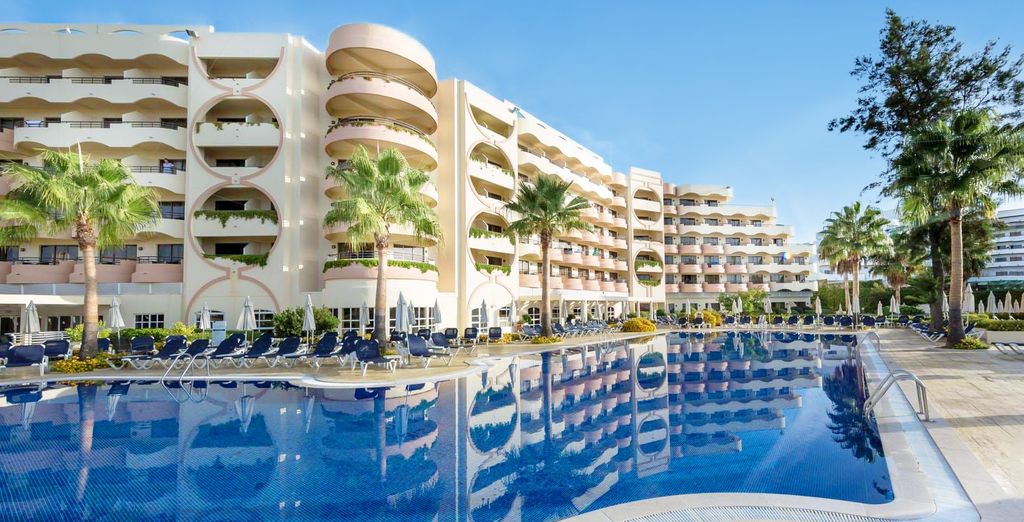 Vila Galé Cerro Alagoa is a fabulous hotel that's renowned for its sun-soaked swimming area. Perfect for families, you can indulge in spa treatments while children enjoy a fun club day. The hotel is also blessed with a charming English-style pub and a number of dining options.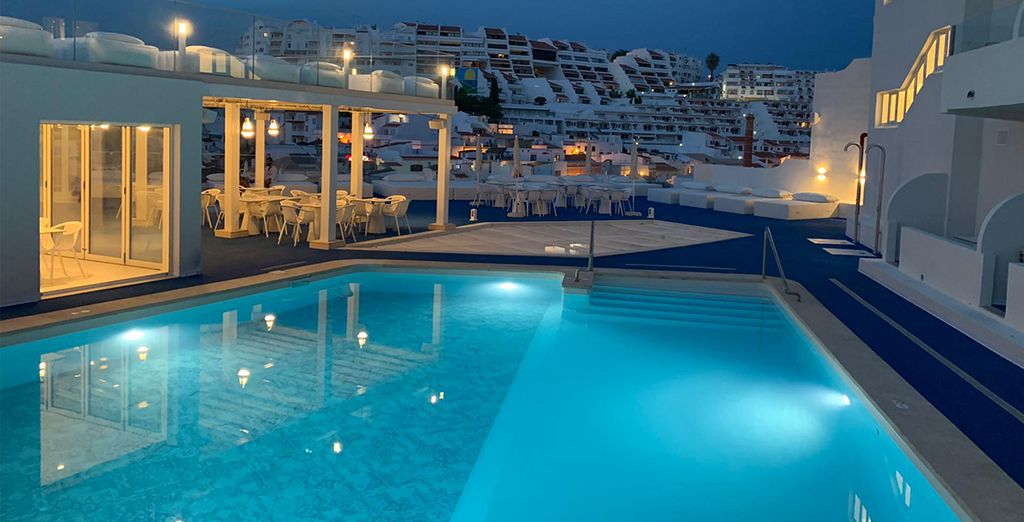 This chic city hotel oozes tradition and crisp coastal character. White furniture and splashes of blue add to the aquatic aesthetic. This hotel is a short walk from the beach and offers its own rooftop pool complete with a city-view bar.
Services you will find in our hotels in Albufeira
Free Wi-Fi
Hot drink making facilities
Kitchenettes
Flatscreen TVs
Pampering bathroom amenities
Swimming pools
Leafy grounds
Spa treatments
On-site dining
Terraced bars
Gym facilities
Going on holiday in Albufeira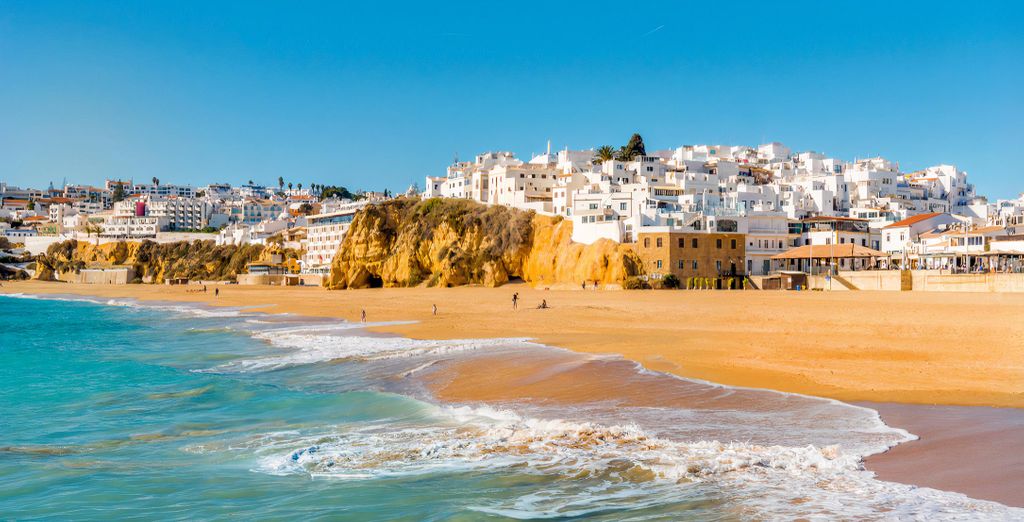 Albufeira is blessed by year-round fine weather, offering warm summers and mild winters. This small city gets busy in July and August as the beaches sizzle with activity. If you'd like to avoid these crowds, you can appreciate similarly fine weather in May, June and September. While spring and autumn aren't the best for sea swimming, they're perfect for inland hikes. As for winter, Albufeira is a low-key destination with excellent walks on quiet coasts. Many of its best restaurants and bars remain open, so you're not short on choices. Festivities to look out for include the Al-Buhera Festival in July, Sardine Festival in August and September's Festa do Pescador.
Hotel offers at Albufeira convenient for all kinds of travel
Albufeira has plenty to offer sun-seekers, including friends, families, solo travellers and couples. With prized beaches like Salgados, Galé and Castelo, you'll discover impressive cliffs and shallow shores. Families can visit zoos, water parks and fun sand sculpture parks along the coast. Couples can enjoy fine Algarvian seafood and sunset views on spectacular beaches. Where Albufeira truly excels, however, is with active adventures. Kayaking, hiking, cycling and horse-riding trips are a must for adventurous holidaymakers. When evening comes, you'll discover everything from quiet and cosy bars to more lively venues around the New Town.
The range of hotels we offer at Albufeira
Enjoy historic Albufeira hotels, seafront resorts and country hotels. You can pick from city centre hotels or more secluded resorts along the coast.
Albufeira: what should we bring for a hotel stay?
Charging cables and adaptors are recommended for travel in Portugal. You'll also benefit from a good Algarve guidebook with handy phrases. Beach-ready gear like pack-away towels, swimming costumes and sun cream are also recommended, along with comfortable shoes and evening attire.
Your best hotel in Albufeira: how to get there and make your booking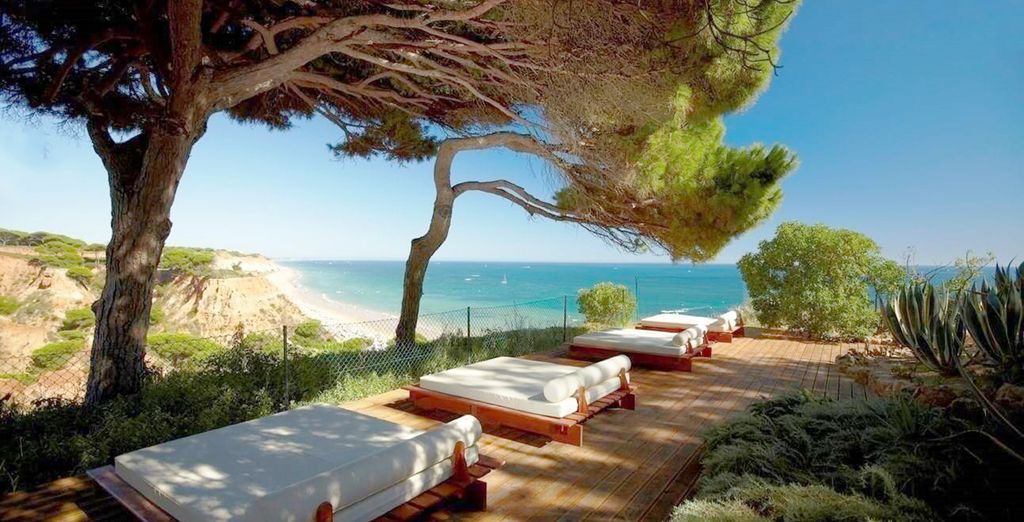 How to get to Albufeira
Most international visitors arrive in Albufeira via Faro Airport 26 km east of the city. Direct buses, coaches and taxis are available to link passengers with the airport. Albufeira Railway Station also services the Algarve area with direct trains to Lisbon. Once you've arrived in Albufeira, rental cars are recommended for convenient travel throughout the region. Public transport, however, is also comprehensive, and there are plenty of cycling trails for active travellers. The city itself is compact enough to navigate on foot, particularly if you're based in the Old Town.
How to book your hotel in Albufeira
Unlock exclusive offers on stunning Albufeira hotels with Voyage Privé. Voyage Privé is a members-only booking platform that offers savings of up to 70% off luxury hotels. It's free to join and use. Simply register with your email address to get started. You can search for locations and dates with the search filter or click on the latest daily offers. Voyage Privé delivers everything from reductions on hotel-only stays to dream package holidays. In Albufeira, you can book unmissable seafront hotels for a relaxing beach-bound holiday.
The opinion of the Voyage Privé travel expert on Albufeira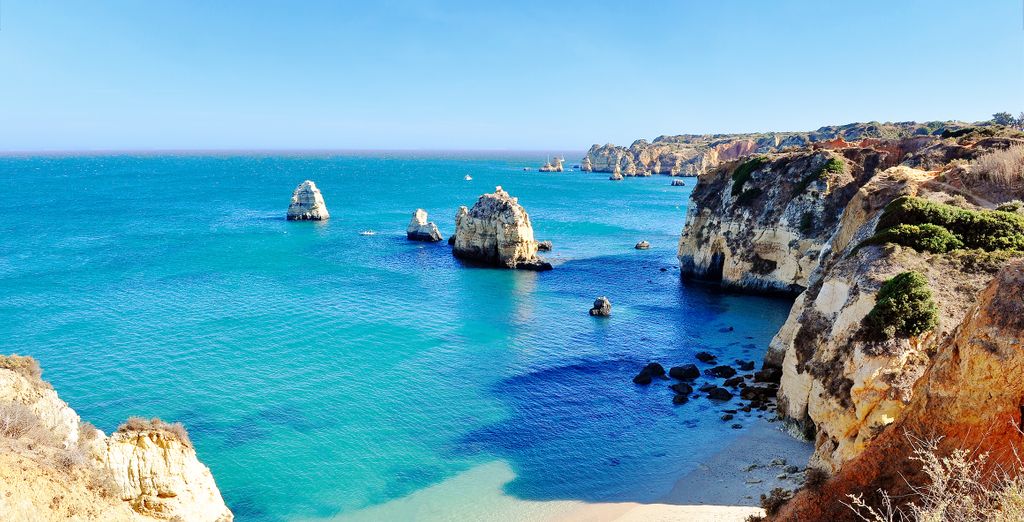 From its spectacular beaches to its bright and bustling Old Town, Albufeira is the quintessential seafront holiday. While its cobblestone streets date back centuries, its façades have changed with the tourist crowd. Enjoy bustling bars and fun water sports or simply relax in your family-focused resort. You'll still find pockets of old-school tranquillity with Moorish features along winding alleyways. The bulk of footfall, however, heads for the New Town where beach parties and revellers rule.
Albufeira – a fun base for exploring the Algarve
Nestled between Portimao and Faro on the Algarve coast, Albufeira is the perfect base to explore the region. The beautiful Benagil Cave is just 20 km west of the city, offering picture-postcard views and spectacular sunsets. Even closer, you'll discover the historic village of Paderne and its ancient monuments. The area is ripe with charming road trips, from vineyard tours to epic golf courses.