UnforgettableTuscany holidays



Table of contents
Enjoy luxury holidays to Tuscany with Voyage Prive and discover gorgeous countryside landscapes and culture-packed cities; book online today.
Delight in the lush countryside of Tuscany
Tuscany is a popular tourist region in central Italy which boasts a population of approximately 3.8 million people where you can explore everything from stunning beaches to historic castles and residences.
Tuscany is well-regarded for its incredible landscapes, rich history, artistic legacy and of course its influence upon Western high culture. It is widely recognised as the home of the Italian Renaissance, and throughout the centuries many celebrated figures from the worlds of art, history and science have made it their home.
Tuscany welcomes visitors seeking romantic stays or simply looking to explore the mouthwatering Italian cuisine. Sun holidays in Tuscany come in the form of laid-back beach stays or enjoying a small, secluded oasis of relaxation in the Tuscan hinterland. Olive trees and vineyards dot the Tuscan countryside, creating amazing opportunities for photography and wine tasting.
If you would like to indulge in some sun, sea, sand and culture, why not book the excursion of a lifetime with Voyage Prive?
The Voyage Prive travel expert's opinion on Tuscany
Tuscany has a strong cultural and linguistic identity, with many experienced travel guides noting that it is something of a "country within a country." It's one of the most popular destinations in Italy, with holidaymakers regularly congregating in Pisa, Florence, Montecatini Terme, Grosseto and Castiglione della Pescaia.
No less than seven Tuscan localities have been earmarked as designated World Heritage Sites, and the area is also home to over 120 nature reserves. Tuscany has everything to offer holidaymakers of all ages. Whether your plan is to enjoy some sightseeing, take in impeccable artworks, enjoy some great local cuisine or simply bask in the sun, this area has everything you could possibly want and then some.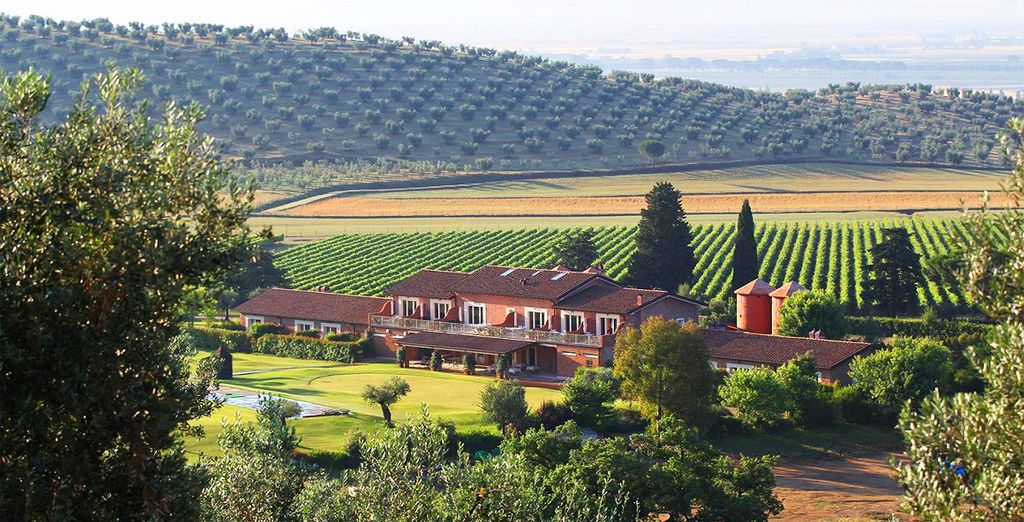 Top six things to do/see in Tuscany
1. The leaning tower of Pisa
No visit to Tuscany is complete without a visit to one of the seven wonders of the world. Whilst referred to as a tower, this remarkable landmark was never used for defending Pisa, instead, it makes up part of the Duomo Square religious complex and functions as a bell tower. Music theory fans will be keen to note that it holds seven bells – one for each note on the major scale – the largest of which weighs an extraordinary three-and-a-half tonnes.
The leaning tower of Pisa is the perfect photo opportunity for those who like to share snaps from their holidays to Tuscany on social media, as it provides visitors with the perfect opportunity to pose as if they are holding the tower up. This construction is a true marvel of engineering, and it stands in the renowned Piazza dei Miracoli, where one can expect to spend an entire day learning about the rich history of the tower.
The Leaning Tower is just one of the attractions that made Pisa famous all over the world, but this lovely city in Tuscany has so much more to offer. You can visit the Piazza dei Miracoli, where you can admire the Tower, the Cathedral, and the Baptistery. This small city is home to some of the best restaurants in Tuscany, so food-lovers are sure to delight in the wonderful options the cuisine here has to offer. Art aficionados should not miss Museo Nazionale di San Matteo, which is home to a fine collection of art and sculpture.
2. Florence Cathedral

Construction began on Florence Cathedral, or the Cattedrale di Santa Maria del Fiore (which translates to the Cathedral of Saint Mary of the Flower) all the way back in 1296. Designed in the Gothic style by Arnolfo di Cambio, the structure was eventually completed in 1436. It features one of the most ornate domed roofs in European history and features a polychrome marble exterior in various alluring shades of green, pink and white. The cathedral complex also includes Giotto's Campanile and the Baptistry. All three buildings are recognised as UNESCO World Heritage sites.
Florence is a city rich in places to discover, Florence is an immense open-air museum that has grown incredibly beautiful over the centuries. With amazing sites that are not to be missed such as the Basilica of Santa Maria Novella, the Duomo, Piazza of the Signoria, and the Uffizi Gallery, Florence is a place that can satisfy any art lover. Explore the architectural treasures beyond Ponte Vechhio and take an afternoon off to enjoy a stroll in the Boboli Gardens.
3. Uffizi Gallery

Art lovers won't want to miss this prominent museum situated in the Historic Centre of Florence. It is widely regarded as one of the most important buildings in the history of Italian art and is consequently one of the most popular visitor attractions during holidays to Tuscany. It currently holds a huge collection of priceless artworks, most notably from the Italian Renaissance period.
As one of the world's oldest art galleries, the Uffizi has been welcoming visitors from near and far since the sixteenth century. Those looking to enjoy great value holidays to Tuscany certainly won't want to miss out on this example of Italian high culture.
4. Elba

This island is home to tropical style beaches. History buffs will be interested to find that Elba was Napoleon's place of exile during 1814/1815. It features a mineral mining museum - a poignant reminder to the island's industrial past – as well as offering a haven for families to relax and unwind while spending some time paddling in the sea. It's a must for those planning family holidays to Tuscany.
5. The Statue of David

Created by Michaelangelo between 1501 and 1504, David is a 17-feet-tall sculpture which represents the biblical character of the same name. Located in the Galleria dell'Accademia in Florence, the statue symbolises the defence of civil liberties and is one of the most famous sculptures in the world – although parents planning holidays to Tuscany may want to take note that the statue is fully nude.
6. Go back to medieval times in the stunning city of Siena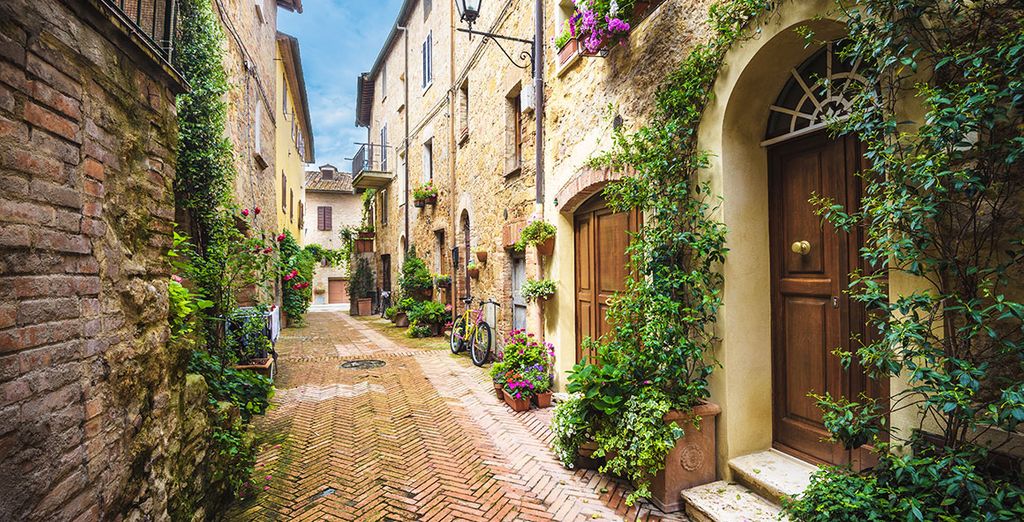 Located in the Chianti region of Tuscany, Siena is a beautiful medieval city that boasts fashionable restaurants, and an incredible historic legacy, as well as spectacular views from its remarkable setting across three hilltops. Start your exploration of Siena in the vast Piazza del Campo, and then visit Palazzo Publico, home to the famous Museo Civico, filled with Renaissance works. Head to the Siena Cathedral to soak in the beautiful views of the Duomo, and finish your trip with a dinner nearby the gorgeous La Foce gardens.
Which hotel to choose for holidays in Tuscany
1. Hotel Brunelleschi, Florence

For a chance to enjoy 4-star accommodation in the heart of this historic city, look no further than Hotel Brunelleschi. This incredible building boasts two restaurants, a circular Byzantin tower and a medieval church. It's certainly no ordinary accommodation.
2. Grand Hotel & La Pace, Montecatini Terme

Don't just be a guest at a hotel – be a guest of history. The Grand Hotel & La Pace was built in 1870 and continues to fascinate visitors to this day. It's a truly enchanting example of Italian architecture, and all rooms feature a minibar, satellite television, air conditioning and a hairdryer.
3. Hotel Bagni di Pisa

For a world-renowned hotel complete with natural hot springs, the Hotel Bagni di Pisa is the perfect choice for those looking to enjoy the tower and surrounding buildings. It features frescoed ceilings and extravagant furnishings, with incredible floral gardens at the entrance.
Practical information about holidays in Tuscany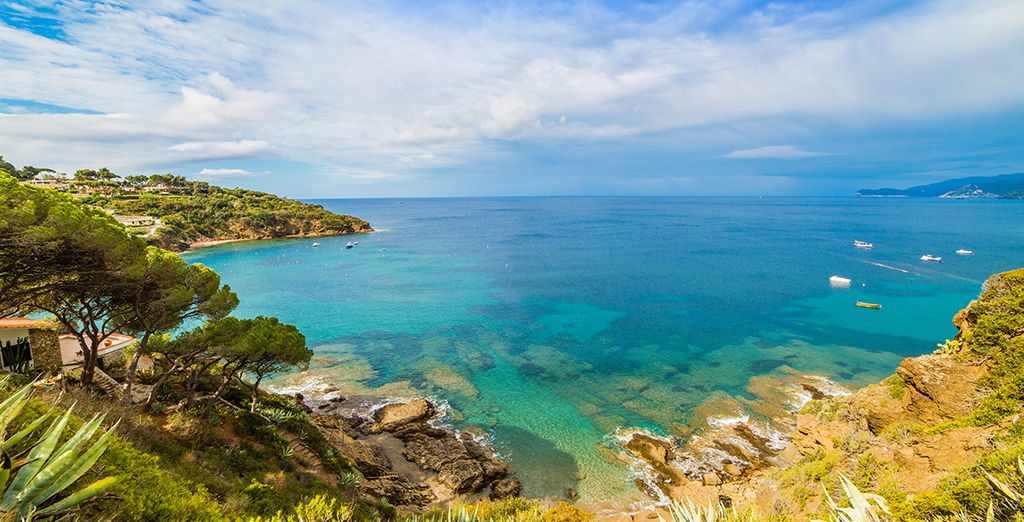 What is the weather in Tuscany like?

Because Tuscany is such a large area, temperatures can vary depending on your location. During the summer months, you can expect to experience heat in excess of 30C, although on average it sits between 15C to 27C. November is the wettest month of the year in Tuscany, and the coast is generally cooler than further inland.
What budget should I aim for in Tuscany?

On average, holidays in Tuscany will set you back a total of €111 per person, per day. You can expect to pay around €27 per person for food, depending on your preferences. Those who enjoy the finer things may wish to increase their budget, although with plenty of quaint cafes and eateries, it's still possible to enjoy a great day without having to break the bank.
Whether you are looking for a luxury holiday in the Tuscan countryside or a city break to explore the food and culture of the region, our great deals on hotels and flights make it possible to enjoy a wonderful holiday.
Browse all offers for Tuscany : Weekend, Great deals, Last minute deals