Holidays to Corfu 2021/2022



Table of contents
Corfu is an island in the Ionian Sea off the northwest coast of Greece. It is one of the greenest of the Greek islands and features lush mountains and olive groves. Over 200 km of coastline makes Corfu a paradise for sun-seekers. With warm weather most of the year, visitors can relax on the beach or enjoy water sports.
The top 5 things to do/see in Corfu
1. Explore the city by bicycle
The best way to enjoy Corfu is by bicycle. You will be able to see hidden gems like archaeological sites. The city has cycling routes for people at all fitness levels, from beginners to expert cyclists. The most popular route is the Corfu Town route, and this covers a distance of about 8.4 km. This route allows you to see various museums, beaches and gardens. Another gem you will see on this route is the Mon Repos Villa.
2. Take a paragliding trip
Paragliding is a popular activity in Corfu. If you have a head for heights and enjoy high-adrenaline activities, this is a must-do! During the trip, you will be securely strapped into a comfortable flying harness positioned at the front of the pilot. Although it lasts for a brief period, paragliding is incredibly thrilling and will allow you to explore the city from a spectacular perspective.
3. Sail on the Corfu Coast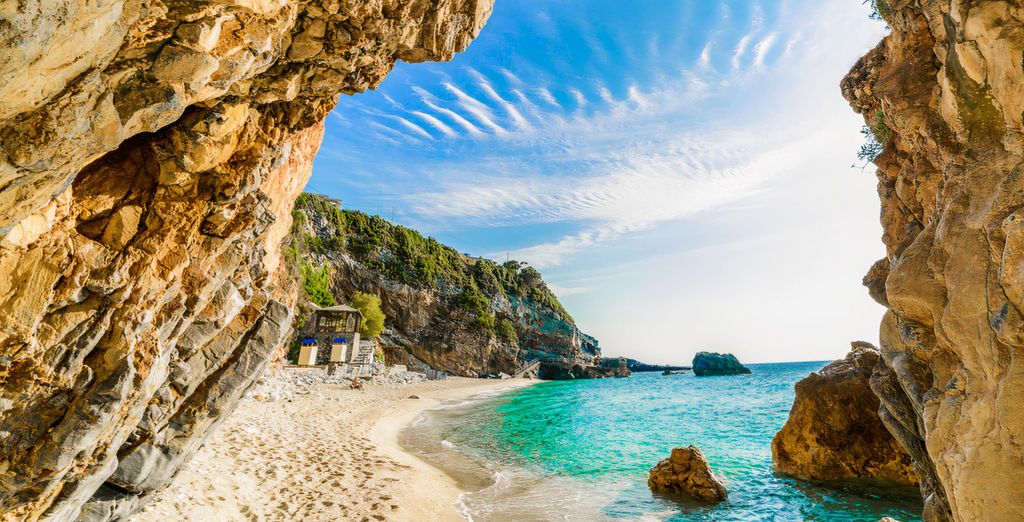 Take the opportunity to explore the coastline of Corfu by sailing boat. You can try out this activity as a beginner or as an experienced sailor. On the North Ionian Islands, there are lots of quaint and scenic harbours, and these are coupled with picture-perfect anchorages. Many visitors to Corfu like to stop at Emerald Bay on Anti-Paxos Island for a swim. If you would like to stop for a quiet swim, it's a good idea to arrive at your swimming spot before the day trip boats arrive. Some places charge mooring fees, so be sure to carry some cash, just in case.
4. Go on a wine tasting tour
Some of the best wines in the world are produced in Corfu, so you shouldn't end your trip before going for wine tasting tours. The best tours are the Corfu Highlights tour, the Corfu Private Yacht Cruise tour and the Meteora tour by coach. Some of these tours take less than an hour and others take most of the day. You can ask for the details before planning your visit.
5. Take the Ghost Stories and Legends Night tour
This tour allows you to discover inspiring legends, tales and ghost stories as you wander around the old town of Corfu. You should remember that this isn't a typical historical tour. It is inspired by local legends from the recent and distant past. The atmospheric walking tour will take you through the dark, cobbled dark streets of the old town, and is peppered with centuries-old buildings.
Our best hotels in Corfu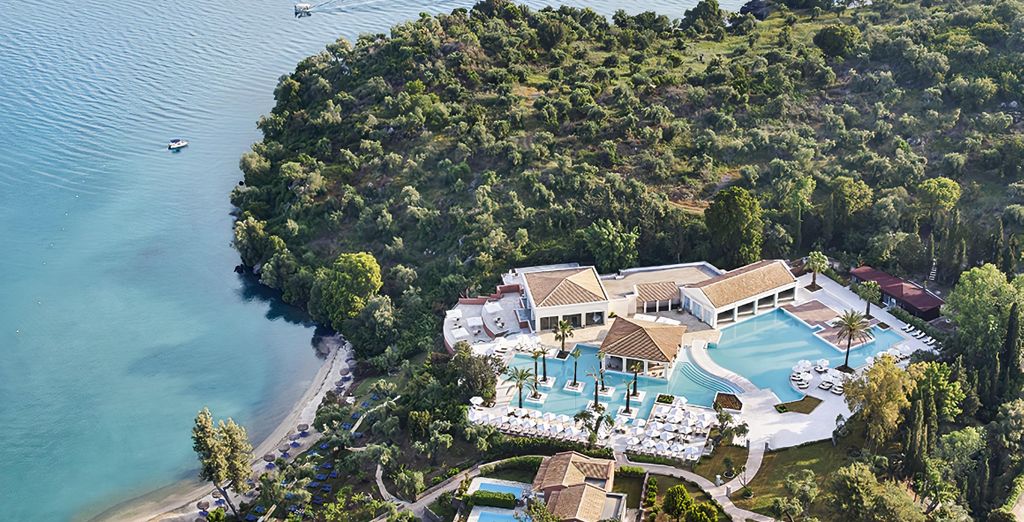 This is one of the top-rated resorts in Corfu. It offers panoramic views of the Ionian Sea and the town. The fragrant gardens, picturesque setting and excellent decor make it a wonderful choice. The spa, entertainment, kids' club and more make this a great destination for both families, friends and lovers.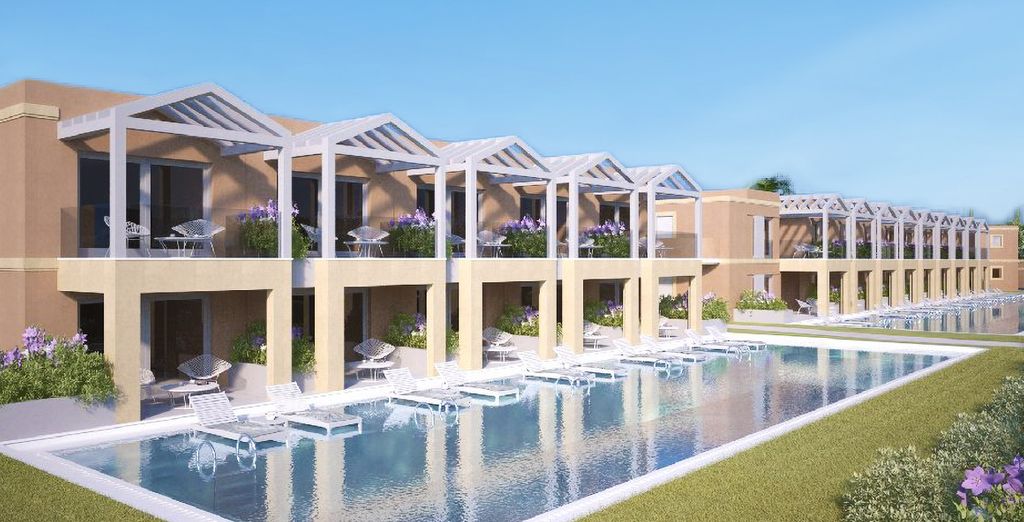 If you like to indulge in luxury, consider staying at this impressive, adults-only spot. The place has majestic surroundings and stylish, palatial decor, designed for guests' relaxation and comfort.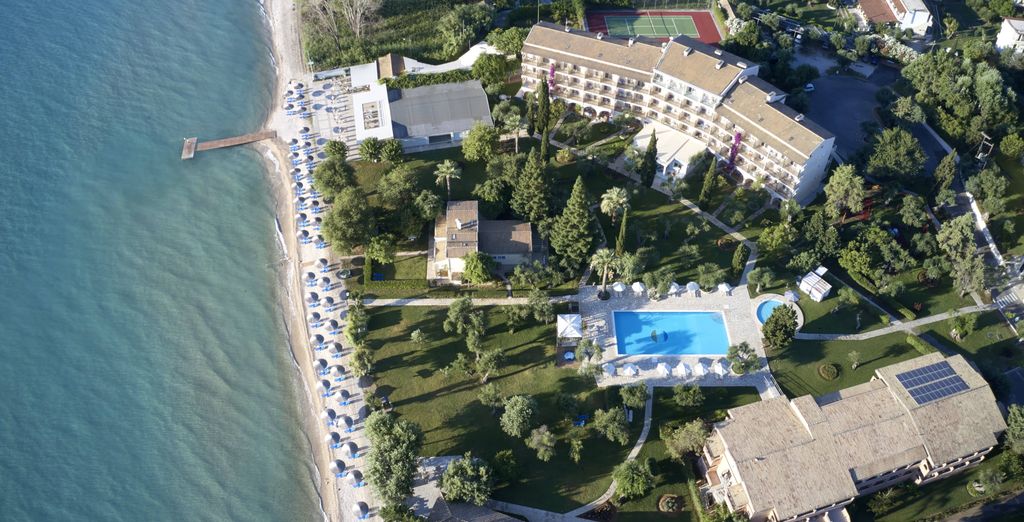 This hotel has a prime seafront location and is based in the charming village of Moraitika. It has beautiful green gardens and offers views of both mountains and sea. It offers elegant rooms, al fresco dining and is extremely popular with guests who enjoy tranquil locations.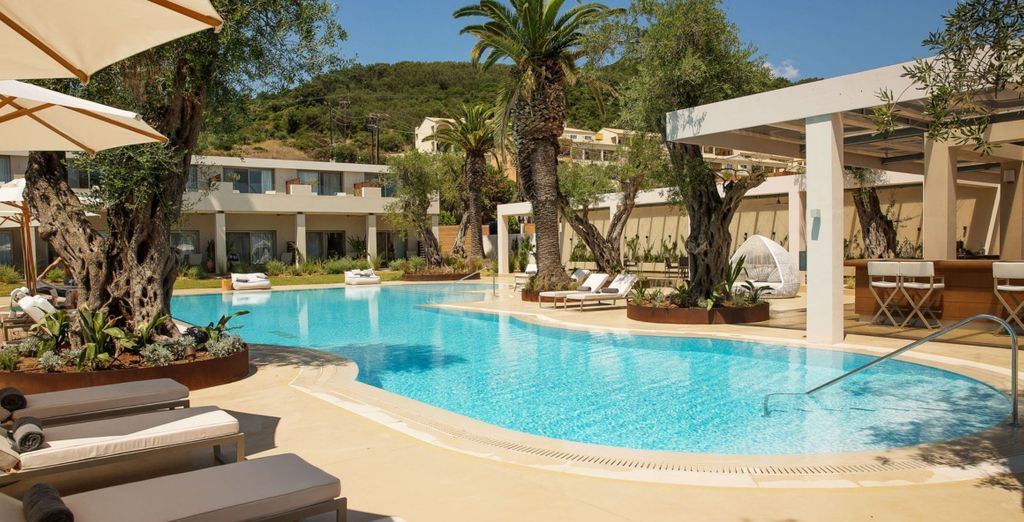 This is a fabulous 5-star hotel that only admits adults, making it the perfect romantic getaway. The location of the hotel allows visitors to access some of the biggest attractions of the town easily.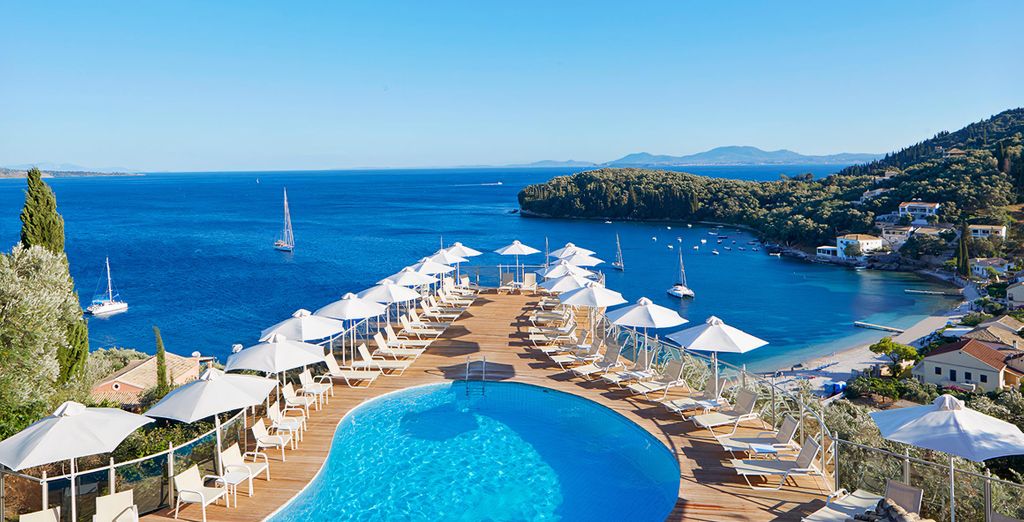 The San Antonio Corfu Resort is a charming adults-only option with fantastic dining options, an unspoilt beach and water sports. Those who like to laze and soak up the sun will enjoy the panoramic bay views, two pools and wellness treatments.
When is the best time to go on holiday to Corfu?
The best times to visit this town are between April and May. September to November is also a good time to visit the place. The Mediterranean climate makes the town pleasant all year round, but in warmer months, it can get very crowded.
Going on holiday in Corfu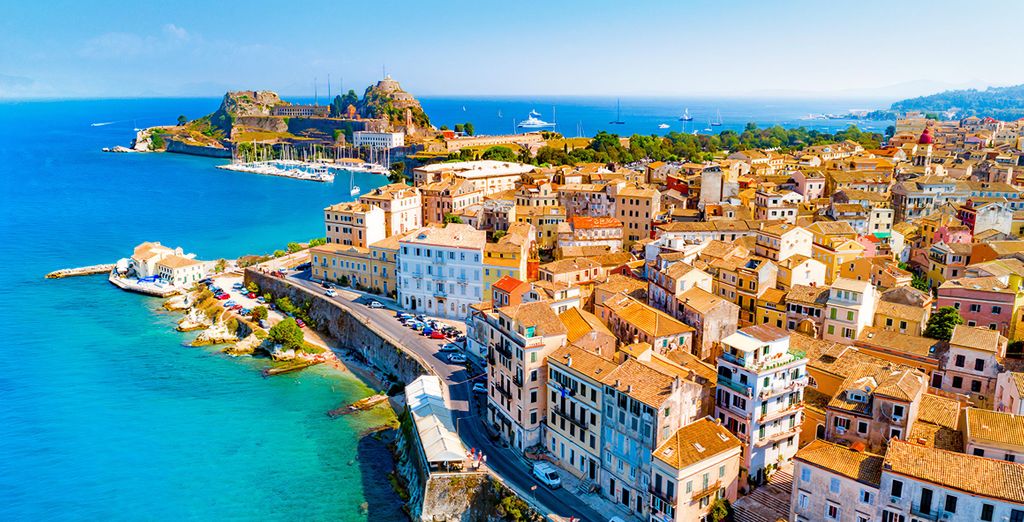 You can take a direct flight from London or Manchester to Corfu, and the trip should take about 3 hours. Another option is to fly to mainland Greece, and then take a ferry to Corfu. The ferry will arrive at Corfu within an hour. It is also possible to take a flight from mainland Greece to Corfu. To get around the town, you can use a bus or bicycle. If you want to spend time exploring secluded areas off the beaten track, it's a good idea to hire a vehicle.
Enjoy your holiday in Corfu
You can explore this island in two days, but to really enjoy your stay and get the most out of Corfu, you should consider staying for at least seven days. The place is popular with families, groups of friends, romantic couples and solo travellers. Lots of hotels in the town even allow visitors to bring dogs and cats.
The Voyage Prive expert's opinion on Corfu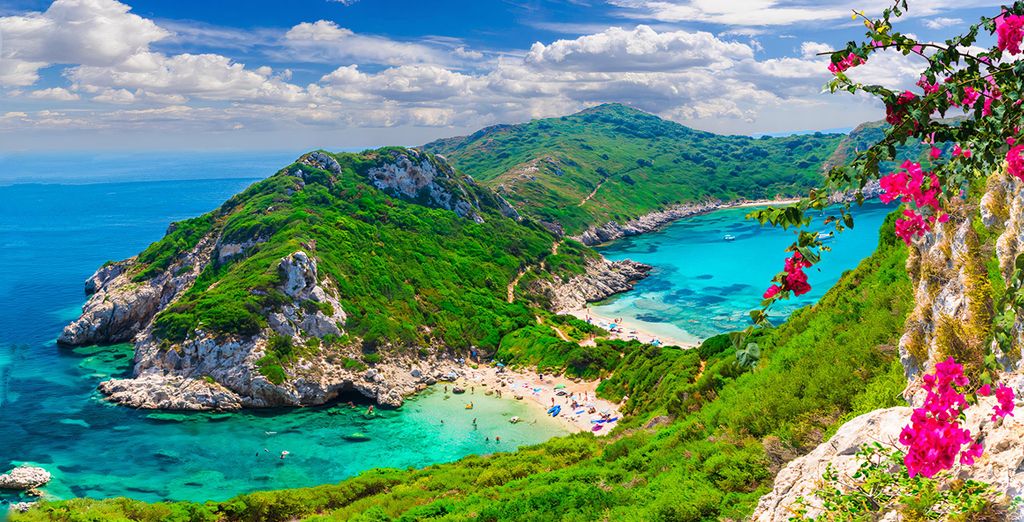 Corfu is a picturesque island with an intriguing history, making it ideal for diverse travellers. If you love nature, you will enjoy exploring this island. It is brimming with nature reserves and features lots of different species of birds. The town also has quiet corners where you can rest and take in the unique character of this Greek paradise.
Soak up the calm and culture in Corfu
Situated in the warm seas of the Mediterranean and framed by cypress trees and olive groves, Corfu has something for everyone. Whether you are looking for an easy-going, catered holiday in a five-star resort, or something more tranquil and off the beaten track, Corfu has everything covered.
Once a centre of art and learning in early-modern Greece, Corfu retains a deep respect for art and learning. There are museums and art galleries for those who are hungry for culture, and the truly turquoise seas are a stunning catalyst for inspiration. To get inspired yourself, enjoy a luxury holiday in Corfu with us and discover the timeless beauty of this stunning island.
Taste authentic island life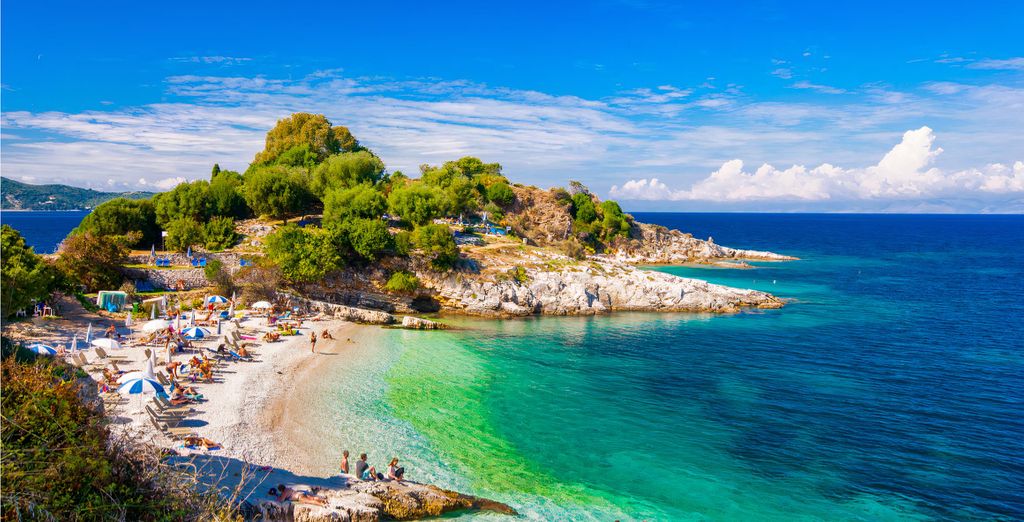 Spend your days lounging on white sands and swimming in the sea, and relax into your evenings sampling delicious Mediterranean cuisine, sharing fresh seafood dishes and watching the sunset over a glass of local wine. If you fancy doing something a little more active, there are a whole host of beautiful historic villages for you to explore. Corfu Old Town is composed of gorgeous Venetian architecture, full of secret paved backstreets and hidden walled gardens.
If even the Old Town is too bustling for you, a little further afield there are a myriad of quaint, crumbling villages for you to explore. Try Kasiopi for the sights and sounds of a traditional Greek fishing village, or Agios Matheos if you have a penchant for mountains and greenery. The village of Pelekas gets a little busier in the summer, but is rumoured to have the best sunsets on the island.
Treat yourself to a private villa or a luxury hotel
As top-of-the-range luxury travel experts, we provide spectacular private villas and luxurious hotels. We can cater a relaxing and hassle-free holiday to your individual needs, whether you are a couple seeking solitude or a family looking to spend some quality time together.
Our handpicked accommodation offers include our villas nestled above the small coastal village of Nissaki and providing a spectacular view of the island. For those who would rather be catered-to, we also have a range of incredible hotels, overlooking the sea and located in convenient walking-distance of the historic Old Town.
For the best deals in luxury holidays, get registering with our website and start planning your well-deserved Corfu getaway today.