Book a luxury holiday in the Azores, a volcanic tropical paradise



Table of contents
The Azores is an archipelago of nine green and lush islands situated in the Atlantic and owned by Portugal. Instead of booking your usual luxury holiday to Spain or France, why not get a flight to the Azores and spend your holiday exploring these wild, beautiful islands?
Top Five Things to Do in the Azores
A cluster of nine small islands far off the coast of Portugal (850 miles to the west) and one of its two autonomous regions (the other is Madeira) the Azores is a popular and flourishing tourist destination.
1. Beach Life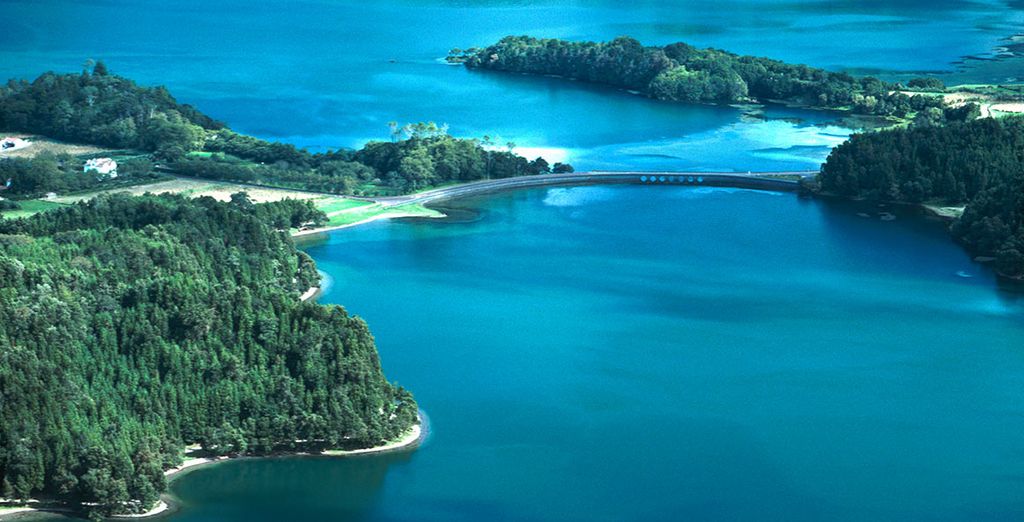 While the Azores is not primarily marketed as a beach destination, there are a number of beautiful beaches where you can work on your tan and enjoy long lazy days and delicious picnics. Santa Maria is the only of the Azores islands with a golden sandy beach, because of the geographical make-up of the rocks. The dark volcanic sand on the other beaches makes for dramatic photographs for your social media feed.
2. Coal Caves
The Gruta de Carvao (cave of coal) is something of a misnomer. While certainly the colour of coal, this underground cavity was caused by a lava flow when the islands were more volcanically active. The lava on the outside of the flow cooled quicker, forming a tube inside which the hotter lava rushed along. As the flow stopped, the cooler crust formed a straw shape which emptied out, leaving a cavity. These cavities form the Coal Caves, and explorers can see a number of truly fascinating geological features from which volcanic formations and activities can be extrapolated.
3. Sightseeing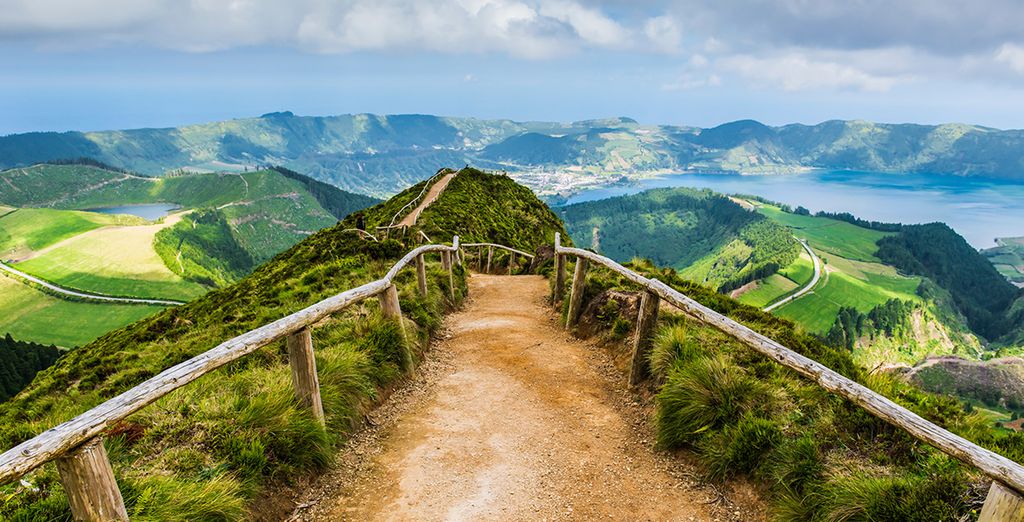 There is so much to see in the Azores that you will be hard pressed to take it all in, no matter how long you stay: from volcanoes extinct and still rumbling, to well preserved ancient buildings, to ruins of even more distant civilisations, to flora and fauna unique to the islands, you could spend all day simply looking around the Azores without becoming bored!
4. Museums
The Azores is home to a number of interesting and historically relevant museums: featuring everything from wine to tobacco factory to whale processing plant and much more. Learn the grim truth about whaling and how the factory was built to enable the entire whale to be used, how long the hours in the tobacco factory were and how wine brought profitability to the islands. There is a lot to see and do, so do pick your preferred few rather than trying to see them all and burning out!
5. Whale Spotting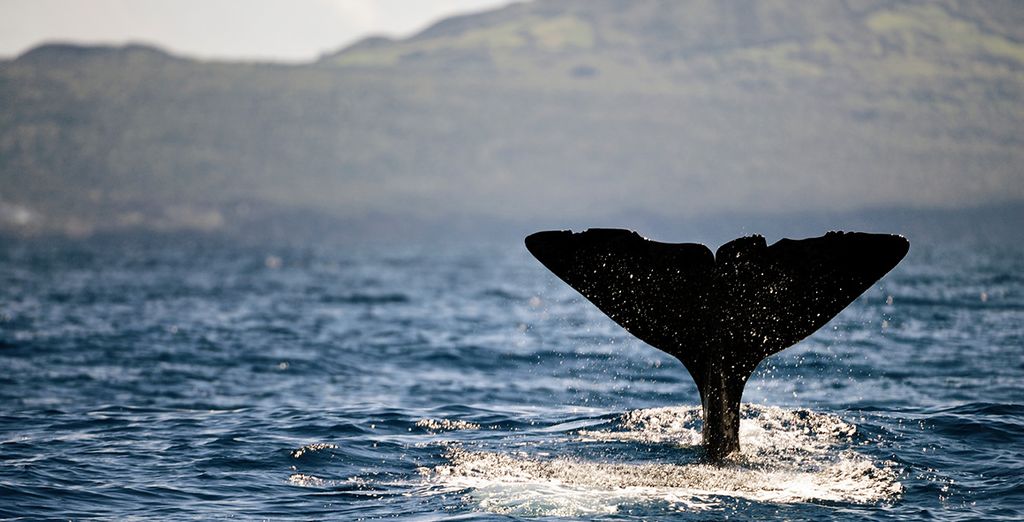 The Azores are on the migration track for many species of whale who pass through annually. Visitors to the Azores can watch the magnificent creatures as they breach and glide majestically along, and you can even take a boat to get up close and relatively personal with them.
When to Go to the Azores
The islands have good weather throughout the year, never dropping into single figures but the best times for beach holidays run between May and October with July and August being peak tourist season. Hurricane season is between August and November, and this is when the most rainfall occurs too.
How to get there
With the Azores being somewhat swamped in the North Atlantic Ocean, the fastest way to get there is to fly in from Europe, Africa or the United Kingdom. Most of the islands have international airports and there are ferries between the islands, as well as short hop domestic flights. Cruises occasionally take in the Azores as a destination along the way, so it is possible to arrive by ship if you are happy to take a leisurely approach.
Which Hotel to Choose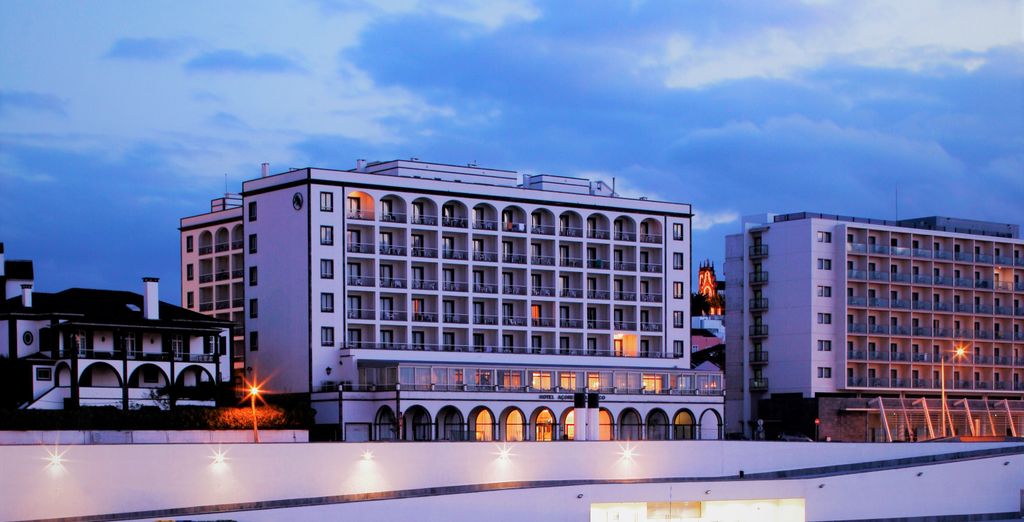 With private parking, the option of hiring a babysitter if required, restaurants, heated pool and room service, you can enjoy this luxury hotel, beautifully situated near the Marina, just the way you like. The rooms are cool and crisp, with air conditioning and a desk so you can even get some work done before heading out for sun, fun and relaxation.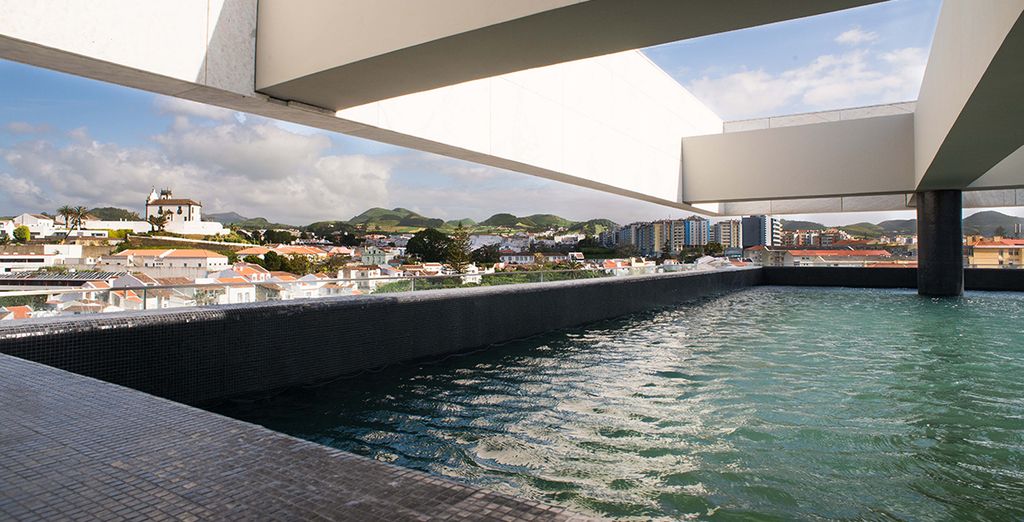 A modern hotel in the heart of the Azores' capital designed to blend perfectly with its surroundings that will provide for your every need. Watch the sunset – or sunrise, if you are an early bird – from the rooftop pool or other vantage points to enjoy the magnificent sight before heading to your cool air conditioned bedroom to enjoy the sights and sunshine on your private balcony or wash up in the marble appointed bathroom. Meals are served in the sumptuous restaurant, or you can head further afield to try the many delicious offerings in the eateries of the town.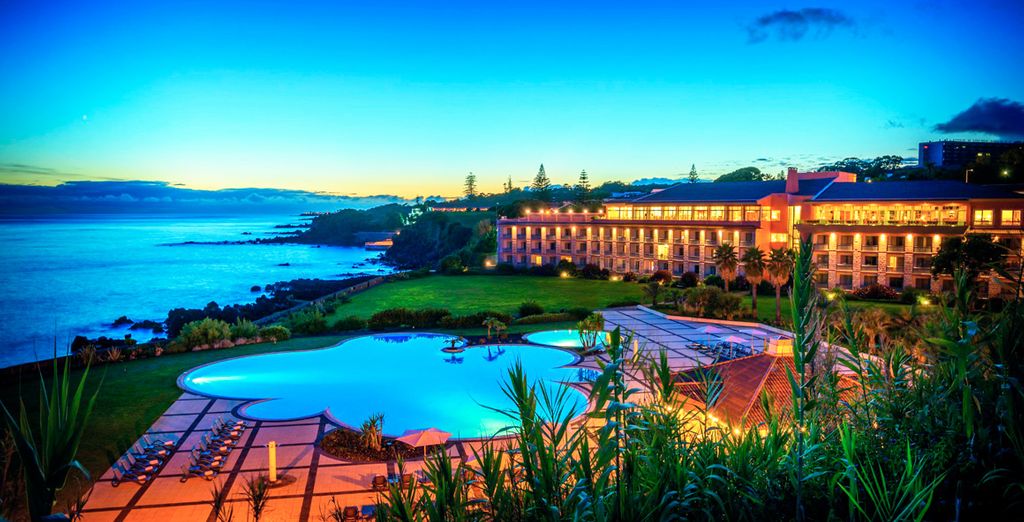 Volcanoes, architecture, woodlands and waterfalls, this beautiful island has it all, and so does this hotel! Open plan public areas lead to air conditioned and spacious rooms that look out onto stupendous views while the onsite restaurant and indoor pool will keep you well-fed, gently exercised and relaxed. If you want to hit the beach, it is a short three-minute walk away, and the whole island is bursting with fun activities, retail opportunities and fascinating glimpses into the island's history.
Culture in the Azores
Settled by the Portuguese in the 1400s the Azores, unsurprisingly, has a strong Portuguese flair. Christopher Columbus, returning from his travels was arrested as a pirate, and the French established a base on the islands to help combat a genuine piracy issue. There is a strong farming culture, with many crops being grown on the fertile and sunny land, and they relax with Azorean music, poetry and dancing.
Island hopping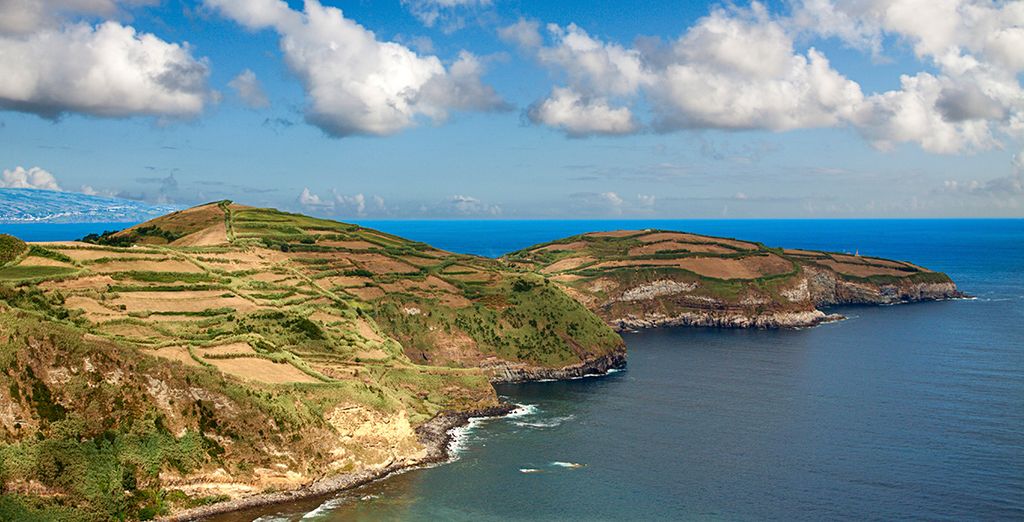 With nine islands to choose from, you're spoilt for choice and should spend a day or two on a few of the islands instead of staying in the same place. Each island has its own personality and micro-culture and your trip will be far richer from having experienced this. The island of Flores, as the name suggests, is carpeted with wild flowers and at the centre of the island lie seven turquoise lakes formed by the volcano. It's the perfect way to spend a lazy day relaxing and can easily be reached by boat from Sao Miguel island.
The island of Pico is home to Portugal's highest mountain, also named Pico. Standing at 7,713 feet, Pico can be climbed by people of all abilities, although it is more difficult to reach the peak, so this should only be attempted by experienced climbers or with a guide who you can hire at the local visitor centre. Pico is home to several award-winning vineyards and wine producers, so if the thought of hiking up a mountain fills you with dread, put your feet up with a glass of the Azores finest vintage instead.
There's more to holidays than getting a tan
Like scuba diving. Or windsurfing. Or whale watching. The possibilities are endless in the Azores. Sao Miguel, the biggest and most populated island offers several world class golf courses, the opportunity to kayak or canoe in the crater of a dead volcano, diving with the sharks and going big game fishing along with many others. We can help you find experiences to suit your interests, no matter how niche and save you money. All you have to do is sign up through our website.
The Azores is the perfect destination for a luxury holiday. A backdrop of spectacular scenery, lots of activities and islands to choose from and our great deals will make your trip to the Azores the holiday of a lifetime. Sign up today!
Map of the Azores
Our Practical Advice for Azores Holidays
What to bring back
The Azores makes excellent beer and wine, as well as growing the most delicious pineapples. Azorean cheese and tea is also wonderful, with a unique flavour and texture, making ideal gifts for loved ones. For something a bit more permanent buy a wickerwork piece that will take pride of place, being fairly unique to the Azores. You can buy anything from full-sized furniture sets to whistles and baskets.
What currency to use
The main currency of the Azores is the euro, as the islands are a Portuguese territory.
What Language is Spoken in the Azores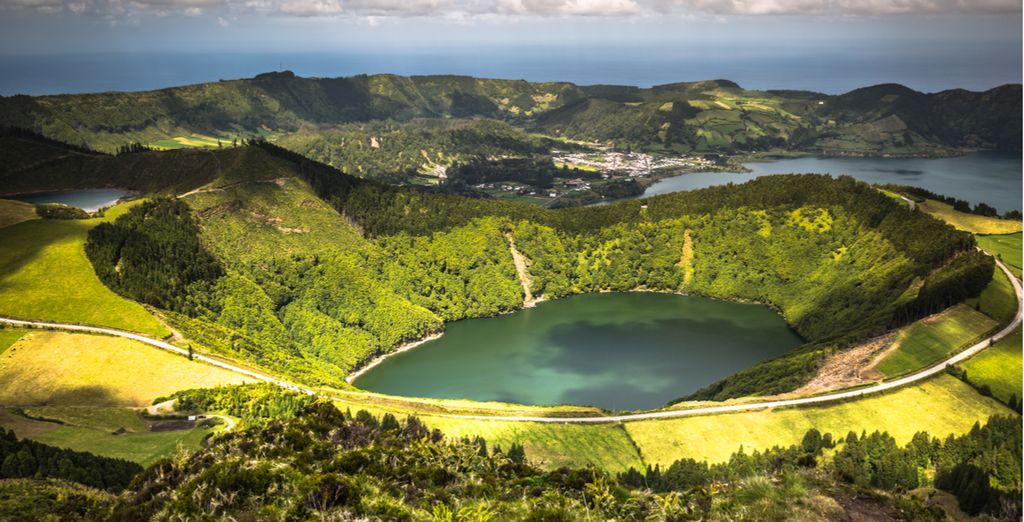 Portuguese is the official language of the islands, and it has remained purer than the Portuguese spoken on the mainland. This means that it is a fairly archaic form of the language, but in the tourist areas most people will know enough English to understand your needs.
How to get around the Azores
You can fly or catch ferries to the different islands as you explore further afield. However, while on each island, you may want to hire a car: taxis and guides can be very expensive (do be sure to fix a price before you travel with anyone) and buses are not quite as comprehensive as they could be. Returning to the flights: depending on your flight from your home, you may be eligible for free inter-island flights so do check your terms and conditions to save some money if you can.
What to pack for your Azores holidays
With the islands being so warm, casual wear is more than acceptable, with perhaps the need to dress up a little for dinners out. Do take umbrellas or light waterproofs as the weather can change in minutes from bright sunshine to a deluge of rain! Sunglasses and sun cream to protect yourself from too much sun are standard on these islands.
How long to stay?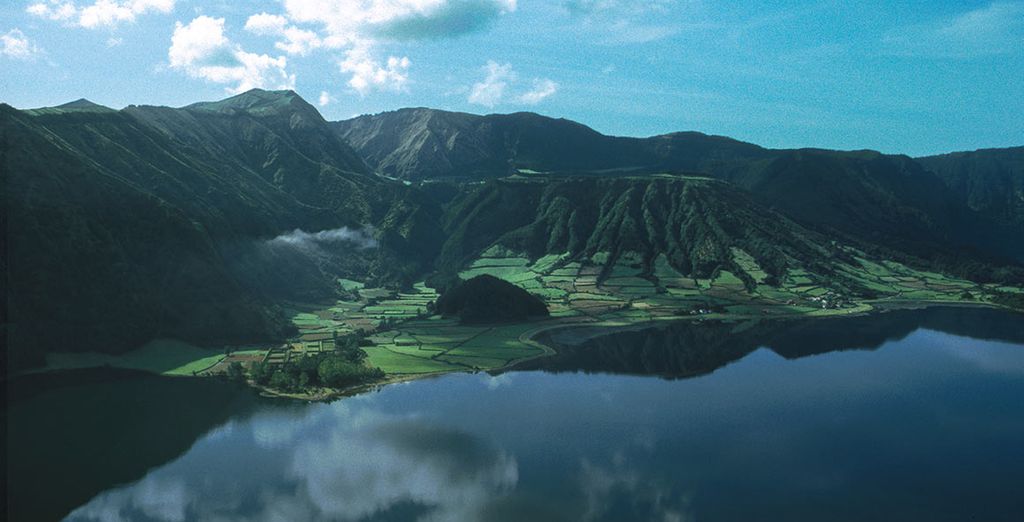 The Azores is a large group of islands, and there is much to see and do on each. While you could pay a flying visit and stay just on one or two of the central group of islands it would be so much better to stay for two or three weeks, even a month, in order to explore each of the islands thoroughly.
How to travel with a pet
Cats, dogs and ferrets, amongst other small pets, can be brought along with you to the Azores, but they must have an up-to-date rabies vaccination certificate. Check with your chosen hotel that they have the facilities your pet will need, and make sure that you are aware of any recent changes to legislation.
What budget to plan
About seventy euros a day per person will be plenty to ensure you can travel, dine and treat yourself while in the Azores, assuming that your accommodation has already been paid for.
Environment
While the Azores does depend to a certain extent on imported fossil fuels, it is forward thinking when it comes to be self-sustaining, with renewal sources being explored. The natural ecosystem is classed as fragile, and efforts are made to keep tourists out of some areas to ensure the survival of endemic species.
Practical Advice for Travelling in the Azores
Should you get injured, you may be taken first to a clinic and then transferred by military aircraft to a bigger hospital, or even to mainland Europe should you require it. Facilities are basic, but good, for most typical holiday scrapes and bumps. The Azorean people are warm and friendly, appreciating that your tourist currency helps keep the islands running well. The islands are modern with ATMs readily available and all the mod cons you could need. However, bear in mind that the nine islands are very much at the mercy of the ocean and follow recommendations made by authorities to stay indoors or avoid certain areas whenever they are issued.