Marbella Holidays 2022/2023



Table of contents
The Costa del Sol runs some way along the Spanish coastline, and Marbella is in a prime position along the coast. Its position and ease of access have seen the city gain enormous popularity with well-to-do holiday-makers and celebrities who flock to the area periodically: in between making movies and television shows, or while resting between fashion shows, for example. It is a wonderful place to visit if you want to enjoy endless sunshine, beautiful seas and technicolour sunsets: and all the better if you love to people watch as you enjoy the city.
Top Five Things to See and Do in Marbella
1. Celeb Spotting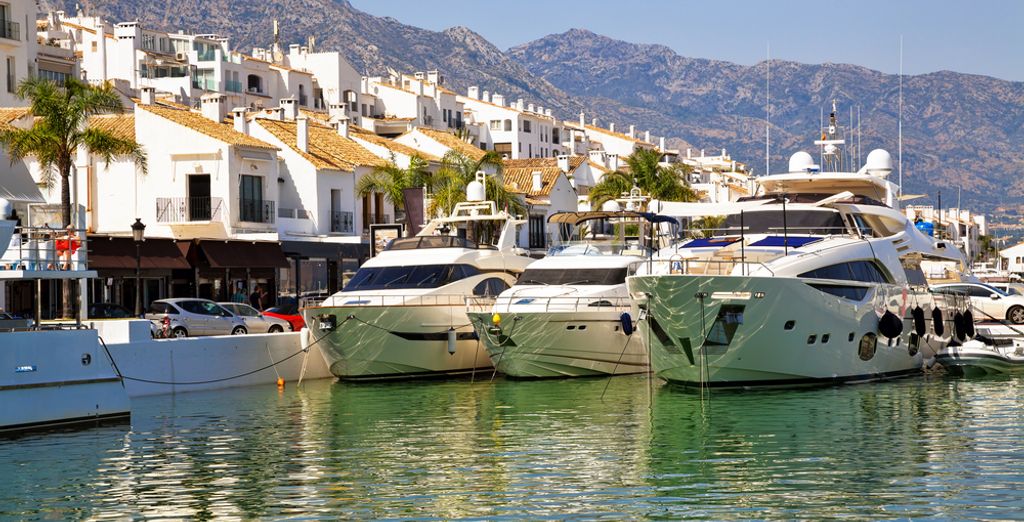 Marbella is known for being one of the most beautiful spots in the world, and it is also very much the playground of the rich and famous when they have some downtime. Play it cool and enjoy a few hours sitting at one of the many outside tables with a tall drink or a coffee seeing who goes by. You might be surprised at how many celebrities you spot, dressed down and mingling with the other holiday-makers: just like the regular people they are on the inside!
2. Sohail Castle
This castle is over a thousand years old and hearkens back to a harsher time when weakness was always attacked and strong defences were the best way to ensure the safety of one's family, town and region. The castle has been excavated but not fully restored, and is often the venue of performances and special events, so be sure to check at your hotel to see if there is anything going on that you would like to attend. Failing that, wander around the ancient battlements and see if you can imagine what it would have been like living in Spain over a millennia ago.
3. Alameda Park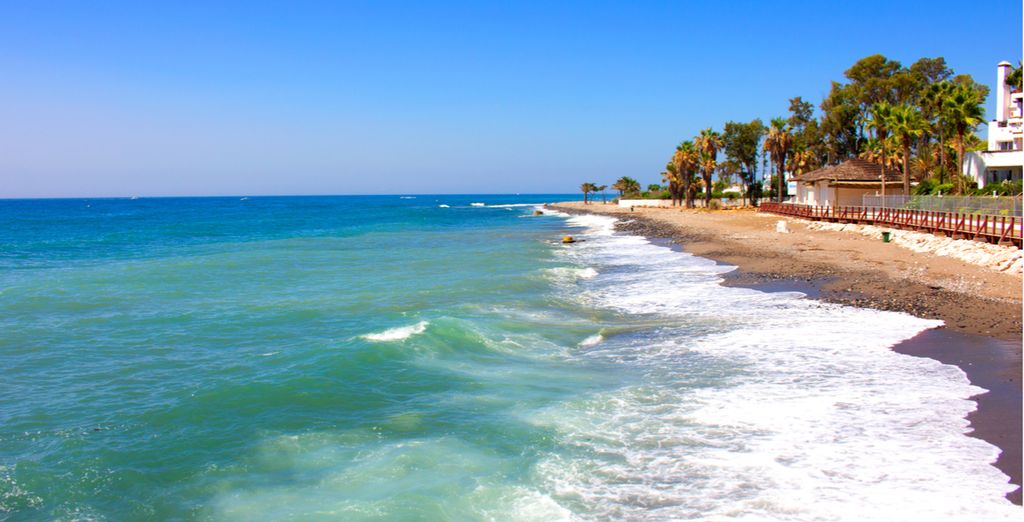 This cool green oasis in the heart of beautiful Marbella comes as a pleasant surprise to footsore and weary explorers looking for somewhere to sit for a while and just breathe. Sadly, the park is already much smaller than it used to be because of the eager clamour for prime building land, but what remains is a tranquil and lush gem where you can sit on the beautiful Moorish-inspired benches, enjoy the flourishing plants and flowers and take a brief respite from the hectic whirl of water sports, golf, designer shops and thriving nightlife that Marbella is famed for. Keep your eyes peeled in the park for not one but several of Marbella's most famous son's works: Salvador Dali sculptures can be found in the grounds.
4. Selwo Marina
Get to know more about the wonderful inhabitants of the sea at this innovative marine reserve/ park. There are, loosely, four regions to the park, and you can learn about dolphins, sea lions, penguins, parrots, and flamboyant flamingos amongst others, with interactive displays and talks that make learning about these gorgeous creatures both entertaining and educational. Speak to your hotel's concierge or receptionist about tickets as the park has some deals with some hotels in which guests at the hotel receive an extra discount on their entry fees simply by booking through the hotel.
5. Plaza de los Naranjos
This ancient square is from the oldest part of Marbella, dating from around 1485, after the Christians had claimed the region from the Moors. It was built and intended to be a community hub, a place where the townsfolk could gather, exchange news and gossip and generally see and be seen. In the centre of the square, forming a useful focal point is a renaissance fountain around which are planted a series of orange trees: those for which the plaza is named.
Our Best Hotels in Marbella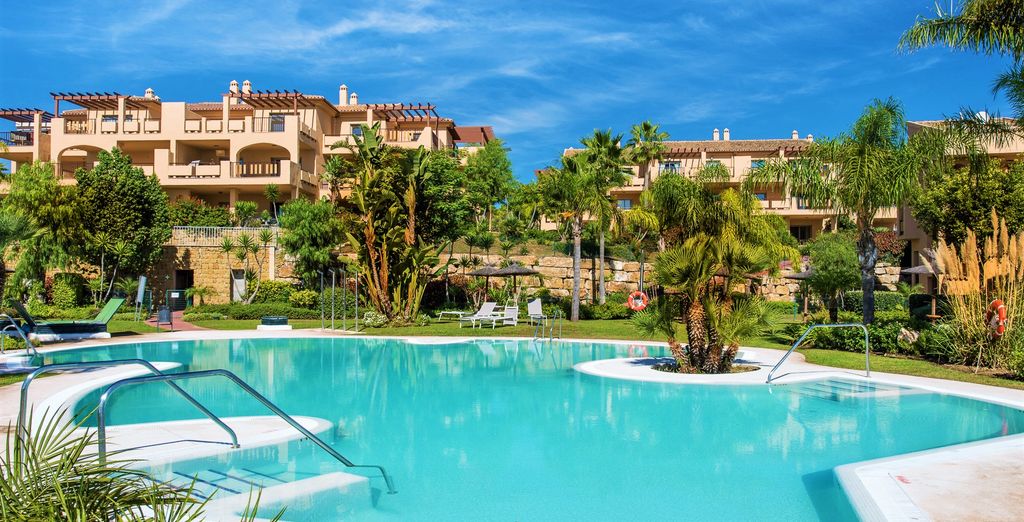 Large and airy, these self-contained apartments provide the best of home with the best of a hotel stay to ensure that your luxurious holidays to Marbella meet and exceed all your expectations. A fully equipped kitchen means that you can prepare your meals the way you like them, and the hotel's easy access to the restaurants and eateries of Marbella mean that you do not have to cook if you do not want to. With four outdoor pools and even a poolside café so you can laze by the pool without getting hungry, you will not need to leave the complex to have a fabulous holiday in the sun. But this would mean going without seeing the wonders of Marbella, the best of which is just on your doorstep.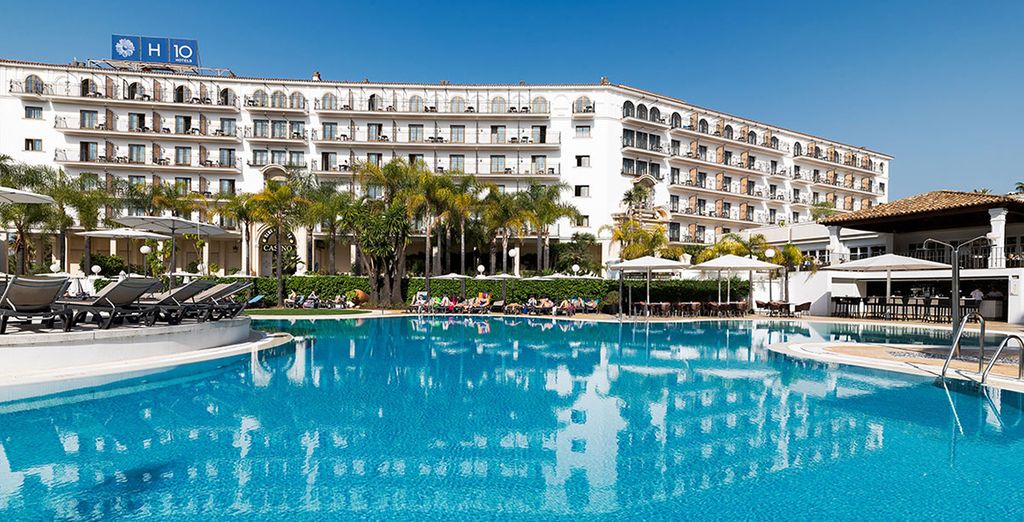 Beautiful sandy beaches, buzzing nightlife, excellent design shops and world-class golf courses abound and this hotel's adults only policy ensures that your break will be as restful and relaxing as you need it to be. Airy and elegant Andalusian architecture merges seamlessly with the best of modern comforts and conveniences. With over 400 rooms, this hotel has the customer service and experience to ensure that everyone enjoys their holidays with as little disruption and as much indulgence as possible. A gym, a jacuzzi and a spa centre are just the start of what this sumptuous and enormous hotel has to offer: the Casino de Marbella is just next door so you can enjoy a pulse-quickening flutter whenever you please. With a range of international, Spanish and Mediterranean dishes on offer, you are sure to find cuisine that suits and excites your palate.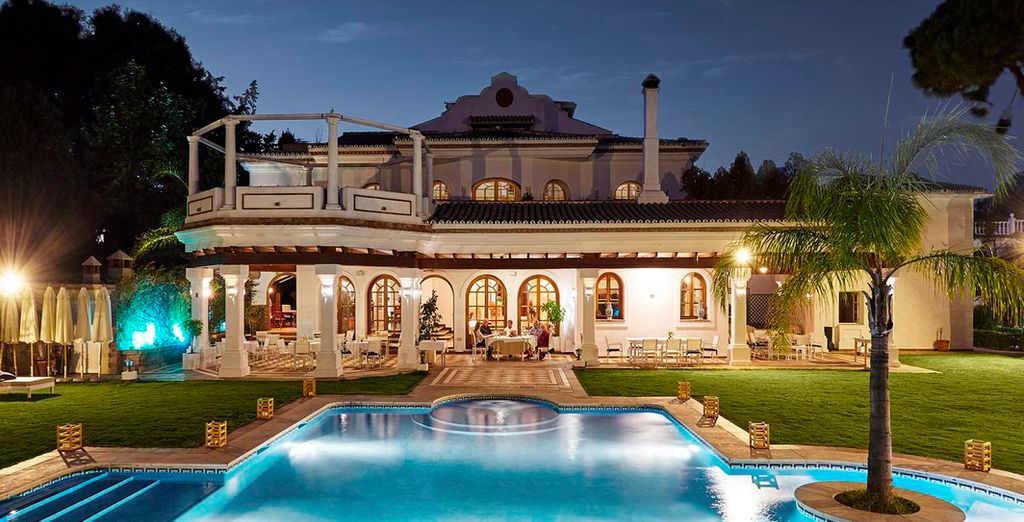 Step into a wonderful Moorish fairy tale with a room at this gorgeous mansion styled hotel. The hotel is small, with only twelve rooms, but this is perfect for an intimate, homely feel – albeit a luxurious one! – as though you are staying with a supremely wealthy relative or friend. Every room is uniquely decorated, giving the whole hotel a distinctive look, and the customer service is second to none: each guest feels personally welcomed and valued. Dine in the hotel, or enjoy leisure time in the bar and lounge, and do make sure to set yourself up for the day by partaking of the continental breakfast, served fresh every morning.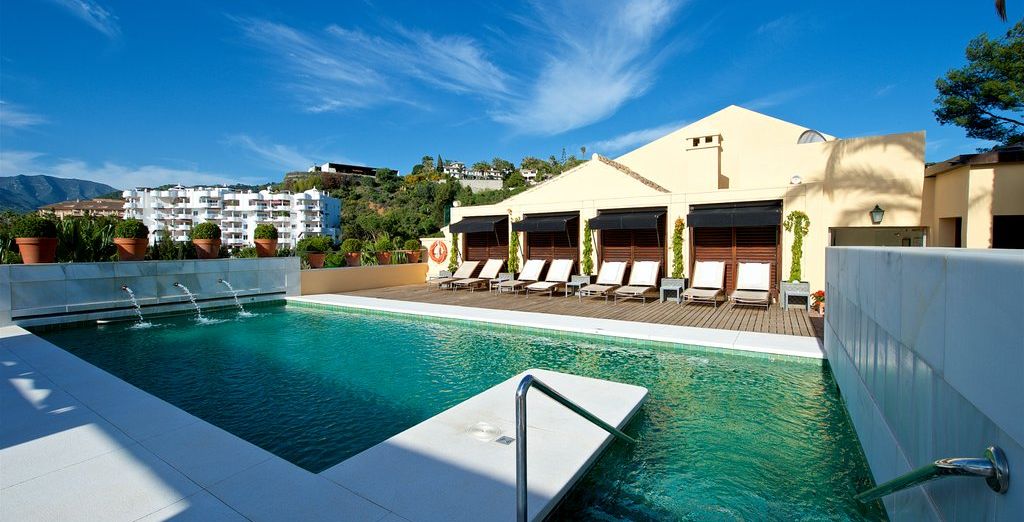 Just a fifteen minute drive from the heart of Marbella, this hotel boasts thirty designer rooms, each crafted by interior décor guru Pascua Ortega, who ensured that each of the rooms has a unique ambiance and welcome so guests can find and choose their favourites over time. There is an onsite restaurant for the days when you do not want to travel in order to dine, and there is a spa to help you to relax and get into holiday mode. The golf course is international standard and is often cited as being one of the best in Spain, while the hotel's location allows you to seek whichever you prefer as the whim takes you: privacy and solace or the thriving bright lights and social life of Marbella.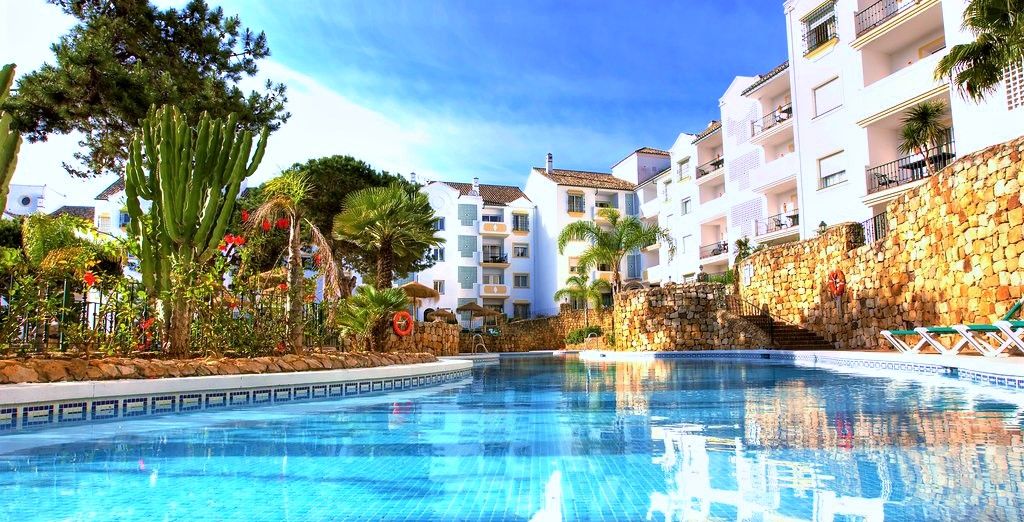 Just a few hundred metres from the beautiful Nikki Beach, and equally handy to the areas many gold courses, this bright and lively hotel provides an excellent base for exciting and action-packed holidays to Marbella. Fully equipped apartments, designed to cater for your every need, a children's club to ensure that everyone has a wonderful time, whether they are adult or child, and fantastic meals, served daily in the onsite restaurant ensure that you will remember your Marbella holiday for nothing but the right reasons. The rooms are cool, clean and spacious and you will all soon feel completely at home in your Spanish pied a terre.
When is the best time for a Holiday to Marbella?
September and October are ideal for those who want to be able to swim in the sea, but who abhor crowds. For those who thrive on company and think the more the merrier when it comes to holiday-friends, any time during summer is a good time to pop into the city.
Getting To and Around Marbella
Marbella is in Spain and on the coast, which means that it is easily accessible from most international airports. Trains, buses and taxis are also all readily available, with the latter able to get you to your hotel door if so desired. For getting about Marbella and exploring all there is to see, you can use a combination of buses, walking and driving, whether on your own, or in a taxi, letting someone else do the driving for you.
How to Enjoy your Holidays to Marbella
You can find almost any kind of holiday in Marbella, from hotels that run comprehensive kids' clubs complete with exercise, sports and games to keep even the most disenfranchised child happy to leisurely adults only holidays to ensure that your own needs and preferences come first for a change. Many hotels are not only children friendly, but they can cater for babies and infants too, while those who cater for a more hedonistic clientele know how to please there too.
The Opinion of the Voyage Prive Expert on Marbella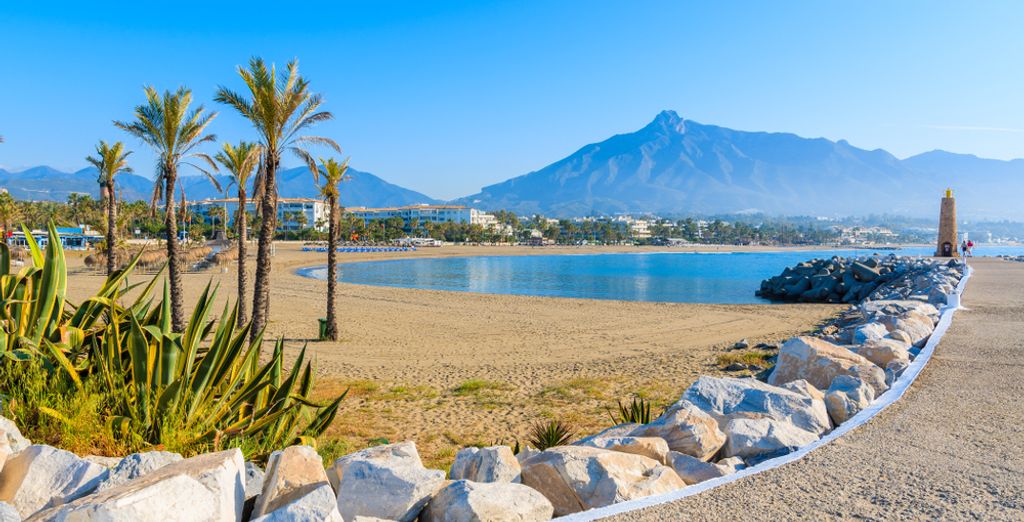 A caveat first: Marbella is not a cheap holiday destination. This probably does not need to be said, but essentially, when your main guests (and therefore source of income) are millionaires and the independently wealthy, you can set your prices to make a very comfortable profit indeed before any thought of complaining will strike them. Having said that, the beaches in Marbella earn their Blue Flag status each year, and the people are welcoming and kindly, while the food is often world-class, fresh and delicious, prepared from scratch at each meal. Marbella may seem like a clichéd destination, but as so often, the cliché has come about because of its deep roots in truth.
Roam the charming Marbella Old Town
Marbella is so much more than just beautiful beaches. Its old town offers a picturesque maze of quaint streets that revolve around the delightful Plaza de los Naranjos. Here, you will find a variety of classic cafes and restaurants that ooze romance and charm. They serve traditional food and drinks and provide the perfect spot to relax with a glass of wine after a day of wandering the wonderful streets of the old town. When the sun disappears, the serenity suddenly vanishes and you will be treated to an alfresco flamenco show or even a rustic Spanish street musician.
Embrace the spanish sunshine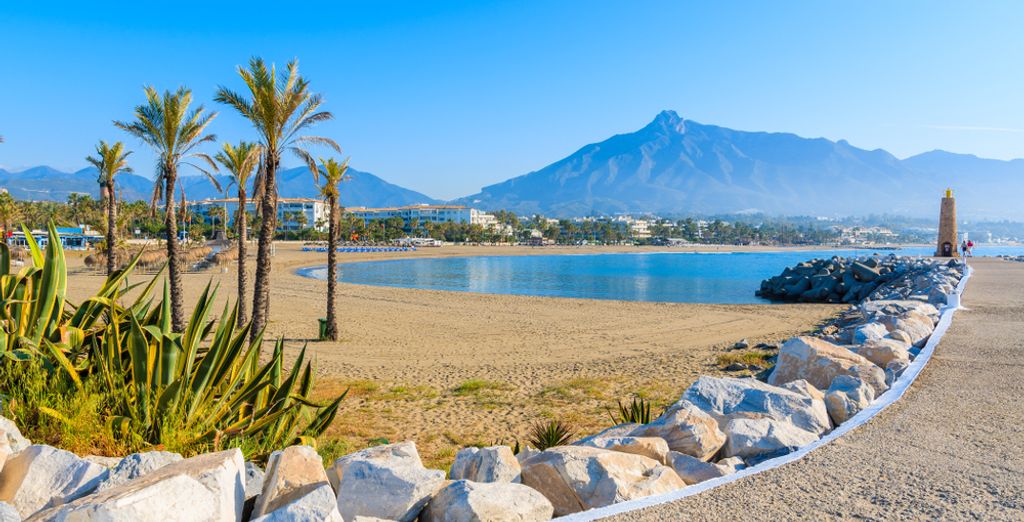 If you want to relax and chill in the sunshine, then Marbella will give you lots of choices. It's graced with over 15 miles of stunning coastline that makes up 24 beaches. Some of the most popular beaches include la Fontanilla Beach, Venus and El Faro as well as the beaches of San Pedro Alcántara and Puerto Banus, both of which have been awarded the blue flag beach quality. Even if soaking up the sun isn't all you are after, the beaches are packed with excellent water sports and leisure facilities that will enable you to challenge your wild side if you so wish.
Release your inner child at theme parks
Marbella is filled with themed parks. From water parks to zoos and fabulous fairgrounds, there is something to entertain visitors of every age. Try 'Funny Beach' for an enjoyable amusement park with electric cars and video games, or if you're looking for more water-based fun, then check out Marbella's Costa Water Park. There are two locations to choose from - both parks are floating in the sea and provide a fun-filled variety of water-based activities! Whether you're 6 or 60, there will be something to make everyone laugh and smile.
If you want to experience all these amazing attractions and the beauty of Spain's swankiest resort, then look no further than us to start your holidays enjoying the glitz, glamour and excitement of Marbella. We select all of our exclusive luxury holidays with your needs in mind, for a members-only tailor-made experience. Sign up now for exclusive deals and amazing prices for holidays to sunny Marbella.