Enjoy your holidays in Adults Only Hotels in Spain
Spain is always a hit when it comes to choosing a holiday, and an adults only one, where you have some proper time to forget about everyday life, is no exception.
We've carefully selected our favourite deals when it comes to Spanish hotels, so all you need to do is decide which to pick.
Our top 10 hotels for Adults Only in Spain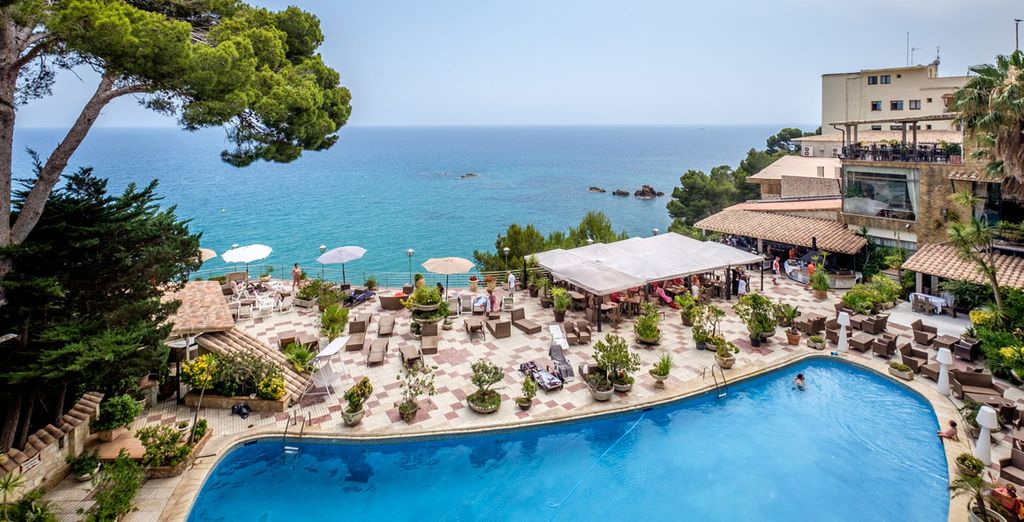 1. Self Drive Tour of Southern Spain & Optional Costa del Sol - Seville
A truly unique tour through the towns of Seville, Cordoba, Cadiz, and Granada is what you get on the agenda for this Self Drive Tour of Southern Spain & Optional Costa del Sol. Stay in luxury hotels and soak up the sun on stunning beaches.
2. Dear Hotel 4* - Madrid
A stylish boutique is what you'll get with Dear Hotel 4*, where you can enjoy views of the city from the rooftop pool, relax in your Deluxe Room, and sample some of the tastiest cocktails as the sun goes down, without the distractions of families.
3. Hotel Cap Roig 4* - Platja D'Aro
Overlooking the bay, the Hotel Cap Roig 4* is set in a wonderfully unspoilt area; perfect for relaxing. Your Traditional Room is fully-equipped for your stay, and there's a lovely pool, loungers, and even a spa for added luxury.
4. Experience one of the world famous football match:FC Barcelona, Real Madrid & Atletico Madrid
One for the football fans – This unforgettable experience allows you to watch some of the best teams in the world, and soak up all the atmosphere in the world-class stadiums. Plus, you'll get to rest your head in one of the fantastic hotels, too, after watching Spanish La Liga: FC Barcelona, Real Madrid & Atletico Madrid.
5. The 15th Boutique Hotel 4* - Lloret de mar
The charming 15th Boutique Hotel 4* is a mere 6 minutes from the local beach and boasts beautifully light, pastel décor. Kick back, ease into the day with a fresh breakfast, and choose your favourite drink to take to the terrace.
6. The Element Hotel 4* - Cambrils
You'll be right in your element in The Element Hotel 4*. Bright, airy and modern, there's a Mediterranean restaurant serving up Spanish delights, an outdoor pool, and being adults only, there's plenty of peace and quiet.
7. The Residences La Sella 5* - Denia
Spanning luscious green gardens complete with golf course, and a spa, expect to be treated like royalty in your own suite at The Residences La Sella 5*. Enjoy a meal on the terrace, soak up the sun, or cool off by the pool bar – just what you needed.
8. Augusta Club Hotel & Spa 4*
Perfect for exploring the nearby coastline, the Augusta Club Hotel & Spa 4* has a focus on wellbeing, from the restaurant serving up healthier dishes to the spa's unique programme, where you can engage in yoga, reflexology and Pilates.
9. H10 Estepona Palace 4* - Estepona
Your very own palace awaits (and it's right on the beach!). Offering up breath-taking views, multiple restaurants and bars, and an outdoor pool with spa centre, you won't want to leave this adults-only jewel in the form of the H10 Estepona Palace 4*.
10. Ilunion Barcelona 4* - Barcelona
Nestled in cosmopolitan Barcelona, you'll find the Ilunion Barcelona 4* in one of the trendiest new areas in town. It features design and décor, a rooftop swimming pool with views of the city, and a gym for the health-conscious.
What services will you find with our adults only Spanish hotels?
Outdoor pools are a must under the Spanish sun, and you won't be disappointed with the selection at our range of hand-picked hotels. The majority come with at least one, as well as hot tubs and more in the in-house spas.
Expect beach-front restaurants, trendy bars (rooftop, in some instances), and enticing restaurants; all designed to give you the best in class experience you'd expect from a relaxing adults-only holiday.
Adults only hotels Spain rental offers convenient for all kind of travel
Couples rejoice – The range of hotels is for adults only here, so you can get that rare slice of peace in amongst the hustle and bustle of everyday life. Treat yourselves to a romantic break, where the only worry is deciding what cocktail to have next.
The range of adults only hotels we offer in Spain
With a whole range of hotels, the selection in Spain spans luxury, boutique, and traditional, with no expense spared.
For those with an eye for design, make sure you check out one of the trendier, boutique numbers, which are designed to wow with their modern, minimalistic and airy layouts.
Spain: What should we bring for an adults only holiday?
Depending on the season, you'll need to dress for the weather (and it gets very hot in the summer across the country). Keep warmer clothes nearby for the evening, especially on the coast, if travelling outside of peak summer months.
We'll provide everything you need from a toiletries perspective, and each hotel will be on hand to help in any way if you need anything further.
Don't forget those plug adapters, too, you'll need to be charging your phone up to snap all those photos of the stunning scenery – Memories to cherish forever.
Your best adults only hotel in Spain: how to get there and make your booking?
A 2 hour flight away, Spain is easily accessible.
When booking, register online to take advantage of all the fantastic exclusive offers, which are dedicated to members only on our range of luxury hotels.
The opinion of the Voyage Prive travel expert on adults only hotels in Spain
From the big, bustling cities of Madrid and Barcelona, to the rugged, sandy coastlines, Spain has everything when it comes to adults only breaks.
Must-sees include Barcelona's gothic architecture, the vast golden beaches, and of course, the beautiful Balearics if you can.
Spain, the land of sophisticated cuisine, golden coastlines, and Mediterranean charm
A true European gem, it's overflowing with art and culture, with architecture that is second to none.
Visit all our adult only holidays.