Holidays to Seville: fun, flamenco, and festivals



Table of contents
Quaint cobbled streets, pavement cafes, a rich heritage and a plethora of Instagrammable images to capture – a holiday in Seville is ideal for those looking for sunshine and charm.
Seville is a compact city allowing visitors a taste of authentic Spain and there are plenty of things to do, whether you want to soak yourself in the culture or savour delicious tapas in beguiling surroundings.
Where to go in Seville; the best places to discover
??
1. Seville Cathedral
?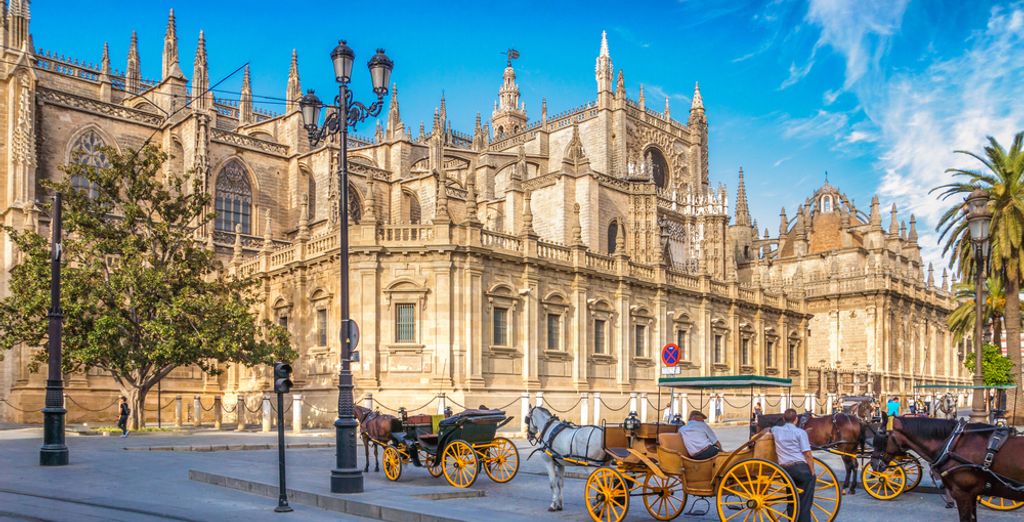 Seville Cathedral is well worth a visit, especially the tomb of Christopher Columbus. This massive Gothic cathedral is the largest of its kind in the world and is full of hidden sections each displaying their own unique characteristics. It's definitely a place with a size and spectacular interior will leave you speechless.
2. The Real Alcazar
?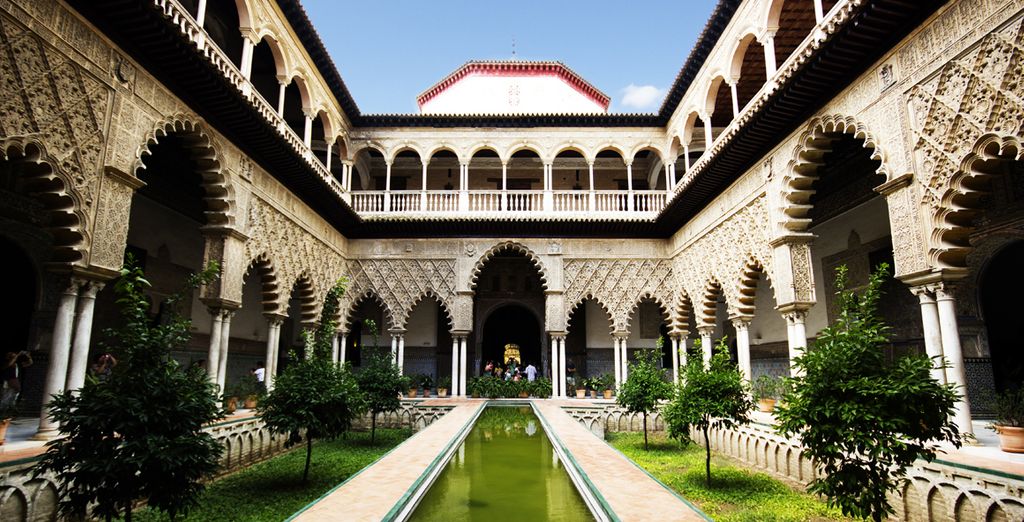 This beautiful palace could easily have you whiling away an afternoon strolling through its sumptuous gardens, courtyards and ornately-decorated rooms.
3. The Plaza de España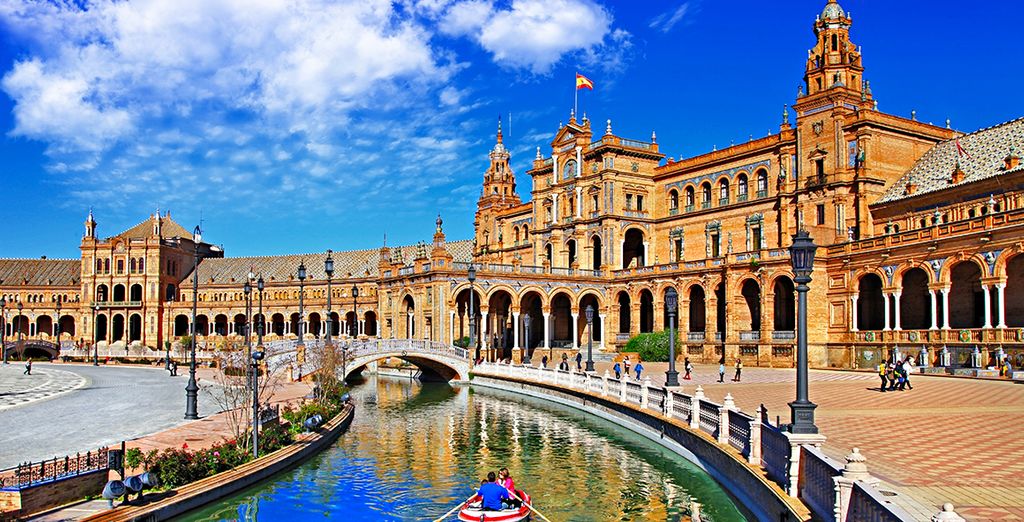 The Plaza de Espana is the site of the Spanish pavilion and is a very popular tourist destination. While history fans are drawn to marvel at its architecture and fascinating past, it will be familiar to film buffs as one of the sites of the Star Wars films. There are also several museums nearby, such as the archaeology museum and Seville's enormous aquarium.
Our best hotels for holidays in Seville
?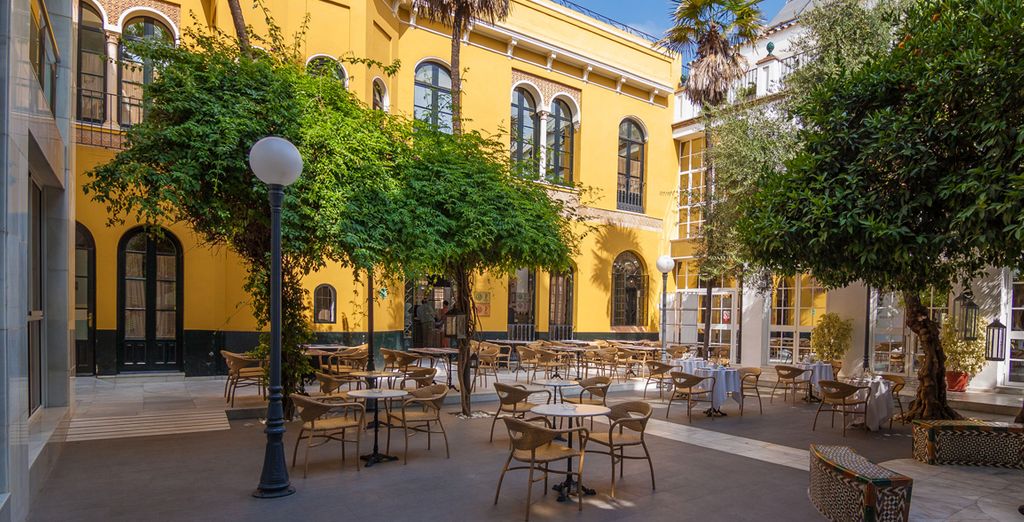 Hotel San Gil is a traditional Andalusian-style mansion situated amid beautifully manicured gardens. The four-star boutique hotel is located in the heart of Seville's historic Old Town, where there are several UNESCO World Heritage sites.
Voyage Prive members are welcomed with a bottle of Cava in their rooms on arrival, as well as a discount at the restaurant!
?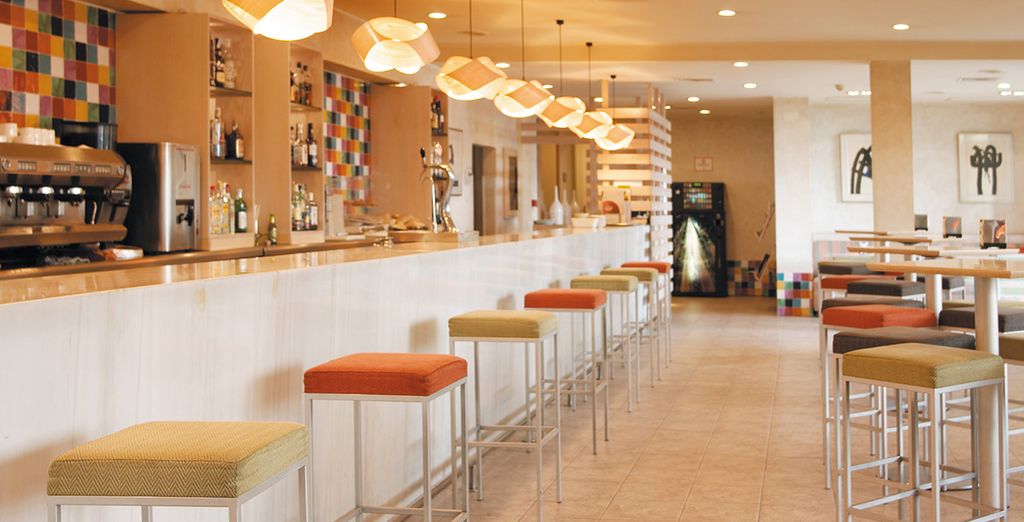 Hotel Hesperia Sevilla is a 4-star hotel in central Seville with an amazing terraced bar; a spa and a solarium. Guest are only a short stroll from Seville's main attractions and can easily relax in the pleasant rooms and stylish decor.
?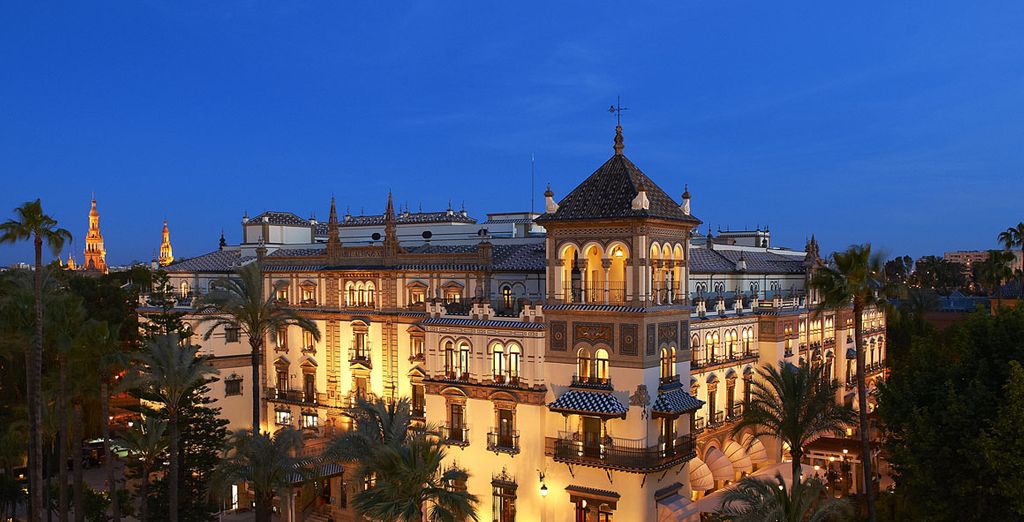 Since its inaugural opening in 1928, the five-star Hotel Alfonso XIII has enjoyed a well-deserved reputation for being one of the finest hotels in Spain. Royalty, heads of state and celebrities have hobnobbed amidst the impressive and iconic Mudéjar-style architecture. It is situated in the heart of Seville, right next to the Cathedral and the Moorish palace of the Real Alcazar.
?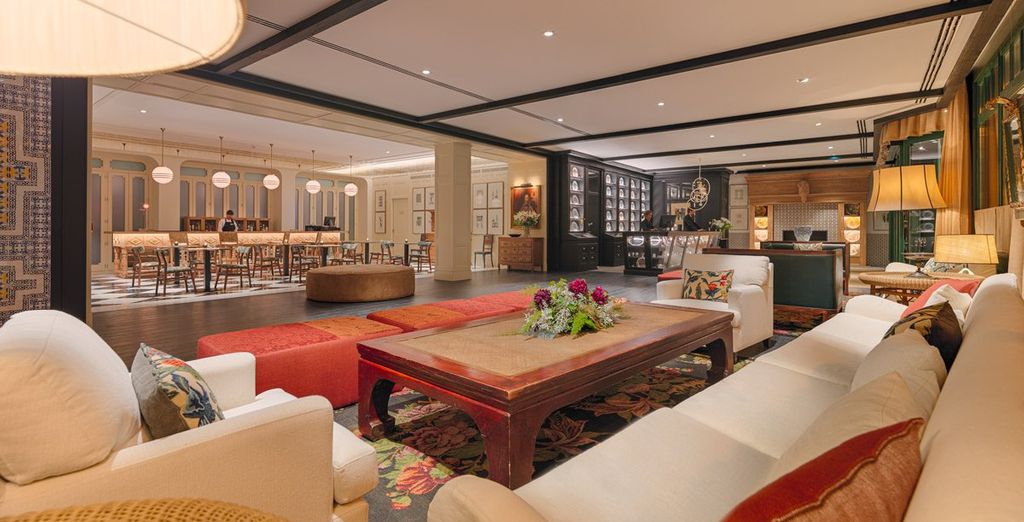 The H10 Casa de la Plata 4* is one of the newest hotels in Seville. The hotel is situated in the centre of the city and is conveniently near to many tourist attractions. The beautiful and stylish interiors are inspired by the Seville's aristocratic mansions, blending traditional courtyards, ceramics and tiles with luxurious amenities. It is the perfect hotel for a city break in Seville.
?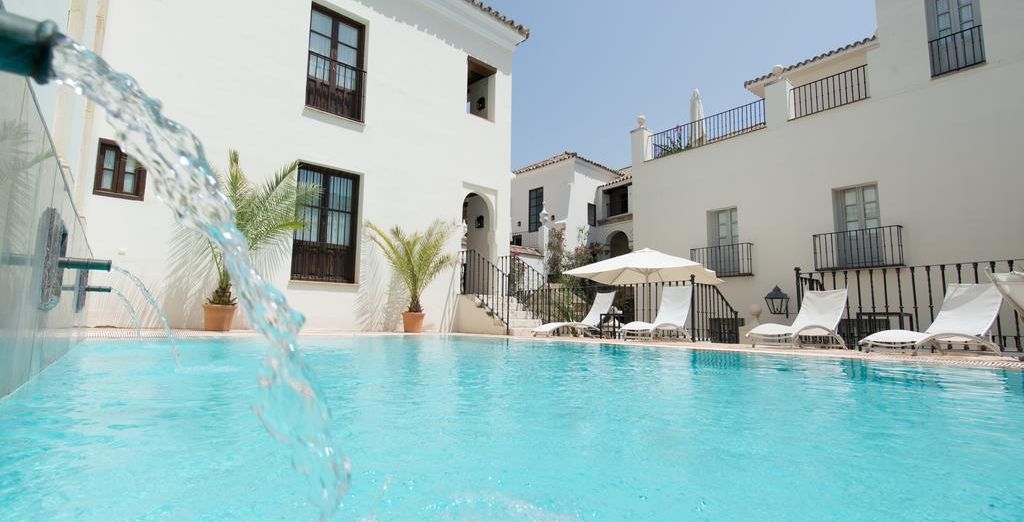 Las Casas de la Juderia Seville is situated within the picturesque Barrio Santa Cruz, the historic Jewish Quarter. The hotel encompasses 27 authentically Sevillan houses, connected by a network of passages and courtyards. Guests can enjoy a rooftop swimming pool, traditional Andalusian patios, cool ceramic floors and landscaped gardens.
How to book your hotel for your Seville holidays
??
The first stage of the booking process is to register online to Voyage Privé to take advantage of exclusive offers dedicated?to members. This is extremely quick and straightforward; all you need is an email address or a Facebook account. Voyage Prive members can enjoy exclusive discounts which can be as much as 70 percent of the price of luxury hotels.
Once you have found your perfect hotel in Seville by browsing the Voyage Prive website, booking is very easy. Start by selecting whether you would like any flights and your preferred departure dates. Select different room combinations to suit your party, such as single beds or family rooms. Check the details of your flights and add any optional extras such as car rental, transfers or excursions.
The Voyage Privé travel expert's opinion on Seville holidays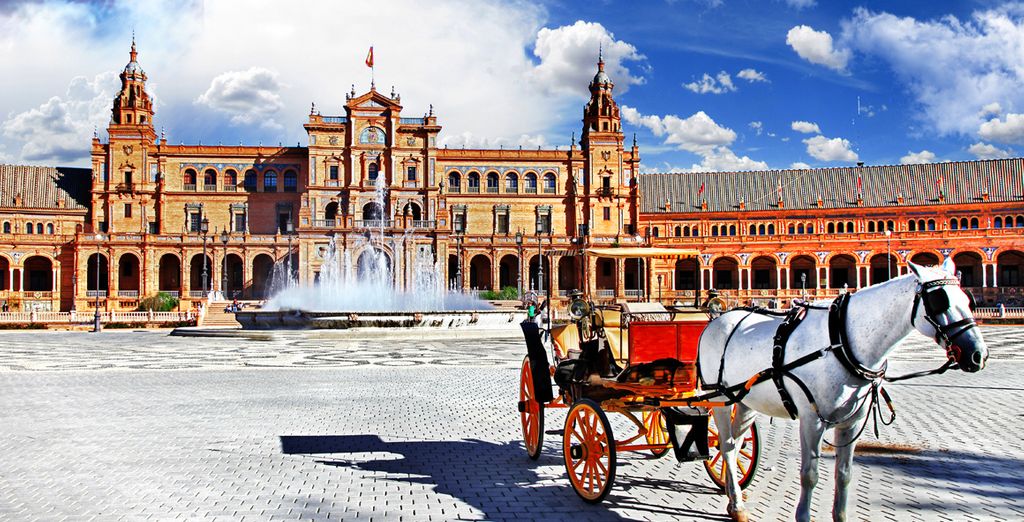 Seville is famous for having some of the best weather in Spain - in fact, in summer, it can get a little too hot. At Voyage Prive, we feel that the best time to visit Seville is in the glorious spring when the town is looking at its best. The streets are filled with the scent of orange blossom (Azahar) and the trees are verdant with new leaves. With maximum temperatures falling between a balmy 25ºC and 30ºC, spring is undoubtedly the perfect time to discover this atmospheric city and stroll around its picturesque alleys. The climate is warm and dry and you will notice that the sky is a beautiful intense azure that is unlike anywhere else.
Holidays to Seville: fun, flamenco, and festivals
Seville is an intensely romantic city of winding streets perched on the river Guadalquivir in Andalucía, Southern Spain. History seeps out of every part of this city's spectacular architecture. It can also claim to have been the setting for Carmen as well as Don Juan, and Figaro. The birthplace of the great Spanish artist Velazquez, his art is displayed in the Hospital of the Venerable Bishops. Seville was once the capital of the Moorish Empire, and this alluring Andalusian city revels in an opulent mix of Muslim, gothic and baroque styles. Peppered with spectacular architecture, it is popular as a weekend break destination. Due in no small part to its compact size – it is possible to easily explore every picturesque quarter on foot.
Soak up the history
The Barrio Santa Cruz is the picturesque Jewish Quarter of Seville, packed tightly with cobbled streets and quaint houses and flickers of the city's Moorish past. The Alcazar Palace, famous for its tiled and domed rooms and once home to Spain's rulers, both Moor and Christian, is breath-taking in its beauty. The world's largest Gothic church, the Cathedral of Seville, is also the burial place for the famous explorer Christopher Columbus.
Processions, festivals, and flamenco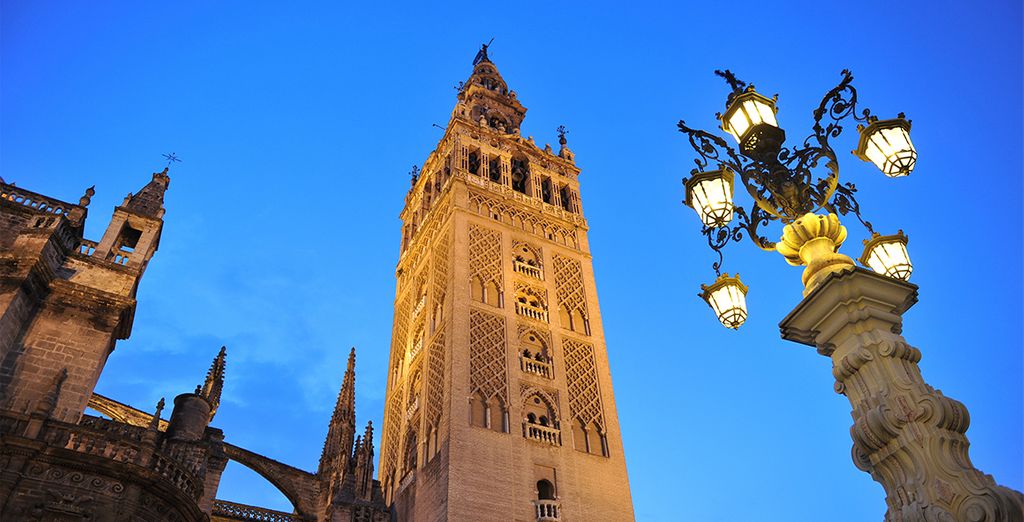 The local residents are called Sevillanos and they are not known for their restraint. Seville's Semana Santa, or Holy Week, takes place the week before Easter and lasts for eight days and nights. Parades of hooded penitents, processions of floats dedicated to Christ, the Virgin Mary or Saints are watched by crowds from Spain and around the world. These can last for hours, and even all night when the streets are lined with flickering candles. Later in spring, from the end of April to the first week of May, there is the Feria de Abril, with horseback parades, partying, dancing, and the local custom of drinking sherry with lemonade.
Enjoy the nightlife
The nightlife in Seville has something for everyone, including bars, flamenco social clubs call Pena, restaurants with varieties of delicious tapas. Holidays to Seville must include flamenco, the dance synonymous with the city. A star of the dance, Sevillana Cristana Hoyos started the Museo del Baile Flamenco. Every evening this courtyard hosts a one hour show.
Seville has something to suit every traveller, from those looking to party or visitors wanting a quiet cultural retreat. Our handpicked Seville hotels feature exclusive offers and exceptional discounts to ensure you receive the best possible deal.
What's the weather like in Seville and what to pack?
Visit the city in the summer for sizzlingly hot temperatures or around Easter to coincide some of Seville's vibrant festivals (including the Semana Santa de Sevilla, perhaps the most impressive religious carnivals in the world). If you prefer a quieter vibe, choose May when you'll still be able to take advantage of the warm weather, long hours of sunshine, fewer people, and that unmistakable aroma of Seville oranges wafting in the air.
If you are planning to go to Seville in the summer, you will need plenty of sun cream, a sun hat and at least one pair of sunglasses! Temperatures are still warm for most of the spring and autumn, but it can sometimes feel a little chilly in the evenings so a cardigan or jumper is a good idea. Take some comfortable shoes for exploring those cobbled streets.
Seville is known for being a rather conservative city when it comes to personal style so pack some smart clothes and nice shoes to wear at a restaurant.