City Break in Seville



Table of contents
Seville is the capital city of the province of Andalucia. Sitting on the River Guadalquivir, in the southwest, Seville is the 4th largest city in Spain. Ideal for a city break, there's history, grandiose monuments and architecture, fabulous food and flamenco rhythms that inspired Bizet to write the opera Carmen. Seville is a city of steamy summers, Moorish and gipsy charm and oozes with cultural heritage, ancient and modern.
5 things to see/do in Seville
1. Wonder at the Metropol Parasol
The world's largest wooden structure, this wonderfully modern architectural icon consists of six 'mushrooms' standing 28 metres tall. Located in the Plaza de la Encarnación, it is home to an archaeological museum, a concert stage, bars and a food market. Don't miss the 360-degree views from the panoramic walkway.
2. Tour the Alcazar Palace
Built by King Pedro the Wise, this 14th-century palace is one of Seville's most magical attractions. You'll marvel at gold ceilings and exquisite ceramic tiles indoors and peacocks, pavilions and pools outdoors.
3. Be Awed by Seville Cathedral
With its 80 individual chapels and nave that is 40 metres high, the Cathedral of Saint Mary of the See is the third largest cathedral in the world. Climb the Giralda bell tower, which was originally part of the mosque that previously stood in the square for fabulous views.
4. Walk the Plaza de España
Located in the Parque de María Luisa, the huge square is one of Seville's most beautiful and iconic landmarks. You're sure to be impressed by mosaic alcoves depicting the 48 different regions of Spain, ornate fountains and Venetian-style bridges over the canal, down which you can take a boat ride.
5. Take the Hop-on/Hop-off Tour
Following a circuit with 14 stops, the tour is a truly great way to see the city. Your inexpensive ticket is valid for 24 hours so you can spend the whole day taking in all the wonderful sights of the city. The bus ticket also includes free entry to numerous monuments and museums.
The best hotels for a city break in Seville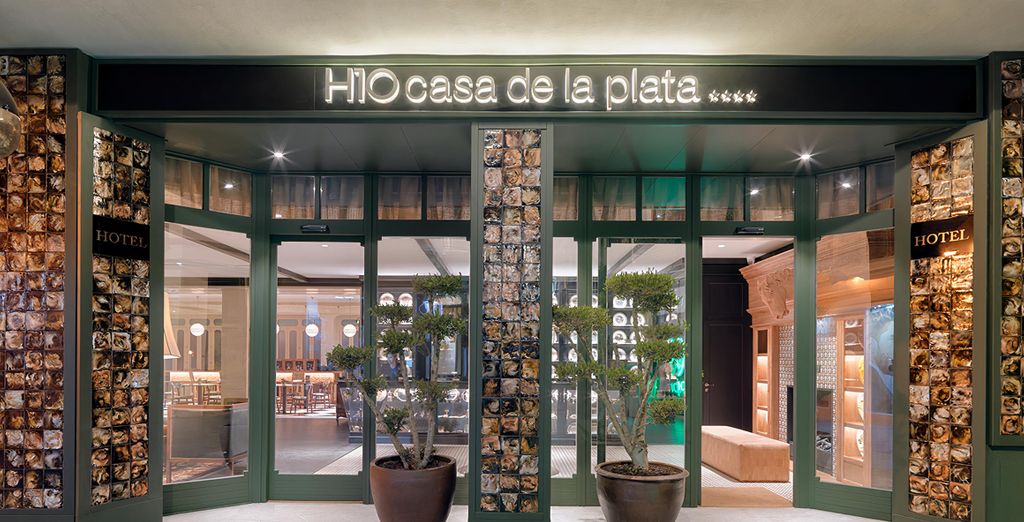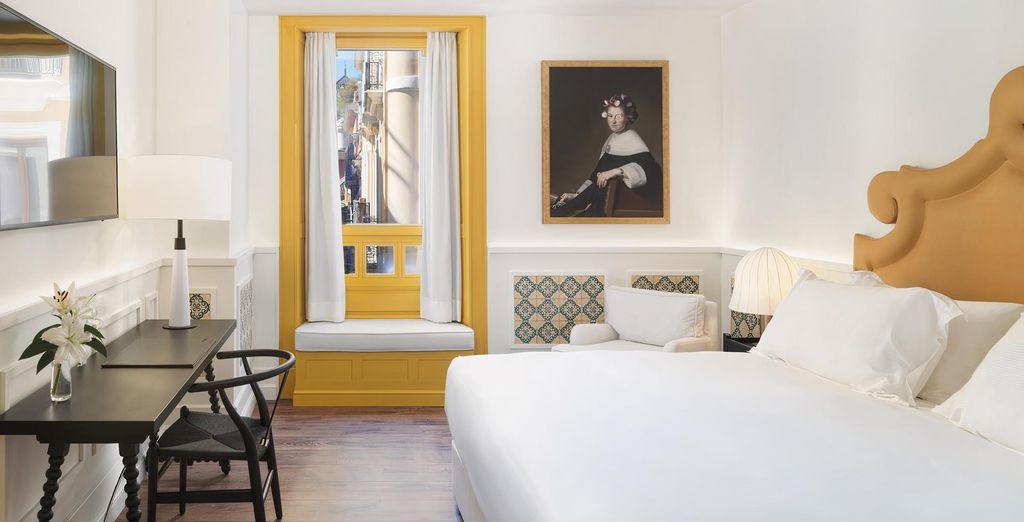 Built around a beautiful, traditional Andalusian courtyard complete with a mosaic pond, the hotel is in a central location in Seville, making it ideal for a city break. The stylish interior is also atypical of Seville, with decor inspired by grand stately homes of the past. The four-star facilities of this recently built hotel include a restaurant and lobby bar.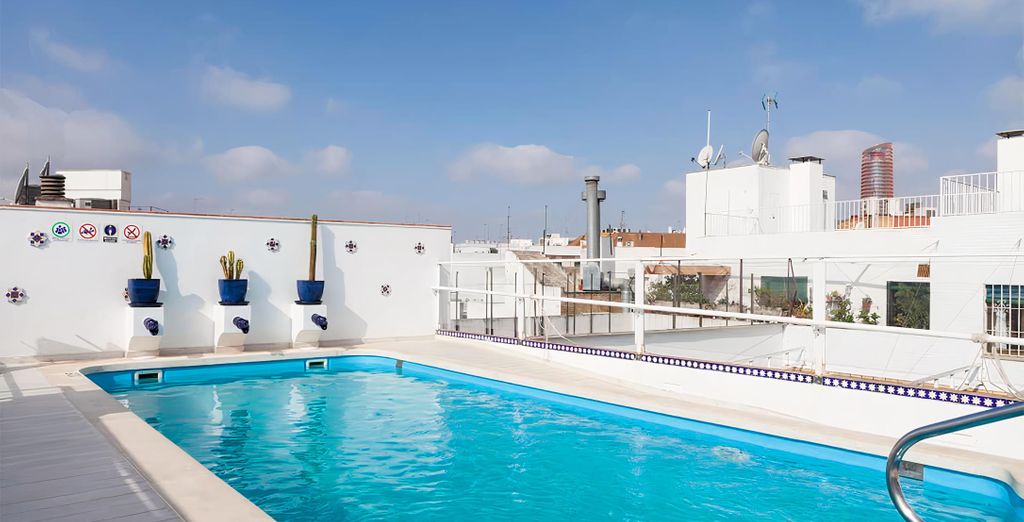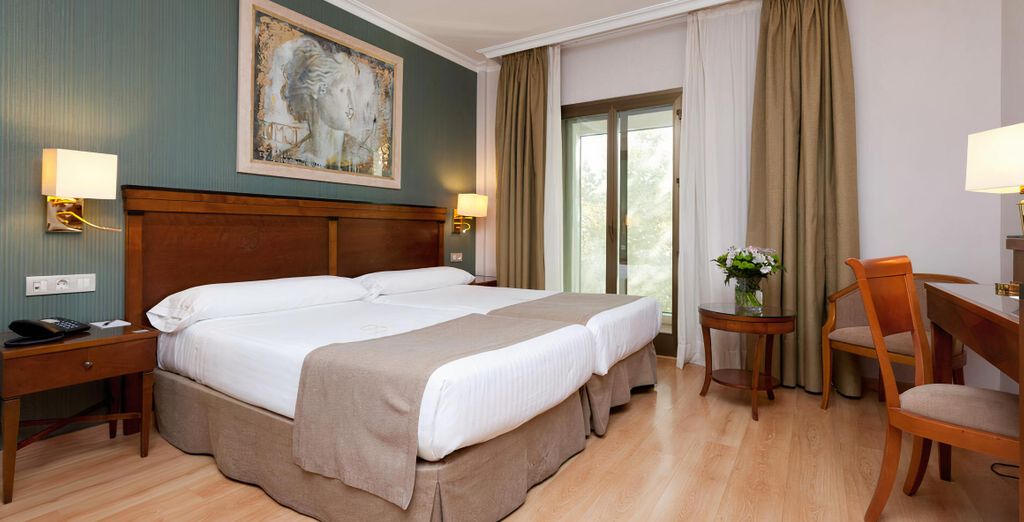 In the heart of the Old Town, close to the popular attractions, 4-star Hotel Bécquer has a rooftop outdoor swimming pool and terrace that offers fabulous views over the city. Fusing modern design with the original building of the former palace of the Marquis de las Torres, the hotel is bright and comfortably welcoming. Facilities include bar service at the pool and a restaurant.
If you prefer a coastal destination, the Estepona Palace in Marbella is less than a 3-hour drive away from Seville. Located right on the seafront, the hotel is typically Andalusian in architectural style with modern, bright interiors. Facilities include an outdoor swimming pool, spa, and various restaurants and bars.
Plan your city break in Seville
The best time of the year to go to Seville
Seville has steamy hot summers, so spring is a much nicer time to visit. The temperature is pleasant, and the gardens around the city are beginning to bloom. Spring is also time for two important events in Seville's calendar, Holy Week (Easter) and the Feria de Abril (April Festival). The festivals mean it is a busy time so expect some crowds, but the events are the best reason to visit.
Going on a city break in Seville
Seville is served by an international airport located just south of the city. Transfer time from the airport to the city centre is roughly 20 minutes. Transfer options are bus, taxi and car hire. Getting about in the city is easy via public transport. There is a metro with 22 stations and a city-wide bus service. A tram service operates in a small area of the city centre. Seville is well connected to other cities in Spain by rail and road.
Where to eat in Seville - the best districts and restaurants
Seville's food scene is as vibrant as any Spanish city with a wide selection of high-quality restaurants presenting Spanish and global cuisines along with small bistros and tapas bars. The city has two Michelin-starred restaurants, Abantal and Canabota. For tapas, a must-visit is El Rinconcillo, the oldest tapas bar in Seville. If you want to pick up local goodies for a picnic, head to Mercado de Triana which also has some inexpensive restaurants and if you really want to dig deep into Seville's culinary scene, take a food-themed walking tour.
Nightlife in Seville
As is common in Spain, people in Seville eat late and partying starts around midnight. Often described as a party city, Seville has nightlife to suit all tastes with cocktail bars, nightclubs and flamenco bars. The Alfalfa neighbourhood in the city centre is a popular gathering place for clubbers while Triana is a must for flamenco fans.
Our practical advice for a city break in Seville
What to pack for a city break in Seville
Pack for the season in which you travel to Seville. This means clothing for a warm spring and autumn, hot summer and mild winter.
What budget to plan
For a city break in Seville, Voyage Privé offers discounts of up to 70% on hotels. Attractions are inexpensive to visit, especially with organised tours that offer major entry discounts. Travel is also cheap with 3-day travel cards available.
Useful information before going to Seville
English is widely spoken in Seville, particularly around the main attractions and nightlife areas. The city is very relaxed but be respectful if visiting religious places of interest (clothing especially).