Top 10 Hotels in Florence



Table of contents
Visit our Top 10 hotels in Florence ✅ Book your trip Online Flight / Hotel ✈ Enjoy Discount up to 70%. Enjoy the Renaissance style of Florence.
Our best hotels to Florence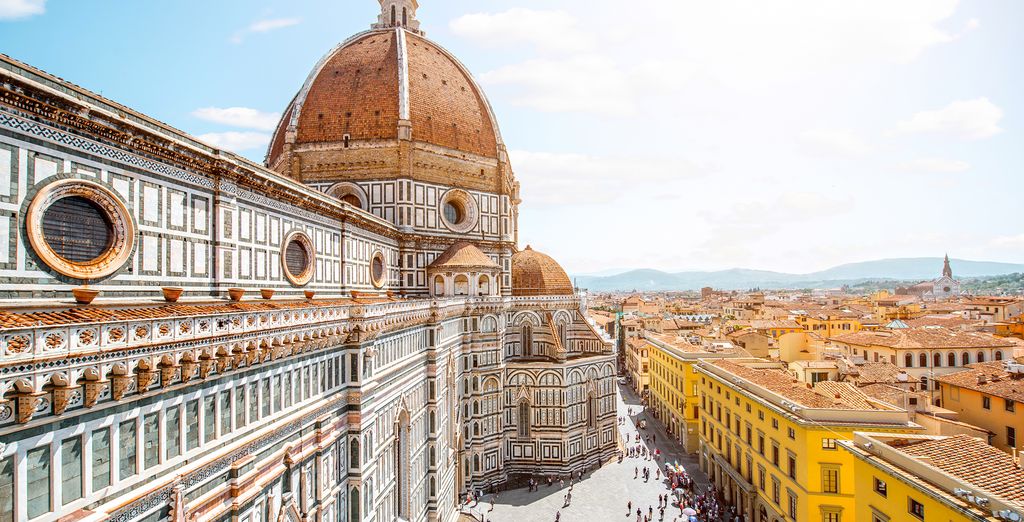 Stay in the luxury surroundings of this contemporary hotel with a minimalist design. They provide free wifi, a fitness centre, massage parlour and breakfast in bed. What really makes this hotel stand out is the hot tub and its stunning panoramic views.
Reviews – Average score 8.2/10
This hotel provides the perfect starting point for exploring the history and culture of Florence. It is just a 3-minute walk from the Academy of Fine Arts, which hosts Michelangelo's David. There are famous artworks hanging in the hotel's lounges and reading rooms, making this the perfect spot for those interested in art and culture.
Reviews – Average score 8/10
The design of the hotel and the artwork displayed will instantly transport you back to Renaissance Italy. Within walking distance are famous landmarks such as the cathedral and the Church of Saint Maria Novella. The hotel is renowned for how friendly and welcoming the staff are.
Reviews – Average score 8.6/10
Designed in the late 1800s in gothic style, this hotel will fully immerse you in the city's culture and heritage. You won't have to travel far to soak up even more of the city's culture. Palaces, cathedrals, and art galleries are all just a short stroll away.
Reviews – Average score: 9/10
A wonderful space illuminated by natural light coming from the large windows. Apartments come with free wifi, a kitchenette, coffee machine and Jacuzzi bath.
Reviews – Average score: 9.6/10
Stay next door to the Santa Maria Novella and the Bascilica di San Lorenzo, two of Florence's most famous sites. The English author John Milton wrote his classic book, Paradise Lost, in the rooms of this hotel.
Reviews- Average score 8.6/10
With Art Deco style interior design, Hotel Berchielli, combines classic and contemporary elements. Situated on the banks of the river Arno, this hotel is famed for its stunning views, which can be enjoyed from the tranquillity of the rooftop garden. Former guests include Pablo Picasso.
Reviews – Average score 9/10
Staying here is not just about viewing Florence's historic buildings it's about living in one. Build within a medieval church, this hotel allows you to experience historic architecture up close while living with contemporary comfort and luxury.
Reviews – Average score 9.2/10
9. C-Hotels Joy 4*
Centrally located only 150 meters from the train station. All the city's top attractions are with walking distance from the hotel. Free wifi is available in all rooms and the hotel has a breakfast room and bar.
Reviews – Average score: 8.6/10
10. Palazzo Castri 1874 4*
Perfectly blending history and the present this 19th-century hotel has been refurbished and reopened in 2015. The lobby hosts the original fresco painted in 1874 while the hotel offers modern amenities such as; spa, massage, fitness centre, outdoor pool, restaurant and bar.
What services will you find in our hotels to Florence?
• Free wifi
• On-site bar
• Breakfast
• Fitness Centre
• Massage
Hotel rental offers at Florence convenient for all kind of travel
Many of our hotels in Florence offer either car or bike rental services, helping you to get around the city more easily. For solo travellers and couples taking a leisurely bike round around picturesque Florence can be a great, relaxing way to spend an afternoon. For those with children or who are looking to explore a little further afield, car rental provides you with the perfect opportunity to get out and about, making sure you don't miss any of the amazing attractions on offer.
The range of hotels we offer at Florence
We offer a variety of different hotels so you're sure to find one suitable for the holiday you want. We have hotels in historic buildings filled with renaissance artworks and we also have modern contemporary hotels. We have hotels in the heart of the city centre giving you access to everything you could want on your doorstep. We also have hotels further from the centre providing you with more quiet and relaxation. We offer classic hotel rooms and apartments with self-catering facilities.
Florence: What should we bring for a hotel stay?
Our hotels provide all basic toiletries although an extra towel is sometimes useful. One of the key things to remember is to bring a plug adapter from your home country, so you can charge up all your accessories. The Italians are very stylish so bring a good pair of shoes you don't mind getting dirty from long walks along the dusty roads.
Your best hotel in Florence: How to get there and make your booking
Our highest rated hotel in Florence is the Domux Home Ricasoli. The nearest airport is in Pisa, which is 95.9km away and takes about 1 hour and 18 mins to get to the hotel. If arriving by train the closest station is Firenze S.M.N, located just 1km away, a 13-minute walk.
To book register with Voyage Privé by going to our website www.voyage-prive.co.uk and selecting the 'Join for free' option. From there simply provide your email address, a password, and agree to the terms and conditions to register your account. Then search for your desired hotel or destination.
The opinion of the Voyage Privé travel expert on hotels to Florence
Famous worldwide for its magnificent art and architecture, Florence is the ideal destination for cultured travellers. The numerous art galleries and churches to visit could keep even the most active travellers occupied for days on end. Stay at the Hotel Cellai, to find yourself in the centre of the action, minutes away from some of the best the city has to offer.
Florence, a city of history and culture
Florence is the capital city of the Tuscany region of Italy and the birthplace of the Renaissance. Much of European history has been shaped by the remarkable cultural output of this beautiful city. To travel to Florence is to see the soul of Europe.