Enjoy great holiday deals to Sardinia



Table of contents
Great deals to Sardinia : Go explore beaches and fascinating historic culture ⭐ Flight+Hotel | Hotel Only | Discounts up to -70% ✅ Book Now !
Sardinia's beautiful beaches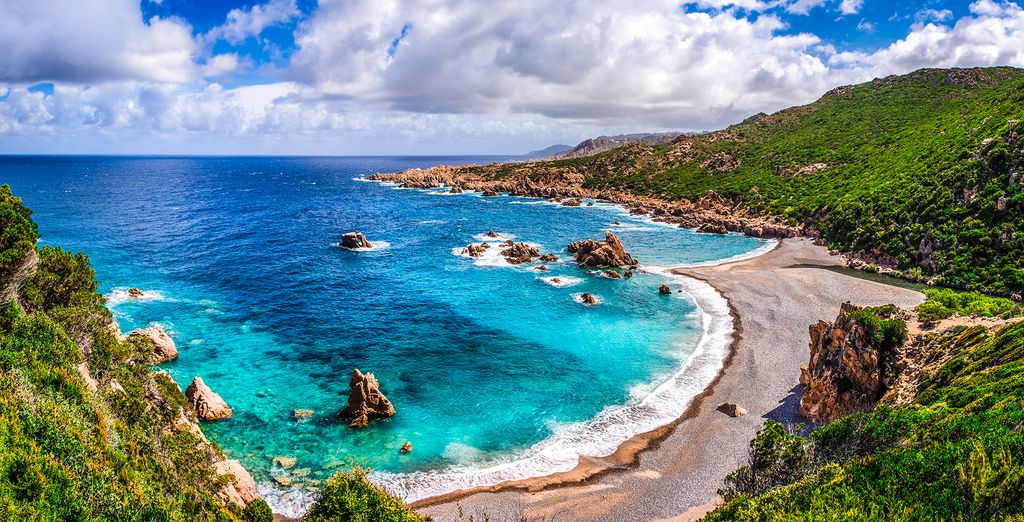 Located in the Mediterranean Sea, the island of Sardinia is part of Italy, but has its own traditions and culture. Sardinia boasts hundreds of beaches, all of which have golden, silver or white sand, with clear blue sea that's ideal for bathing, swimming and watersports. There are many more quiet coves around its 1,000 km coastline, where you can relax in peace and tranquillity, away from the crowds. Many of the beaches are popular tourist havens, where you can buy ice-cream and snacks, while there are also contrasting "wilder" beaches if you're looking for privacy in non-tourist areas.
Watersports are popular on the Sardinian coastline, where sun holidays are complemented by the wide variety of activities on offer. The coastline offers endless opportunities for watersports, from basic canoeing to international yachting. For windsurfers, kite surfers and sailors, Porto Pollo, on Sardinia's north east coast, has ideal conditions, hire centres and tuition. Sardinia's clear waters are a haven for scuba divers, from beginners to experts. Alghero is a popular resort for diving, with many fascinating, deep caverns to explore.
Sardinia's culture
Sardinia is home to the unique Nuragic complexes, monuments from an ancient culture dating from the 16th and 15th centuries BC that remains a mystery to this day. The structures, built from stone around a central tower, are the focal point of world-famous archaeological sites, allowing modern-day visitors a glimpse of domestic life and ancient rituals from thousands of years ago. One of the major sites, the Barumini complex in Cagliari, is on the UNESCO World Heritage List.
Sardinia's cuisine and hotels
Sardinian cuisine is rich and varied, with something for every taste. Try dining al fresco, with restaurants offering fare such as substantial antipasto platters, pizza, fish and meat dishes. Other popular local delicacies include fregola sarda, comprising pasta balls in a seafood sauce, and various locally-caught seafood, such as mussels with fresh tomato. Lorighittas, a special pasta served with sausage and tomato sauce, is another traditional dish, while variations of panadas (oven baked pies of fish, meat or vegetables) are served throughout Sardinia.
If you're looking for luxury holidays, the visitor accommodation in Sardinia won't disappoint, being among the best in Italy. Choose from picturesque hotels nestling on the hillside, with beautiful views over green fields, the beach just beyond, or five-star seafront hotels, with their own pool, where the priority is guests' satisfaction and the hotel staff will fulfil your every need. If you're looking for great deals to Sardinia, sign up today to take advantage of our luxury hotels at exclusive prices.