Corsica Sun Holidays



Table of contents
Visit the beautiful island of Corsica
The beautiful island of Corsica offers a wealth of natural beauty, sandy beaches, fascinating history and luxury accommodation for your holiday in the sun. Perfect for an active getaway with everything from snorkelling to hiking, this stunning Mediterranean island also provides ample opportunity to relax in the sun and enjoy the local cuisine and culture. Its breathtaking mountains, valleys, and coastline make Corsica a jewel amongst the regions of France. The island, which was the birthplace of Napoleon, has a rich and varied history, as reflected by the vibrant culture and warm welcome that it offers.
The Voyage Prive travel expert's opinion on Corsica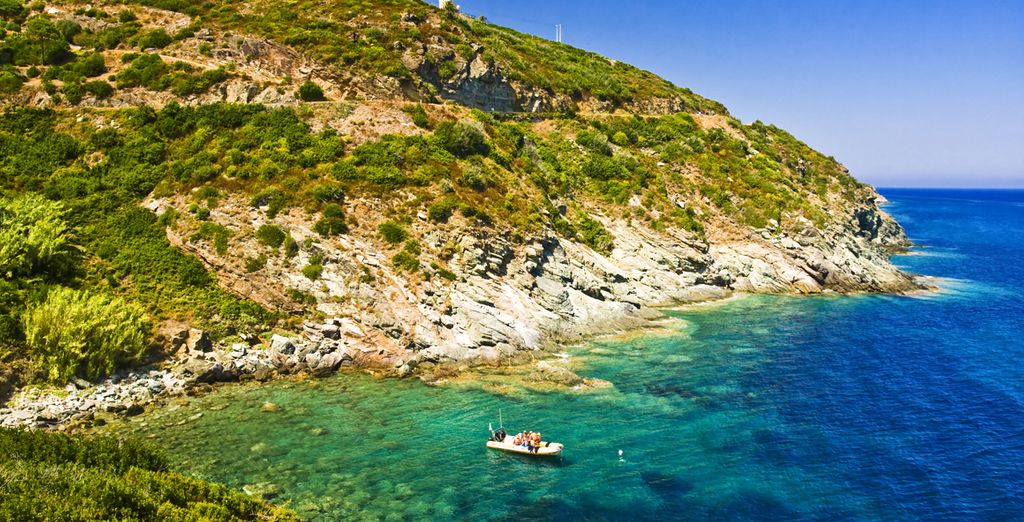 Corsica is a great holiday destination for families or couples who love to be active, but also want time to relax in the sun. The island offers a huge range of sporting activities including hiking, snorkelling, canoeing, boating and even paragliding - enough to satisfy even the most active holiday goer. This Mediterranean paradise also has 1000 km of the most glorious coastline in the world, with nearly 200 gorgeous beaches to choose from, so there will be plenty of opportunities to soak up the sun. The real beauty of Corsica as a holiday destination is its versatility. You can choose to enjoy the stunning scenery at a leisurely pace, in a more active way, or mix it up and go with your inclination each day. Added to all this is the chance to explore the history and culture of Corsica with historic buildings to visit and tasty cuisine to sample.
Top 5 things to see and do in Corsica during sun holidays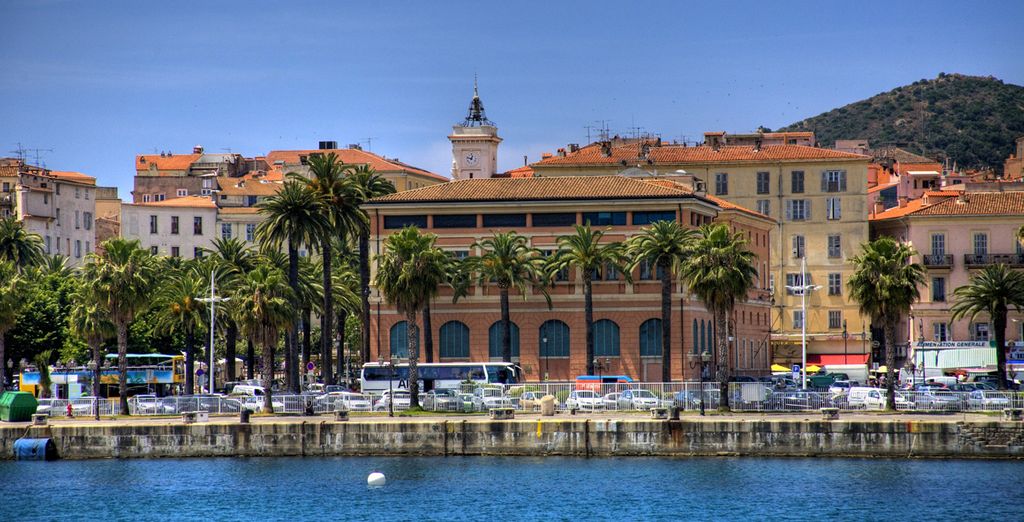 1. Enjoy beautiful beaches
You'll be spoilt for choice with nearly 200 gorgeous beaches around the island. From sweeping expanses of silver sand to the smaller hidden coves and majestic bays, Corsica's beaches are all lovely places to enjoy the sun. The most renowned beaches include Calvi and L'Ile Rousse to the north, and Palombaggia, Pinarello and San Ciprianu to the south.
2. Visit the villages of La Balagne
Perched seemingly precariously on the mountainside, the villages of La Balagne will give you a glimpse into Corsica's past and spectacular views out across the sea. The villages, which can be reached on foot along old mule tracks for a hike with amazing views, are brimming with history and local crafts.
3. The city of Ajaccio
Birthplace of Napoleon Bonaparte, the narrow streets of the capital city of Corsica are packed with sights to see. Visit Maison Bonaparte and see where the great man lived. The cathedral, the harbour, several museums and the local market all make Ajaccio a city well worth a visit.
4. Scandola nature reserve
This UNESCO world heritage site is one of Corsica's most famous sights. Its distinctive red granite rocks form breathtaking pinnacles and ravines which look simply stunning against the vivid blue of the sea. You can enjoy this majestic landscape on a boat trip which runs daily from Porto.
5. Hiking
Corsica is the ideal place to explore on foot, offering stunning natural beauty interspersed with historic buildings. Explore tracks, valleys and gorges, taking time to refresh at one of Corsica's multitude of amazing beaches or stopping for a bite to eat at one of the many excellent cafes and restaurants. Hiking in Corsica offers a superb way to experience the astonishing landscape of the island.
Which hotel to choose in Corsica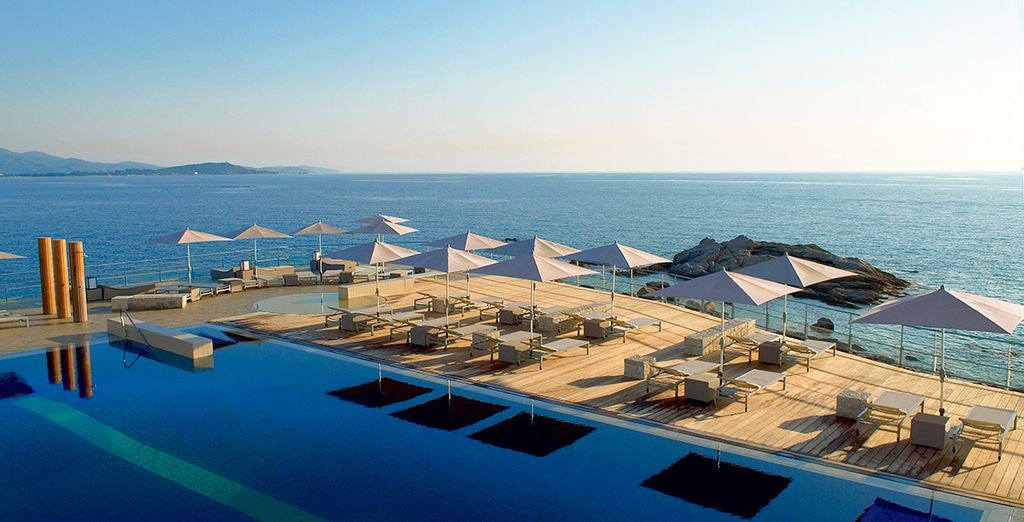 Hotel Sofitel Golfe D'Ajaccio Thalassa Sea & Spa
Relax and feel pampered at the luxurious Hotel Sofitel Golfe D'Ajaccio Thalassa Sea & Spa. This sumptuous hotel offers seafront gardens and sea views, an outdoor pool, hammam, sauna and a private beach. Enjoy the beautiful setting as you relax in style.
Marinca Hotel and Spa
Located on the stunning South Coast of Corsica close to amazing beaches, the Marinca Hotel and Spa offers beautiful views over the Valinco Gulf. At this luxury spa hotel, you can enjoy exceptional food and deliciously comfortable accommodation.
Hotel Le Golfe Piscine and Spa Casanera
Nestled in the heart of this beautiful island the Hotel Le Golfe Piscine and Spa Casanera offers guests luxurious accommodation with a complimentary 3 course meal and a 30% discount at the spa.
Boutique Hotel Artemisia
The Boutique Hotel Artemisia is set amongst the Corsican mountains in the idyllic village of Bastelica. Enjoy astonishing mountain views from your room.
Moby Dick Hotel
At the Moby Dick Hotel, you can enjoy sea or garden views. Located on the beaches of Santa Giulia, this contemporary hotel offers a chance to stay in one of the most beautiful settings on the island, with direct access to the beach.
Practical information about Corsica
The weather in Corsica
Summer weather in Corsica is warm and sunny, with an average temperature in the hottest month of July of 22 degrees centigrade (72 degrees Fahrenheit). It has an average of 2,793 hours of sunshine per year which is 7.5 hours a day.
For a sunny holiday, the climate on the island can usually be relied upon from May onwards, with plenty of sunshine and generally warm temperatures. The weather at this time of year is perfect for enjoying cycling or hiking. Temperatures rise steadily up to the highest point in July, but the sunshine can still be enjoyed as late as October.
Spending in Corsico
As a region of France, the currency in Corsica is the Euro. You will be able to find cash machines in the main towns and cities of the island, but not in some of the smaller villages. It's a good idea to carry some cash with you for things like parking, beaches and tourist sites. Prices for eating out on Corsica vary with where you choose to eat and the location of the restaurant. You will find lots of choice ranging from high end to budget.
In your luggage for sun holidays in Corsica
Don't forget to bring suitable shoes for hiking if you intend to do this. Otherwise, beachwear and clothing for warm weather are in order. Sunscreen is a good idea as the sun can be very strong. At certain times of the year, insect repellent can also be worth packing as it is a Mediterranean climate.
Book your exclusive luxury Corsica holiday in the sun now with Voyage Prive.
Find more travel deals: France holidays, south of France holidays, last minute France, great deals to France, France travel guide, sun and beach holidays, italian beach holidays, sun holidays.
Sun holidays in the region