Last Minute Deals to Sardinia



Table of contents
Sardinia is a wonderful destination for a last-minute trip; Cagliari, the capital, and the numerous coastal resorts are home to many highly recommended Voyage Prive hotels. And the balmy Mediterranean climate, the glorious scenery and sea views are only a two-minute flight from the UK.
Where to stay at the last minute in Sardinia? The best hotels of Voyage Privé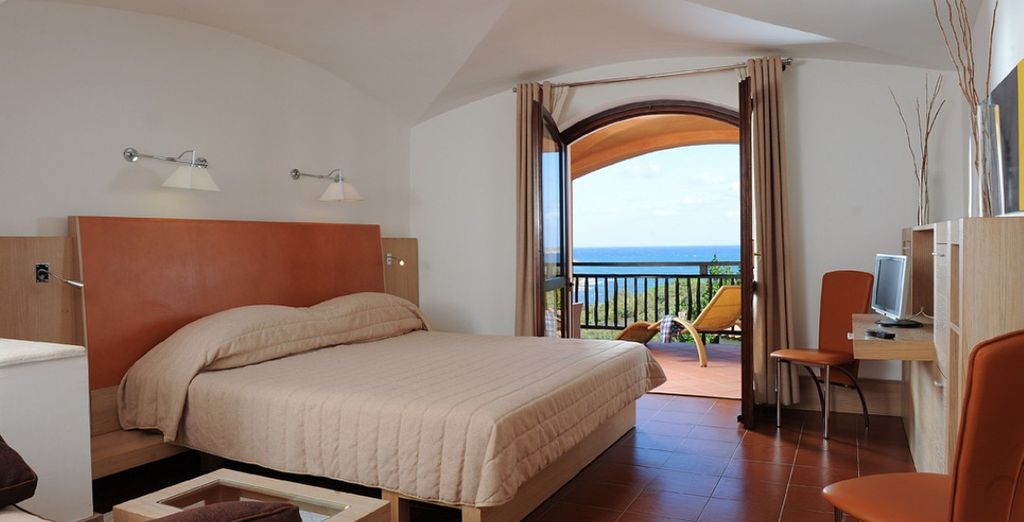 This charming four-star hotel with access to a private beach has been sensitively designed to nestle perfectly into the surrounding rugged hills. Its typically Sardinian architecture welcomes guests to an oasis of a Mediterranean landscape of great beauty, overlooking the beautiful Golfo di Pevero.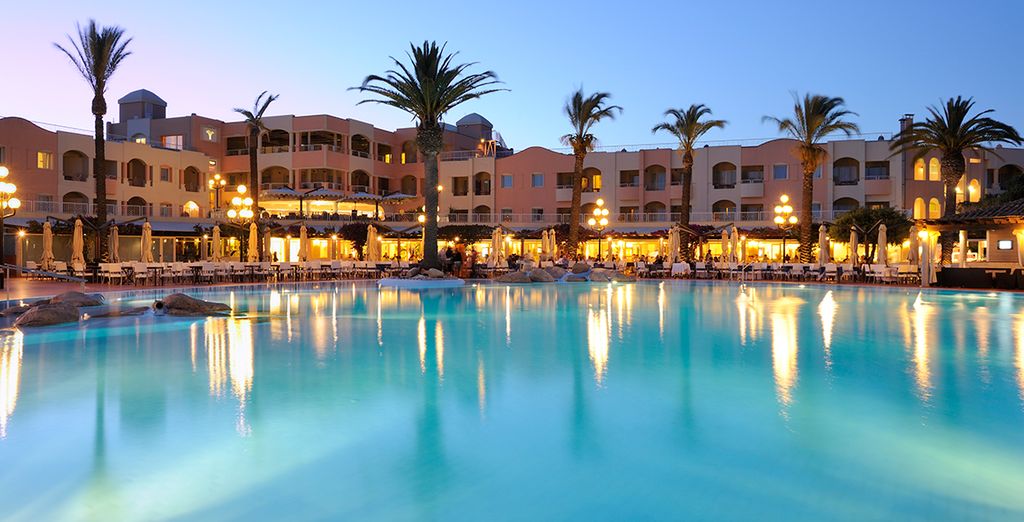 the five-star Hotel Pullman Timi Ama boasts a glorious location amid the Capo Carbonara Protected Marine Area. The hotel is adjacent to a natural salt lagoon and is only a short stroll from the beach.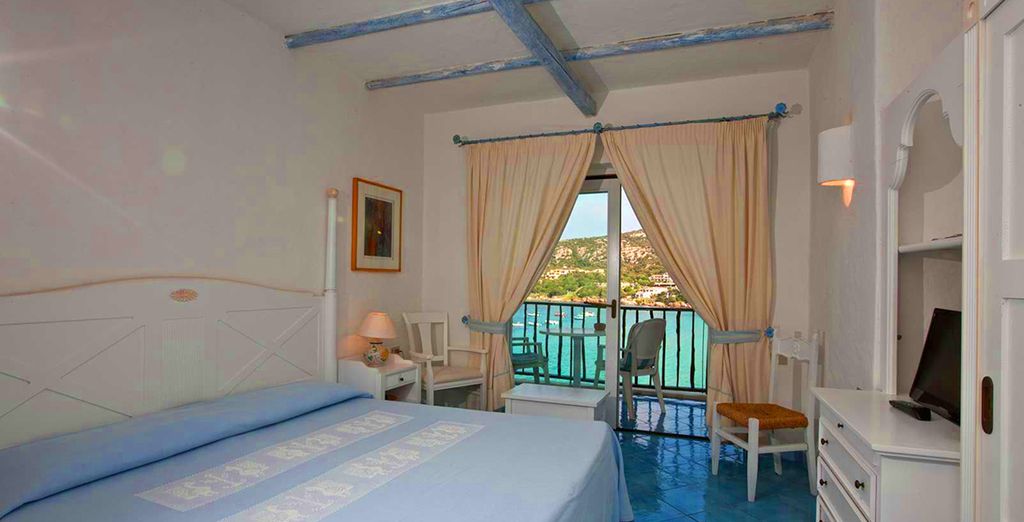 Ideal for a relaxing break, this beachfront hotel is located on a quiet and secluded part of the island. Choose a sea-view room for amazing views of the Mediterranean/
Enjoy an evening meal in the hotel restaurant or a cocktail on the terrace overlooking the azure sea below
How to book your last minute holidays in Sardinia
Booking a last-minute Sardinia trip is very straightforward with Voyage Prive. Simply register online, which you can either do via Facebook or by providing your email address - to take advantage of exclusive members-only offers for luxury hotels. Voyage Prive members can enjoy different types of hotel options: all-inclusive, transfer included, car rental, half board or full board - the choice is yours.
What kind of offers can I find at last minute for Sardinia?
If you are looking for a last-minute trip to Sardinia, you will be spoilt for choice at Voyage Prive, which has an extensive choice of deals available. Choose from a package holiday, a Flight and Hotel option, Hotel Only, or Adult Hotel only. It is easy to filter the type of last-minute holiday you want on the website.
Whether you want a solo beach holiday, a family trip or a romantic break, a Voyage Prive booking is the trusted way to ensure you have an unforgettable holiday.
And, as Voyage Privé offers can be up to 70% off, you can look forward to a premium holiday at a very exclusive price.
The?5?best things to see/do in Sardinia
1. Visit Cagliari

Cagliari is the capital of the island and a visit to Sardinia would not be complete without exploring the city. The Museo Archeologico Nazionale in the Castello area has exhibits that date to 6000 BC, while Molentargius-Saline Regional Park is an important site for flamingos - you can see tens of thousands of the beautiful pink birds.
2. Dive with dolphins at Golfo Aranci
A flourishing group of bottlenose dolphins frequent the waters of the Golfo Aranci (perhaps because of the vicinity of a nearby fish farm that offers regular and rich pickings). The Gabbiano Azzurro Hotel hosts boat trips that allow visitors to get really close to the dolphins and observe them feeding and playing. It is even possible to snorkel alongside them.
3. The ancient archaeological site of Nora
Nora is the location of Sardinia's best Carthaginian and Roman ruins, which encompass temples, mosaics, and thermal baths. It is a spectacular site that overlooks the sea making it even more photogenic. We recommend booking a tour as the guides are very informative, keen and knowledgeable. There is also a very appealing turtle sanctuary nearby.
4. Visit the costume museum of Nuoro
The Museo del Costume demonstrates the island's rich heritage as expressed via its jewellery, costumes, and musical instruments, such as a 3,000-year-old launeddas. If possible, go on the first Sunday of the month to take advantage of the free admission.
5. Go walking in the wild interior of Sardinia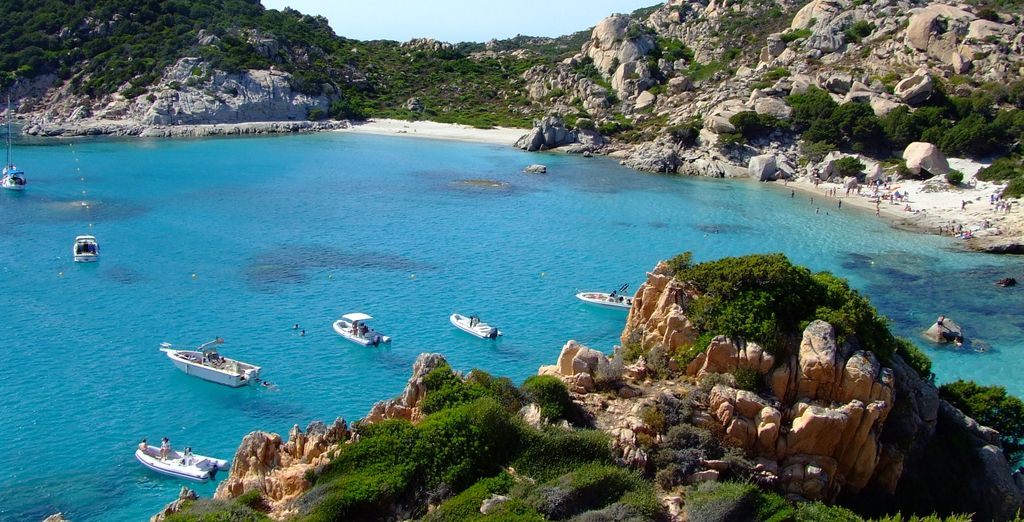 The ultimate way to explore the beauty of Sardinia's interior and coastline is on foot. Keen hikers will be impressed by the island's numerous trails and varied landscapes. The mountains may be relatively small but they offer a rare solitude provided by their untouched wilderness.
Our practical advice for Sardinia
What to pack for a last-minute holiday in Sardinia?
Hiking boots and a water bottle if planning to explore the island's trails on foot.
Sardinia is part of Italy so opt for smart/casual and stylish clothes, especially if planning to dine out in the evening in the main towns. Bikinis and swimsuits are fine for the beach but cover up a little if exploring churches and villages inland.
The climate of Sardina is warm so pack summer clothes, although you might want to pack jumpers and a light raincoat for the evenings or if the weather turns chilly.
What budget to plan for a last-minute trip to Sardinia?
Set a budget for each day of your trip and include the cost of eating out and travel, as well as any excursions. You are on holiday so it is also a good idea to plan an additional budget for any extras. With Voyage Prive's discounts of up to 70%, you can enjoy even cheaper prices with exclusive last-minute offers.
Useful information before going to Sardinia
Sardinia's currency is the euro and Italian is the main language, although Sardo is still widely spoken and understood and there are many other local vernaculars. However, most service staff in hotels and resorts will be able to speak English.
Sardinia is a very safe place to visit and crime levels are very low. The best time of year to visit the island is during the shoulder months of September to October or April to June when the weather is still hot enough to bathe in the sea but not too unpleasantly sticky for hiking or exploring museums.
The Voyage Prive travel expert's opinion on Last Minute trip to France
Explore the stunning landscape of Sardinia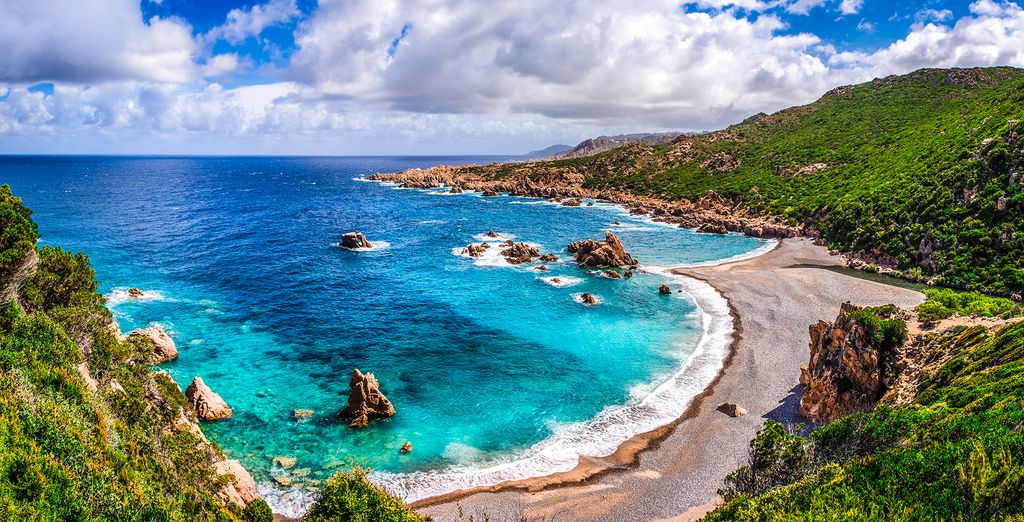 An enigmatic island in the Mediterranean, Sardinia welcomes visitors with dramatic granite cliffs, white-sand beaches, and a rugged coastline dotted with glamorous resorts. Relax on the idyllic beaches that seem to be everywhere on the second largest island in the Mediterranean, and discover the natural beauty of the island by discovering the amazing network of trails that will take you through lush forests, magnificent mountains, cascading waterfalls and deep gorges. The entire island is dotted with coastal towns and picturesque rural villages, each of them with its own choosing, culture and unique way of life.
Savour mouth-watering Sardinian delicacies
The Sardinian cuisine is sure to satisfy any appetite, so whether you are looking for luxury holidays in Sardinia or simply for a weekend escape, it is impossible not to be mesmerised by the smells and tastes of the food here. From prosciutto and pasta to cheese and lamb, there's something to suit every palate in Sardinia. Do not miss Malloreddus, a delicious kind of gnocchi served with tomato sauce and flavoured with saffron, and culurgiones, a type of round ravioli stuffed with a mix of spinach and cheese.
Diving and snorkelling in Sardinia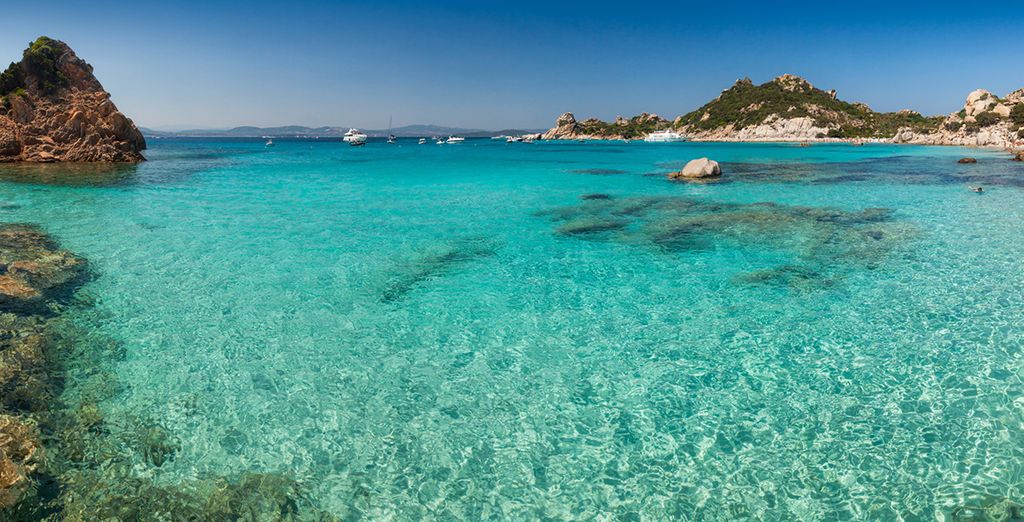 The legendary beaches of Sardinia make it really easy to enjoy the snorkelling experience of your lifetime. Some of the best spots to try are the Maddalena Islands in the north-east, Porto di Alghero in the north-west, and Cala Verde in the south-west. Whether you're an experienced diver or are looking to learn how to do it in Sardinia, the island is home to spectacular coral reefs and you can also discover ancient wrecks of ships sunk hundreds of years ago.
Discover the ancient culture of Sardinia
Take a break from your sun holiday to explore the wonderful historic and cultural attractions Sardinia has to offer. From archeological museums to ancient walls and impressive Christian churches, there is a lot to visit for the art lover or history buff in Sardinia. Do not miss Cittadella dei Musei, a modern complex of museums located high up in Castello, where you can explore an incredible collection of art and archeological artefacts.
Whether you want to enjoy a sun holiday in Sardinia or are interested in discovering the culture of the area and indulge in the fantastic Sardinian cuisine, our last minute deals to Sardinia are just what you need for a wonderful escape. Browse our offers for Sardinia last minute holidays and get ready for an unforgettable holiday.
FAQ Last Minute Sardinia
Want to leave to Sardinia at the very last minute ? With Voyage Privé you can book until the very last minute, depending on availability. Enjoy Holidays Deals up to 70% off !
Rated 9,8/10 by our members, the Hotel Cala Caterina 4* offers you a stay in the heart of beautiful gardens, near a magnificent beach of fine sand with cozy rooms. Hotel La Coluccia 4* has a large spa, an outdoor swimming pool, a magnificent view of the sea and a unique location in the heart of the cove of Conca Verde.
With Voyage Privé you can book your holidays to Sardinia even for a last minute departure ! You just need to register online for free to access all our current sales.
Last minute deals in the region