Sun Holidays Crete



Table of contents
Sun Package Holidays to Crete. ✅ Save up to 70% with our exclusive offers. Discover Crete's islands 🌴 : Aghios, Nikolaos, Elounda...
Travel to Crete
Crete is the largest and most popular of all the Greek islands and it attracts tourists from all across the world. So, why should you choose a fabulous sun holiday in Crete? What does this beautiful island have to offer you? Well, this Greek island has something for everyone and every age, as it really does carer for all tastes.
There are so many archaeological treasures that tourists love to explore, in particular, the ancient city of Minoan and the palm forest of Palm Beach of Vai are incredibly popular. Crete manages to blend this ancient mythical world with the best of modern day living. You'll be able to walk along the many stunning beaches, taste the local ouzo and savour the sumptuous local cuisine.
The Voyage Prive travel expert's opinion on sun holidays to Crete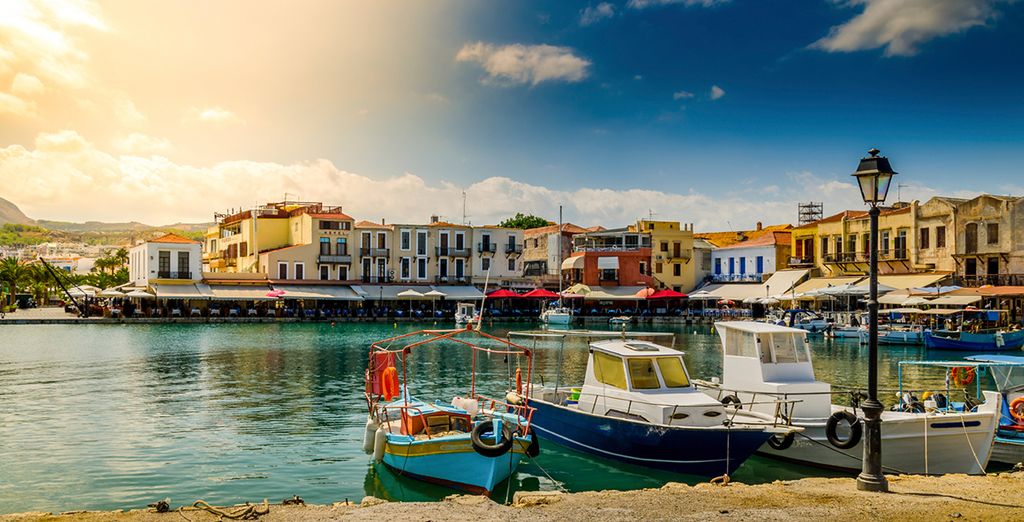 There are so many reasons why we suggest you enjoy a fabulous sun holiday in Crete, no matter if you are travelling alone, with your young family, or as a couple enjoying a romantic getaway. Crete really does feature everything you need for an ideal holiday.
If you're planning to holiday in sunny Crete as a family, then you won't be disappointed. There are family friendly bike trails for you to enjoy, a Dinosaur Park for your budding palaeontologist and the Minoan Palace that the whole family will love. Crete really is a family friendly place with its welcoming restaurants, family friendly beaches and the exquisite old town of Chania for you to wander around.
If you love all things cultural, then Crete has so much on offer as this island is steeped in such a rich history. There are monasteries, ancient palaces and Venetian castles, such as Kazarma castle located in Sitia. There are also numerous museums on the island including the Historical Museum of Crete and the wonderful Museum of Natural History.
If you're after a romantic break with great food then Crete is an obvious destination. The beaches are truly seductive with many hidden coves with stunning views of the Mediterranean Sea. Food also plays a huge role in this island and you really will be spoilt for choice. Enjoy the tasty salads, range of cream cheeses and the local delicacy, fried snails.
Top 5 things to do / see in Crete
1. Preveli Palm Beach

Preveli Palm Beach is stunningly beautiful, and if in Crete, you simply have to go there. Limestone cliffs and a palm forest overlook this long stretch of beach with views of the Kourtaliotiko Gorge. The beach is the ideal place to swim, as it is safe and secluded, enabling you to also canoe or to go on a boat ride. The location is also perfect for hiking to the Preveli Monastery.
2. Maritime Museum

This maritime museum spans two floors and features thirteen different displays starting from the prehistoric times on the island all the way through to modern day Crete. Here you'll find artefacts from shipwrecks off the island,
a torpedo boat replica, and many photographs from the Second World
War. There is also an extensive library of maritime books.
3. Hania Archaeological Museum

Many visitors flock to this interesting museum as it is housed in an exquisite Venetian Church that dates back to the 16th Century. Here you'll find gold jewellery, black Roman floor tiles and ancient scripts. There is also the exquisite statue of Hadrian, the Roman emperor. The Roman artefacts you can view here are simply quite staggering.
4. Crete Aquarium

This is a huge aquarium that is located in a former military base. You'll be able to see over 2000 types of marine life that all call the Mediterranean their home. You'll find everything from jellyfish to sharks to clown fish, plus an interactive guide to help you navigate your way. It's for everyone, young and old.
5. The Palace of Malia

It is thought that this once majestic palace dates back as far as 1900 BC. Today you can see the ruins of the Second Palace that truly give you a feel of how exquisite this Palace was once in its heyday. It's easy to get to, with a local bus service running from Iraklio.
Which hotel to choose in Crete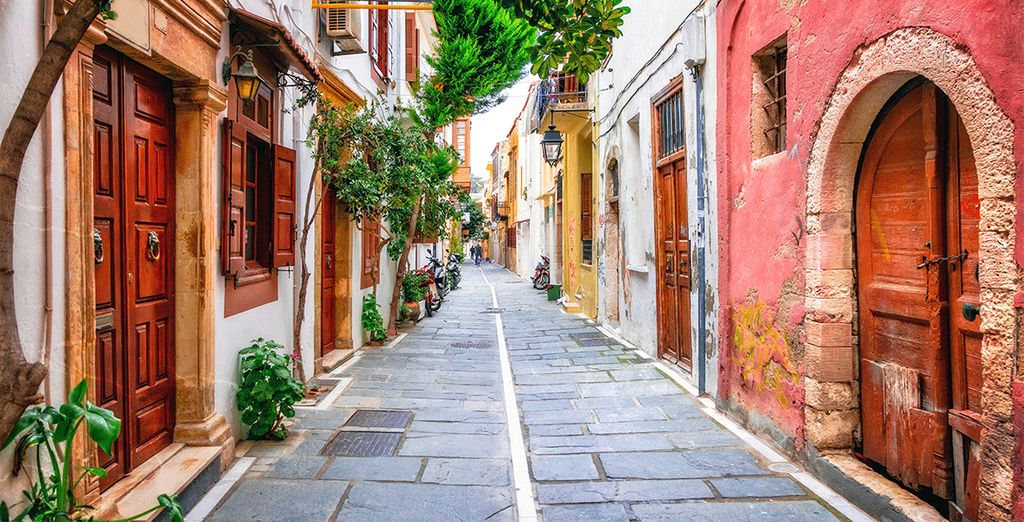 The Elounda Peninsula All Suites Hote

This exclusive hotel offers pure decadence and indulgence. You have access to the luxurious award-winning spa, golf course and private beach. It's the perfect location for a relaxing break.
Esperides Villas & Spa

This modern hotel is beautiful and classic in its design. You'll be welcomed into this Mediterranean themed hotel with open arms, with views of the Agean Sea, swimming pools and the sheer joy of eating at the a la carte restaurant.
The Vitamin Sea and Sun Resort Hotel

Located along the seafront in Stalis, this luxurious hotel is perfect for those seeking relaxation in a seafront location. It's the perfect retreat for couples seeking a romantic break.
Cretan Pearl

The Cretan Pearl resides on the West coast of the island and is only a short distance from Chania Town. The resort boasts two restaurants, how large cafes and two swimming pools.
Practical information about Crete sun holidays
Many tourists ask about the climate of Crete, and when it's best to travel there. The great news is that Crete is blessed with a Mediterranean climate with exceptionally mild winters with a high of 17 degrees centigrade. In the height of summer, you can expect temperatures to exceed 30 degrees, so when you go very much depends upon if you like the heat.
When it comes to budgeting for your holiday, the good news is that Crete is very affordable. Local currency is in euros, with food and drink being readily available and at a reasonable price. There are so many cafes and bistros, that you'll always find somewhere to eat. Tipping is also usual practice for excellent service in a restaurant.
Crete has a wonderful local transport system with buses that go all over the island, they're also fairly cheap. The local taxi service is also relatively cheap, just remember to give a tip.
Discover more offers to Crete: Holidays, Hotels, sun holidays.
FAQ Sun Holidays Crete
Voyage Privé offers are only available to our member. Register online for free to access all our sales and book your next sun holidays to Crete
Voyage Privé has exclusive offers up to -70%. Choose your destination, hotel and options (car rental, transfer included, upgrade to a superior room, half pension...) and enjoy Sun Holidays to Crete.
Stay in a new collection of suites and villas at the Oh! All Suite Hotel 5* and enjoy stunning sea views, suites with private terrace and jacuzzi, a private beach and luxury restaurants. Or choose the Crystal Energy Hotel 4* with its mountain and sunset views, luxurious surroundings and spacious suites.