Hotels in Corfu Town



Table of contents
Below we discuss our best hotels in Corfu Town that will suit every type of traveller. From luxury accomodation to 5 star hotels, we have everything to make your stay a memorable one.
Our best hotels in Corfu Town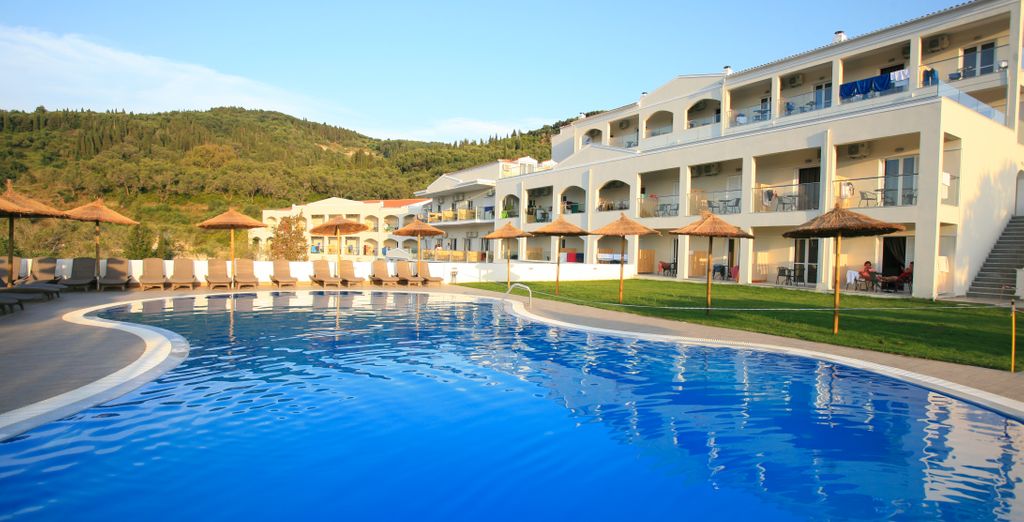 The beautiful Saint George Palace Hotel offers 4-star luxury in beautiful Corfu. The hotel boasts a large on-site swimming pool, on-site restaurant, and bar, with beautifully designed and comfortable rooms with great views.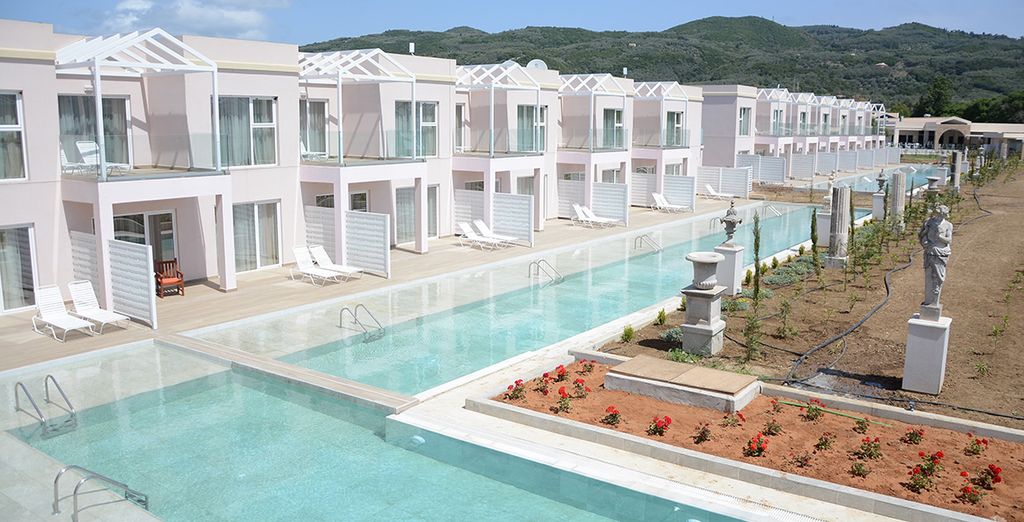 Every aspect of the Sandy Villasis tailored to your comfort and relaxation. The property boasts 2 swimming pools (with swim-up rooms available), an on-site restaurant, beach access, and a tennis court.

The Domes Mirame is a property like no other. It boasts serene waterfront scenery, a century-old olive tree garden, and a private beach. It's highly sophisticated with a heated swimming pool and offers luxurious rooms with everything you need for a magical trip.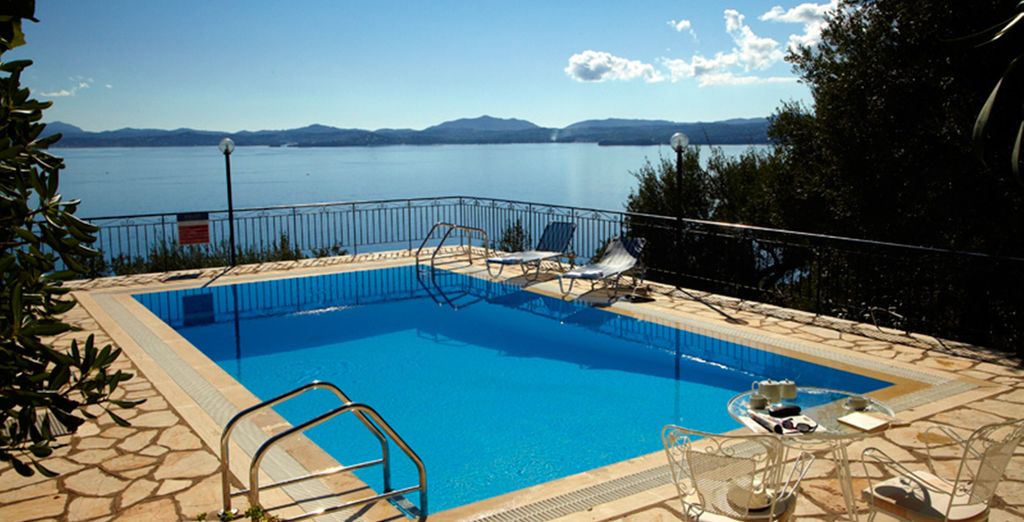 The Corfu Villas are amazing private villas with spectacular panoramic views to Corfu Town and beyond. If you want privacy and luxury combined in one, then this is the place for you. There is a range of 2 bedroom villas available including private swimming pools. A perfect spot for couples.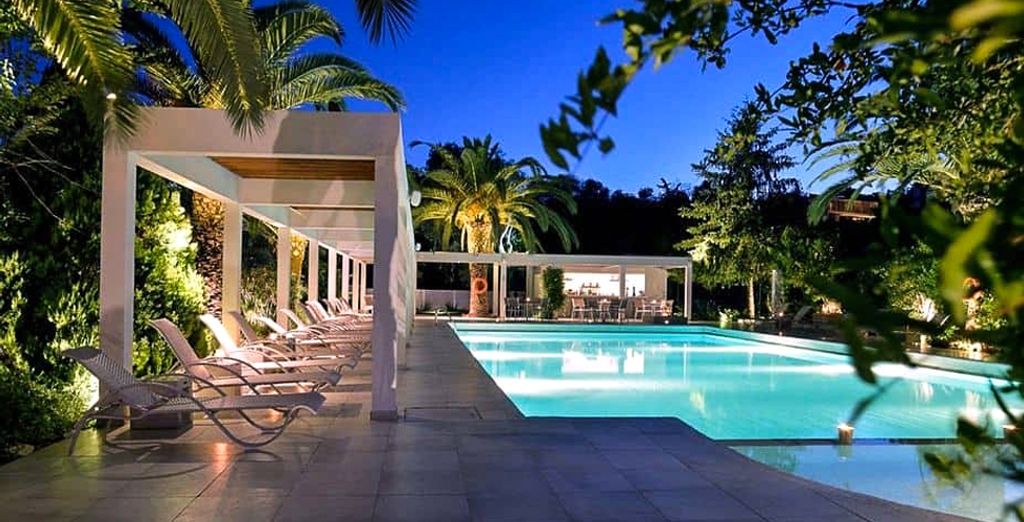 The Corfu Palma Boutique Hotel invites you into its peaceful haven for a wonderful escape. Featuring an outdoor swimming pool, wonderful on-site restaurants, and spa facilities, it's got all you need for a relaxing escape.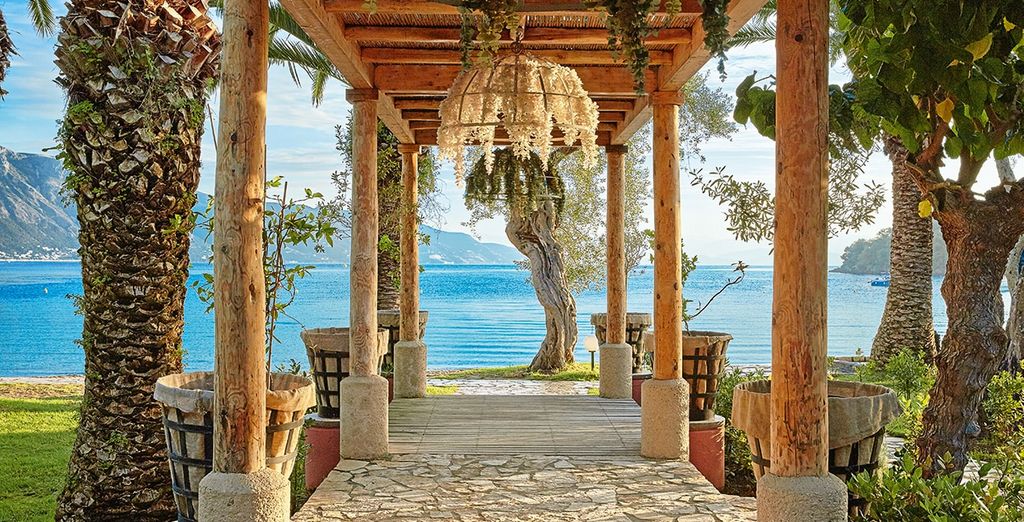 Overlooking the beautiful sea, the Grecotel Daphnila Bay is just 13 km from the historical Corfu town. The hotel offers an outdoor pool, beachfront restaurants, a spa and much more. This is an all-inclusive property to help make your stay even more relaxing.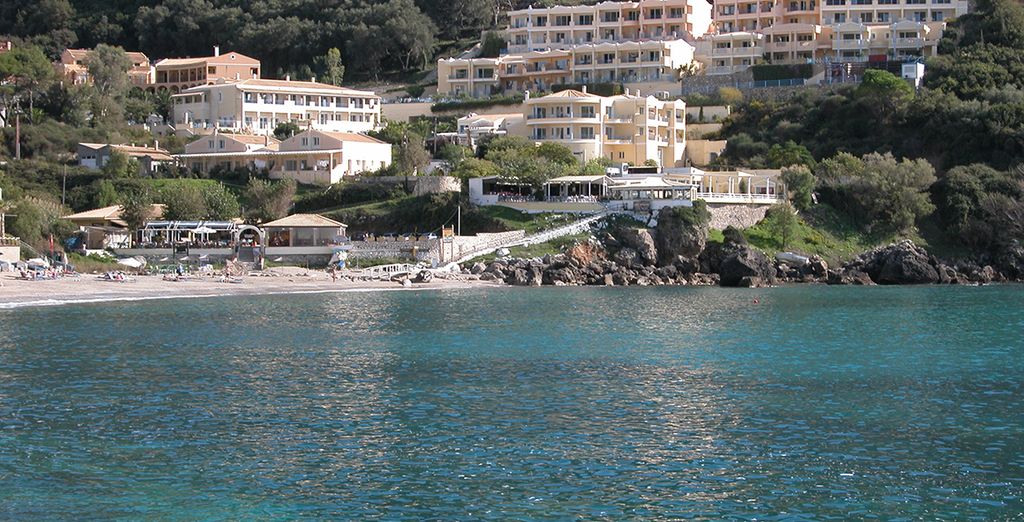 The Hotel Rosa Bella Corfu Suite & Spa is a 4-star hotel that offers everything you need for a relaxing stay. 150 metres from a beautiful beach, it has stunning ocean views. The hotel is close to Aqualand and has an outdoor and indoor swimming pool, jacuzzi, spa, an on-site restaurant, and a bar.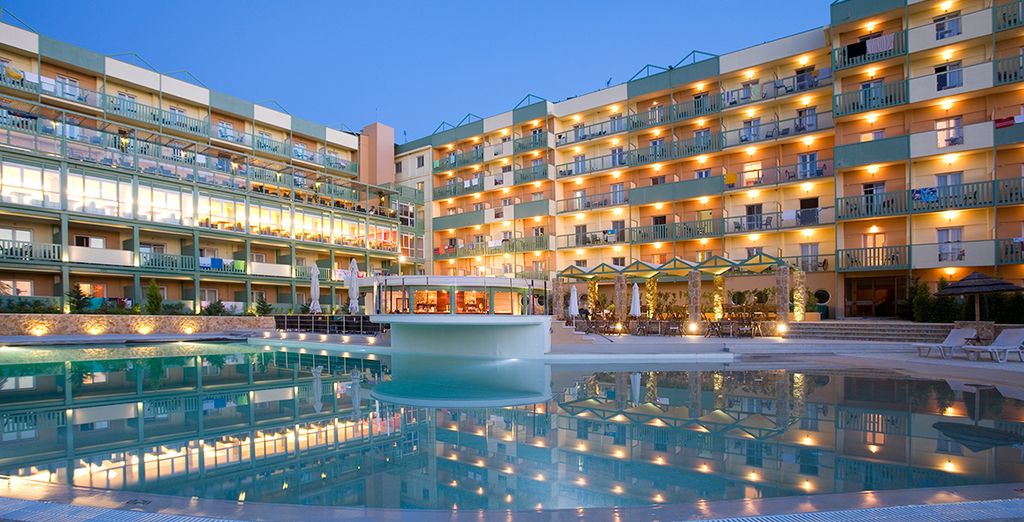 The Ariti Grand offers a fantastic swimming pool, a delicious restaurant serving authentic Greek cuisine, lake view rooms, a pool bar, comfortable rooms and much more. A perfect place to relax.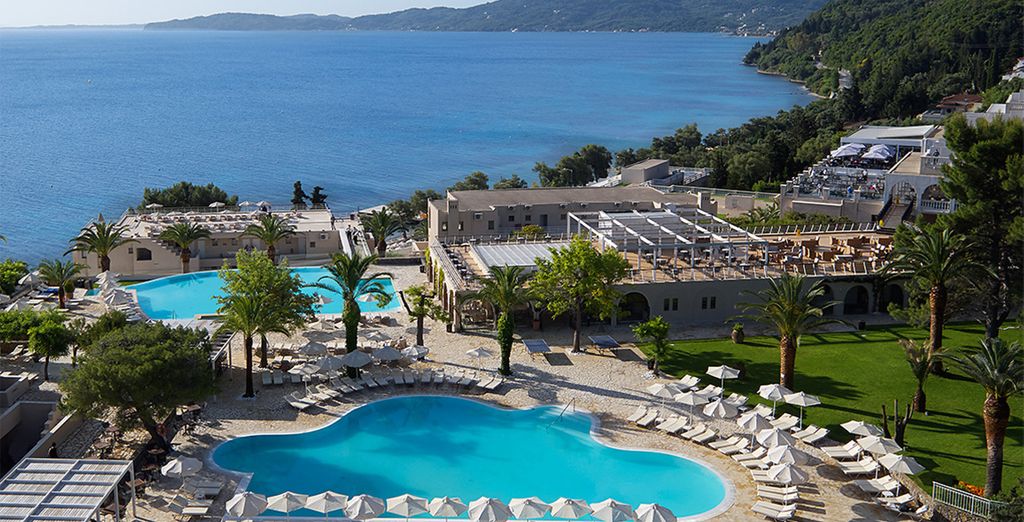 Just 30 minutes from Corfu Town, the Marbella Corfu Hotel 5* is the perfect place to gain both culture and luxury. It offers 6 on-site restaurants, spacious rooms with stunning views, an on-site spa, swimming pool, and beach access. You can also enjoy activities like kayaking, hiking, and tennis.
What services will you find in our hotels in Corfu?
You will find a wide range of services within our hotels in Corfu that will help make your stay a comfortable and memorable one.
Cocktail bars
On-site restaurants
Comfortable beds
Flat screen TVs
Stunning views
On-site fitness centre
Swimming pool (both indoor and outdoor)
Spa
Complimentary room upgrades
Discounts on food and drink
Free WiFi
Bed and breakfast
Golf access
Complimentary excursions
Hotel rental offers at Corfu Town convenient for all kind of travel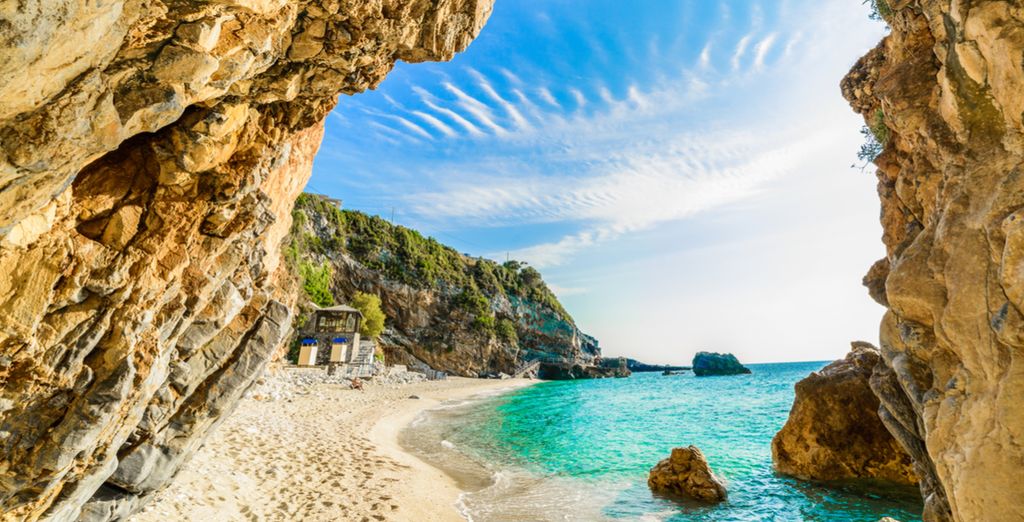 Corfu Town is the type of destination that suits those wanting to relax, explore and dabble in some fantastic nightlife. Whether it's relaxing on the beautiful beaches, or partying at the bars or trying your hand at watersports, Corfu will delight you. To enhance your trip even further, Voyage Prive offers a range of additional add-ons that you can opt to include during the booking process.
The range of hotels we offer in Corfu
From stunning 5-star hotels and private villas, our range of hotels in Corfu Town bring something to suit everyone. Current offers include a 5-star escape to the luxurious 5 star Sandy Villas and many more.
Corfu: What should we bring for a hotel stay?
Most hotels will have everything you need for an amazing stay, but there are some items you should bring along to ensure you're completely comfortable (and don't miss anything!)
Phone chargers and European adaptors
Bathing suit
Sunscreen
Your favourite toiletries (if there are some you simply can't live without!)
Any medications you may require during your stay
Aftersun (just in case!)
Passport and travel details/documents
Money and credit/debit cards
Your best hotel in Corfu: how to get there and make your booking?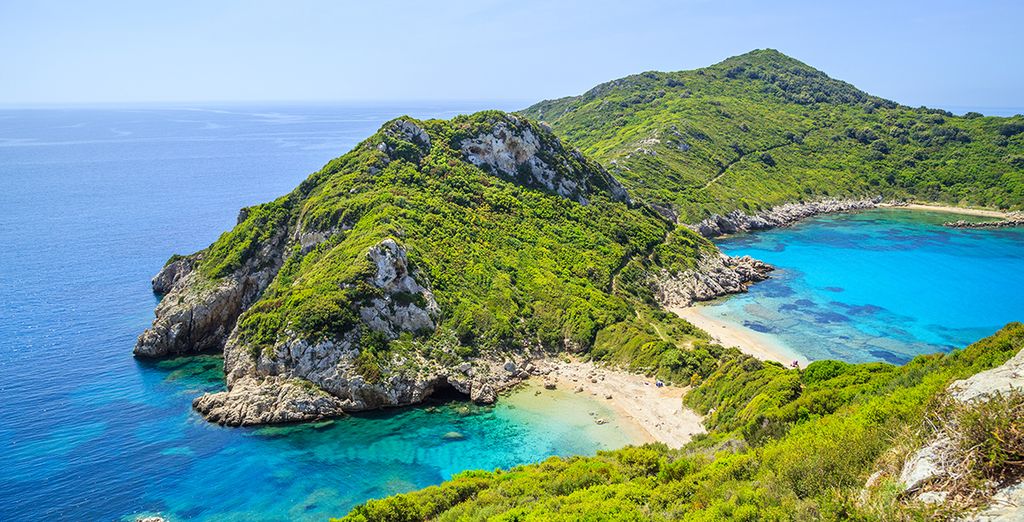 Getting to Corfu: It's easy to get to Corfu thanks to many flights from the UK.
Flight time from the UK to Corfu is around 4 hours and 5 minutes when travelling from London Heathrow (LHR) to Corfu international airport (CFU).
How to book: our fantastic deals and discounts on hotels in Corfu are only available to our exclusive members, so if you want to take advantage of these offers, then sign up to our website today. These deals are so good, we can't guarantee they'll be around for long, so sign up today to avoid disappointment!
The opinion of the Voyage Prive travel expert on hotels in Corfu town
Corfu is the greenest of the Greek islands and it's the perfect place for couples, families and friends in search of stunning beaches and beautiful surroundings. Whether you want to stumble across history, top up your tan, or indulge in delicious local food, Corfu has it all. Our range of hotels in Corfu will bring an extra touch of sparkle to your holiday.
Corfu: Bountiful produce, pristine beaches and lush scenery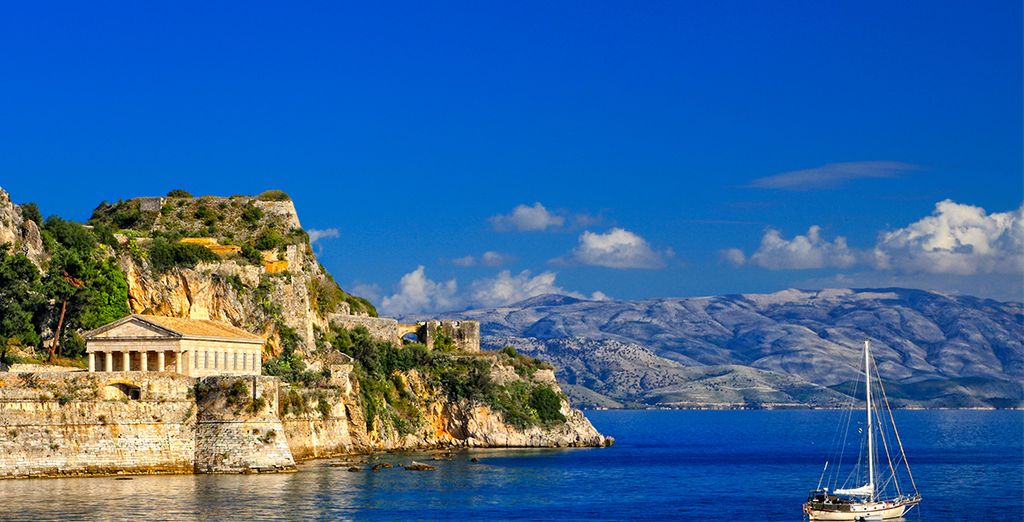 Corfu town is considered one of the most charming places in Greece. Also known as Kerkyra, Corfu Town stands halfway down the island's east coast. The Old Town is packed with winding lines overflowing with wonderful restaurants, intriguing shops, and lively bars. It's also home to some fantastic architecture, including high-class museums, 39 churches, and the brilliant Liston arcade. It's truly a destination for everyone.
If you need more ideas, don't hesitate to check all our offers !