Rhodes Holidays 2021/2022



Table of contents
Home to lively nightlife, relaxing beaches and atmospheric ancient ruins, Rhodes is a spellbinding island escape. The largest of the Dodecanese, the island bursts to life in summer with beach-bound parties and pulsating resorts. Yet Rhodes is also awash with picture-postcard villages which hug a tranquil coast. Even more alluring is the breathtaking local cuisine, marrying the best of Greek flavours with freshly caught fish. Whether you're hunting for Greek delights or a relaxing time on the beach, Voyage Privé's handpicked hotels are unmissable.
The top 5 things to see and do in Rhodes
1. Rhodes Old Town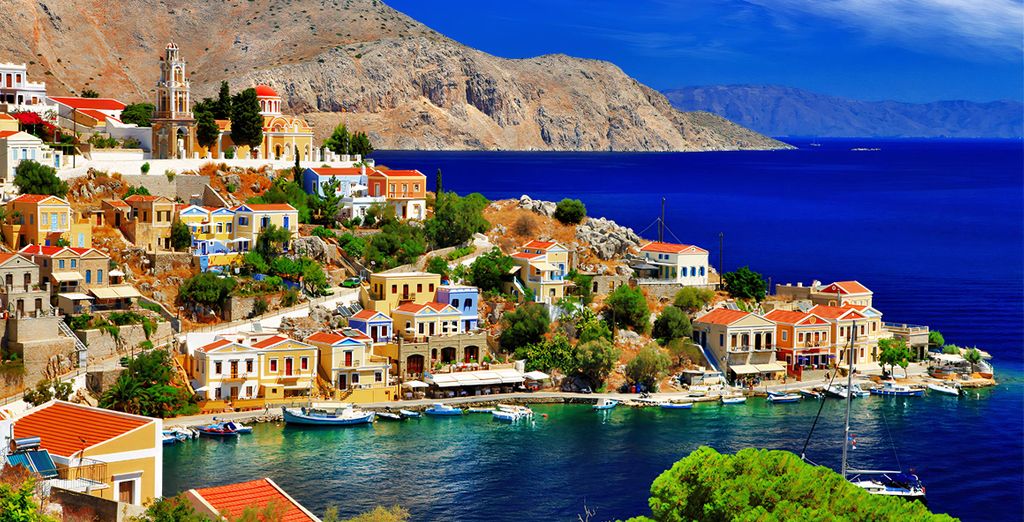 Rhodes' capital is an alluring historic city with an attractive Old Town and wealth of medieval landmarks. Among the most captivating is the Street of Knights, the former home of 14th-century knight rulers of Rhodes. Tour the Knight's Quarter and take in fortified palaces and the ancient Temple of Aphrodite. Other highlights include the Palace of the Grand Master, standing now much as it did in the 14th century.
2. Acropolis of Lindos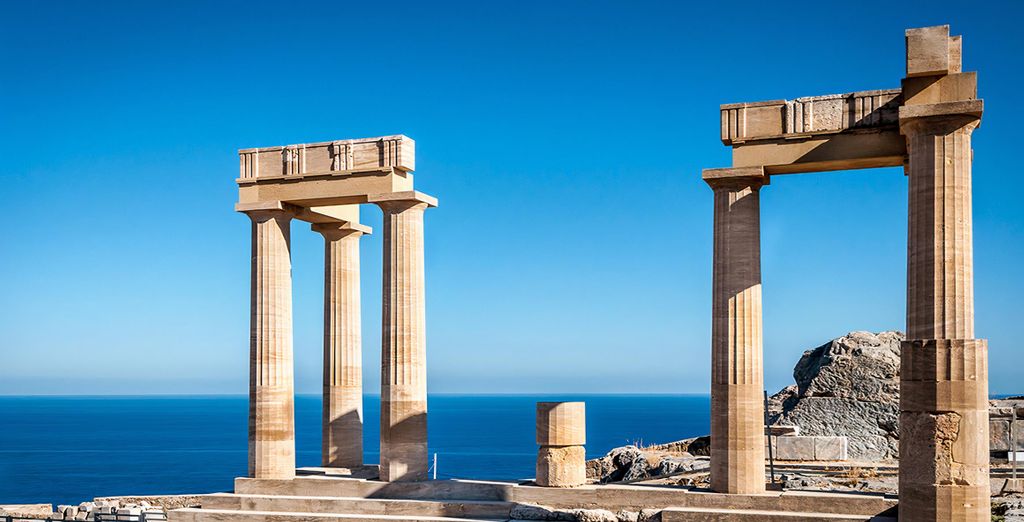 This dreamy 6th-century Acropolis rests upon a clifftop overlooking the sea. Beautifully preserved, you'll find a wealth of treasures inside, including a spectacular Hellenistic stoa. It's particularly tranquil at sunrise and sunset, so be sure to plan accordingly. It's nestled near Lindos, home to some of Rhodes' finest beaches.
3. Valley of the Butterflies
This spectacular park southwest of Rhodes is an ethereal place swarming with colourful butterflies in summer. Occupying 600 acres of scenic valley land, it's renowned for its waterfalls and luscious forests. It makes a fine detour for those travelling across the island. For longer stays, consider hikes within the mountainous surroundings.
4. Ancient Kamiros
Founded in prehistoric times, this remarkable landmark is located just southwest of Rhodes Town. These ruins are mentioned by Homer and offer a real and tangible feel of walking back in time. Ancients baths, houses and public squares are all present as dusty remains. It's particularly pretty at dusk and during golden hour.
5. Ladiko Beach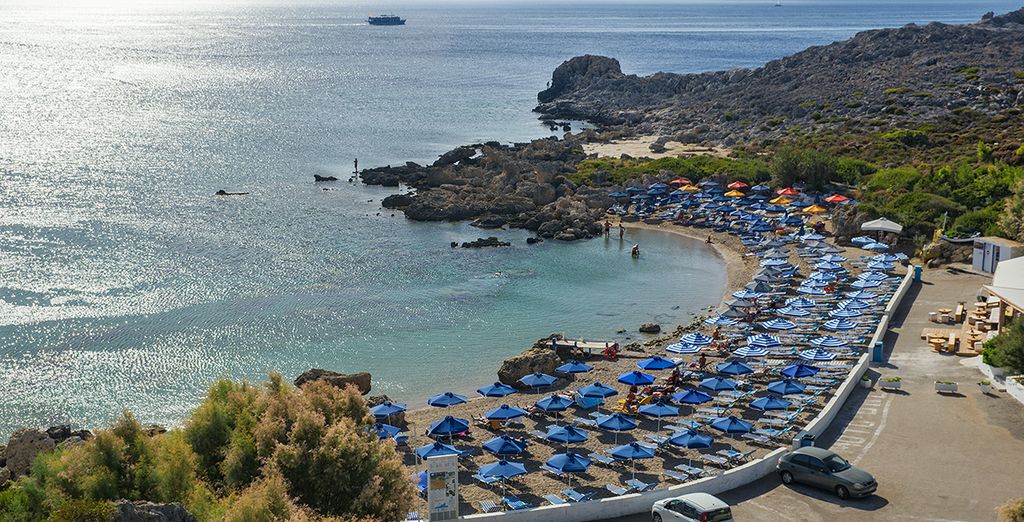 Rhodes is renowned for its beaches. Ladiko is perhaps the best on the island. It consists of several coves and a small peninsula that make for ideal sunbathing and tranquil swimming. Anthony Quinn bought a portion of the beach during the filming of Zorba the Greek in the 1960s. This sale was apparently not honoured by the Greek government, although his name remains associated with the shoreline.
Our best hotels in Rhodes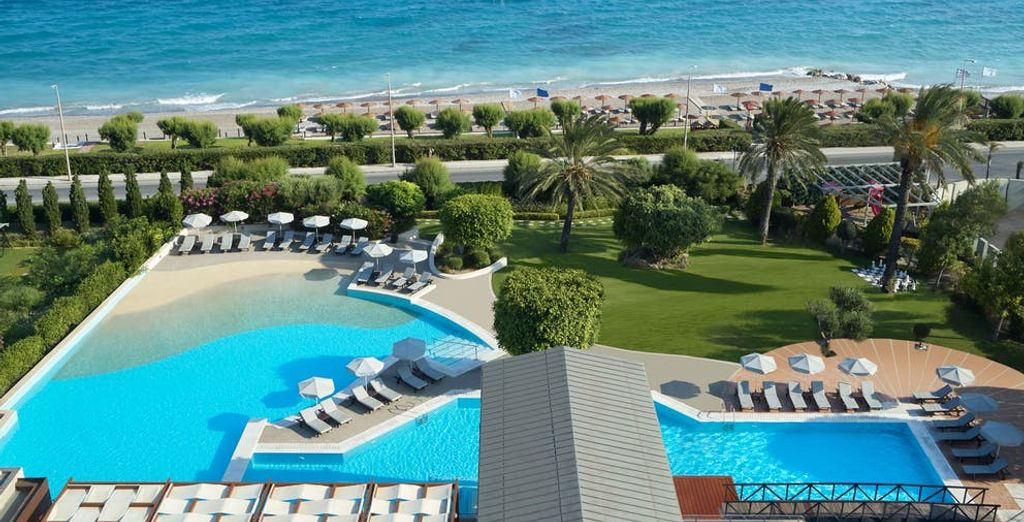 This spectacular seafront resort boasts five swimming pools and seven delectable bars and restaurants. Located just west of Rhodes' city centre, it's a tranquil area surrounded by sea views and forests. The rooms are sleek and modern, with stylish furnishings and luxury bathroom amenities.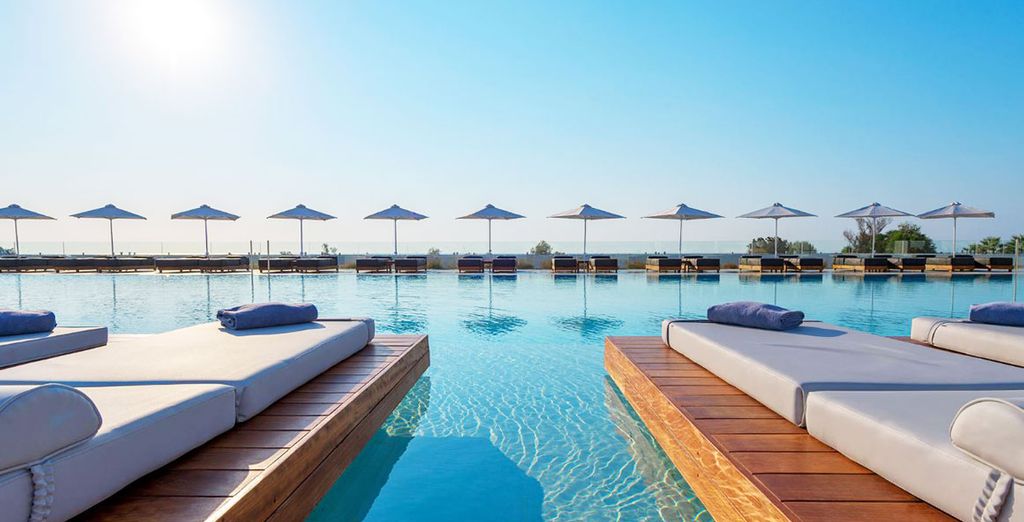 Enjoy the relaxing beach surroundings of Gennadi Grand Resort, located on Rhodes' pretty southeast coast. With direct sandy beach access and a renowned surfing school nearby, there are plenty of sea-based activities to pursue. The hotel's grounds are a delight of bright white spaces and sophisticated furnishings.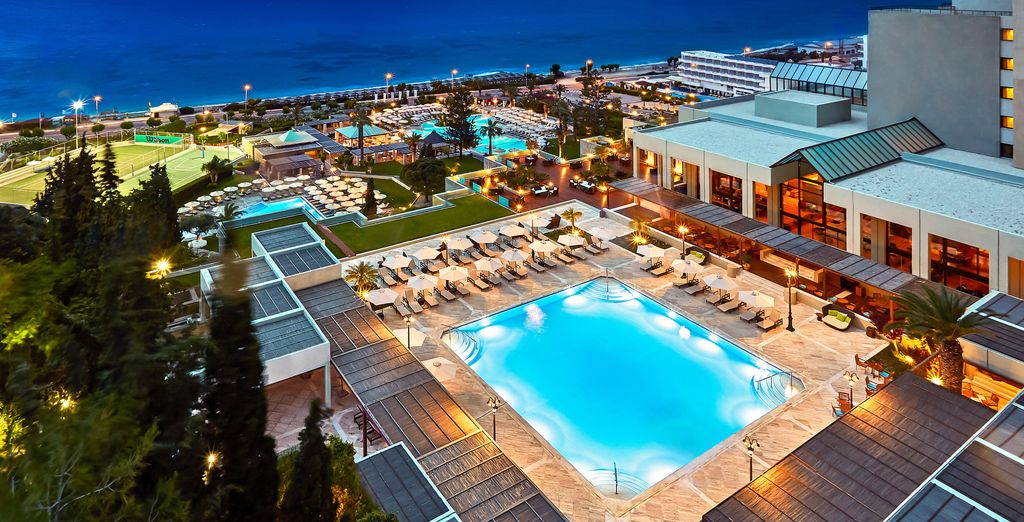 The Sheraton is a luxurious resort overlooking a highly-prized shingle beach. Enjoy spectacular terraced dining scenes of distant islands and glittering waters. The hotel's interiors are just as special, with bright modern furnishings and delightful spas to frequent.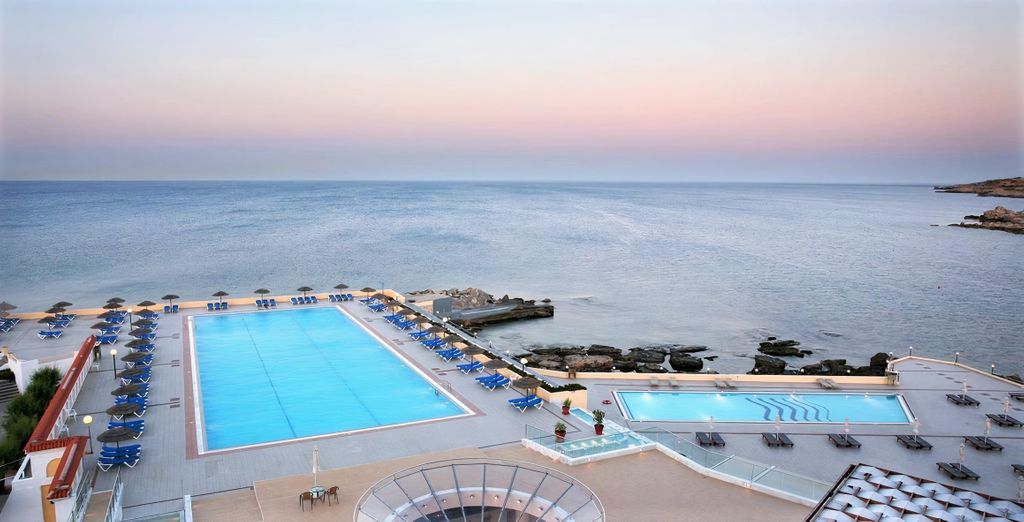 Escape to the picture-postcard Eden Roc Resort, close to the colourful hilltop village of Koskinou. The resort is a swimmer's dream, with private beaches and sea-view pools. The interiors offer a dazzling blend of vibrant patterns and modern furnishings.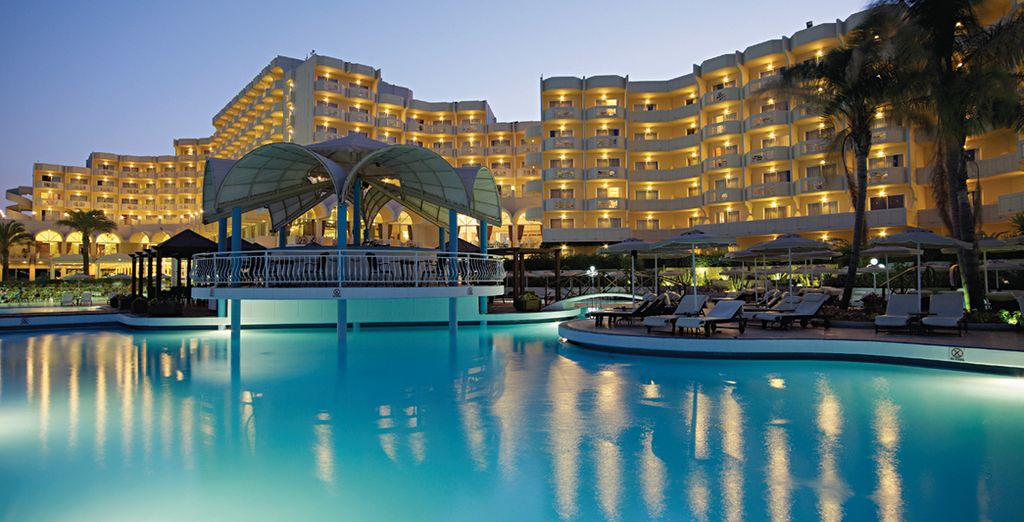 This idyllic shorefront resort is noted for its luscious green lawns and picturesque swaying palm trees. The rooms offer a stylish blend of classic Greek features and calming pastel furnishings. Guests have access to a wealth of attractive services, from sports and swimming facilities to spas and world-class dining.
When is the best time to go on holiday in Rhodes
Rhodes is renowned for its scorching Mediterranean climate and mild winters. The high season is from June to August, when you can expect daily highs of 30°C. To beat the crowds and avoid the high temperatures, consider September, October or spring. Most resorts are still thriving during these periods and the weather is more favourable for hikes. The low season through winter can be a quiet delight. Be warned, though, as many resorts and restaurants close, leaving guests with far fewer options. Big events to look out for include the Medieval Rose Festival in summer and religious festivities across the island.
Going on holiday in Rhodes
Rhodes International Airport "Diagoras" is one of Greece's most popular airports. It offers international connections with many European cities and domestic transfers to mainland Greece. The number of flights and extra destinations increases in summer. Some visitors also arrive via sea ferry. The trip from Athens takes place 5 times a week and lasts up to 18 hours. It can be a fine experience in its own right but note that it's slow. Island hopping is also possible. Once you've arrived on Rhodes, taxis and rental cars are king. To explore the island, you'll need a set of wheels. Cycling, in particular, can be a laid-back treat - just be cautious on major roads.
Enjoy your holiday in Rhodes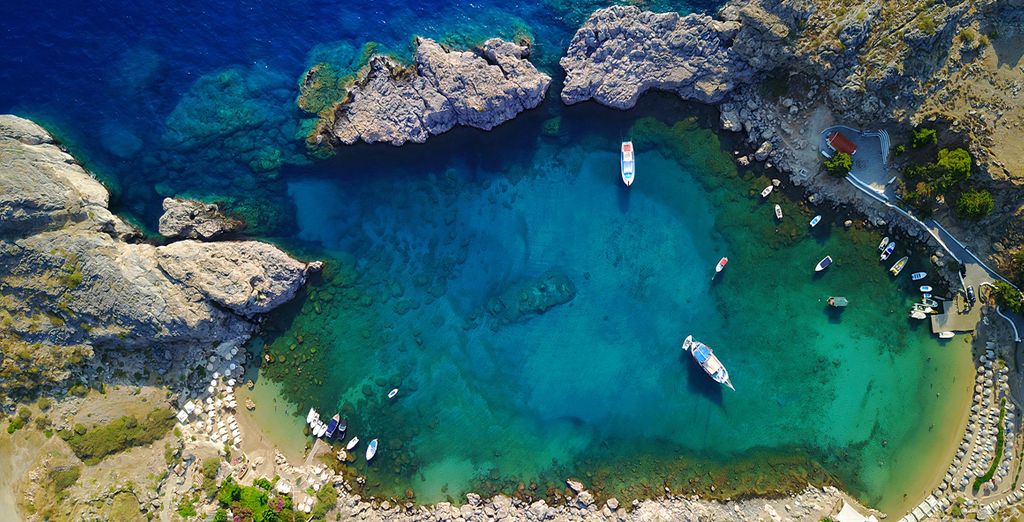 Rhodes suits all sort of traveller, from couples looking for romance and groups seeking out fun. Rhodes Town, in particular, is where the nightlife truly is. You'll find thriving bars in summer and beach-bound parties too. Resorts also do a very good job of entertaining guests, if that's what you're searching for. There's no denying that Rhodes is among the most romantic escapes imaginable. Sea view sunsets and candle-lit dinners beneath the stars can be enjoyed every night. As for families, pool-loving children will find much to treasure. What's more, there are a wealth of ancient artefacts and landmarks to thrill imaginative minds.
The Voyage Privé travel expert's opinion on Rhodes
Ancient sun-kissed ruins and spectacular beaches collide in one of Greece's prettiest islands. Rhodes has action and tranquillity to boot, from its buzzing capital to its sleepy hilltop villages. The Old Town of Rhodes, in particular, is a pleasure to explore. Winding cobblestone streets lead to ancient monuments and first-rate eateries. As for the beaches, they're an Aegean delight. Enjoy sheltered bays with prized swimming or hit the waves with surfing hotspots. Don't just stick to the beach though, if you can, and discover Rhodes' scenic inland scenes.
Experience the unique mix of natural beauty, culture and history on the magical island of Rhodes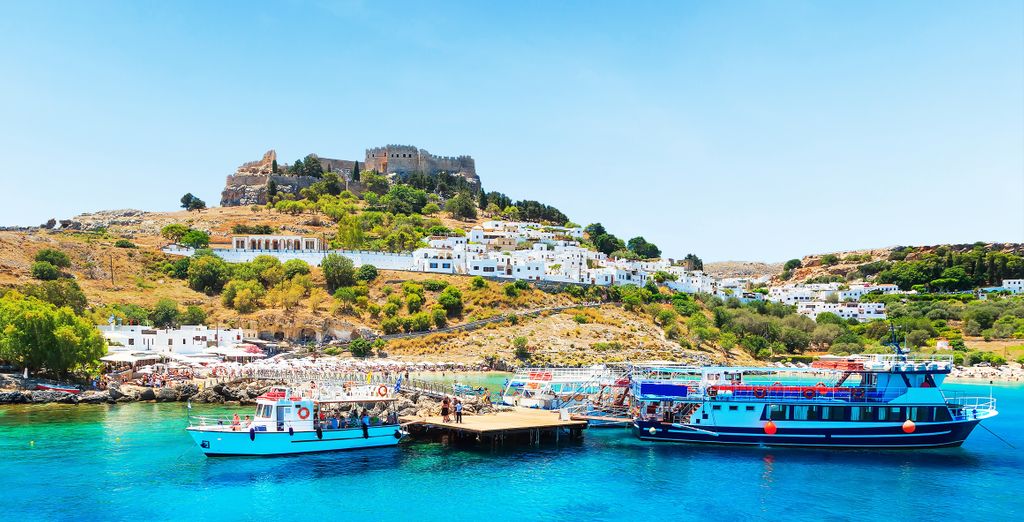 We can help you find last-minute, great value deals to Rhodes so you can enjoy everything this amazing island has to offer. Spend the day taking in the ancient history of Rhodes or relaxing on one of the dazzling beaches, complete with crystal clear water and sandy coves. In the evening, you can enjoy the local cuisine in one of the island's many splendid restaurants and bars.
Our great value deals will help enjoy your stay in one of Rhode's many luxury hotels set in lush Mediterranean splendour. With facilities including stunning swimming pools, terraces, sports and spas, we'll help you find the right hotel for your luxury Rhodes getaway.
Experience the history of Rhodes
Enjoy a number of handpicked deals and discover the ancient old town of the city of Rhodes, a world heritage site packed with medieval architecture. You'll be captivated by the 500-year-old city walls, the splendid Mosque of Suleiman the Magnificent, the impressive Grand Master's Palace and the ancient ruins of the Acropolis of Rhodes.
Journey up into the mountains for stunning views over Rhodes' picturesque villages and vineyards. Explore the ruins of the ancient city of Kamiros or visit one of the three bustling harbours and indulge in a boat trip on the beautiful blue waters of the Aegean Sea.
Enjoy culture and cuisine of Rhodes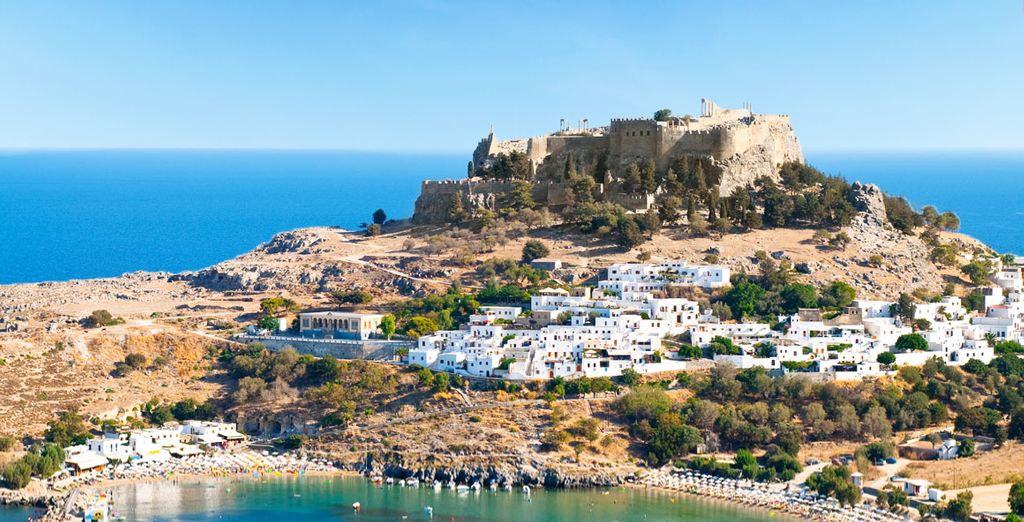 When you book a last-minute holiday to Rhodes, you're getting much more than Mediterranean sun and fascinating history. Rhodes also has a vibrant nightlife with many clubs and bars to choose from. You can dance the night away or try an outrageous cocktail, enjoy a quiet drink by the sea or cool down with a visit to an ice bar. The possibilities for your evening out in Rhodes are endless.
If you enjoy eating out on your luxury getaway and experiencing a culture through its food, Rhodes has lots to offer, from simply prepared salads made from local, fresh ingredients to more complex dishes using the spices for which the island is famous. Mezedes, where many different dishes are brought to the table for diners to help themselves, provide a relaxed dining experience and lets you try a little of everything.
Whether you prefer to spend your holiday relaxing on a stunning beach, exploring ancient ruins or revelling in the stimulating nightlife, the island of Rhodes has something for everyone. Sign up today to take advantage of our handpicked deals to Rhodes, specially selected for you.