The TOP 5 Hotels in Zante



Table of contents
Fancy a holiday in one of Greece's most treasured beachside retreats? Pick from exclusive spa escapes and seaside Zante hotels through Voyage Privé!
Our best hotels in Zante

Enjoy a prized escape near beachbound Tsilivi with this delightful suite hotel. Eye-catching and relaxing in design, enjoy private infinity pools and sun-soaked terraces. The restaurant serves up a fresh and changeable menu every day that's bursting with Mediterranean flavours.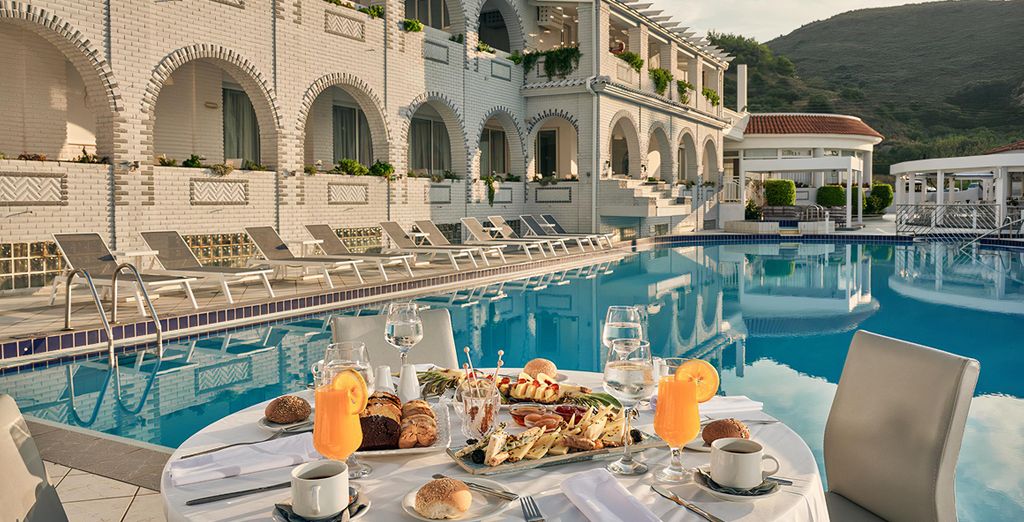 Enjoy a luxurious stay at Meandros, a romantic boutique hotel with a classical Greek aesthetic and minimalist interiors. Your hotel is located in the heart of Kalamaki, just moments from its beaches and lively waterfront. Deluxe suites come with their own private swimming pools, or you can make a splash in the laidback main pool area.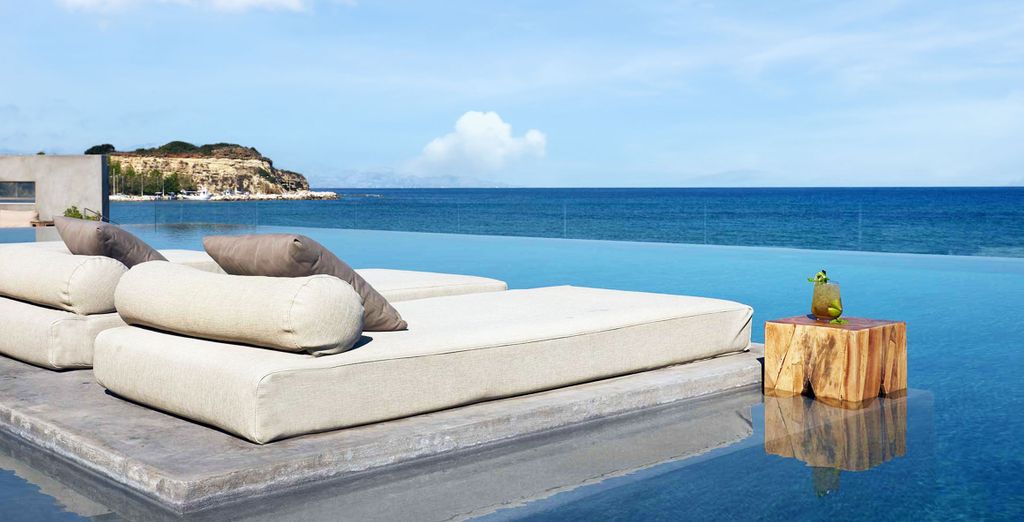 Caravel Suites is a charming sun-soaked hotel complex with open ocean views. The hotel is lovingly decorated with designer furniture and a cool white aesthetic. It comes packed with fine amenities and services, from delectable dining to first-class swimming and spa treatments.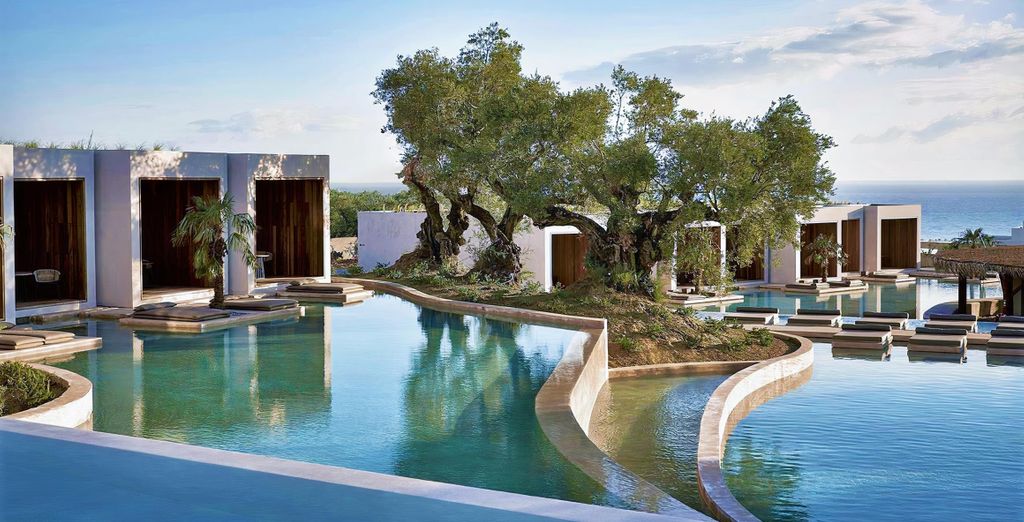 This spectacular Tsilivi-based hotel is perched upon a hill overlooking the ocean. Enjoy serene views from your window or unwind in the hotel's alluringly designed grounds offering Japanese dining, among other perks. Executive suites bring their own sea-view pools for a more private and romantic experience.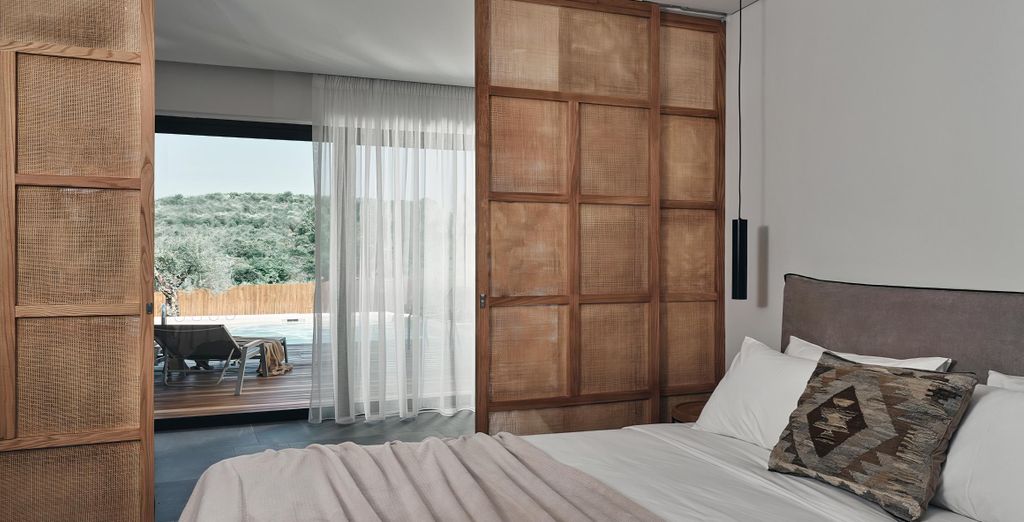 This traditional resort is a fine family-friendly option bursting with style. Thatched wood interiors and crisp, contemporary furnishings make for an unforgettable stay. Take your pick from several prized pools and a delightful array of delectable restaurants.
Services will you find in our hotels in Zante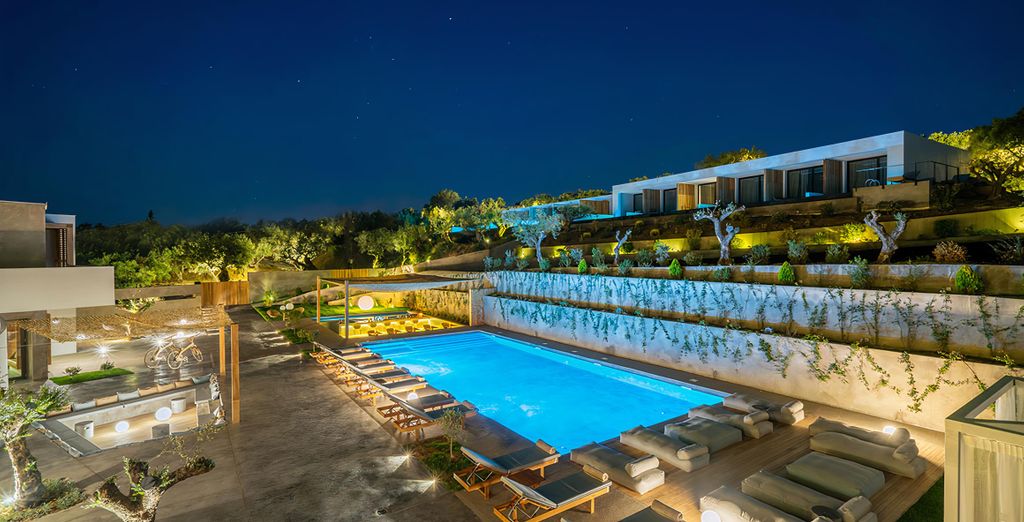 Free Wi-Fi
Tea and coffee-making facilities
Flatscreen TVs
Luxury bathroom amenities
Several dining options
All-day snack bars
Terraced bars
Pretty gardens
Swimming pools
Spa treatments
Sea-view rooms
Going on holiday in Zante
Zante is a charming seaside escape with hot, dry summers and cool winters. The peak travel window is through summer when accommodation can book up and prices rise. The whole period from June through August is popular. While beaches can get crowded, there are always quiet spots on the island, particularly in the north. The shoulder seasons are through spring and autumn. The weather becomes more manageable for hikes but be prepared for reduced transport schedules. Winter on Zante is a unique and romantic experience too, but the island winds down. Many resorts and restaurants close, but not all - making for a tranquil, personal experience.
Hotel offers at Zante convenient for all kind of travel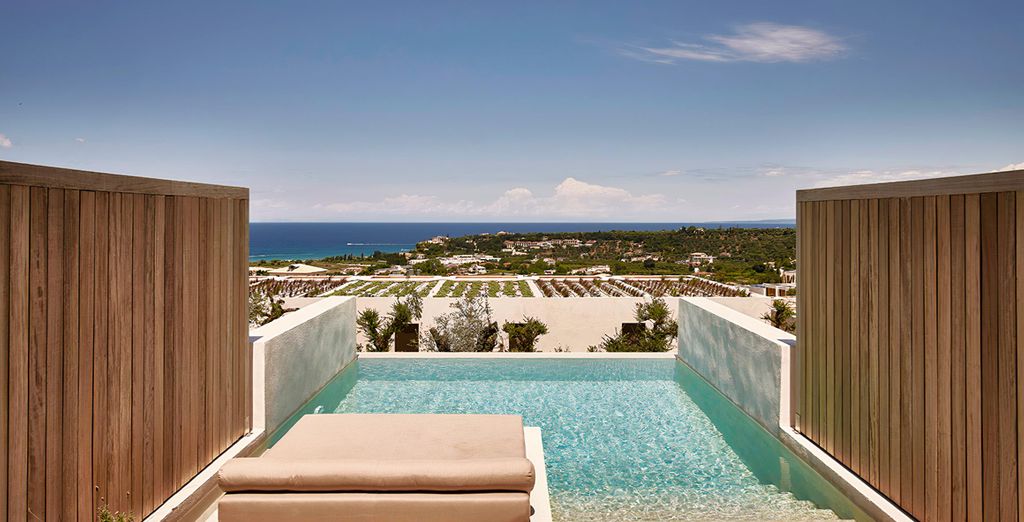 Zante is suited to sun and sea-loving holidaymakers. Families, couples and groups will all find the shoreline immensely rewarding. Resort towns are geared toward party-hard groups, making it a popular spot for young bookers. Older couples and friends will find much to cherish too, with serene waterfront dining and remote hikes. The south-eastern shoreline tends to cater more to this beach holiday crowd, with the north and west offering seclusion. While families are very well accommodated on Zante, be sure to book a family hotel or resort as many cater solely to adults. You'll find magnificent wildlife, warm paddling waters and a wealth of water parks to enjoy together.
The range of hotels we offer at Zante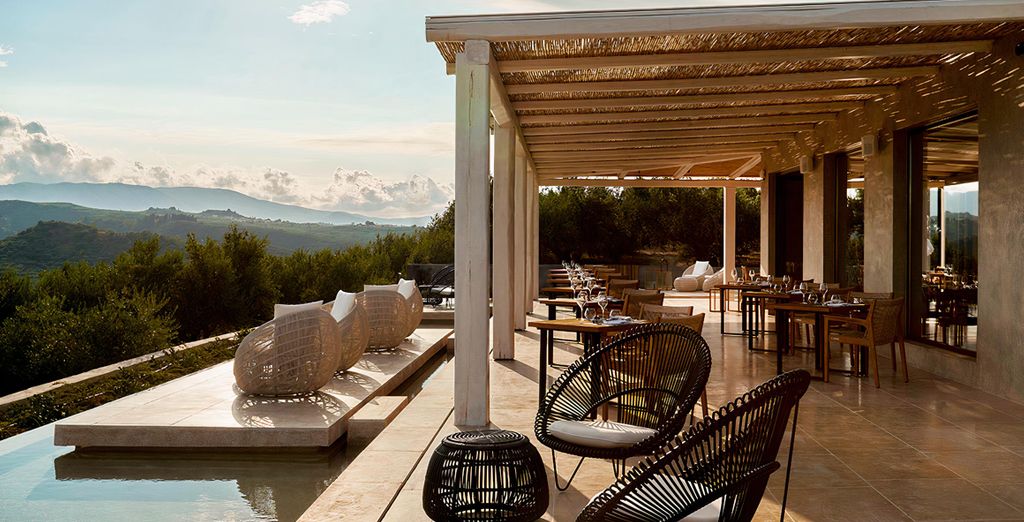 Boutique hotels
Seafront resorts
Spa hotels
Suite hotels
Zante: what should we bring for a hotel stay?
Charging cables
Guide book
Comfortable walking shoes
Breathable walking clothes
Pack-away towel
Evening attire
Sun tan lotion
Swimming costume
Sunglasses
Mosquito repellent
Your best hotel in Zante: how to get there and make your booking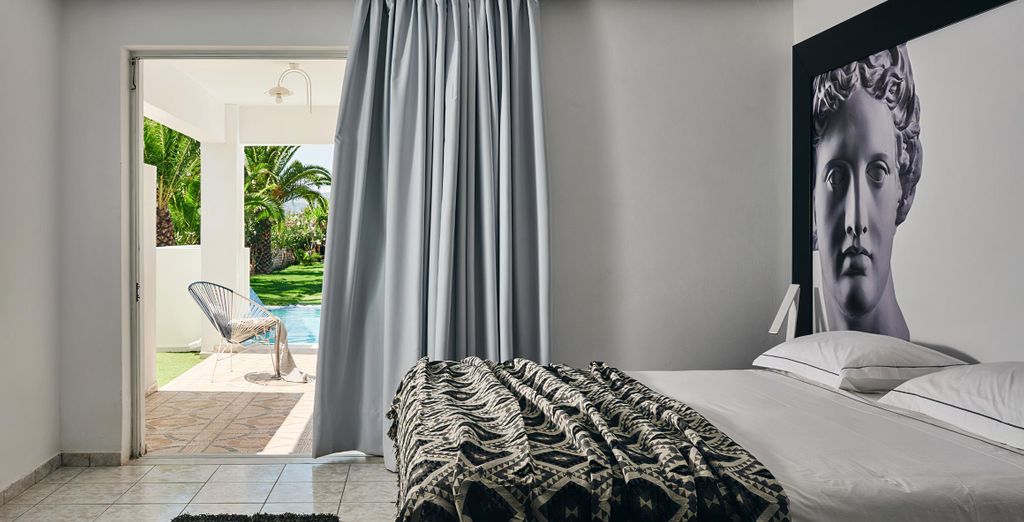 How to get to Zante
Zante is an easily accessible Greek island with direct flights both to the mainland and major European cities. You can also opt for a ferry connection from Kyllini that takes about an hour. Once you've arrived, you'll find quick bus and taxi connections from the airport to many resorts. To explore the island at your own pace, rent a car. These are readily available at the airport and in Zakynthos Town.
How to book your hotel in Zante
Discover unmissable savings of up to 70% off luxury hotels with Voyage Privé. Voyage Privé is an exclusive, members-only booking platform that's completely free to use. Register today and gain access to unmissable deals on hotels, flights and more. To get started, simply type in your travel dates and location for a breakdown of available offers. Want to stay 'in the know'? Set up an alert so that you never miss out on savings! We've got Zante's best seafront hotels and luxury suites available at incredible prices. Get started and book your dream Zante getaway today.
The opinion of the Voyage Privé travel expert on Zante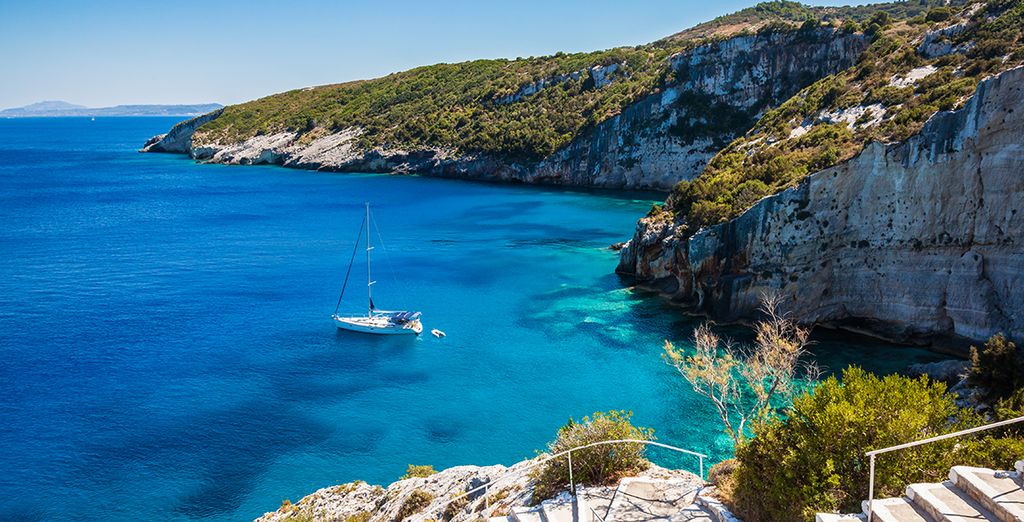 Zante is an island of two halves. Gorgeous coastlines and beach resorts mingle with true wildernesses in Zante's hinterlands. Most stick to the beautiful southeast, where you'll discover fun beach towns and breathtaking wildlife reserves. It's a holiday made for those that simply love the sea. Sailing, snorkelling, sunbathing and swimming are all spectacular ways to spend your time here. And then there's the cuisine caught fresh from the Ionian waters!
Zante – a rugged and historic landscape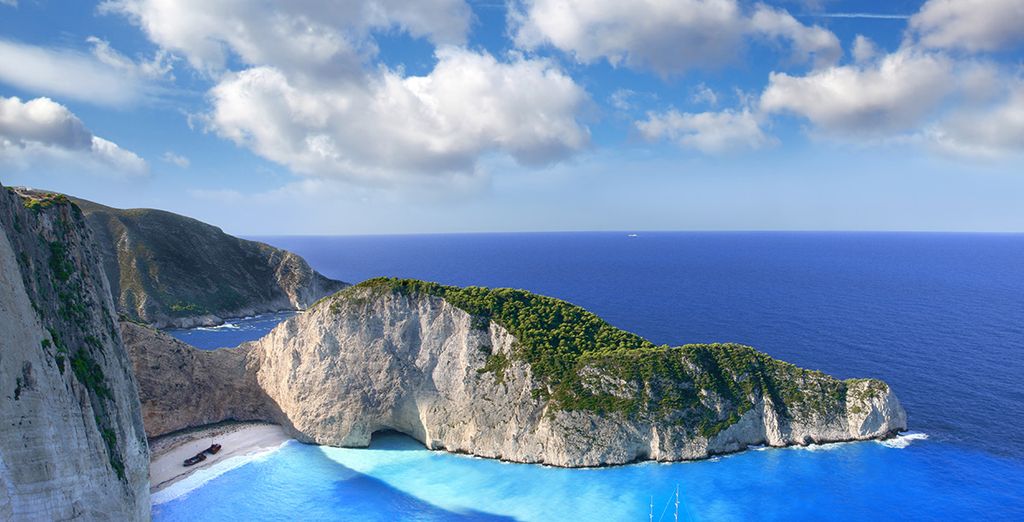 Escape the southern beaches for just a while and you'll discover a Zante of unspoilt villages and forests. The rugged west coast is one of spellbinding cliffs overlooking crystalline waters. One of its highlights is Shipwreck Beach, so named for the wreck of a cargo ship stranded in the 1960s. You'll find fascinating historical landmarks too, from the Monastery of St George to Bóchali Venetian Castle.