Booking Istanbul



Table of contents
Book hotels in✈ Istanbul, a vibrant modern city with an enchanting historic past ✅ Discover our offers up to 70% Off on Flight + Hotel.
Booking Istanbul
Do you want to stay in Istanbul for your next trip? Here are our best plans to find the top hotels at the best prices.
Discover our top 5 hotels for Istanbul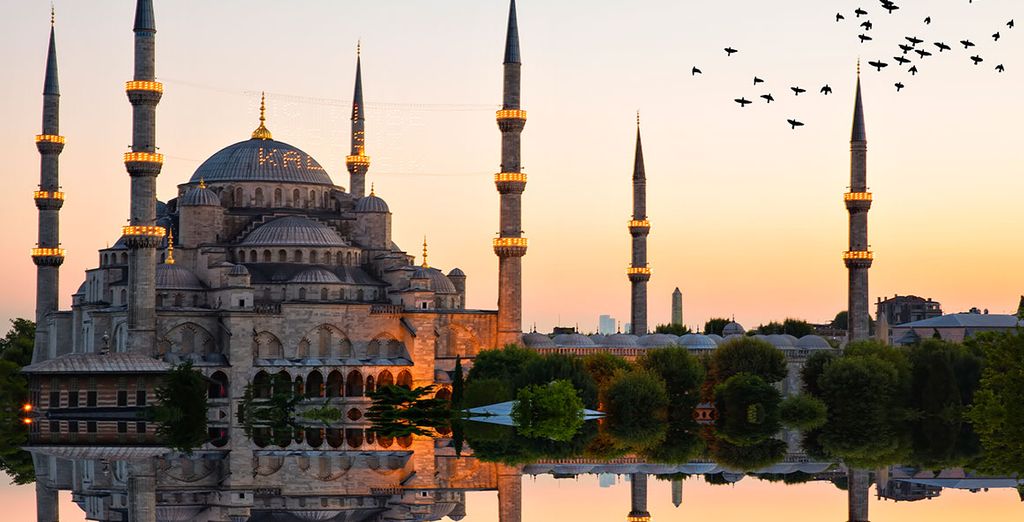 1. Fer Hotel 5*

Fer Hotel boastes contemporary rooms and elegant touches in a super central location. Winner of a World Boutique Hotel Award in 2017, the hotel has a gorgeous restaurant serving sumptuous breakfasts and traditional Turkish dishes.
2. Eurostars Hotel Old City 4*

Occupying a central location just 100 yards from Sirkeci Train Station and 50 yards from a convenient tram station, Eurostars Hotel Old City is the perfect base. Enjoy a Turkish bath, massage and sauna as well as a spot of sightseeing for a truly relaxing break.
3. BVS Lush Hotel Taksim

The building which houses BVS Lush Hotel Taksim was built in 1850 but there's nothing old fashioned about it. Combining traditional grandeur with modern comforts and luxury finishes, it sits in a fantastic location in the heart of the city.
4. Doubletree Hotel by Hilton 5*

This Hotel brings well-established high standards and great service to the Old Town in Istanbul. Rooms are stylish, neat and complete with luxury finishing touches including bathroom products, buffet breakfast and all hours room service.
5. Avicenna Hotel 4*
A charming base from which to enjoy your break, Avicenna Hotel has recently been refurbished to a high standard. Sumptuous furnishings combine with minimalist design in a great location close to the Blue Mosque and other attractions.
Our reviews on Istanbul and its hotels: why make your booking there?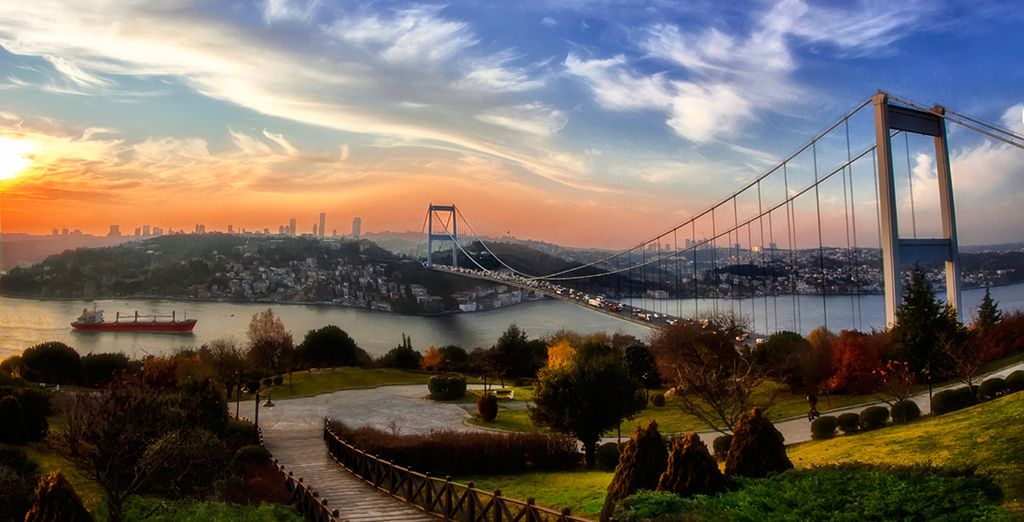 Istanbul is a great place to experience the blending of European and Asian cultures first hand. A thriving metropolitan centre for trade, it is home to a wide range of restaurants, cafes, bars and tavernas, all waiting to be enjoyed. The city has a rich history and a wealth of places to visit to enjoy it. A wonderful place for families to explore culture together, it is also a great place to explore alone or in a group. Couples will enjoy romantic architectural delights and an array of charming boutique hotels. Many hotels include traditional spa facilities and luxury touches. Each offers brilliant dining options for all travellers, including the opportunity to sample local cuisines.
How to make my booking in Istanbul
Enjoy brilliant discounts and offers by joining Voyage Prive now. Click 'Join Now' for free entry to this exclusive travel club. Book by clicking on your chosen offer or create an alert for your chosen destination if there are no offers available.
Voyage Prive offers exclusive deals on hotels worldwide, with up to 70% discount against standard prices. Customers also have access to customer support hotline and a mobile app which can provide up to date information about your holiday.
Booking in Istanbul couldn't be easier. Choose from a selection of hotels selected by Voyage Prive for their convenient central locations and luxury finishes.
The different ways to make your online hotel booking in Istanbul

When booking your break to Istanbul, you can choose the method which works best for you. Book flights and your hotel for a convenient way to plan your travel and accommodation in one place. Alternatively, you might wish to book only your favourite hotel and arrange flights elsewhere. Whichever you choose, we look forward to helping you to plan a brilliant break.
The best places to find hotels
Hugely popular with tourists because of its proximity to so many great attractions, Sultanahmet is a great base from which to explore Istanbul. Despite its popularity, it is peaceful and comfortable to stroll around. You will find a huge choice in accommodation options here.
The Grand Bazaar area is perfect for those in search for unique finds. Close to the attractions of Sultanahmet, this area offers easy access for shopping. Choose from handcrafted soft furnishings, traditional spices and an impressive array of teas. Access nearby residential areas via the Galata Bridge.
Karaoky is one of the most historically important areas in Istanbul, sitting on its European side. An important marine hub, it is home to a plethora of fish restaurants and street vendors. A number of iconic attractions, including the Galata Tower, can be found nearby.
Besiktas is a waterside district favoured by the wealthy and lovers of luxury. Home to a huge number of restaurants and shops, there is also a fish market and buzzing ferry port. Not too touristy, local attractions include the naval museum and Yidiz Park.
Fener and Balat is a quieter area, favoured by Istanbul's Jewish community. More conservative in approach, it is also more residential than commercial. A great place to experience local life off of the beaten track.
Presentation of Istanbul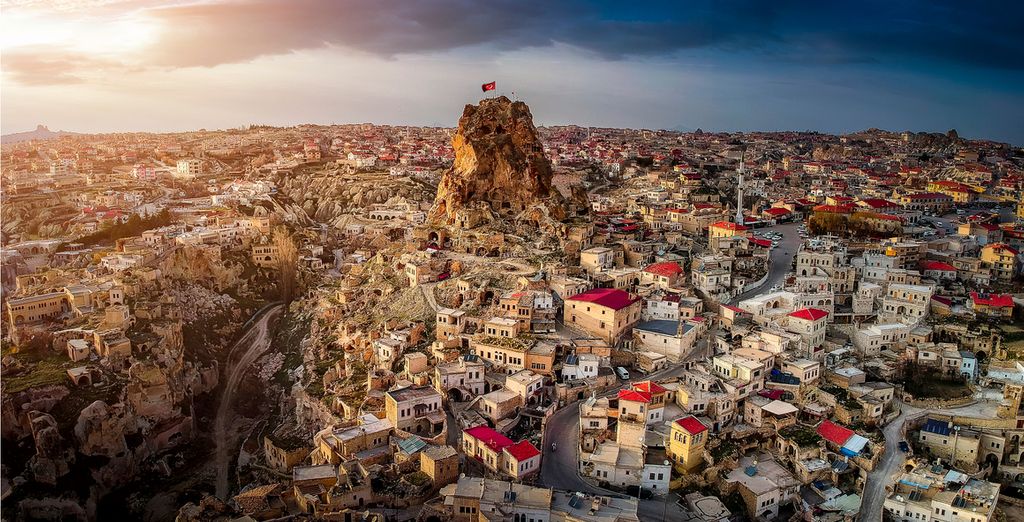 Buzzing with European and Asian influences, Istanbul is a truly fascinating city. Originally built around the seventh century BC by the Greeks, it was a central location for the Ottoman Empire in the mid-fifteenth century. Today, 97% of the population identify as Muslim, but vary in their religious practices and presentation. The city is united around a love of seasonal food with meze tavernas a-plenty. Enjoy traditional Ottoman cuisine in world-class restaurants or sip cocktails on a rooftop bar overlooking the city. Istanbul is also home to a bustling nightlife scene, perfect for travellers who love to make the most out of day and night.
Offering lots to do and see, Istanbul is a great year-round destination, though undoubtedly popular in the summer months. Many locals leave the city in July and August, so some areas are less crowded, if very warm. Some venues may close during these months, so it is worth checking ahead before planning your itinerary. Regardless, there's something for everyone, whatever the weather. Enjoy galleries, shops, clubs and sites steeped in history. The best way to explore the city is by foot, and the cooler weather in September and October is an ideal time for such leisurely touring.
The 5 best things to see/do in Istanbul
1. Blue Mosque

top of our list of mosques to visit on a trip to Istanbul, the Blue Mosque boasts voluminous curves and a large courtyard. Decorated with thousands of intricate tiles, it includes 260 windows and a large central prayer space.
2. Bustling Bazaars

Enjoy a spot of retail therapy in the buzzing bazaars of the Old City. Filled with colourful trinkets, here you can watch craftspeople and artists create treasures before your very eyes. A wonderful place to pick up a souvenir or two.
3. Visit a traditional Hamam

Istanbul is home to more than 60 hamams, where travellers can enjoy traditional spa experiences. Luxurious spa treatments are readily available, including in the popular K?l?ç Ali Pa?a Hamam.
4. Topaki Palace

Once the centrepiece of the Ottoman Empire, today the palace is a fascinating place to visit. The many courtyards make a splendid day out, full of historical grandeur.
5. The Kariye Museum

also known as the Chora Church, the museum is a stunning church which hosts many stunning mosaics and frescos. Less popular than some of the larger museums, it is a real gem.
Discover more offers to Istanbul : Great deals, Stays, Offers, Holidays, booking.
FAQ Booking Istanbul
Register online for free to discover all the great deals of Voyage Privé. Book your next holidays to Istanbul up to -70% !
In the heart of the neoclassical district of Akaretler, the W Istanbul 5* is an emblematic and modern hotel with luxurious and elegant rooms. The Amiral Palace Hotel 4* is an ideally located hotel in the historic centre of Sultanahmet, offering spacious and comfortable rooms and a restaurant with a terrace and breathtaking views of the Marmara Sea.
Voyage Privé's travel experts negotiate for you luxury hotels ! Enjoy deals up to 70% off and book your next trip to Istanbul !