Holidays to Antalya 2021/2022



Table of contents
Enjoy Luxury Holidays to Antalya up to 70% off ⭐ Stay in Premium 4- and 5-star Hotel and discover the true jewel of the Turkish coast ✅.
Explore the rich and beautiful history of Antalya
Antalya, a city rich in history, culture and stunning natural sights. Bordered by the Taurus Mountains, Antalya is the largest Turkish city on the Mediterranean coast, flaunting pristine white sand beaches and ancient Roman and Byzantine ruins.
During the crusades, christian warriors chose it as the perfect harbour on their way to Jerusalem. In 1923, it became an Ottoman city. Today, it is markedly Turkish, but it carries the complexity and beauty of the many cultures which inhabited it.
Antalya is home to coastlines of incredible beauty, perfect for catching some rays and letting all your troubles wash away. So whether you're a history buff, a sun seeker or just looking for somewhere fun to take the kids, Antalya certainly has something for everybody.
The Voyage Privé travel expert's opinion on travel to Antalya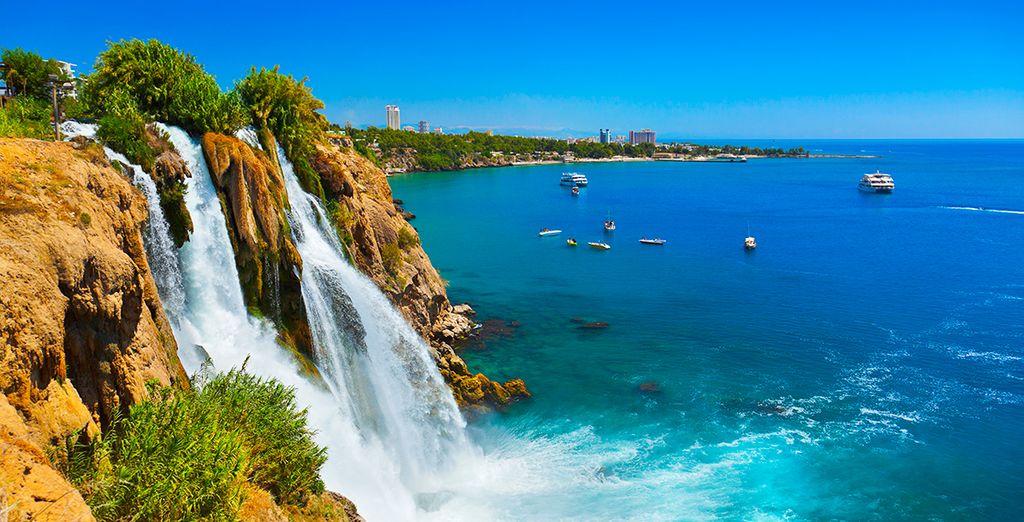 Antalya is fast becoming a real favourite for couples and families and it's easy to see why. Affordable and rich in culture, with exciting activities and day trips for all ages. Why not take the kids to the brilliant Sandland or Dolphinland Aqua Park, or Discover the magical underwater world at Antalya Aquarium, hosting the world's biggest underwater tunnel. Or if you're travelling alone, or a couples getaway is what you're after, Antalya is truly one of the hidden gems of the Mediterranean, with romantic excursions and beautiful sunsets to look forward to. Walk around the cobbled streets of Old Town, soaking in the history. Spend the day getting lost in the maze-like back alleys and stumble upon quaint cafés and restaurants. Enjoy delicacies from all over the Mediterranean, getting stuck into the local cuisine. With a delightful array of Turkish meze and fresh seafood, there's some of the best food on offer here within the city. Make sure you wash it down with a healthy helping of raki and enjoy the local nightlife
Top 5 things to do/ see in Antalya
1. Düden Waterfalls

With the most incredible insta-worthy landscapes, it is well worth a day trip to these beautiful waterfalls. Make sure to visit both the Upper and Lower waterfalls and shoot some attractive photos to share with friends and family.
2. The Old Town

If history and architecture are your thing, then you have to visit the Old Town of Kaleiçi, which houses many of Antalya's hidden ruins and makes for a lovely relaxed afternoon in the city. With the Antalya Archaeological Museum, the ancient clock tower and the Yivliminare Mosque, there's plenty in the way of culture in Kaleiçi.
Surrounded by bustling local businesses, cafes and markets, there's always something to keep the whole family entertained. While you're in Old Town, make sure you take a stroll down to Hadrian's Gate, one of the cities most beloved monuments, dating all the way back to the 2nd Century. Hadrian's Gate is a wonderfully preserved piece of architecture and history, which is the only remaining entrance gate in the walls that surround the city and harbour.
For a romantic evening out, take advantage of the local Mediterranean cuisine and nightlife in Old Town, making sure to explore the modern side of this great city.
Walking by the beach in the evenings you will find places to have a drink by the sunset and have a dance with the locals. An unmissable delight is the many panoramic terraces which look over the old harbour.
3. The Ruins of Perge

Once the most prosperous city of the ancient world, now a vast rubble-filled stadium surrounded by half-desecrated temples. Make the most of the ruins at Perge, as unlike most restoration sites, the ruins of Perge allow you to get up close and experience everything for yourself.
4. The Old Town Harbour and Marina

A perfect spot for lunch with the locals, overlooking Antalya's beautiful coastline. Great if you love being touristy and are interested in seeing what excursions are on offer. If the hustle and bustle is not your scene, there are nice restaurants from the cliff top with an unbeatable view.
5. The Sunken City of Kekova

Take a tour of the Sunken city of Kekova, enjoy a spot of lunch and swim in the hidden coves. With intimate boat tours, stunning sunsets and dinner with a view, Antalya is the perfect romantic getaway for couples looking for somewhere to soak in the culture, as well as each other's company. Sign up for a tour of the sunken city of Kekova (an ancient Lycian city now buried beneath the sea) and spend the afternoon soaking up some sun and history.
Which Hotel To Choose In Antalya
Get settled in one of our wide selection of hand-picked, luxury hotels, and start making your way among the ancient sights of this stunning city!
The Marmara Antalya 5*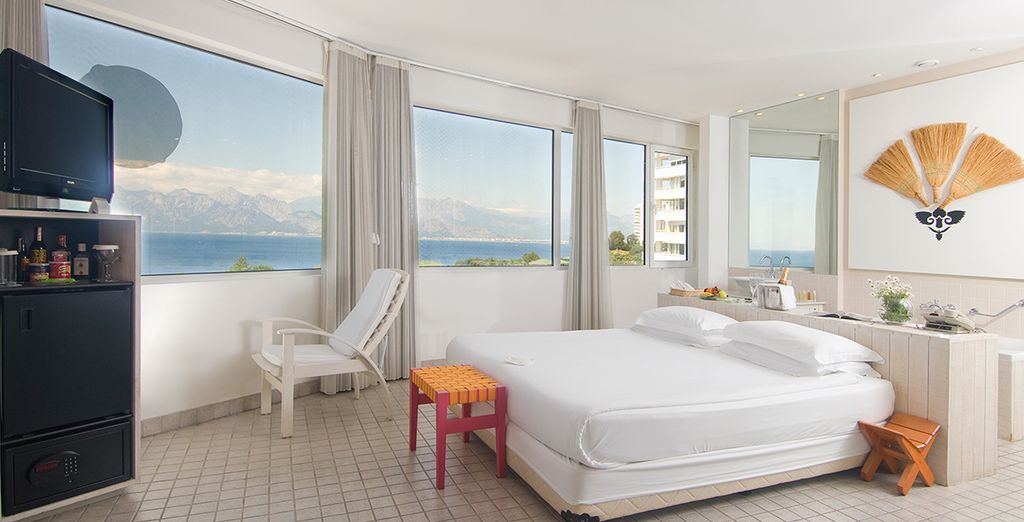 Located on the famous Falez Hills, only a 5 minutes drive from Antalya centre, the Marmara Antalya 5* allows you to wake up every morning with a great view on an impressive private beach.
This beach front hotel offers a wellness holidays with its spa, gymp and outdoor pool.
Rixos Premium Tekirova 5*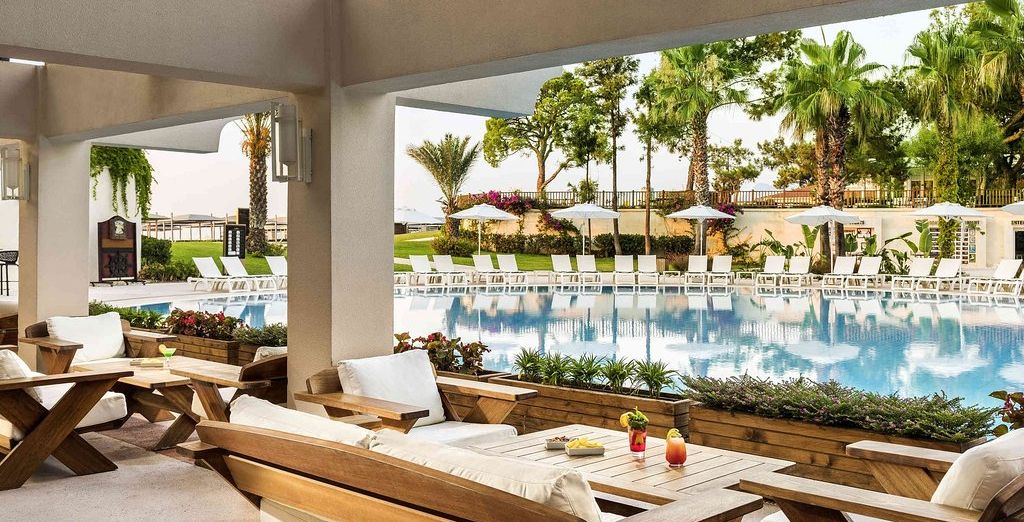 Escape to Antalya, to the charming Rixos Premium Tekirova 5*. With a 5* spa experience, multiple fine dining restaurants and exquisite sea views, you'll never want to leave.
Rixos Sungate Hotel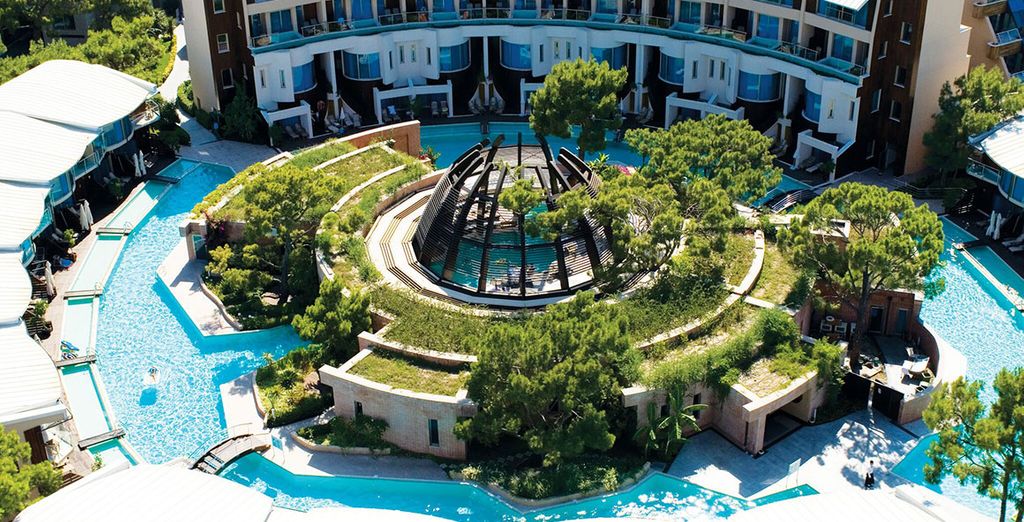 All-inclusive 5* hotel with a stunning array of restaurants, bars and cafes, as well as spa facilities, a gym, tennis courts and even a bowling alley. This hotel has everything from an aqua park to massages and hydrotherapy. Everything you could ask for, for a fun and relaxing holiday.
Practical information about Antalya
What is the weather in Antalya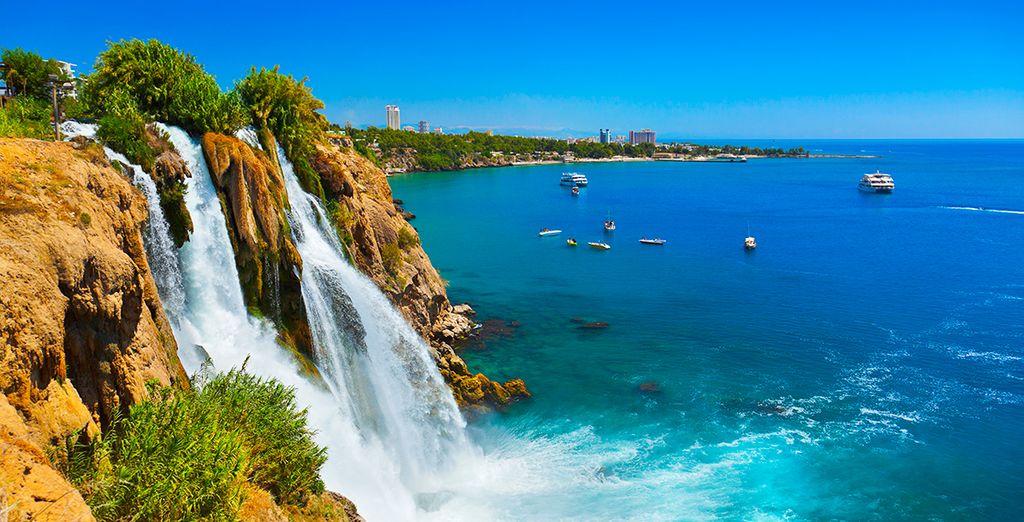 With hot summers, mild winters and plenty of things to do in both, Antalya is an exceptional place to visit all year round. Temperatures in the height of summer can rise to 35°, so remember to pack that sun cream.
Is Antalya worth visiting?
If hot summers and mild winters are what you want, choose Antalya. It is a nice place to sunbathe and see the sea, but also to have a Turkish tea and relax. Antalya is also a national park that deserves many walks.
Is Antalya safe for tourists?
No it is not dangerous to go to Antalya. ...Antalya is even safer than most European capitals. Even the locals will tell you: at no time one feels unsafe.
What is Antalya known for?
Antalya is a famous tourist area on the Turkish Mediterranean coast for its dream beaches and lively nightlife. Side visit, do not miss the old city of Antaly, but also the old port of Kaleici which are part of the local curiosities. On the activities side, Antalya is a small paradise since you can visit the water parks, museums and green spaces, its famous Aquarium, take the cable car to Mount Tahtali.
What budget to plan?

Whether you're looking for modest accommodation in the heart of the Old town, or a luxury 5* hotel overlooking the coast, travelling to Antalya doesn't have to break the bank, if you're working on a budget. Most visitors arrive between May and September, but even in the height of summer Antalya's prices remain pleasantly affordable. Make sure to book early for the best prices though!
Discover more offers to Turkey : Great deals, holidays, Last minute, Weekends, Sun holidays.
FAQ Antalya Holidays
Antalya has everything for a successful holiday: dreamy scenery, heavenly beaches and turquoise water, but also historical sites such as the old town of Kaleiçi and the Temple of Apollo.
The price of a holiday to Antalya may vary depending on the hotel, departure period, duration and activities on site. With Voyage Privé, you can book your stay with discounts up to 70% off ! Sign up for free to take advantage of exclusive offers!
The Marmara Antalya 5* is ideally located and offers a beautiful private beach. The Rixos Sungate Hotel offers you an all inclusive stay: restaurants, bars, spa, tennis court, bowling alley and even a water park!
The old city offers interesting and accessible hotels, otherwise you can opt for nearby places like Kemer, Lara or Kaleiçi. Feel free to check regularly for Voyage Privé offers.