Last minute deals to Marrakech, one of Morocco's most vibrant cities



Table of contents
Marrakech has grown increasingly popular in recent years, known widely as a city that combines the old and the new. Luxurious restaurants and bars are mixed in amongst the incredibly unique and old-school architecture on offer. This Moroccan-Andalusian design style is what helps make Marrakech stand out as a truly unique destination and is what immediately takes your breath way upon first arriving. There is plenty to do in Marrakech for people all of ages. Better yet, thanks to the incredible deals our team are able to curate, visiting here in style is now more affordable than ever before.
The Voyage Prive travel expert's opinion on last minute holidays to Marrakech
Though it known widely as The Red City, this doesn't in our humble opinion do Marrakech justice. Instead, it is awash with a much wider variety of vivid colours and design styles, making Marrakech a true explosion of the senses. There are so many incredible things to do on a last-minute Marrakech getaway. However, by far our most favourite thing to do here is to simply roam the city. You can easily get lost amidst the myriad of streets, taking in the fantastic blend of sights, sounds and smells.
The top 5 things to do in Marrakech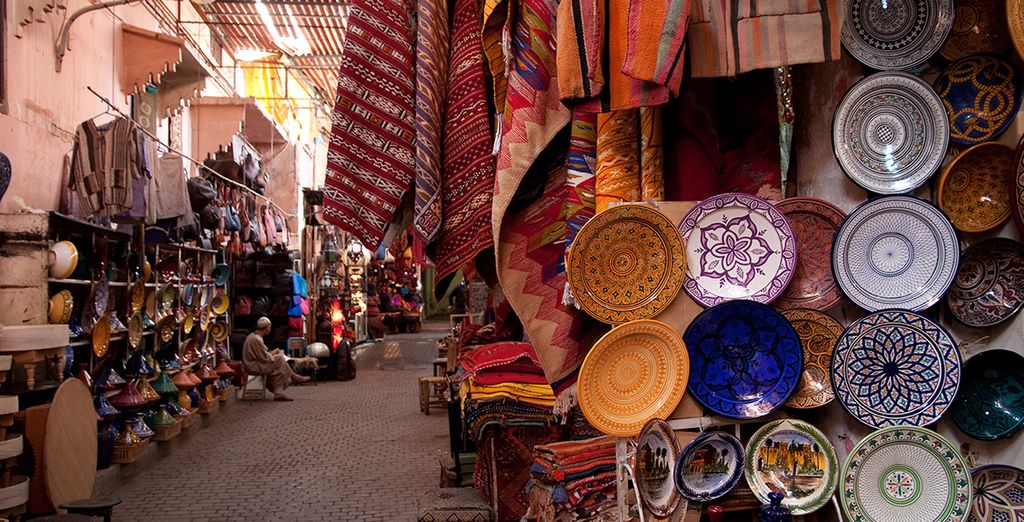 1. Discover the city's rich past
Marrakech has long been one of Morocco's most important cities. Indeed, for a long time, it was one of the imperial capitals, so it's seen its fair share of history. One of the best ways to discover this rich and varied past is by visiting the museums located all across the city, such as the Tiskiwin Museum, which has on display a wide variety of artefacts all demonstrating the trading post of Marrakech. Alternatively, visit the Museum of Marrakech which happens to be housed in one of Marrakech's old palaces and contains books, coins, pottery and art from throughout the ages.
2. Dine out in style
One of the nicest things about a last-minute Marrakech holiday is the large array of high-quality, rooftop restaurants for you to dine at each evening. Typical Moroccan cuisine is a blend of many of the different cultures that have lived and traded in the city throughout the ages. But what makes it truly spectacular is being able to dine whilst looking out across the city, watching with fascination at the lights and sounds that continue late into the night.
3. Go haggling in the markets
Marrakech has long been a traders town and the markets still offer an incredible atmosphere that is hard to find elsewhere in the world. In particular, Marrakech is most well known for its jewellery and clothing that are of very high quality and much cheaper than elsewhere. Just be sure to practice up on your bartering skills before you go. Haggling is a key part of buying anything at the markets in Marrakech, so don't let anyone take advantage of you!
4. Get pampered in style
One of the biggest reasons people choose to visit Marrakech is to take advantage of the wide array of modern spa facilities on offer all across the city. Marrakech really is a city of old and new and the new takes the form of modern, luxury treatment centres designed to leave you feeling relaxed and rejuvenated. All of the hotels recommended below offer state of the art spa facilities, so they may be the best place to start when searching for a way to unwind in style and comfort.
5. Take a cooking class
One fantastic way to really soak up the local culture whilst on your last minute Marrakech getaway is by choosing to go on a cooking class. Here, you get the chance to learn the skills necessary to make a whole host of local Moroccan dishes. Any good tour will first start with a trip to the local market where you buy your ingredients fresh from the merchants before heading back and putting them to good use.
Which hotel to choose for a last minute holiday to Marrakech
This hotel was designed with one goal in mind - absolute relaxation and comfort for all of the guests. And with incredibly modern, stylish rooms, as well as a whole host of pampering treatments on offer, they have achieved exactly this. By day, spend as long as you like relaxing by the large, outdoor swimming pool. And in the evening unwind in style when dining at their high-quality onsite restaurant.
As a part of this 8-day Moroccan adventure, you get to stay in two of Marrakech's most desirable hotels, each one offering pastries and homemade mint tea upon arrival. The first is most notable for its stylish rooms and indoor swimming pool. The most appealing aspect of the second is its prime position amidst the spectacular Atlas mountain range.
Guests love the stylish Kenzi Club Agdal Medina Zad design with sleek contemporary luxury. The hotel combine a full range of leisure activities with the best contemporary design. The hotel offers a shuttle bus to the city centr of Marrakech. You will find the buzzing Jemaa el-Fnaa sqare just 6 km from the hotel.
Practical information about last minute holidays to Marrakech
A place with buzzing markets and beautiful architecture
Marrakech is one of the most vibrant cities in Morocco, offering something for everyone. Days and nights can be spent searching for souvenirs and sampling authentic Moroccan cuisine at the city's world famous marketplaces and souks, while a visit to the Koutoubia Mosque, which dominates Marrakech's skyline, is a must. Wander around some of the many museums the city has to offer, and marvel at the stunning architecture and art within them. For an authentic Moroccan experience, Marrakech is the place to head to.
Shop in the souks and markets
UNESCO World Heritage site Djemaa el-Fna marketplace is the main square in Marrakech, and is filled with food stalls and street performers. The site comes alive after sunset; inhale the delicious aroma of cooking kebabs as you file past snake charmers, fortune tellers, boxers and belly dancers, all performing to crowds of amazed onlookers. Sit by lantern light with a glass of freshly squeezed grapefruit juice and watch the shows.
Wander over to the souks in the Medina, just north of Djemaa el-Fna, and spend an entire day getting lost in the maze-like marketplace. Enjoy haggling over the price of clothing and textiles, spices and baskets, as well as authentic Moroccan cuisine such as cooked snails.
Visit the mosques and museums
Marrakech's fascinating mosques and museums are well worth a visit. The Koutoubia Mosque is an impressive sight on Marrakech's horizon; the four copper globes on top of the minaret make it this city's most recognisable symbol.
Marrakech's wide choice of museums certainly doesn't disappoint. The Maison de la Photographie houses an 8,000-strong collection of captivating photographs that were taken between 1870-1950, while the Douiria Mouassine holds a 17th-century reception apartment restored to its former glory, complete with intricate plaster and wood work. There is also the Dar Si Said Museum, showcasing beautiful 19th-century architecture and art, as well as a collection of artefacts comprising pottery, ceramics, weapons and a marble tub, which dates back to the 11th century.
What is the weather like in Marrakech?
In the height of the summer months, between June and August, the temperatures in Marrakech regularly exceed 100 degrees Fahrenheit, making it almost unbearable for many hours of the day. The best time to visit would be either September to November or from March to May. During these months, the weather is far cooler and more pleasant, reaching anywhere between 70 and 80 degrees Fahrenheit on most days.
What budget to plan?
If you're coming from the UK, then flights to Marrakech are surprisingly reasonable, and so is accommodation. We offer some truly astounding last-minute Marrakech deals, so sign up to our newsletter for the hottest deals on the best hotels on offer. Whilst there, you can expect to spend anywhere between £40 and £80 per day, depending on how much you plan to do there. Most sites are relatively affordable, but it's easy to spend lots more on clothes and jewellery at the famous Marrakech markets.
If you're looking for last minute deals to Marrakech, sign up to our site now and gain access to exclusive offers on handpicked luxury hotels with up to 70% off.
Discover more travel to Marrakech: holidays, sun holidays, short break, weekends, stays, last minute holiday deals.
FAQ Last minute Marrakech
With Voyage Privé enjoy holidays deals to Marrakech up to 70% off ! You can book until the very last minute, depending on availability.
If you book a room at Riad Maipa, you can enjoy a roof terrace with panoramic views, spacious rooms and excellent Moroccan cuisine. Spend a magical stay at Hotel & Ryads Barriere Le Naoura Marrakech 5* with its outdoor swimming pool, spa, children's club, restaurants while being a few steps from the Medina of Marrakech!
You just need to register online for free to access all our current sales. You can book holidays to Marrakech up to -70% even for a last minute departure !