Marrakech Booking : The best hotels & place to stay in Morocco



Table of contents
Great savings 🏷️ on hotels in Marrakech. Discover our offers up to 70% Off on Flight + Hotel. Book your hotel online now!
Booking Marrakech
Do you want to stay in Marrakech for your next trip? Here are our best plans to find the top hotels at the best prices
Discover our top 6 hotels for Marrakech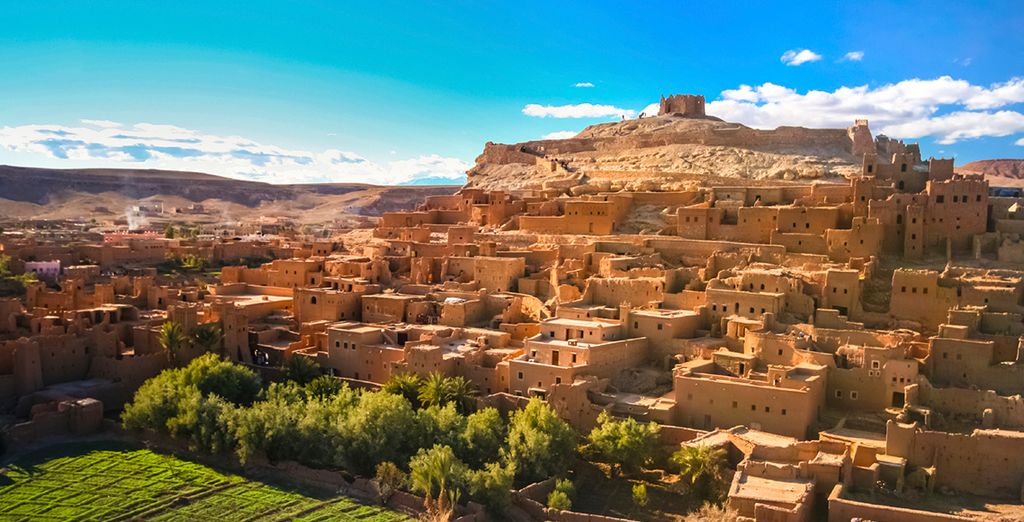 1. Hivernage Secret Suites and Gardens - 5*

For the ultimate luxury experience during your Marrakech holiday, consider staying at The Hivernage Secret Suites and Gardens. Perfect for romantic breaks, each suite has a range of amenities to enjoy. The hotel has a restaurant, swimming pool, fitness centre and 24-hour concierge.
2. Majorelle City Center Boutique Hotel & Spa - 5*

Located near the Majorelle gardens, this city centre hotel offers guests a relaxing atmosphere and fantastic service. With just eight exclusive guest rooms, this is the perfect location for those wishing to experience the vibrancy of Marrakech while being able to relax back at their hotel.
3. Kenzi Club Agdal Medina Hotel - 5*

The Kenzi Club Agdal Medina Hotel overlooks the breathtaking Atlas Mountains, offering guests amazing views from their rooms and from the various facilities on offer. As well as a full range of contemporary wellness facilities, there is a spa and a choice of stylish restaurants.
4. Safran et Cannelle Riad and Spa

Located in the heart of Marrakech, this beautiful boutique hotel offers an exclusive experience to its guests. With just seven uniquely designed rooms and a fantastic roof terrace, this is a brilliant choice of hotel for your Marrakech experience.
5. IBEROSTAR Club Palmeraie Marrakech - 4*

Nestled among the bustling streets of Marrakech, this luxurious club hotel offers the ultimate spa and pampering experience with its large pool and excellent staff. Perfectly placed for easy access to the city's main attractions, it is a fantastic choice for holidaymakers.
6. Riad Les Hibiscus

Sitting within the majestic walled Medina, this hotel is just seven minutes' walk from the main market of Marrakech. The hotel offers spacious rooms, fantastic facilities and very friendly staff.
Our reviews on Marrakech and its hotels: why make your booking there?
Marrakech is renowned for its wonderful climate, arts, gardens, ornate palaces, bustling souks and lively festivals. It has a vibrant and colourful culture, offering world-renowned entertainment and unforgettable experiences.
Things to do for families
Children will love exploring the city by horse and cart. You can easily find a horse and cart from Jemma el-Fnaa and don't be afraid to haggle on prices. The view will be completely different from anything else you've experienced and you will certainly learn a lot as you embark upon an authentic tour of this unforgettable city.
Things to do for couples
After enjoying a spa treatment for two, a local speciality that can be enjoyed at any one of our favourite hotels, consider a romantic stroll around the ruins of Badi Palace. There are plenty of ancient ruins to choose from in beautiful Marrakech, but Badi Palace can be especially romantic as it is possible to see past the ruins to the grandeur that once was.
Things to do for solo travellers
Consider joining a group tour or hiring a local guide to explore the city in as much detail as possible. Your guide will be able to point you in the right direction of the best restaurants and shops and will also give you plenty of insight into the majestic city's rich history.
How to make my booking in Marrakech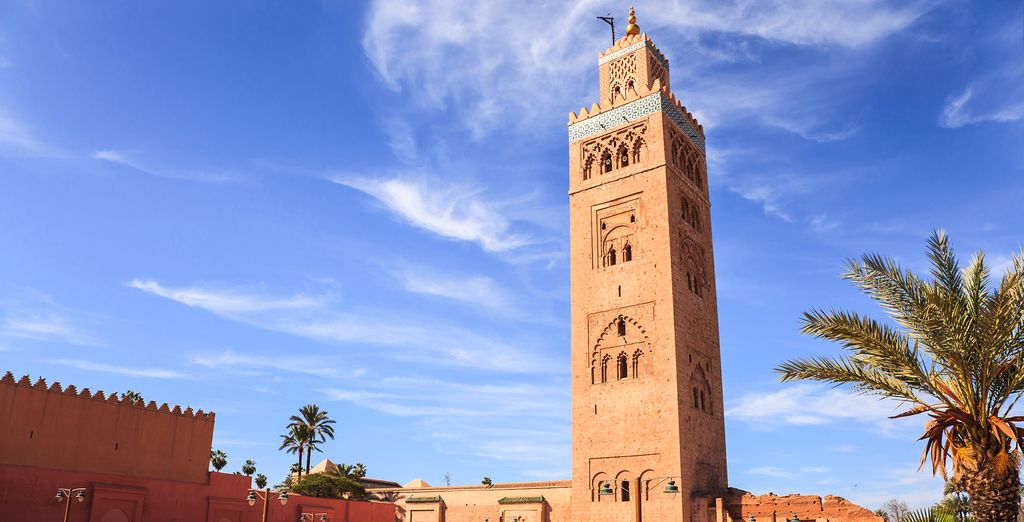 Make the most of Voyage Prive's offers, which can get you up to 70% off these exclusive hotels.
And if you book with Voyage Prive, you'll not only get the pick of the best hotels, you'll also have 24 hour support through the app, making sure you have the most relaxing holiday of your life.
The Different Ways to make my Booking in Marrakech
Book Flight and Hotel to Marrakech
Many of Voyage Prive's tours include the option to book your flight along with your hotel and tour.
Book Only Your Favourite Hotel in Marrakech
Make the most of Voyage Prive's specially curated hotels and only book the hotel you love before planning your own tours and flights.
To register with Voyage Prive click on the 'Join Now' button and sign up for free. If there aren't any current offers for Marrakech, make sure you sign up for reminders and you'll be the first to know when new offers become available.
The Best Places to Find Hotels
Gueliz is the modern area of Marrakech, so it is perfect for booking a contemporary hotel with plenty of amenities.
The Hivernage Quarter is located close to the Old Town but is a modern space with wide streets and beautiful buildings.
The Palm Grove Quarteris decorated with many beautiful palm trees and is popular with many as an escape from the busy city, with golf courses and private villas filling the area.
The Mellah used to be the Jewish quarter and is a haven of various architectural styles and plenty of shops and sites to explore.
Presentation of Marrakech
Marrakech is the heartbeat of Morocco, where palaces and mountains sit alongside each other and Gnaoua drums can be heard from the Jemaa el Fna Square - the most colourful and impressive marketplace in the world.
The city offers delicious cuisine and fantastic weather all year round, making it a great place to visit in all seasons. There is a busy atmosphere in the city but the luxurious restaurants and hotels offer an escape from the hustle and bustle.
The Four Best Things to Do in Marrakech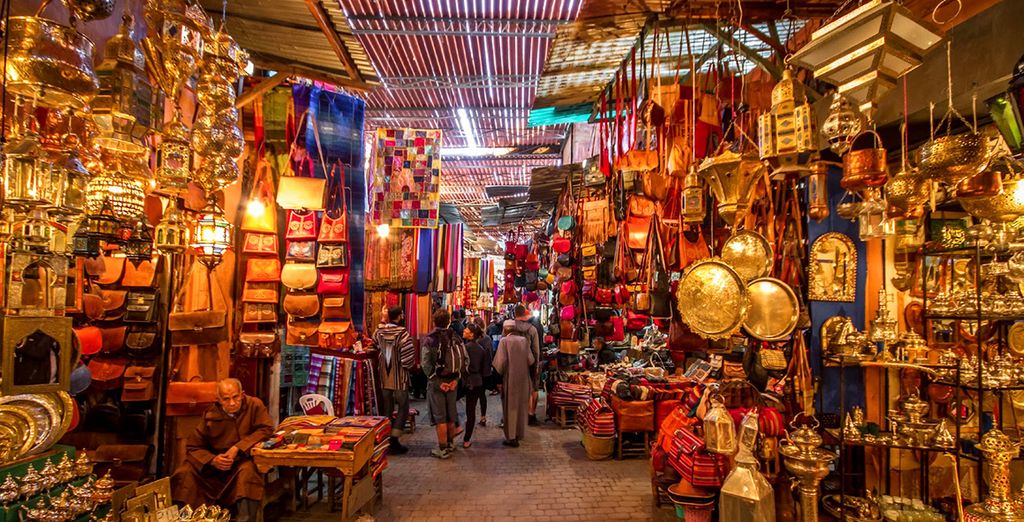 1. Jemaa el-Fnaa is the biggest marketplace in the world. Offering amazing deals and local crafts, simply walking through this market is an amazing experience.
2. Koutoubia Mosque is a 12th-century mosque and gardens and one of the most beautiful spots in all of Marrakech.
3. The Menara Gardens were created in the 12th century and still offer guests the opportunity to view flora and fauna from around the world while relaxing and unwinding.
4. The Marrakech Museum offers visitors the opportunity to discover more about the rich history and culture of this amazing city. Perfect for children and adults alike, it is a great way to get out of the heat for a few hours and learn something new.
Discover all our offers to Marrakech : Sun holidays, last minute, holidays, weekends, stays, booking.