Guide to the Greek Islands
Explore Greece with Voyage Privé's Greece travel guide: find out the best places to visit, when to go, tips & advices. Plan your trip with our FREE travel guide
Travel to Greece
Home to a wealth of culture and history and blessed with beautiful scenery and fantastic weather, Greece is not to be missed. On the mainland, Athens is a cultural hotspot. Central Greece also boasts a number of stunning beach resorts and other lesser-known historical centres. Olympia, the birthplace of the Olympics, offers stunning archaeological insights whilst Meteora provides stunning views. As well as the mainland, there's a collection of beautiful islands, each with unique character and charm.
Famed for its blue and white villa vistas, Santorini is mecca for travellers with an eye on the perfect shot, and a romantic favourite for couples. Mykonos and Zakynthos offer a mix of vibrant nightlife and relaxed daytime activities, suitable for families, groups and couples alike. A family favourite, Rhodes balances history and culture in Rhodes Town with relaxed beach living and, for social travellers, buzzing nightlife too. The islands and mainland are well connected by a network of ferries and boats, making island hopping and multi-destination trips a breeze. Just a few hours from London and centrally placed for travel from across Europe, Greece is a favourite holiday destination.
The top 10 things to see/do on site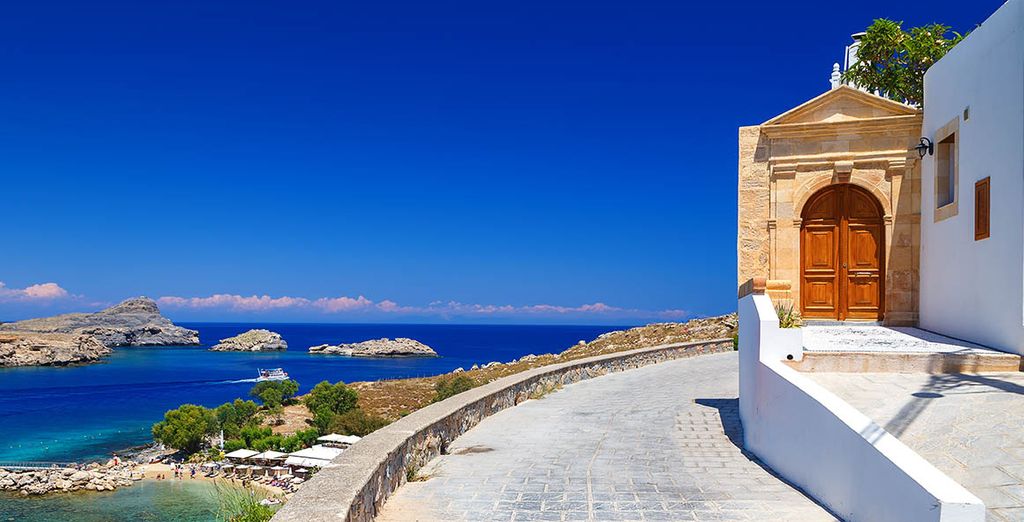 1. Experience the Acropolis

Any guide to the best things to do and see in Greece would be incomplete without a mention of the Acropolis. Easily visible from Athens, Greece's capital city, the Acropolis is a striking monument to the civilisations of the Ancient Greeks. Included in Unesco's World Heritage List, the complex was designed by statesman Pericles and built on a hill over Athens between 13th and 5th centuries BC.
2. Wander the Old Town in Rhodes

Visit the island of Rhodes and get lost in the cobbled lanes of the old town. Here, medieval, classic and Ottoman era historical relics sit behind a deep moat and high walls. Pick up authentic souvenirs and enjoy traditional cuisine before heading to beachfront bars of the new town for a vibrant social scene.
3. Revel in beauty in Santorini

The glorious blue capped white buildings of Santorini have graced many a holiday album and social media feed. Although very busy in high season, Santorini is a beautiful traditional island and the perfect place to see beautiful Greek sunsets all year round. Visit in low season for a more peaceful experience. Oia is for perfect sundowners and sunset vistas.
4. Celebrate festivals and fiestas

Visit Greece during one of its many seasonal celebrations for an authentic holiday experience. The Patras Carnival is as popular with locals as with those who travel far and wide to join the celebrations. Lower key are the many Saint days celebrated year-round across the country. The Hellenic Festival in Athens is a great way to celebrate music, theatre and dance in the home of culture.
5. Muse over history in Athen

The National Archeological Museum of Athens boasts a catalogue filled with ancient Greek art. Here you will find relics of Ancient Greek historical, artistic and cultural importance. With over 11,000 exhibits, it is the largest museum in the country and housed in a striking neoclassical building built at the end of the nineteenth century. Marvel over sculpture crafted between the seventh and fifth centuries and wander halls of Roman vases and relics.
6. Visit the oracle of Delphi

Situated 180km from Athens, Delphi, like the Acropolis, is listed by Unesco as a World Heritage Site. Historically a site for pilgrims to visit to honour the Ancient Greek God of music, light, healing and prophecy, Delphi sits alongside Mount Parnassus. Visit the temples, stadium, ancient ruins and theatre or look to the Oracle at Delphi for wisdom and knowledge.
7. Gaze on engineering brilliance at the Corinth Canal

Started by the ancient Romans under Emperor Nero and finally finished by the French in the 19th century, the Corinth Canal cuts through rock for 6km with rock faces of up to 90m in height. The brave amongst you can tackle the Zulu Bungy Jump - a novel way to take in the sights.
8. Tickle your tastebuds with traditional delights

Greeks enjoy a number of traditional dishes, sweet and savoury. Take a food tour around Athens or simply work your way around the many traditional restaurants and brasseries at a slower pace throughout your holiday. Enjoy Moussaka, Souvlaki, Spanikopita and Gyros, washed down with local wines or beers. Finish off with delightfully sticky Baklava.
9. Climb the mount of legends

Mount Olympus stands tall above the Aegean sea in the north east of mainland Greece. Just under 3,000m above sea level at its peak, the best time to climb is between June and October. A two day hike can be broken at one of a number of mountain refuges. Travel to Litochoro and climb alone or join one of the many group hikes arranged by climbing groups in the area.
10. Spot wildlife in its natural habitat

Visit the wetlands of Lake Kerkini in Northern Greece to see flamingos and water buffalo in their natural habitat. The Kri Kri ibix lives near the Saamira Gorge in Greece, whilst in Zakynthos at certain times of year you will find loggerhead sea turtles nesting. Learn about native wolves and bears in the sanctuaries at Nymfaio and Agrapidia.
When to visit Greece

With so much to do and such a range of recommended trips and activities, there's something for everyone all year round in Greece. A fantastic climate means you'll enjoy warm weather from June to September, which is a great time to visit the many beaches. Visit at the start or end of the season to enjoy a slightly quieter trip. You'll find prices are a little more favourable outside of school holidays too. April and May is a great time to enjoy wild flowers and green vistas. The cooler weather is also suited to more athletic pursuits or for cultural and historical touring. October is often stormy, but lucky travellers may enjoy late summer sun. December to March is cooler, but Greece is often blessed with crisp and clear winter days.
How to get there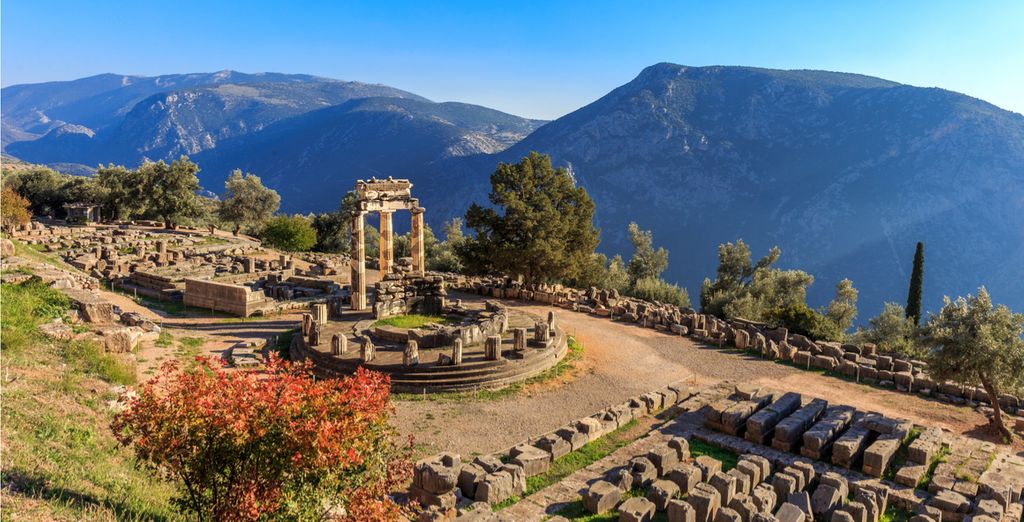 The easiest way to travel to Greece from most European (and non-European) destinations is by plane. Greece has a number of well-serviced airports which offer easy connections to many main transport hubs. Travel from Manchester or London takes around four hours whilst travel from Rome is just short of two hours. Flights from Paris and Madrid will reach the capital in around three hours. Leisurely travel by rail is possible from across Europe. Ships and ferries also travel from across Europe and between the many Greek Islands.
European travellers have free movement across the union, making holidays to Greece fuss free. US citizens may also enter for up to 90 days without a visa, although you must have six months left on your passport. UK travellers should be aware that visa requirements may change following Brexit in early 2019.
Which hotel to choose?
Greece is home to so many beautiful hotels, it is difficult to choose a favourite. Stand outs include the stylish and contemporary hang out
The Artist in Athens

Rooms are simple and modern in their design, and the hotel enjoys an enviable city centre location. The artistic residence includes a restaurant and lounge bar, massage area and sauna.
Rodos Palace Resort 5*

Near to the mix of modern and historical lanes of Rhodes Town, Rodos Palace Resort is a luxury resort perfect for the most discerning of travellers. Close to the beach and to beautiful gardens, the hotel has a number of pools, including facilities for kids.
Mystras Grand Palace Resort & Spa 5*

Located near Sparta, Mystras Grand Palace Resort & Spa is a stunning resort complex that is classically greek in style. Enjoy five star luxury including mountain or garden views, a large pool with sun terrace, spa and tennis court facilities.
Culture in Greece
The Orthodox Church is the largest religion in Greece and the majority of the population identify with the church. Huge celebrations take place at religious festivals, none more so than Easter, where traditions include processions and the baking of traditional sweet bread, tsoureki.
Carnival season takes place three weeks prior to Lent, with smaller events leading up to one main week of celebrations. Costume parades, feasting and dancing are amongst the celebrations enjoyed in large towns and small villages alike.
The Hellenic Festival in the summer sees Greece host a fantastic line-up of music, theatre and dance. Events are held in Athens in the Odeon of Herodes Atticus, in front of the Acropolis as well as in the Theatre of Epidavros, two hours outside of the capital city. The Hellenic Festival runs between June and August.
Local practices and customs
The Greeks are relaxed and welcoming, so you're unlikely to offend. However, when visiting religious sites, cover your shoulders and don't wear shorts.
The Greece map

Our practical advice for Greece
What to bring back from Greece

A staple of the Mediterranean diet, olive oil is one of Greece's most popular souvenirs. Take home oils in their pure form or in traditional soaps and beauty products. Fashion conscious travellers will love the traditional leather sandals whilst the more superstitious may wish to invest in blue eyed ornaments. Traditional in Greece, blue eyed talisman symbols feature on jewellery, t-shirts and ornaments, and are surprisingly aesthetically pleasing.
What currency to use?

Greece is one of the many countries that use the Euro. Cash machines and card payment options are generally widely available, although you may wish to take cash with you if you're visiting more rural areas.
Time difference

Depending on the time of year, Greece is between one and two hours ahead of London.
What language is spoken in Greece?

The Greeks' native language is (you guessed it!) Greek, but English is widely spoken in most areas.
How to get to the Greek Islands

Most Greek islands have their own airports, so it's easy to travel to your destination. Should you wish to move around, between islands or back and forth from the mainland, there is a regular ferry network.
What to pack for your holiday in Greece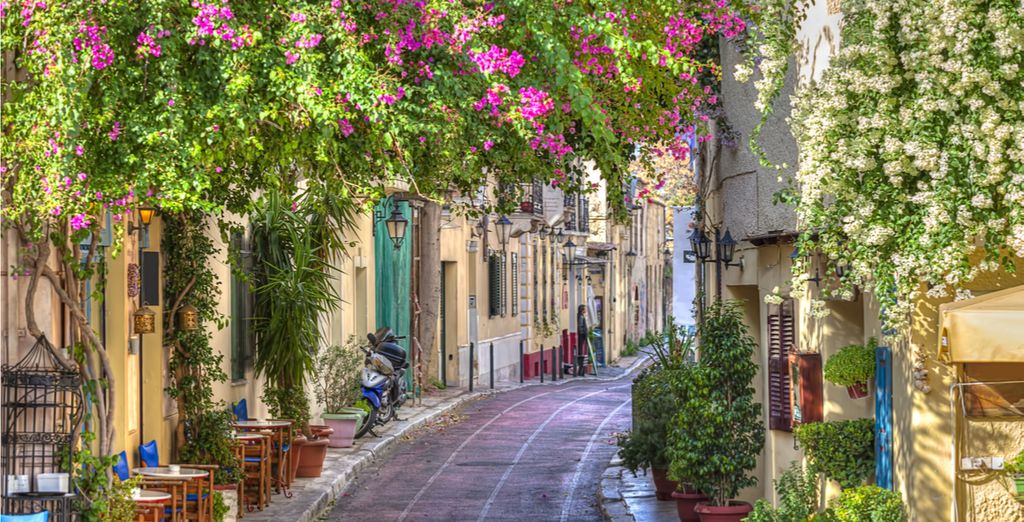 Beach essentials are a must, but remember to pack cover ups for visits to religious cultural sites. Active travellers should pack trainers or light walking shoes for hikes and climbs.
How long to stay

A long weekend in Athens is just enough time to enjoy the main sights, but more leisurely sightseeing is best enjoyed over a week or two. Enjoy a relaxing break of any length on the islands - you're bound to come back for more.
Restaurants on site

The Greeks are great cooks, and their Mediterranean diet is famed worldwide for its health benefits. Enjoy sumptuous aubergine Mousakka, a layered dish with creamy cheese and tomato sauces. Pastries are a firm favourite too. Baklava baked with local honey and nuts of many kinds is the perfect after dinner treat.
Family activities for teenagers, children, babies

Beach holidays are an easy crowd pleaser, and you'll find plenty of places to enjoy relaxed family time, whether in Halkidiki on the mainland or on Rhodes or Zakynthos. Teenagers with an interest in history will love the relics on show in Athens, whilst a boat trip to see dolphins is bound to be a crowd pleaser with the little ones.
Greece: What budget to plan?

The cost of living in Greece is not dissimilar to the UK, if a little cheaper. A delicious meal will come in at around 20 euros per head, whilst finer dining will be around 60 euros each. We recommend a daily budget of 100 - 200 euros, including accommodation. Cocktails are around ten euros.
Environment

Greece is a mountainous country, with varied natural landscaped vegetation. Over 6,000 plants have been recorded in Greece, a country home to a variety of flora and fauna. Some areas are dry, particularly in the summer months; southern Crete, for example, is semi-desert. The north is wetter, particularly on the border with Bulgaria. Mount Olympus national park and the Zagori region are home to stunning natural landscapes typical of the region.
Additional practical information

Remember to pack European adapters for appliances you're bringing from home. With so many great things to do and see, a guide book is a must. The locals will appreciate you making an effort, so consider a phrase book as well.
Discover more travel guides for unforgettable holidays.