Morocco Holidays 2022/2023



Table of contents
Casablanca, Marrakesh, Fes, Agadir... Golden beaches and the Grand Atlas Mountains - whether it's reminiscing about the movie classic, exploring the cities, soaking up some sun, or climbing the highest peaks, the kingdom of Morocco has something to inspire everyone. Discover our unique plans to find flights + luxury hotels at discounted price for perfect holidays.
Moroccan arts and culture
Casablanca, the 1942 'golden age' classic, is a film named after, and set in, Morocco's largest city - Casablanca! Desert towns such as Ouarzazate and Merzouga are two other Moroccan locations often used during filmmaking by Hollywood production teams. Morocco has a diverse range of arts and culture celebrated throughout its cities, with festivals such as the Essaouira Gnaoua and World Music Festival promising an annual treat of traditional Moroccan music. Further celebrations of Moroccan sound include performances by The Master Musicians of Jajouka, and the Fez Festival of the World Sacred Music, making holidays to Morocco the vibrant choice.
Marrakesh, Meknes and Medina of Fez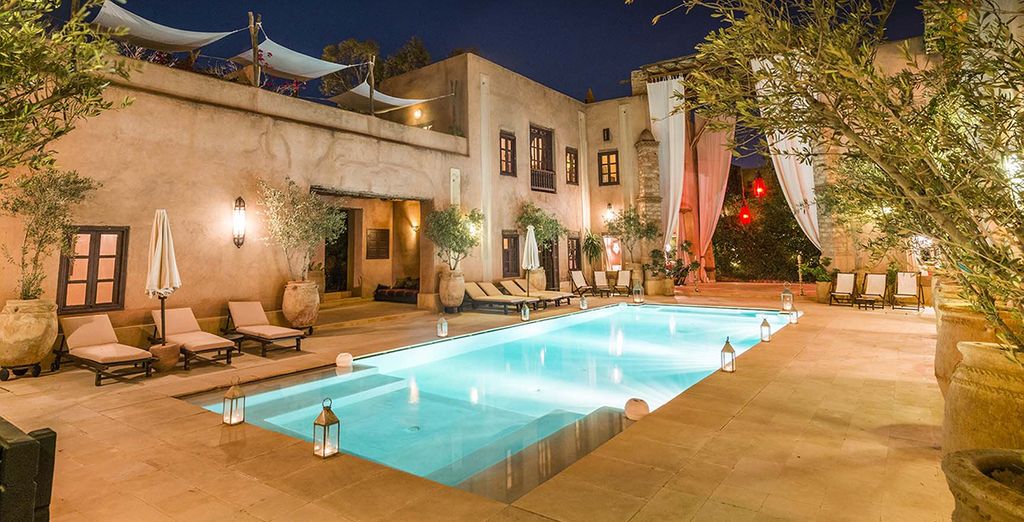 Morocco's cities, rich in ancient architecture and historic culture, provide a wealth of attraction to their visitors. Marrakesh, one of Morocco's former imperial cities, has the country's largest traditional market, as well as several museums preserving the local heritage - such as the Museum of mouassine Douiria Derb el Hammam, displaying cultural paraphernalia, music and traditional creative artefacts; and the Marrakech Museum, housed in the Dar Menebhi Palace.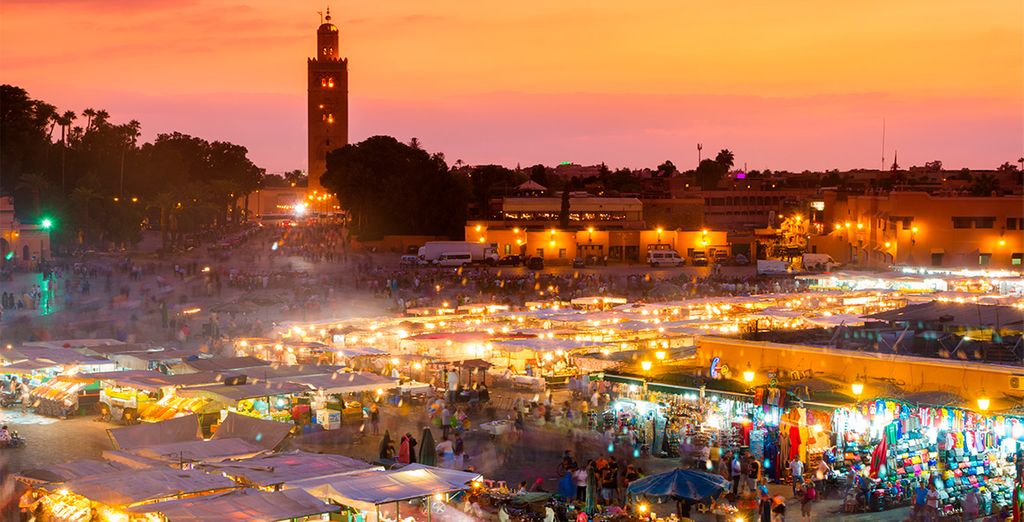 Marrakech is the most popular city for tourists visiting Morocco and it's not hard to see why - gorgeous, well-appointed resorts offer total relaxation just a few miles from the city centre, while those who want to live in the heart of the action will find plenty of boutique local B&Bs, called souks.
The main attraction here is Djemaa El-Fna square, the lively heart of the city, where you'll find stalls selling everything from piping hot local snacks to carpets, leather goods and spices. While it's fun to visit during the day, at night this square really comes to life, with street performers and entertainers around every corner and plenty of cafes where you can sit and watch the action.
Discover our holidays to Marrakech.
The city of Meknes hosts an array of ancient mosques open to its visitors. The Grand Mosque housing an additional historic library which is still open to the public today. Meknes also boasts a UNESCO site at Volubis. The ruins of a Roman city still drawing people in.
Then there's the country's cultural and spiritual centre, Medina of Fez. This city is on the World Heritage List, preserved and protected by this highly-regarded status, and offers a world of Moroccan culture just waiting to be explored.
Morocco's labyrinths of stalls and vendors that litter the winding, inter-connected streets, provide an authentic shopping experience you'll never forget. Other wonders like the 'Wind City of Africa', Essaouira - offering a peak at the port's traditional culture, and known for activities such as windsurfing - provide a glimpse into the true nature of Morocco's cities.
Grains of sun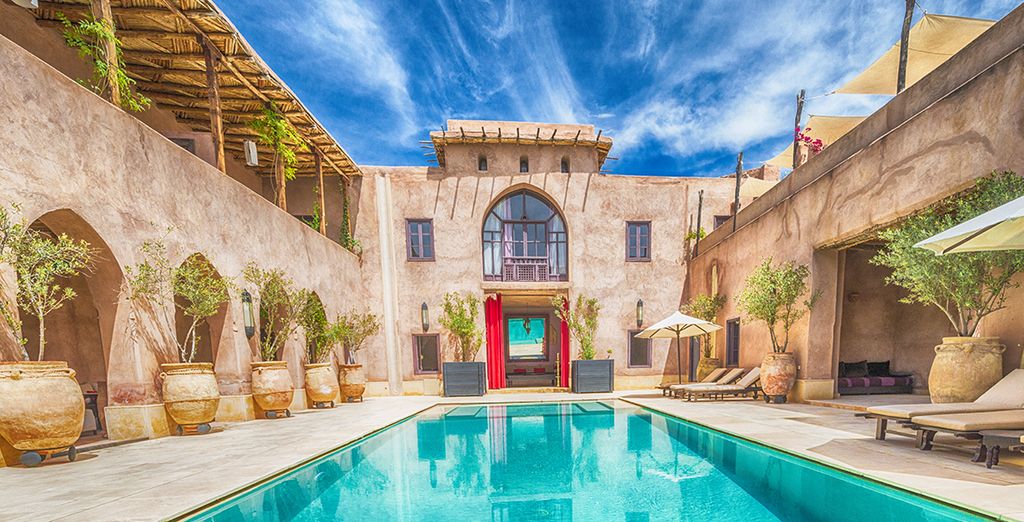 The spring and summer temperatures in this North African country are perfectly suited to sunny coastal pursuits. Morocco's beaches gracing both the Atlantic Ocean and Mediterranean Sea. Legzira beach, famous for its natural arches, lies between the towns of Sidi Ifni and Mirleft, local treats including fresh fish and Moroccan tagine. Paradise Beach, situated slightly south of Tangier's medina, promises sweeping golden sands and can be reached by horse-drawn carriage. Asilah is a seaside town where many locals can be seen soaking up the sun on its beautiful beach, providing the chance for a truly authentic Moroccan holiday.
Feel the sand between your toes...
It's not just city break action that Morocco has plenty of, it's also got beautiful beaches just an hour or two from Marrakech in Essaouira, the perfect place to get away from the noise and bustle of the city. You'll find winding streets to explore and plenty of small, family-run restaurants where you can enjoy a traditional dish like tagine, a spiced stew.
Morocco also features plenty of desert, and for many travellers a trip isn't complete without a camel ride or a visit to a traditional desert camp. If you're feeling brave, you can even book an excursion to drive a quad bike across the dunes!
Discover our holidays to Essaouira.
The peaks of the kingdom
The Atlas Mountains are a mountain range stretching throughout Morocco, Algeria and Tunisia, the highest peak, Toubkal, rising in southwestern Morocco. Some of these mountains border the Sahara desert and even feature ancient volcanoes. The Rif Mountain range in the northernmost part of Morocco is a lesser-known gem, perfect for those feeling partial to a climb.
Natural waters
As well as the Atlantic Ocean and Mediterranean Sea, Morocco is home to many other, often stunningly beautiful, natural waters. Such as the Ouzoud Waterfalls, Ourika Valley and the Todgha Gorges. Other natural water features worth visiting include the Caves of Hercules, its sea-opening known as 'The Map of Africa'.
Top food to try in Morocco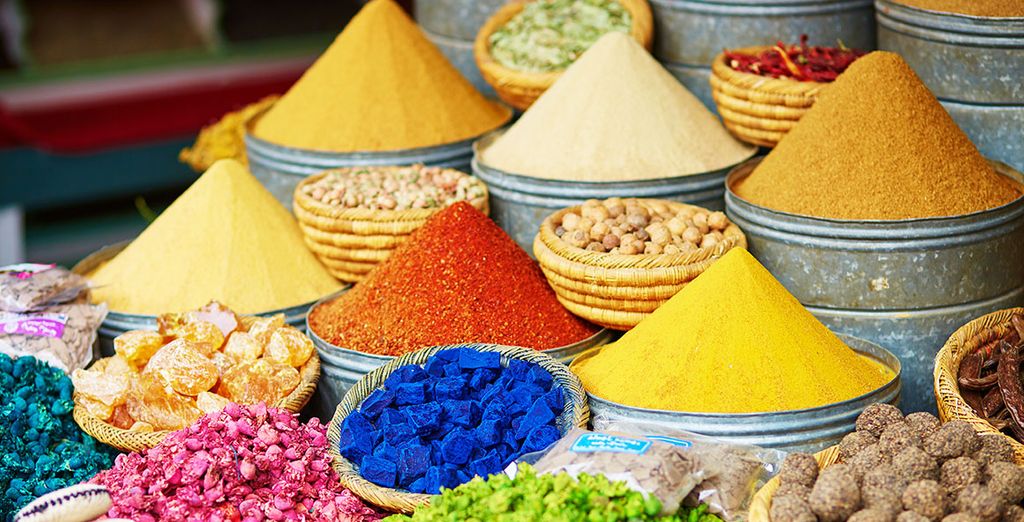 Moroccan food is a melting pot of different cultures, with influences from Berber (Imazighen), Arab, Jewish, and French cuisines. Catering for meat-eaters, vegetarians and vegans, as well as those seeking foods which are gluten-free.
Typical dishes include:
tagine, a variety of slow-cooked savouries,
couscous - a staple of the traditional Moroccan diet made from crushed durum wheat, often served with stews,
zaalouk - made from tomato, garlic and aubergine; all of which are sure to brighten up your plate.
Many Moroccan foods are rich in flavour, herbs and spices, and are well worth a try, should you have adventurous taste buds. For those who prefer the flavours of home, there are an array of familiar foods, such as freshly baked breads, which will perhaps even inspire a little taste for adventure!
Mint tea is the drink of choice for many locals throughout Morocco, and there are an array of delicious sweets on offer, such as briwat - a delicate almond pastry; and shebakia - a honey-dipped cookie made from sesame seeds. Authentic Moroccan foods can easily be found throughout both the areas looking to cater for visitors, and those which steer off the beaten track.
Biodiversity of Morocco
Morocco is part of the Mediterranean basin. Which is considered to be an area of conservation priority. Whilst many species are currently endangered, creatures native to the area include a wide variety of birds, the Barbary lion (a national emblem) and the Barbary leopard. As well as a whole host of exotic plants, such as cacti.
Cultural considerations during your holidays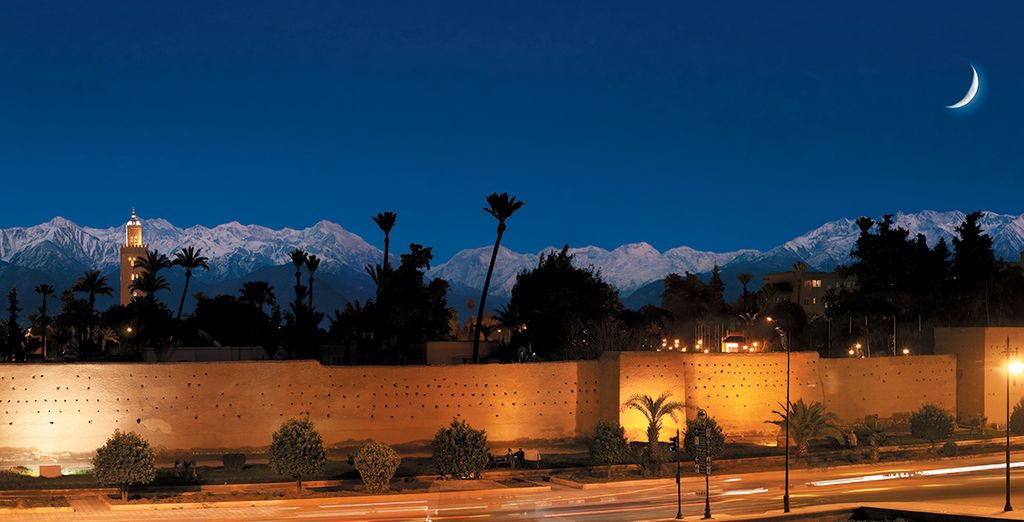 Whether camel-trekking in the Sahara desert, getting to know the city streets, or sunbathing on the sandy beaches, it may be useful to consider some of the cultural nuances specific to Morocco, in order to truly make the most of your experience:
Carry cash for your holidays
Many areas of unspoilt beauty, be it natural, or made by ancient civilisations, are free from cash machines, and it can therefore be useful to be prepared for any purchases you may wish to make whilst on your trip.
Go with the flow
Being flexible with your expectations of things like opening hours can help you to fully immerse yourself in the Moroccan culture.
Relax with respect
It's considered respectful in Morocco to keep shoulders (and for women, legs) covered, although, as a tourist city, Marrakesh is a little more used to people showing some skin! Please note that during Ramadan you have to respect a dress code, cultural and religious habits. Visit Morocco during this period is also a unique experience. Make sur to know when Ramadan is in the middle of the year.
Visiting the kingdom of Morocco
For those taken by the magic of Morocco, simply sign-up to browse all available offers and take advantage of our limited edition deals on holidays to the kingdom of Morocco.
Whether you are looking for an exciting city break or a relaxing beach holiday, our exclusive offers on handpicked luxury Moroccan escapes will mean you get a great deal, thanks to our exceptional discounts.
Discover our exclusive offers in Morocco: all inclusive holidays to Morocco, holidays to Agadir.
FAQ Holidays Morocco