Sun holidays in Marrakech



Table of contents
Known as the Red or Rose City, Marrakech is one of Morocco's most vibrant and exciting cities, making it a hotspot for those seeking culture, adventure and sun. Marrakech is blessed with pleasant weather for most of the year, and with only a three hour flight from London, it also makes the ideal location for a weekend break or winter holiday for those looking for a destination outside the norm.
The Voyage Prive travel expert's opinion on travel to Marrakech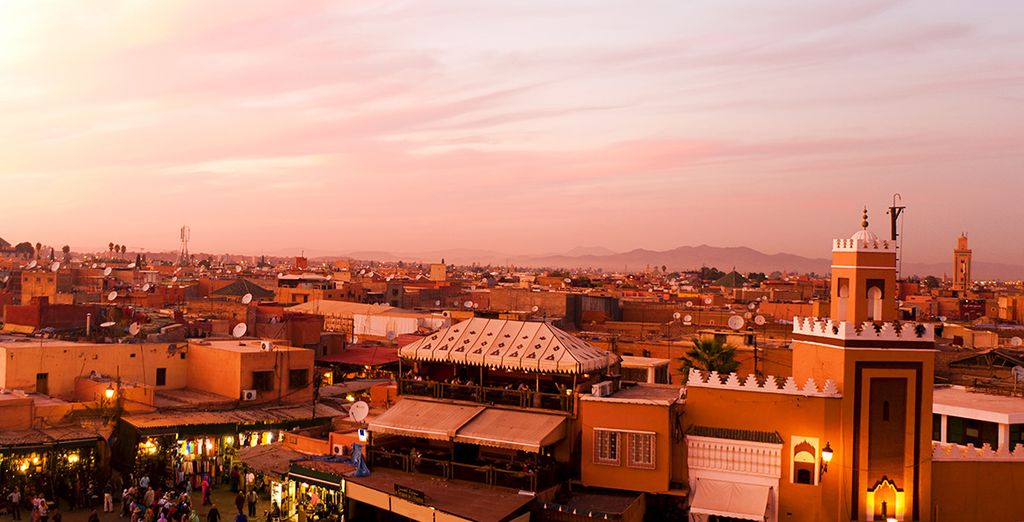 One of Morocco's four Imperial cities, Marrakech gets the name 'Red City' from the beaten clay colour of its historical buildings and ramparts. The city is many things to many people, known for its climate, festivals, enchanting gardens, ornate palaces and bustling souks. The city is a hub for culture and entertainment. Its famous, traditional medina – the heart of the city – offers visitors an authentic experience of local life in Morocco. It also provides the perfect base for those looking to combine relaxation with adventure. Marrakech is well placed for thrill seekers looking to explore new landscapes and cultures with day trips and excursions to the Atlas Mountains and deserts.
Top 5 things to do / see in Marrakech for sun holidays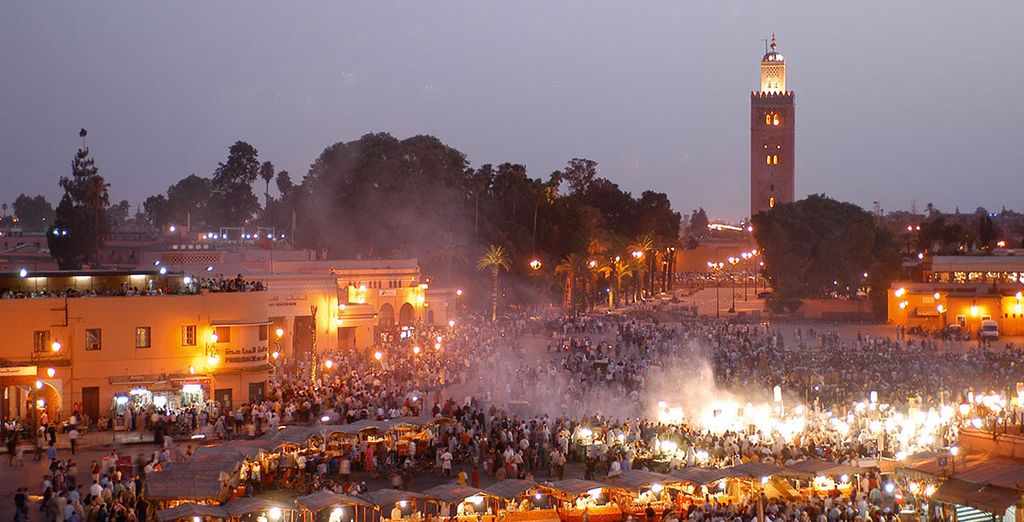 1. Wander through the Menera Gardens
Built in the 12th century, the Menera Gardens provide visitors with unspoilt views of both the Atlas Mountains and the famous Koutoubia Mosque. This World Heritage Site may receive fewer tourists than the nearby Jardin Majorelle but this makes for a more laid back, peaceful experience. Spend an afternoon wandering through the olive trees, gazing out across the crystal clear water and savouring the gardens like a true local.
2. Marvel at the Koutoubia Mosque
With its ornate, highly decorated architecture, the Koutoubia Mosque is truly a spectacular sight that cannot be missed. Dating back to the 12th century and featuring a 77-metre tall minaret, the mosque is a perfect example of the city's fascinating history, religion and culture.
3. Trek the foothills of the Atlas Mountains
It is hard to ignore the spectacular rolling summits of the Atlas Mountains that provide a backdrop to the ancient city. If you're looking to get out of Marrakech for a day or two and explore then there are many local companies that offer tourists trips to the foothills. Here you can experience the traditional villages and beautiful waterfalls of the Atlas valleys. A must if you're seeking a touch of adventure.
4. Take a trip to the Moroccan desert
Another option if you're looking for an experience outside of the city is to take a trip to the Moroccan desert. Again, there are many local companies who can offer excursions that cater for all level of adventure-seekers. With quad biking, camping and camel rides there are a range of ways to experience this beautiful Moroccan landscape.
5. Get lost in the traditional medina
No holiday to Marrakech is complete without getting lost down the old, winding streets and crumbling passages of the city's famous medina. With its thriving souks (marketplaces), riads, and local eateries, visitors flock to Marrakech's ancient heart to experience its hustle and bustle. This is an experience not to be missed.
Which hotel to choose in Marrakech?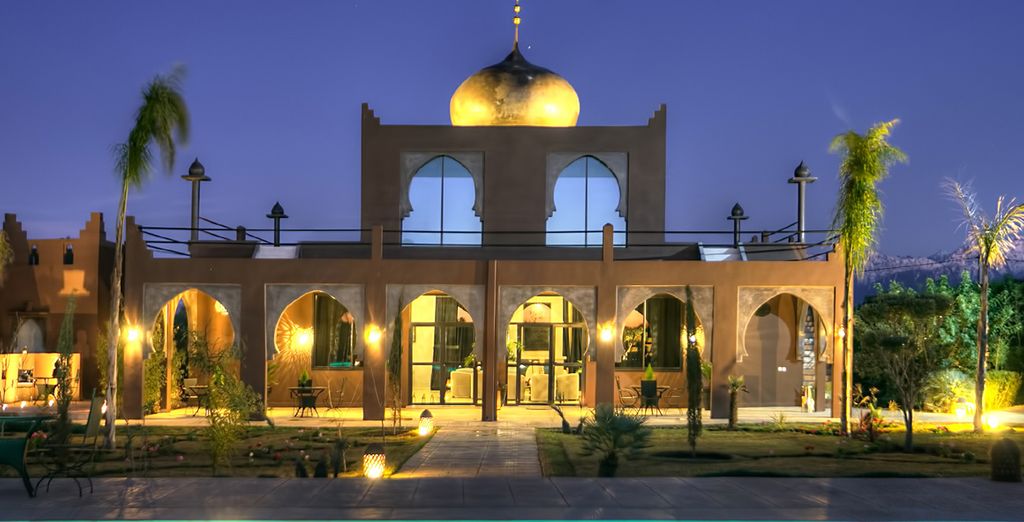 Riad Sapphire and Spa
This luxury riad is located in the heart of Marrakech, with only a 10-minute walk to the medina's famous Jemaa el-Fnaa square. Chicly decorated with Moroccan craftsmanship, this hotel benefits from thoughtful touches and the talents of local artisans. Guests can make use of the riad's refreshing pool or luxurious onsite spa for the ultimate relaxation. With the medina on your doorstep, this beautiful hotel is perfectly placed for guests looking to enjoy a truly immersive experience of the city.
Palais Amador 4*
This family run, boutique hotel has an authentic, intimate feel, with only 10 bedrooms on offer, each uniquely designed. Guests benefit from a truly traditional experience with Palais Amador's ornate Hispano-Moorish architecture and furnishings. An excellent restaurant is on hand to offer both traditional Moroccan and international cuisine. Situated 30 minutes from Marrakech, guests are never far from the excitement, culture and history that the city has to offer.
Kasbah OIgoudar Boutique Hotel and Spa 5*
Set against the backdrop of the neighbouring Atlas Mountains, this boutique hotel boasts exquisite Arabic architecture and luxurious touches throughout. Members can enjoy a stay in a superior room, all of which are complete with air-con and enjoy an idyllic garden view. Guests will be spoilt for choice with the array of activities on offer including badminton, water polo and horse riding. Those looking to soak up some culture can also enjoy one of the many workshops on offer, in subjects ranging from gardening to Arabic. With a 30-minute drive into Marrakech, this hotel provides the perfect balance between relaxation and exploration.
Practical information about Marrakech during sun holidays
What is the weather in Marrakech?
Marrakech benefits from a hot, dry climate all year round, making it a viable destination whenever you're planning to book your holiday. For the true sun-worshipper, temperatures can reach a scorching 43° during the summer months of July and August. We'd recommend travelling between March and May, before the summer's had a chance to truly kick in, with temperatures sitting at a much more bearable 25°. If you're looking for a chance to explore this majestic city away from the glare of the sun then you'll be pleased to hear that Marrakech also makes an excellent winter destination, with temperatures sitting pleasantly in the low 20s around January.
What budget to plan?
With a trip to Marrakech, it's possible to experience luxury without breaking the bank. Travel, food and accommodation are all incredibly reasonably priced, meaning you're well placed to splurge here and there should you want to. Tourist attractions are generally very cheap or provide free entry, meaning it's possible to experience this beautiful city without spending a fortune. Of course, if you're looking for something slightly special then Marrakech provides no end of luxury spas, r
Discover more travel to Marrakech: holidays, last minute, short break, weekends, stays, sun holidays.