Morocco Sun holidays



Table of contents
Situated in North Africa, Morocco has been a popular destination for many years, appealing to lovers of culture, adventure, food and more. While most will think of Morocco as a distant land, it's located only 8 miles from Europe, and is known as "the extreme west" because it is the westernmost country in the Arab world.
Travellers visiting Morocco will find a destination filled with rich culture, fascinating heritage and delicious food. Not to mention the beautiful sights. Here are some of the reasons we think you should visit Morocco.
The Voyage Prive travel expert's opinion on travel to Morocco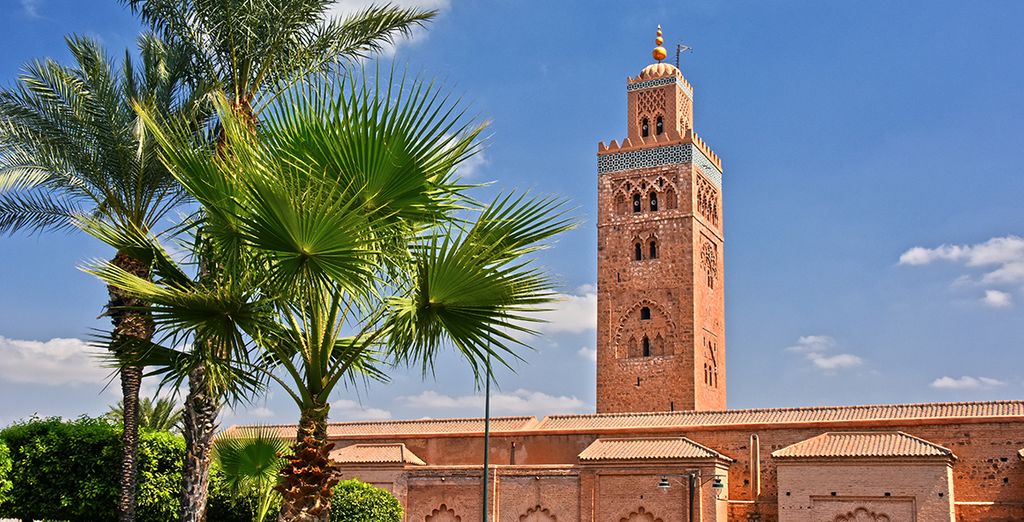 Food
Morocco is known for its delicious cuisine, and it's not surprising considering the amount of spices available in an average Moroccan kitchen. Bread lovers rejoice - bread is also plentiful there, and they have several different popular types for you to try, including msemen, khobz, and baghrir.
Food is varied, rich and delicious, with local delicacies differing depending on which part of the country you are in, for example look for seafood specialities near the coastal towns. Plus, if your tastebuds aren't quite as adventurous as you are yet, you'll find lots of different sandwiches, pizzas and pastries too.
Scenery
The breathtaking views are reason alone to visit Morocco. Take a break from the vibrant buzz of the cities, and head to the desert in just a few hours. There you can camp under the stars, which are not overpowered by light pollution, and take a camel ride through the dunes!
What's more, as you travel to the desert, you'll pass through dramatic mountain scenes that are starkly in contrast with the warm colours of the dunes. The Atlas Mountains cut right through the country, forming a beautiful shift in scenery. If you're a climber, you can even attempt to climb Jebel Toubkal, an unmissable 4167m adventure.
Markets
Featured in almost every city, Morocco has some of the best and most colourful markets in the world. You will find absolutely everything you were looking for and things you didn't even think to look for there - spices, jewellery, pottery, metalwork, leather, copper, carpets, and so many different foods to try. Each market will give way to new treasures and experiences.
Top 5 things to see in Morocco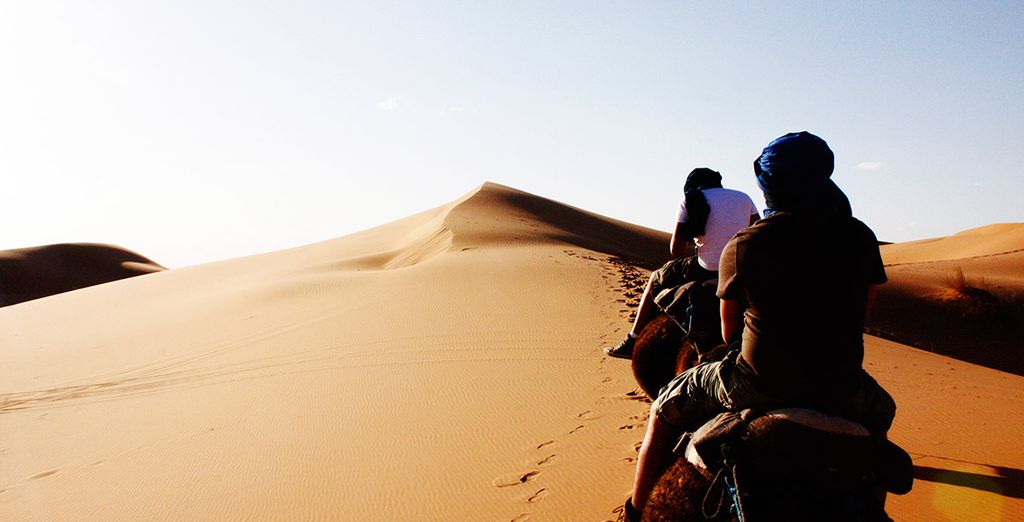 1. Visit Fes
The oldest city in the whole country, and also home to a World Heritage site - the Medina, which is also known as Fes el-Bali. Incomparable in its culture and vibrant sights, Fes should definitely be on your list of places to see. It's even work hiring a guide to show you around, as it can be quite cheap, but more than worth its weight in gold if your time is limited but you want to see everything worth seeing.
2. Sunrise in Merzouga
Watching the sun rise over the desert in Merzouga is one of those "once in a lifetime" experiences. You'll have to pay close attention, because a sunrise in the desert is fast and full of colours - pre-dawn greens, mid-sunrise yellows, and a fiery and intense red as the sand's colour ignites with the warm sunlight. Enjoy it alongside the diverse wildlife, including pink flamingos!
3. Explore Marrakech
Imperial City of Morocco Marrakech is absolutely necessary for a well-rounded trip to the country. The Jamaa el Fna, located in the centre of the city, is filled with exotic things, such as snake charmers, dancers, magicians, storytellers and people selling their wares. Stick around at night for the food market to appear, and taste some of the culinary delights of Marrakech.
4. Take some relax at Essaouira
There's no doubt you'll be happily exhausted after all the hustle and bustle of the cities, so be sure to stop at the beach in Essaouira to unwind and relax. You'll find kite and wind surfers, thanks to the shallow waters, and you'll be relaxing in the same place once loved by Jimi Hendrix, and Bob Marley.
5. Visit Dades Valley
For a rich array of all the colours under the sun, head to Dades Valley (meaning red valley). Take a drive through for continuously changing scenery and spectacular views, and if you're brave why not complete some of the valley on foot?
Which Hotel to Choose in Morocco
Be Live Collection Marrakech (Adults only)
This 5* all inclusive location is a paradise, so ditch the kids if you have them and enjoy the dreamlike area of Palmeraie - walking distance from the historic centre.
Kasbah Igoudar Boutique Hotel & Spa
Another 5* hotel, this one is located a little outside of Marrakech, but in view of the gorgeous Atlas Mountains. Enjoy a Superior Room, with half board dining and exclusive spa discounts when you book through our website.
Palais Amador
This beautiful, family-run, 10 bedroom boutique is home to Hispano-Moorish architecture. Only 30 minutes from Marrakech this relaxing spot offers both deluxe and junior rooms, as well as a beautiful pool.
Practical information about sun holidays in MoroccoMorocco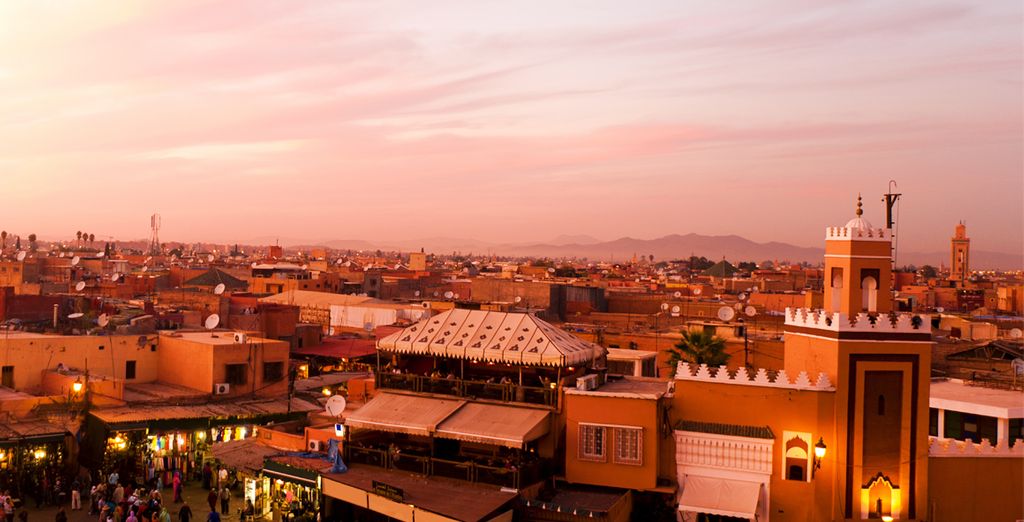 What is the weather in Morocco?
The weather is very dry and warm, with rain being a rarity and only really occurring from October to May. While warm in the day and night during the summer months, expect the temperature to drop dramatically at night between December and February, due to the country's distance from the sea.
In short, expect sun pretty much all year round, but especially during the summer months from mid-June to September.
Customs
Morocco has some unique cultural traditions that are worth keeping in mind if you're going to travel there. For example, it's considered impolite to handle food with the left hand, and rude to refuse if you are offered meat as a guest in somebody's home! It's worth checking these out as a fun pre-holiday task to make your stay more interesting and stress-free.
Budget for sun holidays
Obviously, your budget will depend on what type of holiday you want to have, but £30 is the average price daily when travelling in Morocco. The average price for food is around £9 per day. Transportation is very cheap, as is entertainment.
Bottled water is around $1 per day. The majority of locals drink the tap water, and consider it safe.
Discover more travel deals to Morocco: holidays, all inclusive holidays only, last minute holidays, weekends, great deals, stays, sun holidays.