Top 10 hotels in New York



Table of contents
Choose where to stay in New York and immerse yourself in the culture and architecture; book unique and luxurious accommodation at Voyage Prive.
Our best hotels to New York
Looking for fantastic hotels in New York? Look no further. Below we delve into the top 10 New York Hotels perfect for your next American holiday.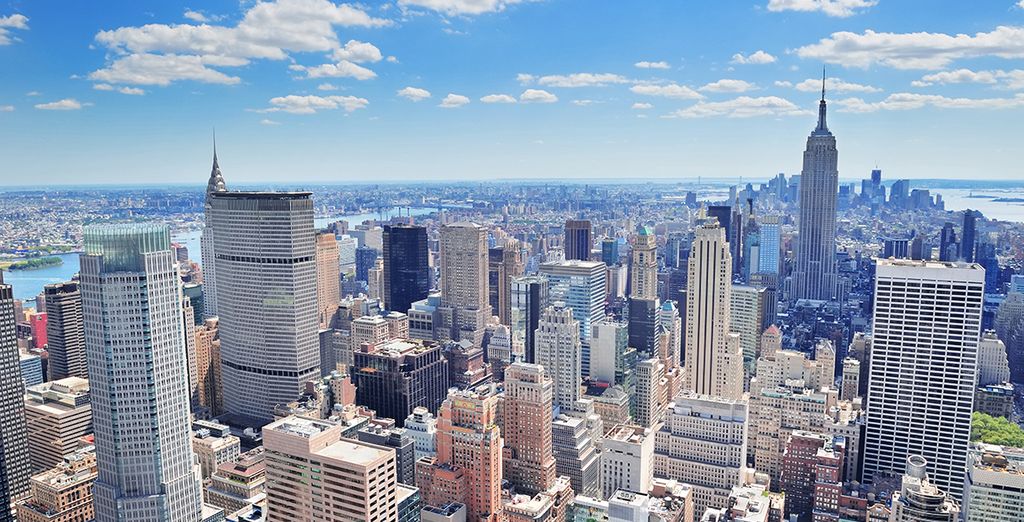 1. The Viceroy, New York

If you're in search of a New York hotel that's in a prime location, this is the best choice. The Viceroy New York is just steps away from New York's most highly regarded sights. It offers 5-star luxury accommodation including an indoor pool, 24-hour fitness centre and a rooftop bar and lounge.
2. The New York Edition

Another 5-star hotel with extraordinary style and world-class services. Built in a historic 41-story clock tower, it offers a jaw-dropping 360-degree view of New York. Top features include spa services, a signature restaurant and fitness facilities.
3. Westhouse New York

Located in the heart of New York just minutes from the iconic central park, the Westhouse offers 5-star luxury in chic Art Deco-inspired design and 1920s gilded age glamour. Top features include on-site fitness facilities, two on-site restaurants and an in-house spa.
4. Park Central Hotel, New York

A fabulous 4-star hotel with a unique blend of historic charm and contemporary design. You are five minutes from Broadway, Rockefeller centre and central park, making this hotel a prime spot. Top features include free gym access, delicious food at "The Central Market", and rooms with 46" Flat-Screen TV with on-demand movies.
5. The James, New York

Located in perfect Midtown's NoMad neighbourhood, The James is close to Madison Square Gardens and the iconic Empire State building. Guests love the buzzing cocktail bar, 24-hour on-site gym and dining at the fantastic flagship restaurant Scarpetta.
6. Sanctuary Hotel, New York

Overlooking the wonderful Times Square, this beautiful 4-star hotel truly offers sanctuary in the midst of bustling Midtown Manhattan. Enjoy stunning views with a cosmopolitan in hand at the rooftop bar, or dine in the delicious TENDER restaurant and lounge. Finish the evening off in a super stylish superior double room equipped with everything you could possibly need.
7.Tryp, New York

A classic 4-star hotel with modern design, just minutes from Times Square, this fantastic hotel is the epicentre of Manhattan life. This hotel features everything you need for a fabulous New York getaway including a swanky cocktail bar serving tapas and delicious cocktails and a cool Asian fusion restaurant. There is even an on-site fitness centre too.
8. Lotte, New York Palace

Enjoy nothing short of luxury at one of New York's most historic palaces. Located in the heart of the Big Apple, you are in a prime spot for sightseeing. Afterwards rest at the hotel's 7000 sq ft spa and fitness centre and an on-site restaurant. You will truly have a distinctive experience at an iconic luxury New York hotel.
9. The Surrey, New York

This boutique hotels oozes glamour and is located in the intimate Upper East Side. With a spa, restaurant and bar that could rival New York's finest, many celebrities including Bette Davis and JFK have felt the draw of this exquisite hotel.
10. Parker, New York

Just blocks from Central Park, Broadway and Fifth Avenue, this beautifully designed 4-star hotel offers a fantastic rooftop pool and speakeasy spa for the ultimate indulgence. There are even two restaurants, and a stylish cocktail bar to satisfy all your food and drink needs.
What services will you find in our hotels to New York?
Our New York hotels include a wide range of services that will meet all your needs:
• Comfortable beds


• On-site restaurants


• Cocktail bars


• Flat screen TVs


• On-site fitness centre


• Swimming pool


• Spa


• Free Wi-Fi


• Bed and Breakfast Basis




Hotel rental offers at New York convenient for all kind of travel


New York is filled with fantastic activities for everyone. Whether it's a romantic helicopter ride for two taking in the jaw-dropping New York skyline, or experiencing the Empire State building, a Broadway show, or the Statue of Liberty with the New York Pass, Voyage Prive offers a range of additional add-ons that can transform your trip.

The range of hotels we offer at New York

From boutique hotels and hotels built with a historic 41-story clock tower to iconic palaces, our range of hotels in New York has something to suit absolutely everyone. Current offers include stays at the iconic Gregory Hotel, New York and the brand new AC Hotel By Marriott located in Times Square.

New York: What should we bring for a hotel stay?

Some things you'll need for a fantastic hotel stay include:

• Your favourite outfits


• Phone chargers/adapters


• Your favourite toiletries (most hotels will provide some, but we often have our favourites we can't bear to leave behind!)


• Bathing suit




Your best hotel in New York: how to get there and make your booking?

Getting to New York: The quickest and easiest way to get to New York is to fly. With our inclusive hotel packages, we include a flight to New York with a scheduled or no-frills airline. You can choose from Economy or Premium economy. There is also the option to add transfers from the airport to your hotel, so you can start your holiday in convenience and style!

Travel time from the UK to New York is around eight hours.

How to make your booking: If you want the latest offers on luxury hotels, then register online

To take advantage of exclusive offers dedicated to members only on all luxury hotels in New York.

The opinion of the Voyage Prive travel expert on hotels to New York


New York is an iconic city that excites and inspires daily. From its spectacular skyscrapers such as the Empire State Building and Chrysler Building to the architectural beauties like the New York Public Library and Grand Central Station, New York is bursting with sights to see and places to visit.

Experience the old-fashioned luxury, cultural museums and fabulous fashion of the Upper East Side, a world portrayed in Sex and the City, Breakfast at Tiffany's, and Gossip Girl, or stay close to the heart of the action in Midtown Manhattan which is within walking distance of most of New York's top sights. Or, you could stay in New York's coolest borough: Brooklyn with its jazz clubs, quaint coffee bars and iconic Brooklyn Bridge. Wherever you decide, we have a luxurious hotel stay for you.

New York, discovering American culture

For cultural impact, diversity and dynamism, New York City is hard to beat. The city is a global leader in architecture, architecture, beauty, music and food, and is crammed with iconic sights, from the Empire State Building, raised torch of the Statue of Liberty to the Grand Central Terminal. New York truly is a city that never sleeps, and it's a place you can create amazing memories 24/7. It offers an experience like no other, and you'll find yourself returning to New York over and over again.

Discover our offers to New York : Weekends, great deals, last minute deals, holidays, tours, booking