Flight+Hotel Deals to New York



Table of contents
Flight+Hotel deals to New York
Why choose a Flight+Hotel offer for your stay in New York?
When you choose a flight + hotel offer from Voyage Privé, you are assured of a luxury holiday at a lower cost. A bundled holiday also helps you save time, thanks to one-stop shopping. It's easier to make all the bookings from a single source instead of visiting numerous sites when planning your holiday. Voyage Privé ensures that your flight and accommodation tastes and preferences are met by hand-picking the best airline and hotel for you.
Top 5 hotels in New York by Voyage Privé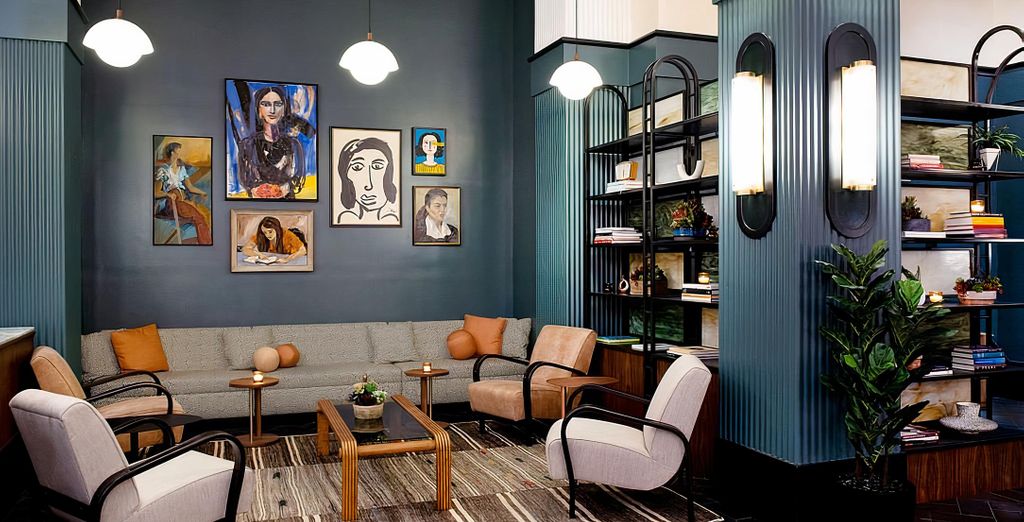 Located in the heart of Manhattan, the Redbury is an iconic hotel that has served VIP guests and has featured in films. Guests can choose from four types of rooms, each equipped with blackout curtains, cable/satellite TV, a walk-in shower and free Wi-Fi. Other facilities include a fitness centre, conference facilities and a business centre with internet access.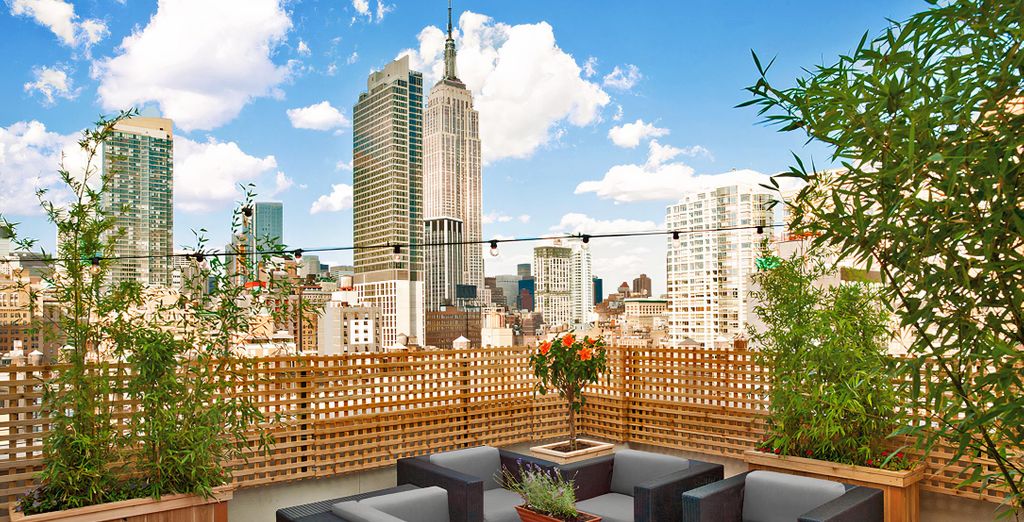 A stay at Hilton New York Fashion District offers you proximity to the Empire State Building and Madison Square Garden. This hotel in midtown New York is only 2 km from Broadway and 1.8 km from Times Square. Feel at home in one of its 280 guest rooms, 2 bars/lounges and two restaurants. Each room features a minibar, wired and wireless internet access, 37-inch flat-screen TV and an iPod docking station.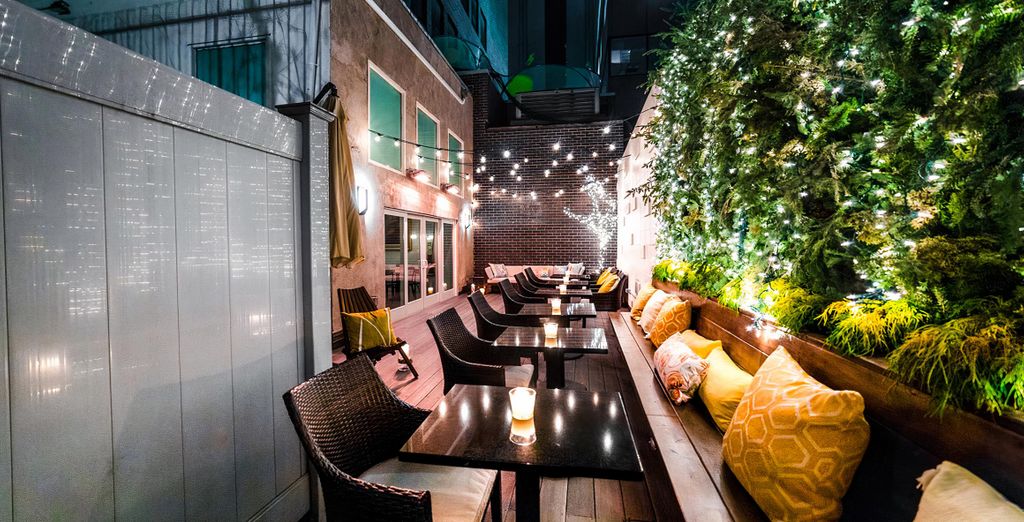 Soaring above the streets of Midtown East, the Concorde Hotel offers unmatched views of New York's skyscrapers. The hotel is also close to Central Park and some of the city's finest restaurants and attractions. All 12 smoke-free guestrooms are spacious and air-conditioned, offering the relaxation you need after a busy day exploring the city. Amenities include a 24-hour fitness centre, a mail service, business meeting rooms and a high-speed Wi-Fi network.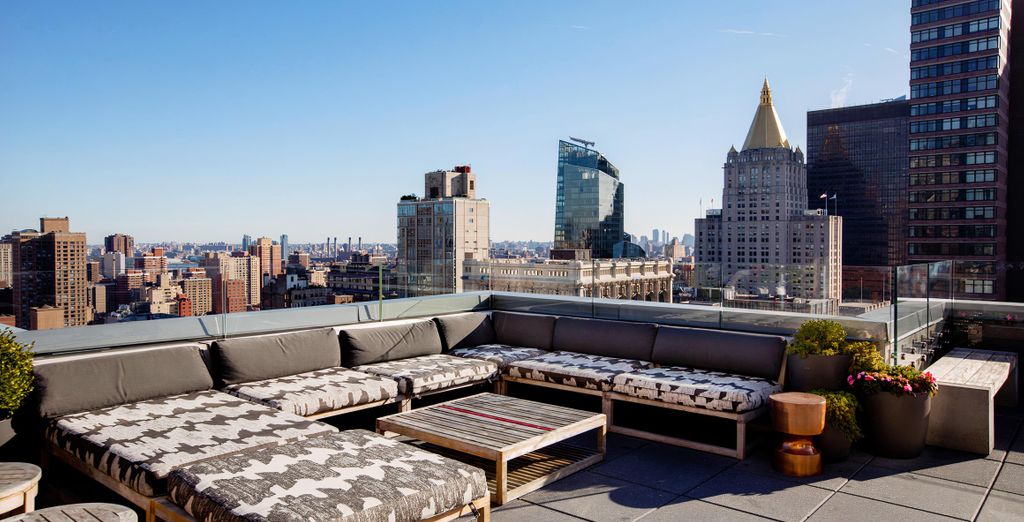 The Arlo NoMad's central location offers easy access to Madison Square Park, the busy shopping district of Herald Square and the Empire State Building. You can choose from its 248 rooms with air conditioning and flat-screen TVs. The hotels also offer world-class dining in its full-service restaurant and two bars, perfect for an afternoon or evening drink.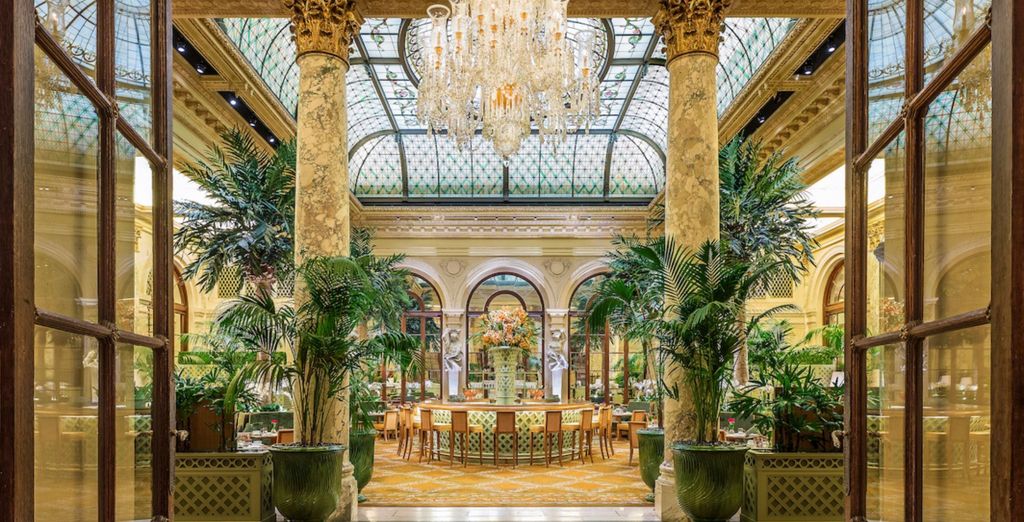 Since The Plaza Hotel welcomed its first guests in 1907, the hotel has remained a favourite for world leaders, captains of industry, dignitaries and other VIPs. Situated on the prestigious Fifth Avenue, the hotel exudes elegance and luxury. The dining experiences and accommodation are also extraordinary, thanks to the numerous options and luxurious suites.
High-quality services at the best price for your flight and hotel deals in New York
Enjoy value for your money when shopping for flight and hotel deals, thanks to Voyage Privé's collaboration with high-end hotels and airlines. You can expect high-quality services, great views and world-class facilities.
Flight+Hotel New York: which airline for your flight?
Being a leading destination, New York is serviced by various airlines, including British Airways, Delta, American Airways, Virgin Atlantic, Aer Lingus, KLM and many more. Voyage Privé offers you the best flights to New York at lower rates, thanks to our collaboration with leading airlines.
Which airports for your flight to New York?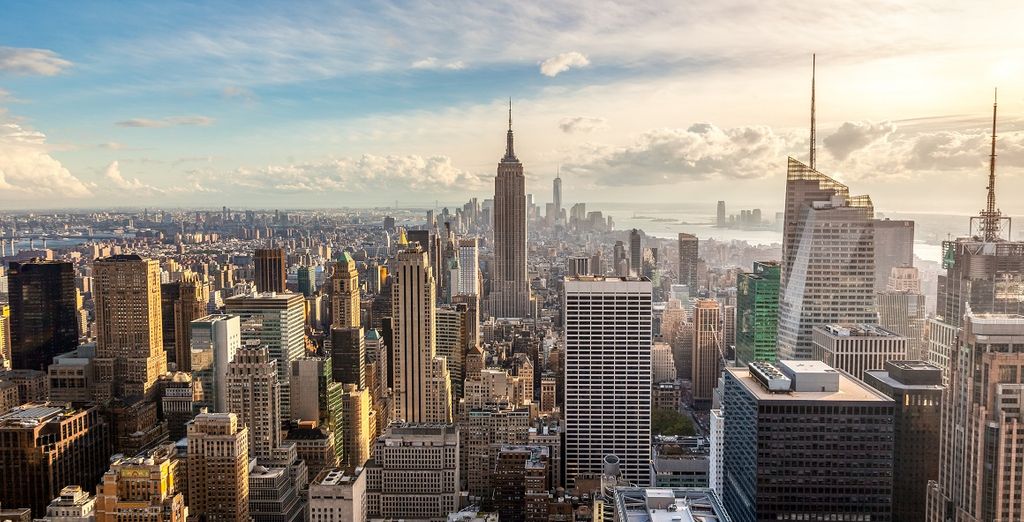 Flights to New York are not hard to find in the UK. Most airports in the UK, including Gatwick, Heathrow, Manchester, Newcastle, Birmingham and Glasgow, offer flights to John F Kennedy International Airport. A direct flight From the UK to New York will take around 10 hours. Once you arrive at John F Kennedy International Airport, you can take a taxi or an airport shuttle to your destination.
Voyage Privé's hot deal for a flight and hotel stay in New York at an exclusive price
Wondering why you should try one of our hot New York deals? There are numerous reasons why. New York is a leading destination for art, food, fashion and theatre. There are also top attractions like the Statue of Liberty, Brooklyn Bridge, Empire State Building, Central Park and many more.
5 places to visit while in New York
1. The Statue of Liberty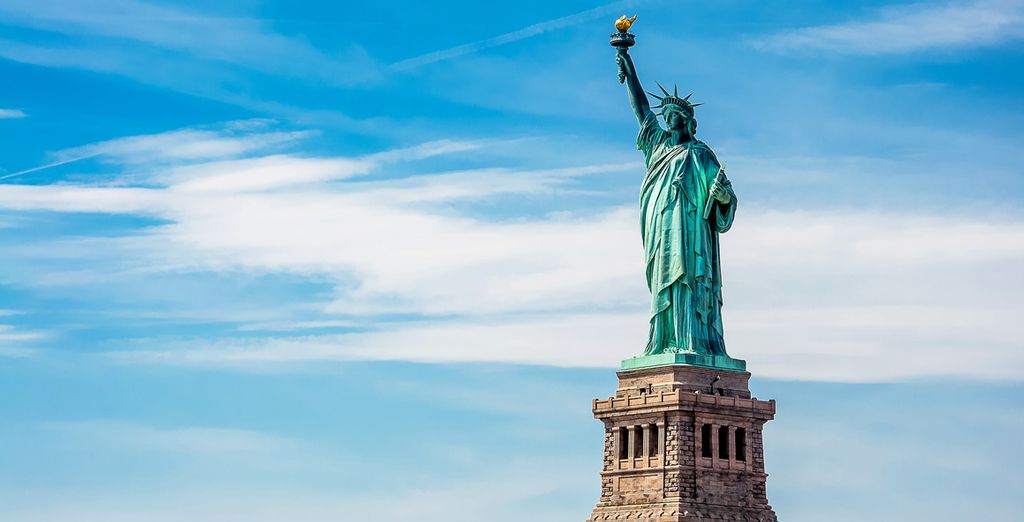 The Statue of Liberty is America's most iconic landmark, making it a top attraction for first-time New York visitors. The statue, gifted to America by France, is a symbol of freedom and is one of the most visited attractions in America. The statue has a height of 152 feet, making it one of the world's tallest. You can view the statue from land or take a short trip to Liberty Island for a closer look.
2. Central Park
A stroll in this park will make you forget that you are in the city, thanks to the greenery and fresh air. You can also rent a bike to enjoy this expansive oasis in the middle of the city. Some must-visit places in the park include the Strawberry Fields, the Lake and Belvedere Castle.
3. Rockefeller Center
If you want the best view of New York from above, this place should be on your itinerary. The Rockefeller Center, a vast entertainment and shopping complex in the middle of Manhattan, attracts millions of visitors every year, thanks to the 70-story Rockefeller Plaza. This Art Deco skyscraper offers spectacular views over Manhattan from the Top of the Rock Observation Deck.
4. Metropolitan Museum of Art
The Metropolitan Museum of Art (The Met) is one of the best-known museums in America. The museum is home to more than two million works of art, including Egyptian art, American decorative arts, photographs and much more.
5. Broadway
Attending a Broadway show is another rewarding thing to do while in New York. The Broadway theatre district has 41 theatres, offering the best of the best. You can pick up tickets on the show's date, but it is advisable to get your ticket in advance for the most popular shows.