Enjoy Las Vegas Hotels



Table of contents
The most prestigious Las Vegas hotels are usually part of a wider casino and entertainment complex. Luxury and opulence are at the heart of these amazing buildings. From the iconic Treasure Island Hotel, to the world renowned celebrity magnet Caesar's Palace, Las Vegas is the place to live it up like a VIP.
Discover our TOP 5 hotels in Las Vegas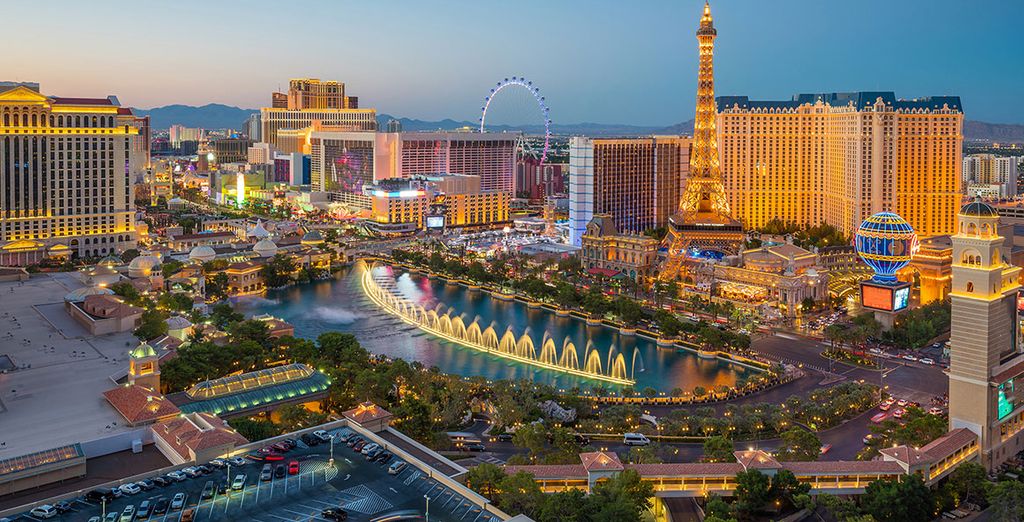 Setting the standard for casino resorts, this is said to be one of the best hotels in the world. The extravagant decor, sprawling gaming halls and VIP suites make this the pinnacle of luxury Las Vegas travel.
Situated away from the tourist trap of central Las Vegas, Desert Paradise is a family resort in a quiet, peaceful location. Relax in the pool and enjoy the desert sunshine, or head onto Lake Mead or explore Red Rock Canyon.
With its nautical theme and iconic ship frontage, Treasure Island is one of Las Vegas' most recognisable venues. The hotel has undergone a sophisticated makeover in recent years, becoming an adult focused entertainment centre.
The largest Las Vegas casino resort, the MGM Grand features a huge pool complex, a massive entertainment arena, and plenty of casino games too. Dine in style at Joel Robuchon, or enjoy family favourites at Fiamma Italian Kitchen.
Towering above the Strip, the Stratosphere Hotel and Casino is best known for its incredible tower. The 350 metre tower features a revolving restaurant, observation decks, and thrill rides.
What services will you find in our hotels in Las Vegas
In addition to the standard hotel room facilities, such as beverage facilities, a minibar and a widescreen TV, many Las Vegas hotel rooms carry perks such as free casino chips, bar snacks during play, or other promotional bonuses. Plus, success at the tables, or high roller play, can earn you an upgrade to the house's best suites!
Staff at Vegas hotels are extremely attentive and will take care of your every need. Not all Las Vegas accommodation is based in casinos, either. The city has plenty of family-friendly resorts, peaceful spa hotels, and tech-driven business centres. Las Vegas is the world leader hotel room coverage. This bustling city can host more than 150,000 visitors per night, and new hotels or rooms are frequently added.
Hotel rental offers in Las Vegas, convenient for all kinds of travel
Las Vegas is primarily seen as a destination for leisure travel. After all, this is one of the most extravagant locations on the planet! However, it also attracts a huge number of corporate visitors. Vegas is home to some huge conference centres which host conventions, seminars, product expos and more.
Families will find plenty to do in the city's resorts. Of course, the city's largest import of tourists is driven by gambling. Both foreign tourists and American visitors flock to the city to play at the world's finest casinos. From celebrities and public figures to the average holidaymaker, all kinds of people visit Las Vegas each year.
The range of hotels we offer in Las Vegas
Voyage Prive has handpicked a selection of travel offers for those looking to visit Las Vegas. Among the most popular are inclusive cruises and tours, which take in Vegas as part of a wider North American trip. For example, we have the Stay and Show package (with optional stopover in New York City) which includes four nights at the Caesar's Palace luxury hotel - plus tickets to see Celine Dion in concert!
There is also the Las Vegas & Canyons Fly Drive, including a stay at the four star Paris Las Vegas hotel. Drive through National parks, see the Grand Canyon, and soak up the bright lights of Vegas - all in seven days!
Las Vegas: What should we bring for a hotel stay?
If you want to see all of the sights of Las Vegas, expect to spend a lot of time on your feet! Visiting the casinos, resorts, museums, activity centres and boardwalk will require sensible shoes. Las Vegas has a mild, wet climate in the winter, and can get very hot during the summer. Inside venues are heated and cooled accordingly, but pack layers of comfortable clothing including waterproof coats. You will likely need a swimsuit, to make use of the pools and water parks. Hotels are equipped with most basic essentials, and staff or hotel shops will be able to provide you with any forgotten items.
Your best hotel in Las Vegas: how to get there and make your booking?
Travelling to Las Vegas is most frequently done by air. The city is served by the McCarran International Airport, which welcomes millions of tourists every year. Cruise ships stopping in Florida may offer optional flights into Las Vegas. Vegas is a popular destination for couples wishing to marry, and a hub for business travellers too.
Though often seen as a destination for adults, there is much to do for families with young children. Hotel resorts often have water parks and pools, arcades stuffed with games, and plenty of kids' club activities.
To book a stay in Las Vegas, contact the travel specialists at Voyage Prive. Alternatively, follow the links to find our best deals and book online. Public transport links in Las Vegas are excellent, so you should be able to get around easily, and many luxury hotels will arrange airport transfers to bring you right to your resort's door.
The opinion of the Voyage Prive travel expert on hotels in Las Vegas
We recommend staying at a casino resort hotel, in order to truly experience the city. At these great luxury venues, you have access to everything you could possibly need in one place. With Michelin starred restaurants, indulgent spas, world-leading nightclub entertainment, and comfortable hotel rooms, you can truly treat yourself when you visit Nevada's state capital.
You will likely spend most of your time on or around the Strip, as this is where the action happens. However, there is much more to Vegas than gambling! Head into the city centre for high end boutiques and beloved chain stores, and also to visit the city's museums, sports stadiums, galleries and other sights.
Las Vegas: the entertainment capital of the world
Above all, Las Vegas will attract hedonists and thrill seekers who want the rush of the casino tables. No trip to Vegas would be complete without a look around the casinos - even if you don't play the games yourself. The hotels are some of the most unique and unusual buildings in the world, each with its own theme and character. To get great deals on your next Las Vegas stay, and to book the perfect hotel, speak to Voyage Prive today.
Visit our hotels in Los Angeles.